Skip to main content
Skip to footer
La Via Gaia
Authentic and Experiential Culinary Tours of Italy
Main Content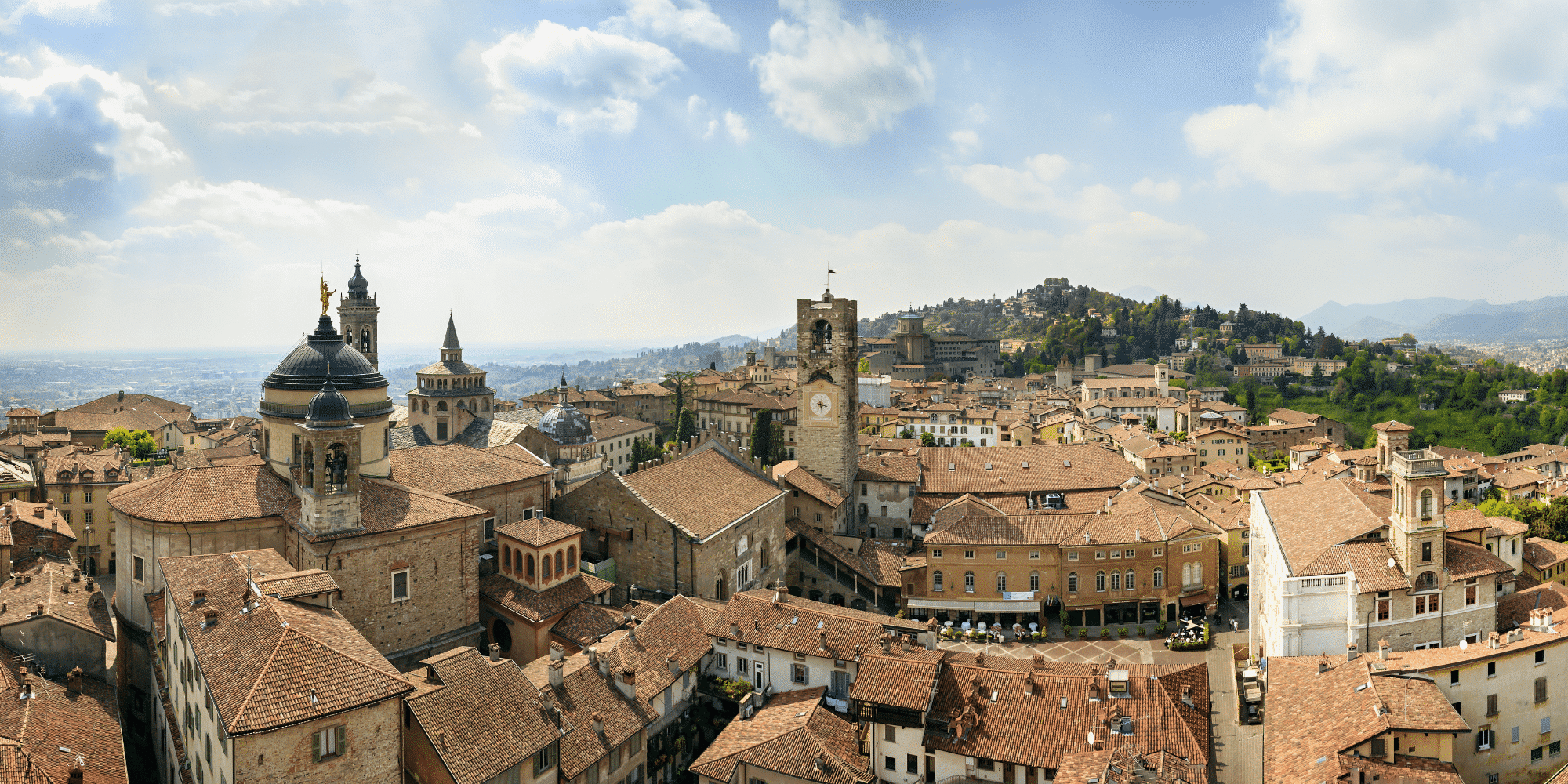 Welcome to the culinary heritage of Italy, a regional food and wine travel experience with award-winning chef Jeff Michaud. Come meet our friends.
BOOK THE LAST TRIP OF 2024
Adventure with us to Northern Italy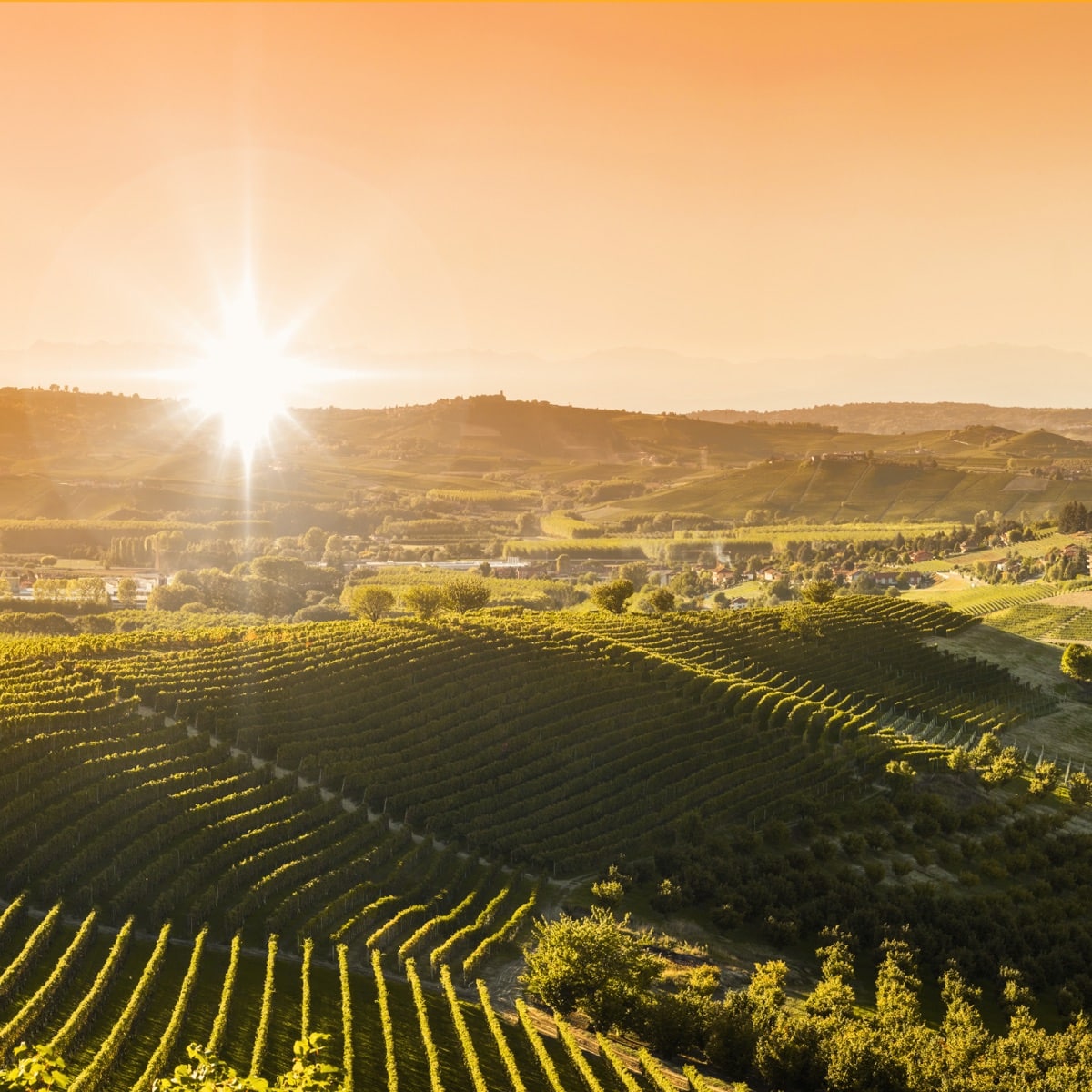 Genuine Living in Piemonte Wine Region
What we love: We could not pass the opportunity to travel alongside Anthony Giglio and dive even deeper in this amazing wine region. So this year we return to Piemonte twice! Sleepy villages, hillsides blanketed in grapevines, pasta dusted with shaved truffles, and wines that are some of the finest of the world.
Experience robust Barolo and Barbaresco, produced from the intensely aromatic Nebbiolo grape in bottlings from top winemakers.
Venture into the wild patches of forest on a truffle hunting mission.
Roam through world-famous wine regions, from The Langhe and Roero's small DOCG wine district, to the hills of historic Monferrato.
Taste the lush, buttery mouthfeel and a depth of flavor of Giorgio Cravero, a fifth generation cheese refiner in Bra.
Float above vine covered hillsides and storybook villages in a sunrise balloon ride over Barolo, the heart of the Piedmont region.
Best of all, learn about Piemonte's unique cuisine in menus specially curated by the best chefs of the region and expertly paired by wine connoisseur Anthony Giglio, and in two fun filled cooking classes with award-winning chef Jeff Michaud.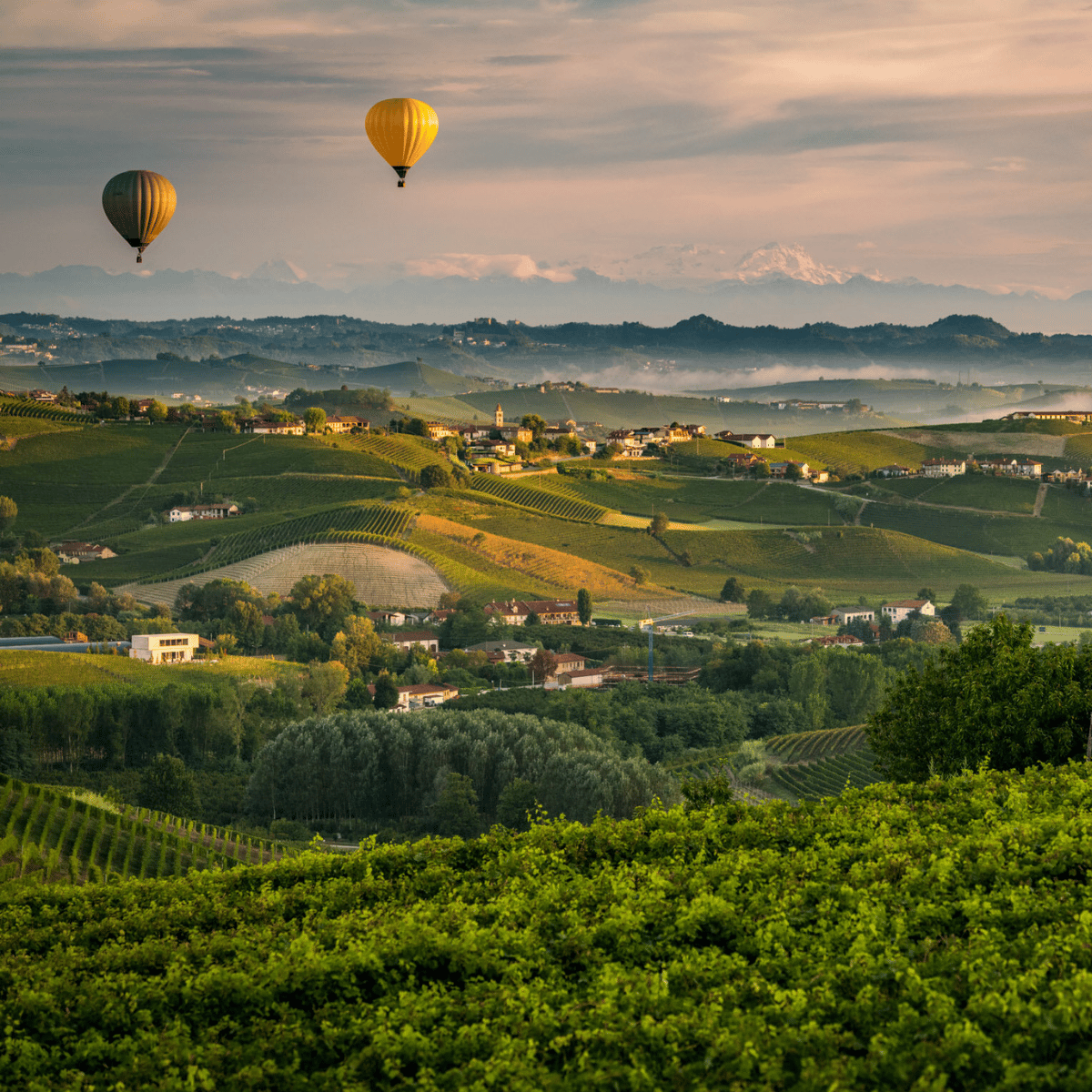 The Good Life in Piemonte & the Langhe
What we love: Every year our family returns here, to the town of Alba known for its white truffles, to drink in spectacular vistas, romantic hill towns, wonderful food, and finely crafted wines.
Roam through world-famous wine regions, The Langhe and Roero's small DOCG wine district, to the hills of historic Monferrato.
Buzz through vineyards on a Vespa, or "Wasp", icon of stylish Italian design.
Venture into the wild patches of forest on a truffle hunting escapade.
Discover what a cheese refiner does in the storage caves where flavor happens.
Best of all, learn about Piemonte's unique cuisine in dinners at trattorias, Michelin-star restaurants, and in two memorable cooking classes, held by award-winning chefs and friends, Nicholas Elmi and Jeff Michaud and discover that, here, every meals tells a story.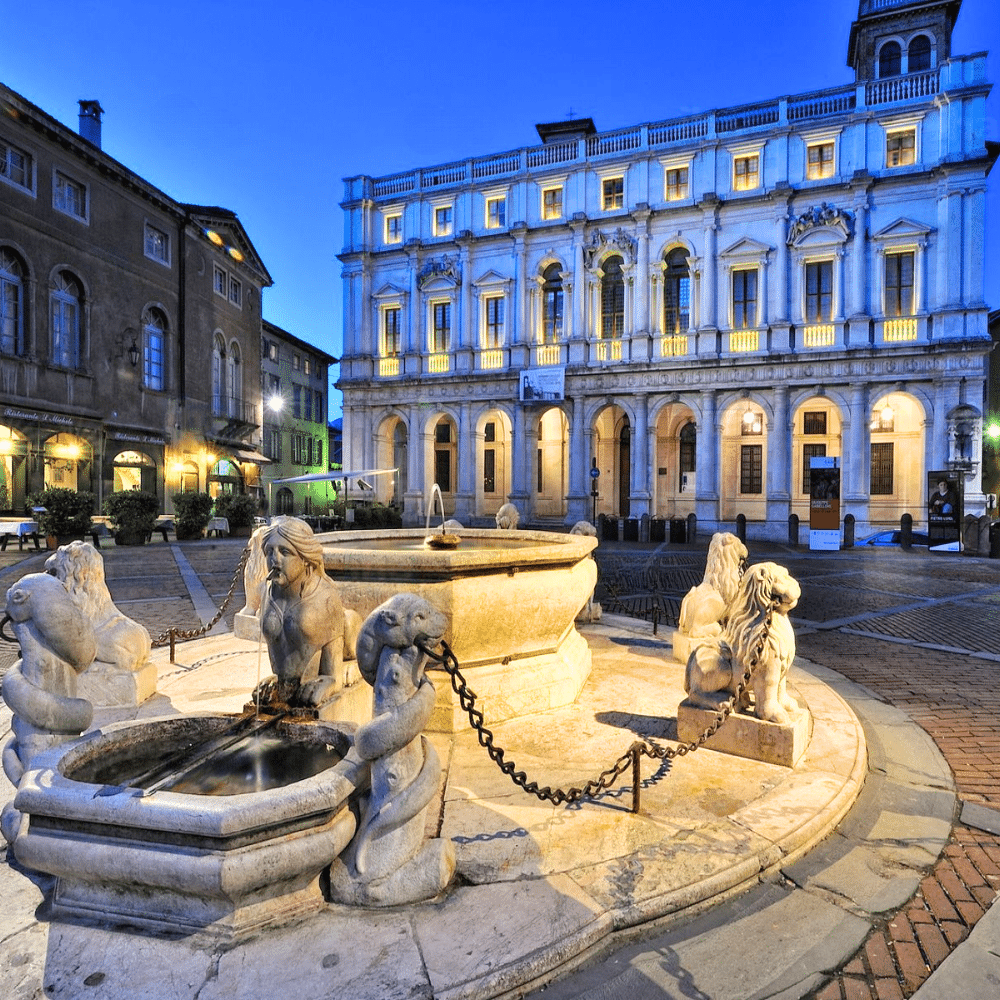 Italy's Treasures of Bergamo & Lake Iseo
What we love: Because Claudia grew up in Bergamo and her relatives still live there, we feel most connected to this historic walled city, where we spend most of our personal family time in Italy.
Explore Lombardy's culinary culture, inspired by the bounty of the surrounding countryside.
Stay in a restored medieval fortress in Bergamo, famous for charming narrow streets and picturesque squares.
Share traditional specialties like Acquarello carnaroli rice, balsamic vinegar, and the distinctive regional cheese, Grana Padano.
Cruise the hidden gem of Lake Iseo, situated in the Franciacorta wine region, producing some of Italy's best sparkling wines.
Settle into Milan's stylish Navigli neighborhood for a classic aperitivo in a canal side bar, followed by a traditional Lombardy dinner.
Best of all, experience the cooking classes of award-winning chefs and friends Dominic Piperno and Jeff Michaud, as they reveal the secrets of the area's quintessential flavors, and even arrange a dinner with Jeff's mother-in-law, a true Italian home cook.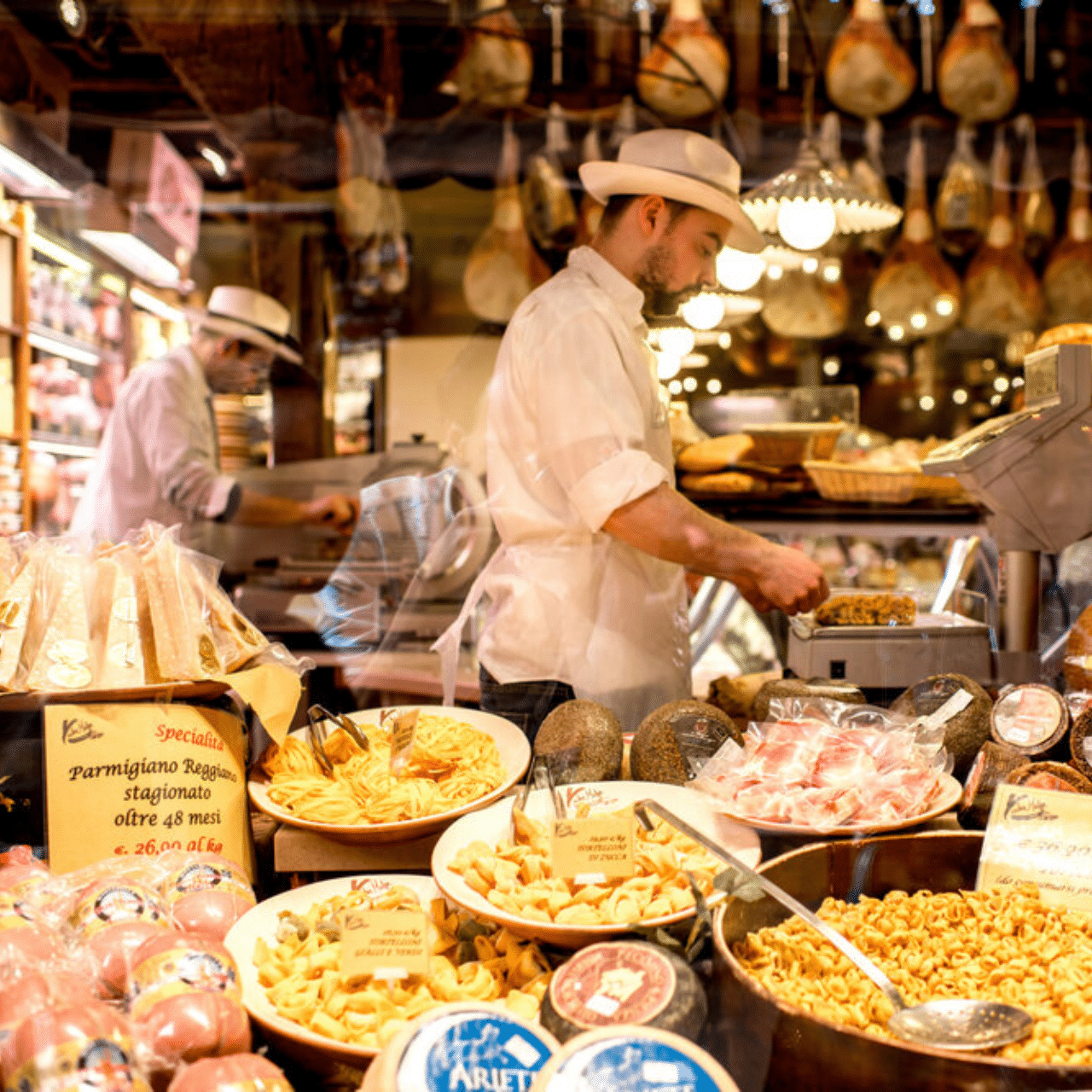 Artisanal Italy in Modena, Bologna, & Parma
What we love: This relatively overlooked region introduced us to the legacy of craftsmanship in its heritage foods, and the authentic character of Lambrusco, its delicately sparkling red wine.
Visit the village of Savigno, meeting artisans who carry on family traditions, including Guido of Bottega del Macellaio, raising a local Mora pig breed and truffle hunting for 3 generations.
Walk the streets of Modena, encountering Mercato Albinelli, the city's oldest covered market, redesigned in Art Nouveau style.
Learn about Italy's luxury racing automobile at the Enzo Ferrari Museum with classic models on display.
Become acquainted with the Spigaroli family, makers of prosciutto's unsung cousin, culatello, sharing lunch at their Michelin-star restaurant, dedicated to the Po River territory's culinary heritage.
Best of all, join the sfogline (the masters of fresh pasta) in the traditional art of pasta making at their legendary school in Bologna. Assisted by friends and chefs Colin Lynch and Jeff Michaud, learn how to use a matterello (or wooden pin) to roll out the yolk-rich dough and then shape regional specialties like Tortellini, Tortelloni, and Tagliatelle.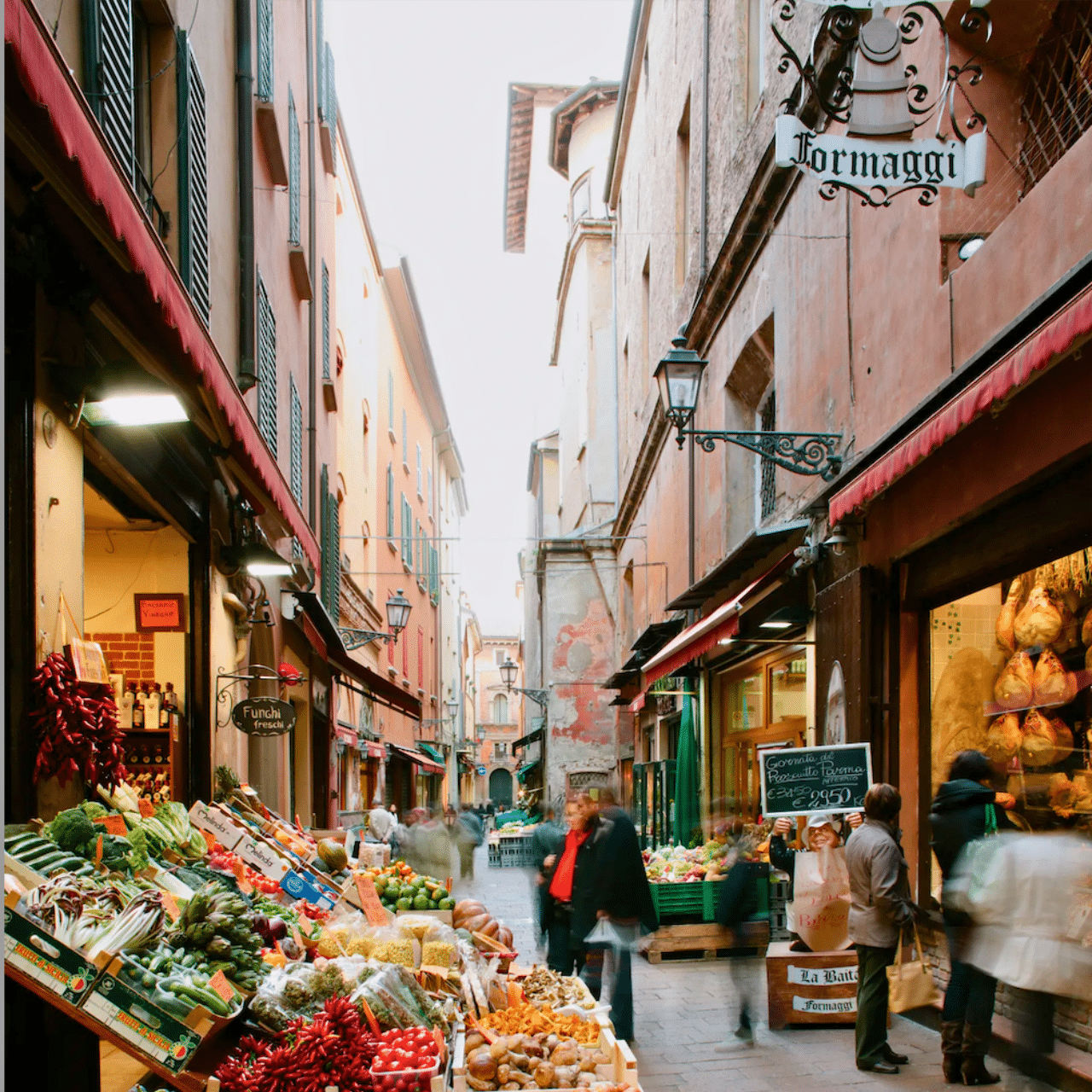 The Romance of Lake Garda & Verona
What we love: We launched our La Via Gaia trips here, taking over a farmhouse to welcome our very first guests, and enjoying a concert evening spent under the stars at Verona's Arena, a Roman amphitheater built in 30AD.
Meet Veneto wine masters and learn to appreciate the difference between regional superstars, Amarone and Valpolicella.
Appreciate the magic of Chiaretto di Bardolino, the rosata/rose famously produced in Alpine-Mediterranean environment of Lake Garda.
Find yourself square in in the middle of Verona's Piazza delle Erbe, crossroads of city life.
Spend Sunday Supper with an olive oil producer for the Spiedo ritual of slow spit-cooking meat, among the world's oldest techniques.
Embrace the ritual of café life, socializing over a glass of wine and traditional chicchetti e ombre, savory bites and side dishes.
Best of all, play a part in making authentic creations with award-winning chefs Jeff Michaud and Missy Robbins in intimate classes designed to give you first-hand experience.
What our fellow adventurers have to say
You feel like a true family member everywhere you go. Winemakers, cheesemakers, prosciutto makers, chefs, farmers, agriturismo proprietors, musicians all welcome you with very generous open arms like you've known them forever to share their talents, secrets. Their passion for what they do is contagious as is Jeff's love of Italy and his infectious smile and ability to connect everyone in the group to each other and bring out the adventurous spirit in all of us. Already booked another trip for next year!
The trip we took to Piemonte exceeded my expectations. It was clear from the start that at every place we went, the chef, owner, guide had a deep relationship with Jeff and they all went out of their way to make the trip one of the most memorable I have ever taken. La Via Gaia carefully put together the right blend and flow of activities to make every day perfect. I wouldn't change a thing
LA VIA GAIA highly curated experience in Piemonte was executed flawlessly with Jeff whisking us from cheese caves to wineries to unique dining experiences that would typically only be available to those in-the-know. His knowledge combined with command of the language and culture enables a plunge into Italian culture that cannot be obtained elsewhere. Bring your appetite, sense of adventure, and passion for luxury meets farm to table. Highly recommended...!
While over the top gastronomic experiences were expected and delivered what was most surprising was the laughter and friendships that flowed in even greater quantities that the exceptional wines and will last far longer.
This was one of the most remarkable trips we have ever taken. What made it so special was Jeff's over-sized, charming personality and the personal touches that went into the trip. From his intimate knowledge of the Bergamo & Lake Garda area's wineries, cheese makers & restaurants, the way he related to & looked out for the needs of everyone on the trip, to the extraordinarily special times like lunch at his mother-in-law Pina's to eating a home-cooked meal with the family that runs an olive oil business. Loved it all!
A private trip with La Via Gaia in Piemonte was an adventure I didn't even know I was missing! I was hesitant to go on an expensive trip with my colleagues but after the amazing comradery, wineries with views, a cheese tour/tasting, beautiful balloon ride, truffle hunting, vespa and convertible fiat driving, three Michelin restaurants, chef led cooking classes, shopping in Milan, Turin and Alba, incredible local restaurants, three amazing guides, and lots of fun I deem this trip priceless. The warmth exuded by Jeff and Claudia Michaud, and their guest Sommelier Matteo Donadoni added to a jam-packed itinerary (with some relax time included). Anyone can go to Northern Italy but these three shared their love of Italy with all of us.
La Via Gaia's culinary and wine tour is not to be missed. Chef Jeff Michaud and his beautiful wife sparkle as they share their love of all things Italian. Days are filled with private tours of wineries and a Parmigiano-Reggiano aging cave, a hot air balloon ride, a drive through the gorgeous Piemontese countryside, and a tour of Turin. The meals include simple regional dishes shared by local cooks, dinner made by the group participants during a cooking lesson at a winery, and spectacular dinners prepared by Michelin starred restaurants. Truly fantastico- grazie!
La Via Gaia has taken us on 2 unique and unforgettable trips filled with amazing food, wine and experiences. The key is Jeff Michaud's infectious love of Italy, its people, its culinary traditions, and Italian life in general. The warm relationships he has built over the years with chefs, wine makers and shop owners flow onto the group and make us feel we are cared for in a way we have never experienced with any other trip.
Jeff and Claudia have thoughtfully created a traveling and eating experience that opens the window into the world of Northern Italy. It builds on their personal relationships and experiences, accumulated over many years of living in there. It is not a sterile tour, one lived out of a bus. Rather it is meeting the people that make Italy come to life on a daily basis.
Jeff and Claudia have created an experience like no other for folks who are truly passionate about food and wine. Jeff is the consummate host and, for one week, you are part of his family which includes not only your fellow travelers, but all of the amazing artisan producers and talented chefs that go to great lengths to make your time with them very special and memorable. Jeff's passion for everything culinary, along with his well established relationships, are what make this trip unique. This is more than a culinary tour - this is an immersion into the very best of what Italy has to offer.
Be the first to know about our next destinations

Upcoming Adventures
Disclaimers.
Terms and Conditions
Privacy Policy
267.528.6508 [email protected]
Location & Hours
Suggest an edit
12425 Texas Ave
Los Angeles, CA 90025
You Might Also Consider
3.3 miles away from Gaia Tours
Dayz P. said "I reached out to this location this afternoon to try and get help with a broken interior compression system bracket on my Medium suitcase. I was fortunate enough to speak with Kenny who was patient in listening to what the issue…" read more
in Travel Services, Airlines, Luggage
LA Vip Car Service
Jillian R. said "Needed transportation from LAX to Anaheim for 5 of us. Did not want to deal with LAX's new system for Uber/Lyft so I decided to book a private car. Best decision I made the entire trip. When our plane landed, we were immediately…" read more
in Town Car Service
About the Business
For over 17 years Gaia Tours has been providing custom tours to any destination on the planet. From African Safaris to tours in Europe, Central and South America, to River and Ocean cruises Gaia Tours will assist you in creating the best Itinerary suited to your needs. The bottom line is that we provide unparalleled service to our customers along with affordable pricing. …
Ask the Community
Ask a question
Yelp users haven't asked any questions yet about Gaia Tours .
Recommended Reviews
1 star rating Not good
2 star rating Could've been better
3 star rating OK
4 star rating Good
5 star rating Great
Select your rating
Overall rating
Highly recommend! Gaia Tours planned our trip to Peru for our honeymoon! This was a very important trip for us and we didn't want to leave anything to chance. There's a lot of details and moving parts to consider when travelling internationally, and Philip took care of EVERYTHING. Domestic flights, hotels, meals, drivers picking us up at every spot, we literally had nothing to worry about. This was such a good choice to ensure the trip went smoothly. Thanks Philip!!!
Ultimate Limousines
Sunday B. said "I called on Friday afternoon to book a last minute Limo to take 10 girls to dinner from Newport Dunes to Javier's on the next day (Saturday night) Andy quoted a price for everything including gratuity (which I loved). Our driver…" read more
in Party Bus Rentals, Airport Shuttles, Limos
Wine Country Car Service
Luxury car service with professional chauffeurs serving San Francisco Napa and Sonoma since 1999 read more
in Wine Tours
People Also Viewed
Bella Guatemala Travel
Plaza Travel
Buzz's Adventure Tours
LA Walking Tours
Roam Travel Company
Earth City Wonder
Best of Los Angeles
Things to do in Los Angeles
Other Tours Nearby
Find more Tours near Gaia Tours
People found Gaia Tours by searching for…
Tour Balloons Los Angeles
Browse Nearby
Restaurants
Whale Watching
Mines Near Me
Tours Near Me
Related Cost Guides
Town Car Service

The biggest Black Friday and CyberMonday travel sales available right now
Posted: November 21, 2023 | Last updated: November 21, 2023
It's the most wonderful time of the year to plan your 2024 family vacations . This November and December, many of the world's top hotels, tour companies, and other travel providers are rolling out their Black Friday and end-of-year discounts and deals, which means you can get something on the calendar to look forward to in 2024 and save some serious cash at the same time.
Of the hundreds of pre-Black Friday and end-of-the-year deals and discounts for travel available right now, these are the ones that offer the biggest savings and best values to help make your 2024 vacations easier on your wallet. Here are my picks.
1. Sandals Resorts and Beaches Resorts
Start the day smarter. Get all the news you need in your inbox each morning.
You can save big on a tropical getaway with the "Gift of Blue" sale from the all-inclusive Caribbean resort brands Sandals Resorts (for adults-only vacations) and Beaches Resorts (for all-ages vacations). Use the promo code GOB2023 between Nov. 13 and Dec. 21, 2023, to receive up to a $750 air credit and up to a $250 resort credit on vacations of seven nights or more at select brand properties, including Beaches Turks & Caicos , the new Sandals Dunn's River in Jamaica, and the soon-to-open Sandals Saint Vincent (coming March 2024). 
This pre- and post-Black Friday travel deal is good for vacations through Nov. 3, 2024. For every booking made between Thanksgiving and Giving Tuesday (Nov. 28), $50 will be donated to the Sandals Foundation to support its ocean conservation efforts. 
More about Sandals: 10 best Sandals Resorts for adults-only all-inclusive vacations
More about Beaches: Beaches Resorts vacations: What to know before you book
2. Trafalgar Tours
Well-respected tour company Trafalgar is offering huge savings with its pre- and post-Black Friday travel deals available when you book between Nov. 16 and Dec. 5, 2023. Discounts of up to 15% are available on more than 50 itineraries, including more than $1,700 off the Highlights of Australia and New Zealand trip, more than $1,00 off the Scenic National Parks Explorer tour, and more than $1,000 off the Best of South Africa itinerary.
More about Trafalgar: 10 best Trafalgar tours to take in 2024
More about guided tours: 15 best group tour companies for 2024
From Nov. 17 through 30, 2023, Contiki offers savings of up to 25% on more than 60 trips across six continents. Contiki's tours are geared toward travelers ages 18 to 35, and on-sale trips include the new South Korean Soul and Sea, Safari, and South Africa tours and longtime favorites like the Italian Escape trip.
More about Contiki: 10 best Contiki tours to take in 2024 
More tours for young people: 7 best group travel companies for young adults in 2024
4. Booking.com
The mega online travel site Booking.com is offering Black Friday deals between Nov. 16 and 29 for accommodation stays until Dec. 31, 2024, and for attractions taking place within three months of the booking date. This is the first time Booking.com is offering discounts of up to 25% off for selected attractions and things to do. Accommodation discounts start at 30% off for more than 31,000 places to stay around the globe.
More about hotel booking sites: 12 best hotel booking sites for 2024
More about airfare booking sites: 17 best airfare booking sites for 2024
5. G Adventures 
The end-of-the-year Cyber Sale from popular guided group tour operator G Adventures runs from Nov. 1 through 30 and features discounts of up to 30% for select trips departing in 2024. 
More about G Adventures: 10 best G Adventures tours to take in 2024
6. Priceline
Priceline's Black Friday deals are being unrolled in waves through Nov. 27. Early access offers include savings of 30% or more on select hotels and up to 50% on Rental Car Express Deals, plus Mystery Coupons for as much as 99% off for Email Insiders. For Black Friday, look for deals like a $100 resort credit with select Mexico and Caribbean hotel bookings and up to 25% off select rental cars. Cyber Monday Flash Deals will include up to $100 off hotels (promo code CYBERMON15) for the first 500 customers to claim them.
7. SeaWorld Orlando
One of Florida's most popular theme parks, SeaWorld Orlando is offering savings on single-day tickets and bundles with all-day dining and Quick Queue Unlimited for its Black Friday Sale . You can also score savings on Fun Cards, which are good for unlimited visits through 2024, and combo tickets with Busch Gardens Tampa Bay or Aquatica Orlando . You can find similar deals at SeaWorld San Antonio and SeaWorld San Diego .
More about Florida water parks: 7 best Orlando water parks for all ages
More about Florida theme parks: 10 best Orlando theme parks for all ages
Expedia members can save 30% or more on select hotels when they book by Nov. 29, 2023, and travel by the end of 2024.
9. Great Wolf Resorts
You have two opportunities to save on a trip to Great Wolf Lodge's much-loved indoor water park resorts. On Black Friday (November 24), use promo code FRIDAY to book rooms starting at $24 per person (minimum of four people) at Great Wolf Resorts properties for stays between Nov. 24, 2023, and Feb. 29, 2024. On Cyber Monday (November 27), use promo code CYBER to save up to 50% off a stay between Nov. 27, 2023, and Feb. 29, 2024. All stays must be booked via Great Wolf Lodge's website .
More about Great Wolf Lodge: 11 best Great Wolf Lodge locations in the U.S. and Canada
More about indoor water parks: 13 best indoor water parks in the U.S. for 2024
10. Velas Resorts (Mexico All-Inclusive) 
Black Friday deals at Velas Resorts all-inclusive properties in Mexico include up to 20% savings on nightly rates, complimentary stays for kids, and 50% off for teens. The deals are good for stays throughout 2024. The new Grand Velas Boutique Los Cabos (opening in December) is also offering a $100 credit for romantic experiences at the hotel.
More about Mexico family resorts: 13 best Mexico all-inclusive resorts for families
More about romantic Mexico resorts: 10 best Mexico resorts for couples
More about all-inclusive resorts: 10 best all-inclusive family resort brands in the world 
More Black Friday travel deals from tour companies
▶ Intrepid Travel: From Nov. 20 through Dec. 4, Intrepid's Cyber Sale offers discounts of up to 25% on trips to more than 100 destinations, including tours for families. 
More about group tour companies: 11 guided tour companies that offer trips around the world  
More about family tours: 11 best guided tour companies for family tours
▶ EF Go Ahead Tours: Education-focused tour provider EF Go Ahead Tours is running a month-long sale with different deals each week. The sale offers discounts of $600 per traveler (or $1,200 per couple), with some short-term "lightning deals" of up to $1,000 off per person. Nov. 17 through 22 has an Asia and Africa focus, and the big Black Friday/Cyber Monday offerings are available Nov. 24 through 27.
▶ Rocky Mountaineer: Rocky Mountaineer is offering savings of up to $1,100 per couple for select packages on any Canadian route and up to $1,500 per couple for select packages on its Rockies to the Red Rocks route for its Black Friday sales offer . The savings are available for new train tour bookings for the 2024 travel season made by Dec. 4, 2023. 
More about Rocky Mountaineer: The best Rocky Mountaineer routes for every travel style
More train trips: 12 best Amtrak vacations and scenic train rides in North America  
More Theme Park Deals for Black Friday
▶ Discovery Cove: Orlando marine mammal park Discovery Cove is offering savings up to 50% on reservations for visits through Dec. 31, 2024. Purchases must be made by midnight on Nov. 24, 2023, and you can also score 30% discounts on upgrades like day beds and cabanas for taking a break during a day of swimming with dolphins and snorkeling with tropical fish.
More about Discovery Cove: Your guide to Discovery Cove, Orlando's only all-inclusive theme park  
▶ Busch Gardens: Score savings of up to 60% off for single-day tickets, Fun Cards good for unlimited visits through 2024, and combo tickets with Sea World Orlando through Busch Gardens Tampa Bay's Black Friday sale . Busch Gardens Williamsburg is also offering Black Friday deals on tickets to Busch Gardens Williamsburg and Water Country USA, as well as the 11-park Platinum pass that offers admission to Busch Gardens, Sea World, and Sesame Place parks as well as the brand's water parks.
More about water parks: 13 best outdoor water parks in the U.S.
▶ Sesame Place Philadelphia: Got little ones at home? You can save up to 60% on tickets and up to 25% on season passes during Sesame Place Philadelphia 's Black Friday sale.
More bargains for little ones: 10 best family vacations with toddlers (that are also fun for parents)
The story The biggest Black Friday and CyberMonday travel deals available right now first appeared on FamilyVacationist.com . 
FamilyVacationist.com and TourScoop.com are owned and operated by Vacationist Media LLC. FamilyVacationist covers family vacation ideas ; family vacation spots ; all-inclusive family resorts ; and theme park vacations for families. TourScoop covers guided group tours and tour operators , tour operator reviews , tour itinerary reviews and travel gear recommendations . The views and opinions expressed in this column are the author's and do not necessarily reflect those of USA TODAY.
This article originally appeared on USA TODAY: The biggest Black Friday and CyberMonday travel sales available right now
More for You
Donald Trump Being Kicked off 2024 Ballot Looks More Likely
I inherited $15,000 and had fun with it. Then I inherited six figures a few years later and was more strategic — here's what I learned.
A radioactive threat found in the middle of America's fourth largest city raises alarm
Weight-Loss Drugs Pose Risks for People Over 65, Experts Say
Ziggy by Tom Wilson
Authorities searching for a second vehicle in connection to attempted terror attack: sources
Judge Chutkan Poised to Receive Huge Boost Against Donald Trump
Your Horoscope For December 2023
Norwegian Cruise Line cancels more than 7 months of sailings
Scientists discover giant missing blob of water in the middle of the Atlantic
Canada's unprecedented housing crisis could be a warning sign for the US
Former FBI investigator Bill Daly: There may have been a high value target at New York border explosion
COVID Mask Update As California County Issues Mandate
It's clear she interfered with the process directly: Rep. Jeff Van Drew
Loose Parts by Dave Blazek
18 Human Foods Dogs Can't Eat, According to Vets
Mike Johnson backed Clarence Thomas' suggestion that the Supreme Court 'reconsider' its rulings on contraception and same-sex marriage
Dozens evacuate and 10 homes are destroyed by a wildfire burning out of control on the edge of Perth
China Calls America's Bluff in the South China Sea
How To Support a Loved One Showing Signs of Dementia

Belize Reef & Rainforest
Reef, Rainforest & Reset
Land to Sea Vacation
WAVES AND WATERFALL
Live the gaïa adventure with private tours & experiences, deposit and cancellation policy.
To confirm your reservation, we require a one night deposit of your stay at GAIA Riverlodge and the balance is due 45 days prior to arrival.
Cancellations
May be made more than 60 days prior to arrival with a full refund less US $100 administrative fee.
Within 60 days prior to arrival, 50% of package total is refundable
Within 45 days prior to arrival, full stay is non-refundable
No refund or credit for no-shows.
Please keep in mind that GAIA is a mature environment with a minimum age requirement of 10 years.
All rates are for one or two guests sharing the room.
A 9% hotel tax and 15% service charge will be added to the room rate.
Cancellation and Payment policy does not apply for "Special Offers"
Important Note: Effective February 15, 2022, all visitors are required to apply for   Belize Travel Health Insurance -a mandatory insurance that helps protect travelers against incurred medical and non-medical expenses if you test positive for Covid-19 during your stay in Belize.
10 Black Friday travel deals you'll actually want to buy
The best travel deals for the biggest shopping week of the year.
Sometimes the best gift isn't one you can wrap in paper or stuff in your stockings. Maybe it's sipping mimosas poolside at your dream resort or all-night partying in Las Vegas . Or it might be taking your family on an all-inclusive cruise, or jetting off to a country you've never visited.
Even if you need a solo trip away from family , there's no judgment here. That's why we rounded up deals offered by some of the biggest brands from Black Friday to Travel Tuesday (yes, that's a thing).
Did we miss something good? Let your fellow travelers know in the comments.
How to budget for your dream trip this year
IHG Hotels & Resorts : With 19 hotel brands across the world, including Holiday Inn and InterContinental, IHG is offering a 20 percent discount on bookings reserved through the IHG One Rewards app as part of its Cyber Sale. The promotion is valid until Nov. 28 for stays through March, April or August (depending on the location), according to the chain's website .
Priceline : Through Nov. 27, the online travel agency will feature varying discounts across several hotels around the world, including 40 percent off or more on Las Vegas hotels, 20 percent off or more on ski hotels and 35 percent or more on participating Marriott Bonvoy hotels when you bundle hotels with flights. Savings apply to bookings made by Nov. 24 or 27 — depending on the deal — on stays that apply through May or June, according to the website .
Booking.com : The travel site will offer Black Friday deals through Nov. 28 on stays lasting until the end of next year. Discounts start at 30 percent off across various hotels and accommodations around the world. There's also a 25 percent discount on rental cars and various attractions.
Hopper : Through Travel Deal Tuesday discounts, the booking app will offer up to 50 percent off across more than 10,000 hotel properties around the world, with the biggest discounts for hotels in Bali and Madrid. Deals are available on Nov. 28. There are also discounts of up to 35 percent off across several cities and countries, including Paris, Miami and Rome, according to the site .
Frontier Airlines : The budget airline is offering its 2024-25 GoWild! all-you-can-fly pass at their lowest established price of $499 as part of their Black Friday sale through Nov. 28.
Is Frontier's all-you-can-fly pass a good deal? We tried it.
Guided tours
Exodus Adventure Travels : This company, which has been offering international travel experiences for the last 45 years, will take 20 percent off any guided group trip for its Black Friday and Cyber Monday sales. The deals are good until Nov. 30 for departures between Dec. 1 and Sept. 30. This can apply to hiking, wildlife and biking adventures, according to the site .
Holland America Line : The cruise line will discount up to 30 percent off their cruise-only launch fares on voyages departing after Dec. 1 for Black Friday deals. This excludes Grand Voyages, as well as bookings shorter than five days, and applies to select fares jetting through 2025. This deal ends Nov. 26.
Norwegian Cruise Line : Until Nov. 26, Norwegian is offering half-price cruises. For a limited time, customers can also add five "Free at Sea" benefits , including unlimited open bars, specialty dining, shore excursions, WiFi and adding a third and fourth guest at a $99 rate on select sailings. .
Samsonite : The luggage retailer is offering holiday discounts starting at 30 percent off across many of their suitcase, backpack and bundle sets, while supplies last. You could try utility backpacks that can safely fit your laptop and other valuable items or a three-piece luggage set that you can share with friends and family.
Rental cars
Fox Rent a Car: Discounts of up to 55 percent off are available on all vehicle classes picked up between Jan. 1 and September of next year. This offer is available until Nov. 23.
More travel tips
Trends: Japan | Cool all-inclusives | Let ChatGPT plan your day | Is it safe to go to Mexico? | How to be a good weed tourist
The basics: Better travel 101 | Cash-free tipping | Should you always book direct? | Traveling with kids | Decide where to stay | A pre-trip checklist of house chores | How to get your passport | Avoid getting sick | Budget for your trip | Do you have the right travel insurance? | How to travel with pets
Flying: Fly like a decent human being | Gear to pack | How to set airfare price alerts | PreCheck vs. Global Entry vs. CLEAR | Can I fly with weed? | AirTag your luggage | Airport parking 101 | Deal with airport crowds | Why you should stalk airfare after booking | Pet flying 101
Driving: 9 tips for road tripping with a baby | Try the Airbnb of rental cars | Rent an EV | Do I need an international license to drive abroad? | Avoid big rental car fees | Alternatives to flying with your pet
National Parks: A comprehensive guide | Where you need reservations | Lesser known parks | Parks etiquette
Greener travel: New rules of responsible travel | Bike to the airport | How environmentalists travel | How to find 'greener' flights | Make your travel better for the planet
Go by train: Overnight Amtraks | Grand Canyon | Vietnam | Harper's Ferry
In case of emergency: | Make a backup plan | Manage airport disasters | Your flight is canceled | How to get a human on the phone | What to do if your car gets stuck | Find your lost luggage | How to get a refund for a canceled flight | Deal with a bad hotel room | When you're bumped off your flight | If you get rebooked without your family | What are my rebooking rights? | Recover a lost item at TSA, the airport or your flight
Contact Number 1
+962795012069
Contact Number 2
+962795675754
Email Address
Vacation Rentals
Restaurants
Things to do
Elektrostal Tourism
Elektrostal Hotels
Elektrostal Bed and Breakfast
Elektrostal Vacation Rentals
Flights to Elektrostal
Elektrostal Restaurants
Things to Do in Elektrostal
Elektrostal Travel Forum
Elektrostal Photos
Elektrostal Map
All Elektrostal Hotels
Elektrostal Hotel Deals
Elektrostal Hostels
Elektrostal Family Hotels
Elektrostal Business Hotels
Elektrostal Spa Resorts
3-stars Hotels in Elektrostal
Elektrostal Hotels with Banquet hall
Elektrostal Hotels with Game room
Hotels near Karaoke Bar
Hotels near Museum of Labor Glory
Hotels near Viki Cinema
Hotels near Galereya Kino
Hotels near Statue of Lenin
Hotels near Park of Culture and Leisure
Hotels near Electrostal History and Art Museum
Hotels near Banya
Hotels near Museum and Exhibition Center
Hotels near SmokyGrove
Hotels near Papa Lounge Bar
Hotels near Fryazevo Station
Hotels near Khrapunovo Station
Hotels near Elektrostal Station
Hotels near Metallurg Station
Hotels near 43 Km Station
Hotels near Pavlovskiy Posad Station
Hotels near Kovrigino Station
Hotels near Elektrogorsk Station
Hotels near Zakharovo Station
Hotels near Noginsk Station
Zhukovsky International Airport Hotels
Vnukovo Airport Hotels
Domodedovo Airport Hotels
Aulani A Disney Resort & Spa
Jules Undersea Lodge
Moon Palace The Grand - Cancun
Hotel Riu Montego Bay
Secrets Maroma Beach Riviera Cancun
Lombok Senggigi Hotel
Waldorf Astoria New York
Disney's Caribbean Beach Resort
Secrets Akumal Riviera Maya
Atelier Playa Mujeres
Secrets Moxche Playa del Carmen
The LINQ Hotel + Experience
Haven Riviera Cancun
ARIA Resort & Casino
Dreams Royal Beach Punta Cana
Popular All-Inclusive Resorts
Popular Beach Resorts
Popular Family Resorts
Popular All-Inclusive Hotels
Popular Hotels With Waterparks
Popular Honeymoon Resorts
Popular Luxury Resorts
Popular All-Inclusive Family Resorts
Popular Golf Resorts
Popular Spa Resorts
Popular Cheap Resorts
GreenLeaders
Elektrostal
Things to Do
Travel Stories
Rental Cars
Add a Place
Travel Forum
Travelers' Choice
Help Center
Europe
Russia
Central Russia
Moscow Oblast
Elektrostal
Yantar-Siti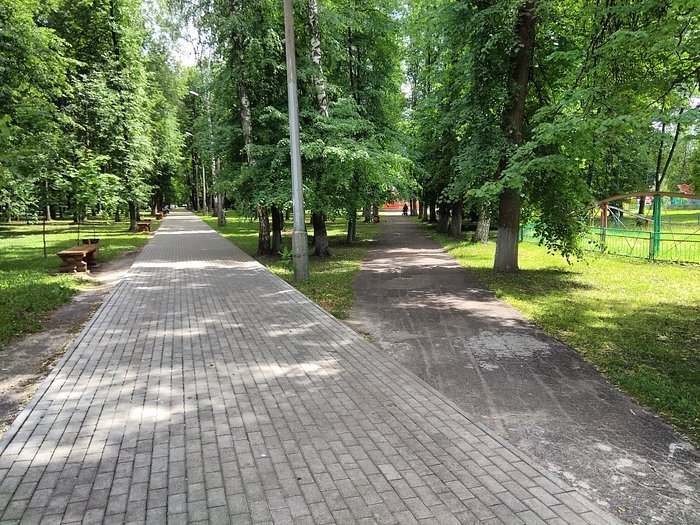 View prices for your travel dates
Own or manage this property? Claim your listing for free to respond to reviews, update your profile and much more.
YANTAR-SITI - Hotel Reviews (Elektrostal, Russia)
Holiday Rentals
Restaurants
Things to do
Elektrostal Tourism
Elektrostal Hotels
Bed and Breakfast Elektrostal
Elektrostal Holiday Rentals
Flights to Elektrostal
Elektrostal Restaurants
Elektrostal Attractions
Elektrostal Travel Forum
Elektrostal Photos
Elektrostal Map
All Elektrostal Hotels
Elektrostal Hotel Deals
Elektrostal Hostels
Family Hotels Elektrostal
Business Hotels Elektrostal
Spa Hotels in Elektrostal
3-stars Hotels in Elektrostal
Elektrostal Hotels with Game Room
Elektrostal Hotels with Banquet Hall
Hotels near Karaoke Bar
Hotels near Museum of Labor Glory
Hotels near Viki Cinema
Hotels near Galereya Kino
Hotels near Statue of Lenin
Hotels near Park of Culture and Leisure
Hotels near Electrostal History and Art Museum
Hotels near Banya
Hotels near Museum and Exhibition Center
Hotels near SmokyGrove
Hotels near Fryazevo Station
Hotels near Khrapunovo Station
Hotels near Elektrostal Station
Hotels near Metallurg Station
Hotels near 43 Km Station
Hotels near Pavlovskiy Posad Station
Hotels near Kovrigino Station
Hotels near Elektrogorsk Station
Hotels near Zakharovo Station
Hotels near Noginsk Station
Zhukovsky International Airport Hotels
Vnukovo Airport Hotels
Domodedovo Airport Hotels
Jiva Beach Resort
Hotel Riu Dubai
db Seabank Resort + Spa
Alua Calas de Mallorca Resort
Alua Suites Fuerteventura
Guayarmina Princess
King Evelthon Beach Hotel and Resort
Alua Atlantico Golf Resort
Barcelo Fuerteventura Mar
Occidental Jandia Mar
Hotel Riu Funana
Aska Lara Resort & Spa
Ideal Prime Beach
LABRANDA Suites Costa Adeje
Popular All-Inclusive Resorts
Popular Beach Resorts
Popular Family Resorts
Popular All-Inclusive Hotels
Popular Hotels With Waterparks
Popular Honeymoon Resorts
Popular Luxury Resorts
Popular All-Inclusive Family Resorts
Popular Golf Resorts
Popular Spa Resorts
Popular Cheap Resorts
GreenLeaders
Elektrostal
Things to Do
Travel Stories
Add a Place
Travel Forum
Travellers' Choice
Help Centre
Europe
Russia
Central Russia
Moscow Oblast
Elektrostal
Yantar City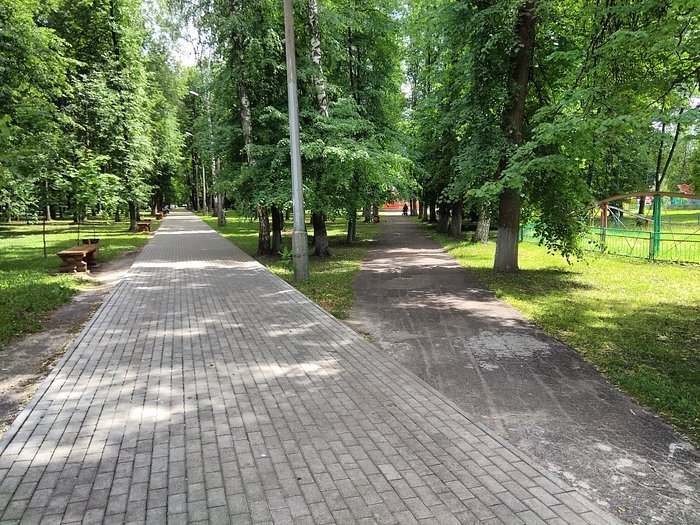 Reviews We perform checks on reviews. Tripadvisor's approach to reviews Before posting, each Tripadvisor review goes through an automated tracking system, which collects information, answering the following questions: how, what, where and when. If the system detects something that potentially contradicts our community guidelines , the review is not published. When the system detects a problem, a review may be automatically rejected, sent to the reviewer for validation, or manually reviewed by our team of content specialists, who work 24/7 to maintain the quality of the reviews on our site. Our team checks each review posted on the site disputed by our community as not meeting our community guidelines . Learn more about our review moderation.
Own or manage this property? Claim your listing for free to respond to reviews, update your profile and much more.
YANTAR CITY - Specialty Hotel Reviews, Photos (Elektrostal, Russia)
Our mission
is to promote a new, global consciousness which sees our entire planet as a living organism with Humankind as an integral part of the entity.
THE HEALING OF MOTHER EARTH
IS A JOINT RESPONSIBILITY OF ALL HUMANKIND
We envision
a world of empowered citizens and communities, designing and implementing their own pathways to a sustainable future, and building bridges of hope and international solidarity.
We are all one Planet
All one people of Earth All one Planet sharing our living our dying our birth and we won't stand by hearing her cry and deny we live as she lives we die as she dies… – Molly Scott
About Gaia Trust
Grants & Awards
Ross Jackson
Hildur Jackson
Contact Gaia Trust
Gaia Trust works for a sustainable future
Gaia Trust, Denmark is a charitable entity supporting sustainabilty projects around the world. It was founded in 1987 on the initiative of Ross and Hildur Jackson, with the intention of supporting the transition to a sustainable and more spiritual future society through grants and proactive initiatives.
Two NGOs especially have been supported for many years and continue to be supported, namely the Global Ecovillage Network and Gaia Education. Many other smaller projects in the areas of local sustainability initiatives, permaculture, etc. occasionally receive supporting grants.
Global Ecovillage Network
The Global Ecovillage Network envisions a world of empowered citizens and communities, designing and implementing their own pathways to a sustainable future, and building bridges of hope and international solidarity.
Read more >>
Gaia Education
Gaia Education is a leading-edge provider of sustainability education that promotes thriving communities within planetary boundaries.
Quality links, articles and books about ecovillages, spirituality and sustainable development.
Contact information
RossJackson.org
GaiaEducation.org
Gen.Ecovillage.org
DuemosegaardSamtalerne.dk
How to Plan a Backcountry Ski Tour with Gaia GPS
Devin Lehman is the Product Manager for Gaia GPS. Join him in planning and going on a backcountry ski tour, and to learn how to use Gaia GPS for your winter backcountry excursions.
I'm a backcountry snowboarder who happens to work in tech. It's a lame joke I've told coworkers over the past decade. (And it's a joke that needs no explanation to my coworkers at Gaia GPS.) So when winter swung into central Oregon and the avalanche forecast looked promising, I jumped on the opportunity to tour Mount Bachelor with some friends before opening day. Here's how I did it, from start to finish.
A New Mapping Paradigm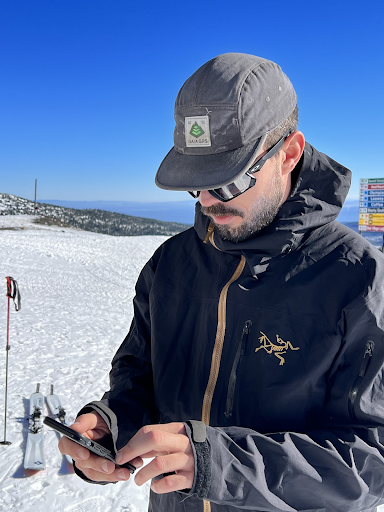 Technology has revolutionized ski tour planning. Growing up on ice coast of Maine, I spent many weekends with friends and family bootpacking up the Camden Snow Bowl to get a few edgeable turns. Hail, sleet, snow, and freezing temperatures rarely stopped us from having a good time outdoors.
We didn't have the best gear in the late '90s. I wasn't sure what "gore-tex" meant and jeans with sweatpants underneath often served as our premier choice of winter clothing. Checking conditions around Belfast , Camden , or Carrabassett Valley included picking up paper maps to look at terrain. We'd open a local newspaper to see weather forecasts. We'd talk to park rangers about conditions. And we'd turn on Maine Public Broadcasting to find out if school was canceled or if we'd be begging our parents to call in "sick" for us. These were the best methods we had at the time to plan, adventure, and share our outdoor experiences.
Enter Gaia GPS. Over the years, this app has transformed how outdoor enthusiasts, professionals, and weekend warriors adventure—including me.
Armed with vastly better tools and relocated to the opposite coast, my mission remains the same. When my friends and I decided we wanted to tour Mount Bachelor, I just had to turn to one resource to bring the trip to life.
Route Plan on the Web
With the best route planning tools available, gaiagps.com is the place I like to start planning any adventure. Plus, a desktop's big screen also lets you get a better, bigger sense of the terrain than the tiny screen of a phone.
So start by going to gaiagps.com . Hit the locate button in the bottom right corner to center yourself on the map. Since I'm not planning this ski tour from my front door, I type "Mount Bachelor" into the search bar to bring me to my destination on the map. Conveniently, I can see the localized weather forecast from OpenSnow just by tapping anywhere on the map.
Activate Winter Maps
Of Gaia GPS's hundreds of maps, a handful prove essential for every backcountry tour. I start by selecting Gaia Winter as my basemap. Designed in-house, Gaia Winter boasts the same clarity and file efficiency as Gaia Topo , but prioritizes winter travel. Backcountry ski zones conveniently pop-out from the map in blue and starting zones stand out in orange, making it easy to find places to tour. Gaia Winter's winter color palette also pairs perfectly with the suite of winter safety maps we're going to layer on top of it.
Snow Safety Maps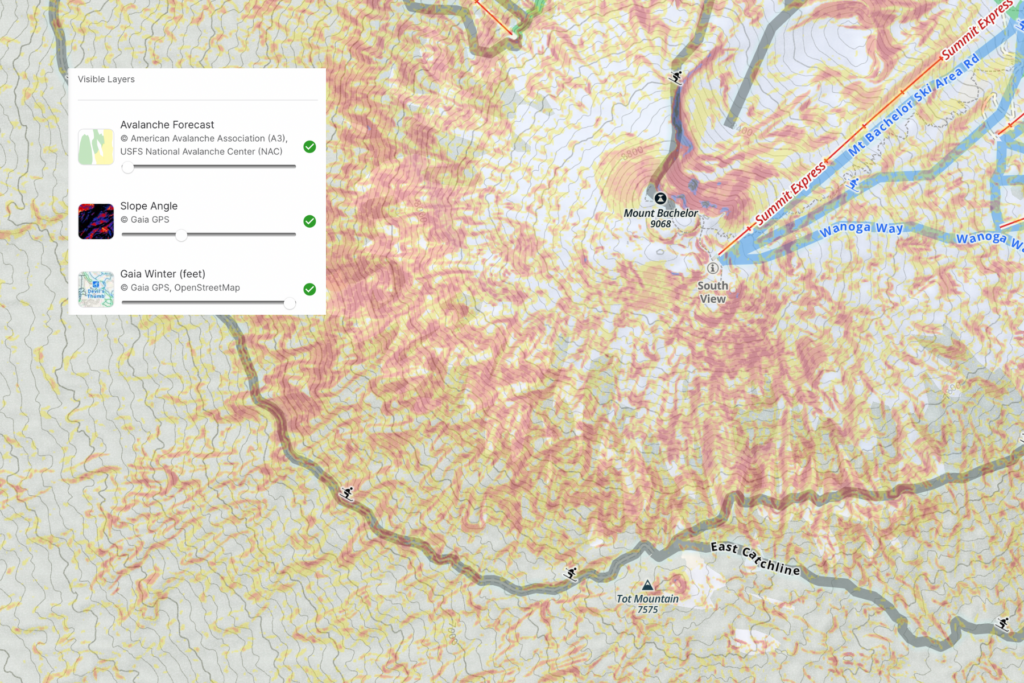 Next, I add the Slope Angle shading map and layer it on top of Gaia Winter. (Just drag Slope Angle to the top of the active map queue.) I turn the opacity down to about 30 or 40 percent so I can still see the underlying topographic terrain. Wondering what the colors mean? Tap the map name in the sidebar and scroll down to the bottom to see the map legend. Since I want to avoid slopes above 30 degrees, which could yield avalanche-prone terrain, I can easily pick my route through terrain that's shaded yellow (26 to 29 degrees) or has no shading at all (less than 26 degrees).
Now that I've got a sense of the terrain, I add the Avalanche Forecast layer to the top so I can scope out the regional avalanche forecast for the day. By zooming out a bit on the map, I can see that the avalanche forecast for the central cascades is green. But I want to read the full report anyway, so I click on the link to the full forecast from the Central Oregon Avalanche Center.
Weather Maps
I also add the Snow Stations Daily map to get snow conditions for the area, including the snow depth, how much new snow has accumulated, and the snow water equivalent, which tells you whether you'll be skiing Montana cold smoke or Sierra cement. Since we're touring a ski resort, I can also add the Ski Resort Reports map to get official conditions from the mountain. (Resorts with fresh snow glow on the map.) I can also add the Snow Depth map to get a visual on estimated snow depths throughout the area. Once again, tap the map in the sidebar and scroll down to the bottom for the map legend to see which colors correspond with what snow depths.
Given the late-season wildfires, I also add the Wildfire and Smoke Forecast maps just to make sure our plans don't go up in smoke.
Finally, I add the Satellite Imagery map so I can get a sense of how treed the terrain will be, where we'll hit treeline, and where avalanche paths may exist. I'm going to keep this map as an inactive layer for now; we'll turn to it once we activate 3D mode.
Hone in on the Zone
Now that we've got all of our maps, I start to scout out potential zones for the tour. I've already decided I want to ski around Mount Bachelor. Using Gaia Winter, I can see the backcountry skiing start and touring zones are on the northeast aspect of the mountain. The Slope Angle map shows there are some clear low-angle paths up this side of the mountain as well.
For easy reference, I mark this region of the map with a polygon . That way I can spy this area of the map at low zoom levels, and my touring partners can get a sense of where we're going. To add a polygon, or "area," click "Area" in the sidebar and add points to mark the perimeter of the zone. If the polygon shading gets in the way of seeing the map underneath, just turn it off by either toggling off "Areas" in the "Map Overlays" section of the sidebar. Or tap the area on the map, click the polygon in the sidebar, and turn the map visibility off.
Map Route with Snap-To-Trail
Now that I've got a sense of the terrain and the region we'll be touring, I'm going to map out a potential uphill route. Of course, this may change as we assess the conditions and terrain upon arrival, but it's useful to have a sense of where we're going and how long the route may be.
Zooming into the orange "start" zone near Mount Bachelor, I see there is a parking lot. I'm going to mark that as our starting point by dropping a waypoint on the map. Next, I'm going to map out the route. After clicking "Route" on the sidebar, I'm going to follow one of the trails switchbacking up the mountain. Mount Bachelor actually has designated uphill routes when the lifts are spinning, so I want to abide by this uphill route in case there are any employees working–I'd hate to pop up in front of a groomer or patrolling and startle them! Gaia GPS's smart snap-to-trail routing automatically snaps to the trail as I plot out points along it. When I make a careless click on the web, using the undo feature makes route correction a breeze.
About two a half miles and 1,500 feet of climbing up the trail, we reach a saddle. As we had a group of folks with varying levels of experience, I want to create two options. One more mellow mid-mountain approach, and another option to summit if conditions are right. While creating the routes, I'm able to see the right statistics (weather, ascent, slope angle, avalanche conditions) and tailor the route accordingly.
Some people may want to transition and ski back down here, so I'm going to end the route and give it a name: "Main plan." For those who may want to continue on to the summit if conditions allow, I'm going to start a new route here in a different color. Once again, I let Gaia GPS's smart planning tools do most of the work for me until the route reaches the summit.
For fun I even dropped a waypoint that could be a nice lunch spot for us to eat our pocket-tacos, a staple diet for touring adventures.
Scout in 3D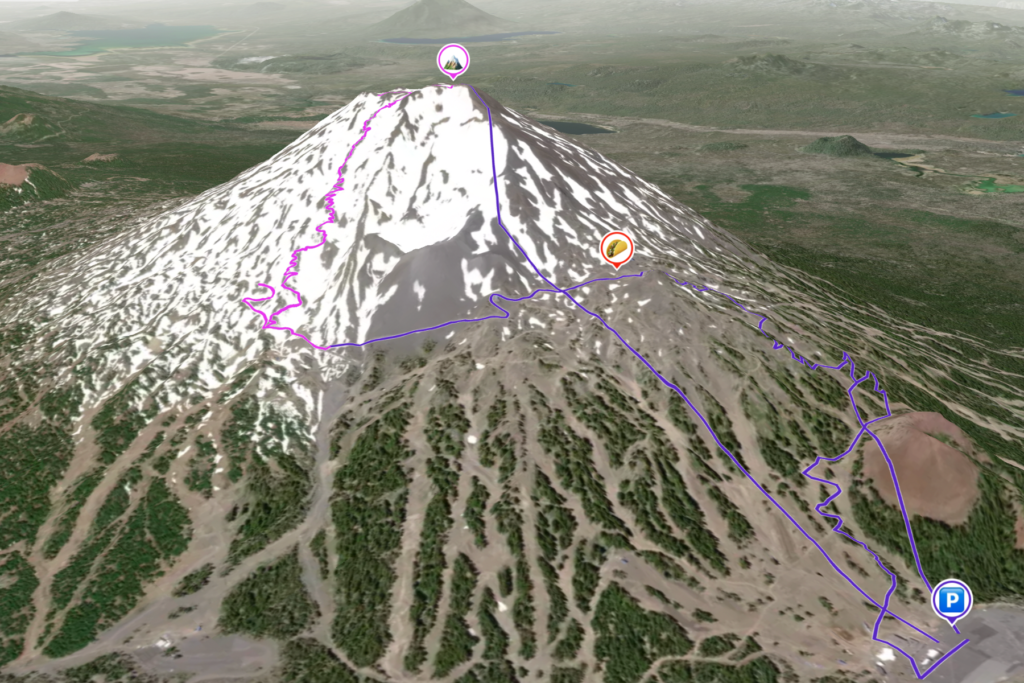 Now that I've drawn some potential routes on the map, I want to get a better understanding of the terrain we will be covering by looking a the map in 3D . So I hit the "3D " button in the bottom right corner. Next, I add the Satellite Map to the top of our active map layers. Following the route up the mountain, I can see that the first half of the skin track goes straight up a ski slope with trees on either side. The second half switchbacks up a ridge above the treeline. Panning around this northeast face of the mountain, I can see some potential skiable chutes and faces.
Share with Friends
I want to share my routes, waypoints, and area with my friends so they can prepare for the tour at home and navigate in the field. First, I add all of these items to a new folder. Now it's easy to share it with my partners. Just click on the folder, hit "Invite others to this folder," and enter their email addresses.
Now when my friends open their Gaia GPS accounts on gaiagps.com, they'll see a notification on the bell (top right of the screen) inviting them to add my folder to their accounts.
Sync Route to Phone
While gaiagps.com serves as the powerhouse for planning at home, I want to see all my new data in the field once we get going. To ensure it shows up in the app, open your Gaia GPS app at home. Tap the "Saved items" button on the bottom bar. Swipe down to automatically sync the items on your web and app accounts.
Take Maps Offline
We may not have cell coverage for the full tour. Plus, sometimes I like to put my phone in airplane mode to save battery life. To ensure I can see the map regardless of cell service, I'm going to download Gaia Winter and Slope Angle shading for offline use.
To download the maps on the app, tap the plus button on the top bar. Select Download Maps, and move the rectangle over the area in question. I like to download a little extra map, just in case. Next, press "Save" and choose which maps you want to download for offline use. You also have the option to download the data that will let you create new snap-to-trail routes in the field without cell service . Why not, it can't hurt–toggle on "Include data to create and navigate routes offline." Hit next. Keep the app open while the maps download. If you have decent wifi, it should be quick.
Navigate with the App
The squad reviewed the routes overnight, and now it's go time! Before I leave the house, I like to double check that my maps are downloaded for offline use and are set as active map layers. While I'm in the app, I can get driving directions to the parking lot. Just tap the route, hit the "More" button, and select "Driving Directions."
Upon arriving at the mountain, we meet up for a check in focusing on General headspace, Fitness, Willingness to suffer, Skiing ability and Avalanche risk tolerance. Once we completed the checks, the group agreed the mid-mountain lunch tour made the most sense.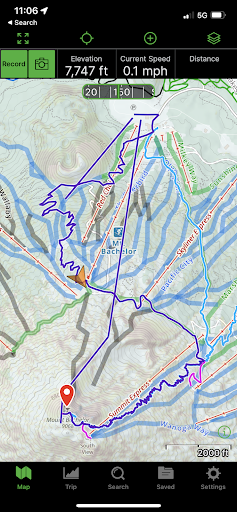 Record Tracks
I like to record my adventures in Gaia GPS for a few reasons. One, recording your tracks leaves a breadcrumb trail of your progress in the app. That way if I need to retrace my steps, I can just turn around and follow the line on the map. Second, recording your tracks in the app lets you relive your adventure in 3D on the web once you get home.
So after I turn on my beacon and we do our checks, I start recording my tracks. Once again, tap the plus button. Select "Record a Track."
Drop Waypoints
As we skin up the mountain, I drop waypoints to mark snow features, views, and to add notes about the snow pack and any other observations our team makes in the field. You can also drop a photo waypoint . Just tap the plus button and select "Take Picture." Don't forget to mark up the map with your memories.
Après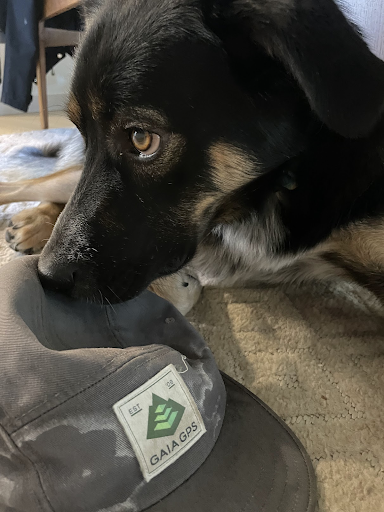 The conditions were way too reminiscent of my ice-coast heritage, and side-hilling became the name of the game. For one member of our group, however, that was no issue. It definitely helps to have four paws with integrated crampons. We hit our top-out point, snacked a bit, and started the descent. While we didn't have any deep pow lines to drop or slashes to throw, we sure did have a lot of fun. With Gaia GPS as our planning and adventuring tool, we were able to make a route directly back to the car without throwing our skins back on. A win in any backcountry enthusiast's book!
As snow keeps piling up in Bend and we watch the conditions, rest assured I'll be counting down the minutes until I can get back into the mountains. Gaia GPS and Outside have elevated my ability to educate myself, plan, and execute some of my most fun adventures. I'm incredibly lucky to have found a place where I get to combine my passion for the outdoors with my love of working in tech. That lame joke has now become a dream come true–something I am grateful for.
Cheers to Gaia GPS, Outside, and the outdoor community.
Devin Lehman
Devin Lehman, a "backcountry splitboarder who happens to work in tech" is the Product Manager for Gaia GPS.
Cook Marco Hernandez's Mouthwatering Camp Meals
How to save phone battery life in the backcountry, you may also like, how to find the best fall foliage, discover adventure easier than ever with new map..., type 2 engineering™: how the gaia gps team..., meet grizzly bear 399, the most famous bears..., see the world more clearly with new gaia..., gaia classic: the only map you'll ever need, 9 expert driving tips for your next overlanding..., meet map packs: a totally new way to..., backcountry discovery routes now integrated with gaia gps:..., the secret to getting young urbanites outdoors 'mappiness'.
2018 Primetime Emmy & James Beard Award Winner
R&K Insider
Join our newsletter to get exclusives on where our correspondents travel, what they eat, where they stay. Free to sign up.
A History of Moscow in 13 Dishes
Featured city guides.
Advertisement
Supported by
After Eras Tour Triumphs, Taylor Swift Finds Trouble in Brazil
Taylor Swift's Eras Tour broke records in North America, but has faced tragedy and mishaps during a three-day stretch of concerts in Rio de Janeiro.
By Amanda Holpuch ,  Flávia Milhorance and Leonardo Coelho
Amanda Holpuch reported from New York and Leonardo Coelho and Flávia Milhorance from Rio de Janeiro.
Taylor Swift was welcomed to Brazil on Thursday by a projection that made the world-famous Christ the Redeemer statue in Rio de Janeiro appear as if it were clad in a T-shirt similar to the one she wore in her "You Belong With Me" music video and was decorated with the names of Brazilian states and symbols from her songs.
But tragedy and trouble have followed that warm welcome.
A fan died in the sweltering heat at Friday night's show in Rio de Janeiro. At the 11th hour, Swift postponed her Saturday show until Monday, to the dismay of thousands of fans who had already started filling the stadium. The military police said a fan who was in Rio de Janeiro for the regularly scheduled concert on Sunday was stabbed to death earlier that morning.
The fatalities and other problems were a departure from the triumphant first leg of Swift's Eras Tour, a career-spanning production that broke records in North America. As the tour's second show in Rio de Janeiro approached on Sunday night, fans grappled with ruined travel plans, extreme heat and disappointment.
Anne Di Motta, 30, a psychologist in São Paulo, Brazil, was supposed to attend the Saturday night show and said she would be returning home before the rescheduled concert on Monday because she had to work.
"I spent the last 17 years waiting for the opportunity to go, to fulfill my teenage dream of meeting someone I've known since her first single," Di Motta said. "And to be sitting three hours in a chair, completely wet with sweat, having to overcome several personal challenges to be there completely alone, to receive the news that it was canceled — it was completely devastating."
The Saturday night show was postponed because of the extreme temperatures, Swift said in an Instagram post hours before the concert was supposed to begin at an open-air soccer stadium. "The safety and well-being of my fans, fellow performers and crew has to and always will come first," she said.
At that point, thousands of fans had traveled to see Swift, enduring the peak of the day's heat, which reached 93 degrees Fahrenheit, or 34 degrees Celsius, before they were asked to leave the venue. Reuters reported that the heat index, a measure of how hot it feels when humidity and other factors are considered along with the temperature, reached 59.7 degrees Celsius, or 139.5 degrees Fahrenheit, in Rio de Janeiro on Saturday, a record.
A representative for Swift did not immediately respond to emailed questions about the postponement of the Saturday show.
The Rio shows came after Swift performed in Argentina , the first stop on the Eras Tour outside North America. She had to move one show in Buenos Aires because of a storm. She is scheduled to perform in São Paulo on Nov. 24, Nov. 25 and Nov. 26, before traveling next year to cities across South America, Asia, Australia and Europe.
Julia Alvarenga, a social media influencer, was in the stadium when the concert was postponed and said in a video shared widely online that she had arrived for the show at 11 a.m. "Taylor Swift, I'm wearing a geriatric diaper that doesn't even close on me," Alvarenga said.
"I bought water, I bought a fan, everyone is crying, screaming, so you show up on this stage!" Alvarenga said.
Gabriela Werner, 24, a marketing analyst, bought tickets for each show in Rio and two in São Paulo, and said she started preparing for the heat three months ago by working out in a gym without air conditioning in the middle of the day. She lives in Porto Alegre, about 700 miles southwest of Rio.
While waiting in line for Sunday night's concert, Werner said the atmosphere was much calmer than that of the Friday show. "It's not so hot, and everyone's kind of holding back because of the nights before and everything that happened," she said.
She did not expect Swift to return to Brazil. "I'm sure she's traumatized," Werner said.
Werner, like many other fans, blamed the Brazilian company that organized the show, Time for Fun, for the problems. Wadih Damous, the head of Brazil's consumer protection agency, said the government would investigate Time for Fun. The company said on Saturday that it would add staff, provide free water and allow fans to enter the stadium with water and food.
As crowds left the stadium on Saturday night, there were reports of unrest near the site, the police said.
After Matheus Duarte, 24, a warehouse worker, left the stadium and went to a shopping mall nearby, he saw people yelling that there was a raid.
"I don't really know if it really happened, but I saw desperate people running," Duarte said. "And as soon as I saw it, I started running along and hid in a car park."
On Sunday, the military police said there had been no reports of robberies or muggings the night before. But before the concert on Sunday, a fan in Rio de Janeiro for the concert was stabbed to death after an attempted robbery in Copacabana, the famous beachside strip, the military police said. Two men had been arrested, they said. The fan, Gabriel Mongenot Santana Milhomem Santos, was with friends when he was stabbed, the civil police said.
During Friday's show, Ana Clara Benevides, 23, died after losing consciousness, officials said. She was pronounced dead of cardiac arrest after being taken to a hospital, according to city officials and the Brazilian company that organized Swift's show, Time for Fun.
Benevides, a psychology student, had traveled from Rondonópolis, which is about 880 miles northwest of Rio de Janeiro, for the concert, O Globo reported . Her friend Emiliane Félix, 22, told O Globo that Benevides had been sending her friends photos of her outfits for the concert "for over a month."
On X, the social media platform formerly known as Twitter, Benevides shared her excitement about the concert, writing on Nov. 7, "I don't know what my purpose in life will be after I see Taylor."
Fans at the concert on Friday complained about a lack of water and extreme heat. The heat index, reached 139 degrees Fahrenheit, a record for Rio.
In an online post, Swift said she was "devastated" by her fan's death. "I'm not going to be able to speak about this from stage because I feel overwhelmed by grief when I even try to talk about it," she said.
Luiza Guimarães, 33, an economist, said that she was disappointed it took so long for Saturday's show to be canceled because some fans were already unsure if it would go on after Benevides's death and were worried about the heat. "Really, the production of the show was very reckless and everything was very poorly managed," she said.
Guimarães said that she doesn't blame Swift for the problems and that she thought the musician must be "very, very discouraged."
Reporting was contributed by Genevieve Glatsky in Rio de Janeiro and Jack Nicas in Buenos Aires.
An earlier version of this article misstated the reason Taylor Swift had to reschedule a concert in Buenos Aires. It was because of a storm, not heat.
An earlier version of this article misstated the title of a Taylor Swift song. It is "You Belong With Me," not "You Belong to Me."
How we handle corrections
Amanda Holpuch is a general assignment reporter. More about Amanda Holpuch
Explore Our Weather Coverage
Extreme Weather Maps: Track the possibility of extreme weather in the places that are important to you .
Snow Tracker: Want to know how much snow will fall where you live? Search the full range of possibilities for your community .
Hurricane Preparation: When a hurricane is poised to make landfall, you may not have much time before you leave. Here's what you can do to get ready .
Heat Safety: Heat waves are becoming increasingly common across the world. Here is how to keep yourself and your loved ones cool, hydrated and healthy .
Is It Safe to Go Outside?:  Heat, flooding and wildfire smoke have made for treacherous conditions. Use this guide to determine when you should stay home .
Climate Change: What's causing global warming? How can we fix it? Our F.A.Q. tackles your climate questions big and small .
Review: 'Maestro' is Bradley Cooper's heart-full-to-bursting tour de force as Leonard Bernstein
You can feel Cooper's commitment to the film in every frame.
Looking for something absolutely extraordinary at the movies? Then do yourself a favor and see "Maestro," now in theaters.
Note to the Academy: start engraving the name Bradley Cooper on the Oscar for best actor. His heart-full-to-bursting tour de force as legendary composer-conductor Leonard Bernstein will be talked about for years.
As director and co-writer (with Josh Singer) of "Maestro," Cooper basically conducts his own performance. That's tricky business, but Cooper rarely hits a bum note, releasing Bernstein's personal angels and demons, along with his glorious music.
MORE: Review: 'The Hunger Games: The Ballad of Songbirds and Snakes' takes a risky gamble and fails
Unlike the flamboyant fictional conductor Cate Blanchett expertly portrayed in "Tar," Cooper is immortalizing the real deal.
Lenny, as everyone called him, came at life with a ravenous hunger, his carnal desire for both sexes matched by music that encompassed everything from symphonies, operas and youth concerts to Broadway. Snobs claimed that "West Side Story," "On the Town" and "Candide" trivialized Lenny's ambitions as a classical artist. What bull. Bernstein became the first Jewish American conductor to win global acclaim and "West Side Story" is constantly in play.
Lenny seduced whomever and whatever he desired with a fervent abandon. His wife, the Chilean actress Felicia Montealegre, was the great if hardly exclusive love of his life and a never-better Carey Mulligan instills her with a ravishing grit and grace. She's pure perfection.
As a director, Cooper surpasses his acclaimed 2018 debut with "A Star Is Born." It's been his longtime goal to put the Bernstein story on screen and you can feel his commitment in every frame. Like Bernstein, he brings everything he's got to the dream assignment, using all the tools of cinema, from editing to revolutionary sound design, to do Bernstein proud.
Cooper opens his film with an aging Lenny -- his hair a shock of white, his patrician voice hoarse from constant smoking -- sitting at his piano for a TV interview in which he mourns Felicia's death. The makeup deserves an Oscar, but technical mastery is only a way to a greater intimacy.
Editor's Picks
Review: Martin Scorsese delivers a new movie classic with 'Killers of the Flower Moon'
Review: Director Todd Haynes is a virtuoso at walking the tightrope between humor and heartache in 'May December'
Review: 'The Killer' falls gloriously into the right hands with director David Fincher
Camera wiz Matthew Libatique shoots with a poet's eye, switching from color to black and white. Suddenly, it's Nov. 14, 1943, and 25-year-old Lenny jumps out of bed next to a naked dude, whose butt he slaps like a drum riff, to take a call from the New York Philharmonic. Can he step in -- no rehearsal -- for ailing conductor Bruno Walter. Her can. And, boom, a star is born.
Lenny falls hard for Felicia, despite a warning from Lenny's sister Shirley (a sublimely wicked Sarah Silverman) about the collateral damage of living in Lenny's orbit. She's not kidding and the feeling intensifies as the film hurtles through time and the rise of the great man.
Felicia accepts Lenny's addiction to men until, well, she can't. Their blowout in the cavernous New York apartment they share with their three adored children is shot at a distance, yet you feel the emotional bruises as festive balloons from the Thanksgiving parade drift by outside.
Later, in the Bernstein home in Connecticut, a protective Lenny denies talk of his gay flings to his teen daughter Jamie (a tender, terrific Maya Hawke). It's a defense foreshadowed when Lenny runs into clarinetist David Oppenheim (Matt Bomer, first-rate as always), a former lover walking in the park with his wife and baby.
"I've slept with both your parents," Lenny teases the tot.
MORE: Review: 'The Killer' falls gloriously into the right hands with director David Fincher
He's making light of a serious issue. In the sexually restrictive era of the 1950s, closeted men sometimes married and had children to save their careers. Some still do. Cooper makes it clear, however, that Lenny wasn't faking anything with Felicia. Their mutual love powers the film.
As does the sublime music that underscores every detail in Lenny's life, from imagining himself as a flirty dancing sailor in tight pants for the Jerome Robbins hit ballet "Fancy Free" to actually conducting "Make Our Garden Grow," the soul-stirring chorale finale from "Candide."
Still, the killer moment in a film brimming over with them is Bernstein conducting Mahler's Second Symphony in London at the Ely Cathedral in 1976. Cooper revealed that he spent six years learning how to conduct just these six minutes of music -- live on set with real musicians -- in the style of the maestro. His commitment is total and electrifying.
The scene culminates with Lenny rushing off the stage to thundering applause to throw his arms around Felicia, nearly crushing her with bear hugs and devouring kisses. In Cooper's vision, Lenny would do the same to the music itself if he could. And the audience. And the world.
How do you live with that? In this portrait of a flawed artist whose self absorption could be dangerous to those who got too close, Lenny is definitely a challenge. But one worth taking.
Cooper doesn't beg forgiveness for Lenny -- he could be a real s.o.b. -- just understanding, which is an easier and more revealing ask.
You'll hear complaints that "Maestro" is too much about the man, too little about the art. But who wants biopic tropes when Cooper and Mulligan are offering a triumphant labor of love that reveals just how Bernstein found the music that made him dance.
Top Stories

FBI: Rainbow Bridge crash, explosion not connected to terrorism

Kentucky governor declares state of emergency over train derailment, chemical spill
Las Vegas high school grapples with how a feud escalated into a fatal beating
Netherlands looks set to replace longest-serving leader
Biden declares emergency over lead in water in US Virgin Islands
ABC News Live
24/7 coverage of breaking news and live events
Pop culture
Writing tips
Daily Crossword
Word Puzzle
Word Finder
Word of the Day
Synonym of the Day
Word of the Year
Language stories
All featured
Gender and sexuality
All pop culture
Grammar Coach ™
Writing hub
Grammar essentials
Commonly confused
All writing tips
Classical Mythology the ancient Greek goddess who personified the earth and whose numerous offspring include Uranus, by whom she bore the Titans and the Cyclopes.
the earth, when regarded as the self-regulating organism described by the Gaia hypothesis : Our destiny is dependent on what we do for Gaia as a whole.
Origin of Gaia
Also Gae·a [ jee - uh ] /ˈdʒi ə/ .
Words Nearby Gaia
Gaia hypothesis
Gaidhealtachd
Dictionary.com Unabridged Based on the Random House Unabridged Dictionary, © Random House, Inc. 2023
How to use Gaia in a sentence
Gaia was designed for the purpose, but when it switched on, the telescope had an unforeseen problem.
Critically, Gaia 's years-long data set described the detailed motions of roughly 1 billion stars.
Launched in 2013, the Gaia observatory is intended to observe as many of the galaxy's stars as possible.
He likes the Gaia mapping app, which has replaced stand-alone GPS units for his search and rescue team.
Launched in December 2013, Gaia 's job is to make a three-dimensional map of the Milky Way.
As supposedly the smartest carbon based bipeds on the planet, we are using up so many of Gaia 's resources.
If they keep The Big Guy in the platform, one of these somebody is going to demand that it also include Gaia .
Yes, that is her voicing narrator Gaia in the popular God of War video game series.
Gaia and Medea are powerful metaphors, as well, for human evolution and development.
The scientist James Lovelock named his influential theory of global interconnectedness the Gaia hypothesis after her.
It contains the treasures of Siena, the state archives; and in front of it stands the Font Gaia .
Gaia or Ge (the earth) had temples and altars in almost all the cities of Greece.
In the Campo is the fountain, known as the Fonte Gaia from the rejoicings that hailed the advent of its waters.
"He has never forgiven Font Gaia ," she said, with drooping head.
Gaia , or Earth, also bore the mountains, and Pontus or the barren Sea.
British Dictionary definitions for Gaia
/ ( ˈɡeɪə ) /
the goddess of the earth, who bore Uranus and by him Oceanus, Cronus, and the Titans
Collins English Dictionary - Complete & Unabridged 2012 Digital Edition © William Collins Sons & Co. Ltd. 1979, 1986 © HarperCollins Publishers 1998, 2000, 2003, 2005, 2006, 2007, 2009, 2012