Pokémon GO / Wizards Unite Tour
Bachelor Party Bus (Coming Soon)
Legends of Music City Walking Tour
E-Bike Tour
Monster Truck Tour
Tractor Tour
Nashville Bus Tour
Group Transportaion
NASCAR Tracks
Nashville, Tennessee
Golf cart tours, walking tours.
Monster Truck
Tractor Tours
E-Bike Tours
Bus Group Transportation
ADVERTISING
REQUEST A SHUTTLE
Sightseeing Tour
Mural & Instagram Tour
Brewery/Distillery Tour
Manager's Special Tour
Bar Golf Crawl
Nashville Shopping Tour
Bachelorette Party Bus (Coming Soon)
All-Inclusive Pub Crawl Walking Tour
Ghost Tour (Coming Soon)
Craft Brewery Tour & Distillery Experience
Nashville E-Bike Tours
Pedal your way through iconic landmarks like the Country Music Hall of Fame and the Ryman Auditorium on our exciting E-bike tour. With the help of our expert guides, you'll learn about the city's past and present and see why Nashville is one of the most beloved cities in the world. So join us on our e-bike tour and experience the sights and sounds of Music City like never before.
100% Street Legal
Our vehicles meet all Federal Motor Vehicle Safety Standards for roadway use.
More fun than UBER & Lyft (Tuscaloosa Only)
Joyrides are more fun AND cheaper than traditional ride share companies.
Mobile App (Tuscaloosa Only)
Download the new "Joyride Mobile" app to request rides and make payment.
Licensed & Permitted Drivers
Our drivers are background checked and permitted before allowed to drive.
Top-Rated Nashville E-Bike Tours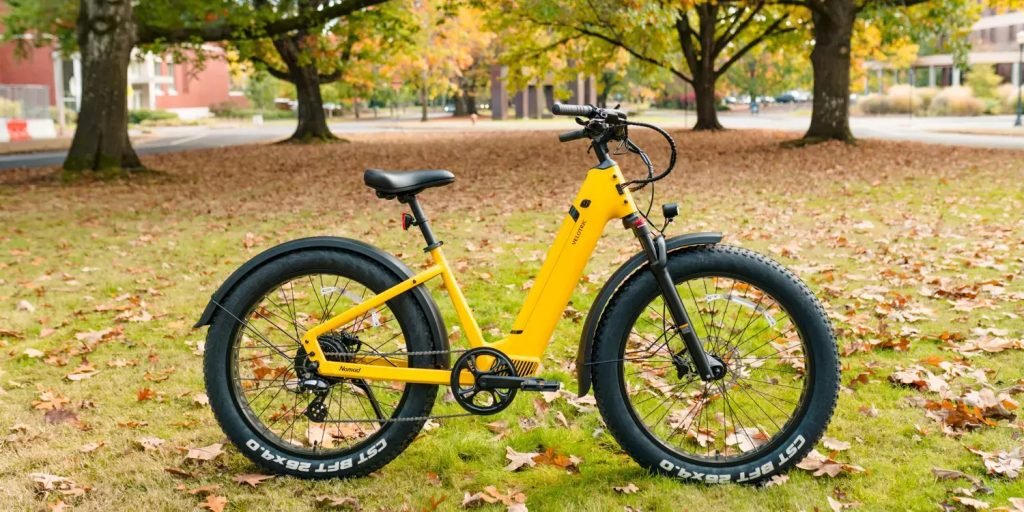 Who is Joyride?
We at Joyride offer a variety of custom rides throughout beautiful Nashville, Tennessee. What started as a low-speed transportation service has become a unique tour opportunity for guests to encounter the magic of Music City. We guarantee that you and your whole crew will have a blast exploring Downtown Nashville.
What To Expect
Joyride tours are designed to offer a unique and memorable experience, showcasing the beauty and culture of Nashville. With its bustling streets, lively music scene, and rich cultural heritage, downtown Nashville is a must-visit for anyone looking to experience a one-of-a-kind environment. Whether you're a music lover, foodie, or simply looking for a fun night out, downtown is THE place to be. And with our knowledgeable guides, well-maintained vehicles, and itineraries packed with adventure, Joyride is the perfect choice for anyone looking for an unforgettable Nashville tour. 
Why Choose Joyride?
Why us? Firstly, we are dedicated to providing personalized and immersive experiences for each and every guest. Our knowledgeable and experienced guides are passionate about sharing the best of Nashville. Additionally, we are committed to sustainability and responsible travel. We deeply understand the importance of preserving our city's natural beauty and cultural heritage.
Furthermore, here at Joyride, we offer a wide range of tours and activities to choose from, so you're sure to find something that interests you. Whether you're a solo traveler or part of a group, Joyride will create a tour that is tailored to your preferences.
Finally, we understand the importance of affordability, with tours and activities that cater to all budgets. When riding with us, you can be sure that you'll get the most out of your experience without breaking the bank. With a commitment to providing the best possible tours and activities, Joyride is the go-to company for your next adventure.
More Tour Options
Party bus tour, experience nashville, beautiful parks, alluring art, see what our guests have to say about their joyride nashville experience..
Early Bird Discount! Save $10/pp on Public Tours! Save $45 on Private! (Morning Only, Mon - Fri)
SPROCKET ROCKET
Nashville's #1 party bike & pedal tavern tours.
NASHVILLE PARTY BIKE
Get ready to explore Nashville on a massive 15-seater party bike! There's no better way to tour music city on our Nashville pedal bar. So come enjoy this unique ride through downtown on our half-bike, half- bar , ALL fun machine!
Clock Morning, afternoon or evening
Info Public or private
User Ages 21+
Hour Glass 1 hour and 45 minutes
WATER WALKERS BOAT RENTALS
Nashville boat rentals that support local youth.
For every boat rental Sprocket will pay $100 of your boat rental fee. Use the code SPROCKET when you book.
SO MANY WAYS TO CELEBRATE ON YOUR NASHVILLE PEDAL BAR!
Bachelorette & bachelor parties.
Contact Us »
BACHELORETTE & BACHELOR PARTIES
Private parties.
PRIVATE PARTIES
Corporate events.
CORPORATE EVENTS
MARKET YOUR PRODUCT WITH US!
About Sprocket Rocket Pedal Bar!
What makes the Sprocket Rocket the #1 Party Bike and Tavern Tours in all of Nashville? Your overall experience is second to none! We start by offering over 58 ride times per day, a downtown location for easy pick-up and drop-off, a dedicated driver, an experienced bartender, a premium sound system, an electric assist motor, LED party lights and overall the best party on wheels.
Chevron down How does this work? How do I book?
BOOK YOUR RIDE ONLINE!
Online bookings only, sorry, no phone bookings! Our calendar is LIVE so you'll only see the latest availability. (We CANNOT take a reservation via email, and we cannot provide availability through email either.)
Show up & Buy drinks at our location!
Ice and coolers are on us while your bartender actively pours. Our experienced staff uses the onboard sound system to pump their custom music playlist from start to finish all while keeping you safe on the roads. We are a party bike! So we make ONE stop in the middle of the ride to let you stretch your legs, use the bathroom, etc., then keep the party going on the bike. Pedal. Party. Drink. Repeat.
Chevron down How many people can ride? What if I have more or less?
MINIMUM = 6 PEOPLE / MAXIMUM = 15 PEOPLE
There are six bikes seats on each side (two wheel well seats don't pedal) and four people fit along the backbench. Seating type on a public ride is NOT guaranteed. Our staff sits you accordingly. If you have less than six people, you can still book a public tour and we'll put people together to fill your bike and make you new friends!
If you've booked less than six people there is a chance your ride won't go out. If this does happen, we will contact you and either reschedule you OR give you a full refund.
HAVE MORE THAN 15 PEOPLE?
No problem! Just book more than one bike! Private rides of more than one bike are NOT guaranteed to leave at the same time, but we will do our best to accommodate!
Chevron down What should I bring? Where can I buy drinks?
No need to bring ice, coolers, or drinks. We have you covered. We have beer and seltzers for pre-order during booking or on location at our check-in counter. Due to city regulations only beer and seltzers are allowed on the party bike. NO GLASS, LIQUOR OR WINE IS ALLOWED UNDER ANY CIRCUMSTANCE.
CASH & I.D.
You MUST be 21 to ride! Tennessee State Law says you MUST show us your ID! Everyone must carry an ID with them at all times. Yes, even grandma must have hers!
Our bikes have storage bins up top just like an airplane, only smaller. We can store purses, wallets, small bags, umbrellas, cell phones, etc. Large coolers and suitcases will not fit on our bikes.
YOUR WAIVER
We have electronic waivers which means your waiver can be done online from a computer or your cell phone. You do NOT have to print your waiver and bring it with you.
Chevron down Do we really have to pedal?
WELL, HECK YEA!
70% of the power we need to run is provided by YOU! The remaining 30% of the power is supplied by our bike's unique electric assist motor.
Sprocket Rocket is not only the best Party Bike and Tavern Tour in Nashville, but also the easiest to pedal! That 30% boost is a game-changer, allowing us to pedal for longer than any other pedal bike downtown!
SEE WHY WE HAVE 4,000+ 5-STAR REVIEWS!
What a fun time! I wasn't overly excited about it going in but my wife and I wanted to try it and I am so glad we did. Our driver Gentry was very engaging and turned out to be a top notch DJ while Gabby tended the bar and kept the dance party going down Broadway and all around. 5 stars and will do it again when we go back with friends. The pedaling was easy (motor assisted) and all around an amazing time.
So Fun! Josh and Caitlyn were the absolute best and kept the energy and fun going! Great music and laughing not to mention FREEZING! We were there on the coldest night and had scheduled a 9:45PM ride. We are 4 boomer women; bundled up pedaled laughed singing to great music and everyone on the street were yeehawing and waving. The time flew by because of Josh and Caitlyn were the best hosts! Highly recommend this activity to see the lights and people. Would definitely do it again!
Such a fun time! Laughed the entire time! We had the best driver in Mike and the greatest bartender in Tracy. The music they played and the energy they had made the whole experience so much better! Biking was easy as it is assisted. Something to keep in mind is that at some point on weekend nights they close off Broadway to vehicles. Glad we took the 5:55 tour as Broadway was still open. If we picked an evening tour, wouldn't have been able to pedal down Broadway which was so fun!
Definitely one of the highlights of our visit to Nashville. From check in to the final drop off, everything went super smooth, our group could not have been happier. What really made this ride so much fun was our driver and bartender. Dom and Caroline really did a great job keeping the party going. From the stellar playlists, to the impressive dance moves, they made sure everyone was having a great time. I would highly recommend this tour.
This was our first time doing a bike bar tour and it went beyond our expectations!! The driver Dominic was awesome and hilarious and Caroline was fantastic with her dance moves! The music choice really made the ride exciting and everyone was having a blast!! Would highly recommend them and can't wait to do it again!!!
These pedal taverns are always fun, but this time, thanks to Andrew and Caroline we had an amazing experience. They had the best, most friendly energy. Andrew was a great driver and party captain and Caroline has dance moves unmatched. Together they were quite the team! And as the pregnant sober one on the trip, the fact I had that much fun drinking water is a testament to how great they are!
Music City Crawler
A must do pedal bar & beer bike in nashville, tennessee.
Private Parties Available
Pedal Pub Tour
Discover the hottest bars in Music City on a pedal bike pub crawl down Nashville's legendary Honky Tonk Row!
Users Ages 21+
Users Up to 15 people
Hour Glass 1 hour 30 min
Keep Calm and Pedal On!
About music city crawler.
The Music City Crawler is a 15-passenger party bike. Your ride is 1 hour and 30 minutes with drink specials from our honky-tonk partners. We offer private or individual seats for your fun experience in Music City. Perfect for any occasion, we are known for the best prices in town and for being the only place where Veterans and Brides pedal FREE! Book online with us today!
Pedal Through Our Five-Star Reviews
Super fun experience! Great music and fun bar stops. Brett and Blake were great! Made the experience super fun. Would 10/10 do this again. Perfect for bachelorette parties or birthdays.
Six of us all in our 50's ventured on a pedal bike crawler! We had a total blast. Otis was our driver and Jamie our bartender. We lucked out and rode with another fun couple. Great outing!
Jamie and Rachel were the best guides! They made everything so fun and made the trip such a great time! If you have the option definitely choose them!
Hunter and Maggie were awesome. Had great energy and were super fun to hang out with! We had a ton of fun - we had a private bike for a friend's 40th and it was a blast!
Group of 12 friends visiting Nashville's sites & sounds. This was a great fun time and highly recommend. Not hard to peddle and lots of laughs. Steely & Ben where great hosts!
It was the BEST thing we did while visiting Nashville! I wish I could remember our driver and servers names because they were amazing! Definitely recommend!
The Nashville Pedal Tavern & Party Bike Experience
A must-do in nashville.
Experience Nashville's iconic Broadway street and its honky tonks with Nashville Pedal Tavern! This party bike experience will take you through Lower Broadway where you'll be able to take in the sites from the bike. Drink, dance and sing from your seat while you fully embrace the culture of Music City!
Party Bike Details
Riders must be 21 or older
BYOB (Bring Your Own Beverage). NO GLASS or full-size kegs allowed
Minimum 6 riders per tour
Maximum 15 riders
Start and end in different locations
Sign Waiver before your tour. Waiver link is sent in booking confirmation email.
Individual/Public: Starting at $49 per person
Private: Starting at $490 per group
Corporate: Book private for 15 or less, or contact us for more than 15 people and special events
The Nashville Pedal Tavern tours run from Lower Broadway to Downtown Nashville.
You will start and end in different locations.
Each ride makes up to 1-2 stops to take pictures and take advantage of exclusive specials with our bar partners. We cannot visit all Nashville attractions, but will provide you with recommendations to explore post your party bike experience! 
"Pro Tips" and FAQs
Arrive 30 minutes early for check-in.
Do not show up drunk (we cannot allow you on the bike).
Bring water and snacks.
Have a pick-up plan for when your tour ends (you'll end in Lower Broadway)
One private tour includes the whole bike (15 seats).
Always drink responsibly and be respectful.
Always listen to your Driver.
What are your alcohol rules? You are welcome to bring alcoholic beverages that are 7.9% ALC/VOL or less. No wine or champagne in any form on board, under any circumstances. No kegs and no glass please.
Where does it start and end? All tours launch from Pedal Tavern Headquarters at 1504 Demonbreun (1 mile up the hill from the Lower Broadway area). Tours end in Lower Broadway.
Do you have to pedal? There are only 10 seats that have pedals. 5 riders do not pedal.There is a bench on the back for three of those not pedaling.
What should I wear? Please dress appropriate for predicted weather conditions. Tennis shoes, sandals and boots are fine. We do not suggest high heels.
Choose How You Pedal
what everyone's saying
"The Nashville Pedal Tavern is hands down one of the best experiences that you can have in town. We gathered up 32 of our closest friends and rented both bikes on a Saturday morning to pre-game for a charity event later that day down on Broadway. Our entire group raved about the entire experience! Angie & Brian took fabulous care of us by keeping the party going and ensuring that everyone is safe and happy. The Nashville Pedal Tavern is a must do experience in music city! Trust me, I've done it 5 times now in less than 2 years."
Extend Your Nashville Experience
With more things to do in and around nashville.
BEVĒ Boutiques Shopping Experience
Lake Day with Nashville Toons
Slingshot Around with RevRide
Purchase a gift give the fun-seeker in your life a nashville experience.
1504 Demonbreun Street 615-390-5038 info@nashvillepedaltavern.com
Affiliated with
• • NOW OPEN • •
Nashville BAR BIKE
Nashville's #1 Party Bike Experience
We're Hiring! Click here to apply!
Nashville BAR BIKE TOURS
Private or Public Tours Available Experience Nashville in style! Reserve your private beer bike tour for 6 to 15 passengers, or just grab a couple of seats for a fun night! This tour is perfect for birthday celebrations, bachelor parties, bachelorette parties, corporate outings, and team-building exercises. The pedal bike tour includes a local tavern stop. Individual prices starting at $35 and private tours starting at $350
Nashville PARTY BIKE TOURS
Private or Public Tours Available Experience Nashville in style! Reserve your private beer bike tour for 6 to 15 passengers, or just grab a couple of seats for a fun night! This tour is perfect for birthday celebrations, bachelor parties, bachelorette parties, corporate outings, and team-building exercises. The pedal bike tour includes a local tavern stop. Individual prices starting at $35 and private tours starting at $350.
Nashville SPECIAL EVENTS
Make your next special event, or party, a Party Bike party! From Bachelorette parties to birthday parties, the Nashville Bar bike takes your ole' boring events and adds excitement and fun like no other! Sip, pedal, and ride your way into special memories you'll never forget.
PARTY BIKE PRICING
With the best prices on Bar Bike tours in Nashville, we'll give you an unforgettably good time without breaking the bank! Whether you're looking for something to do in Nashville, a way to spice up your special event, or to just take in the sites, the  Nashville Bar Bike  is the #1 answer for public or private party bike tours! Come help us pedal! Taverns and pubs will not be skipped!
INDIVIDUAL SEATS
STARTING AT $35
Hop on and cruise by yourself or with a couple of friends! We bring the music and the ice, you party and pedal. Pub stop included on the tour. With tons of tours every day, you'll be able to find the perfect time for you!
PRIVATE TOURS
STARTNG AT $350
Have the whole bike tavern to yourself and your party! Great for Bachelorette parties & events! Customize your route! Private tours are available for parties with 6+ people. March thru October, private tours are only available Monday thru Wednesday.
PARTY BIKE FAQ
Where do we meet at, android / google maps users.
Our meeting destination is at 501 Division St Nashville, TN 37203 (CLICK TO OPEN GOOGLE MAPS)
Apple / IOS Users
Our meeting destination is at 501 Division Street, Nashville TN (CLICK TO OPEN APPLE MAPS)
Trouble Finding Us?
We are located across the street from Greyhound. If you have issues with the above location you can always search for the intersection   501 Division St Nashville, TN 37203
If you have any troubles locating us please don't hesistate to call   615-800-0035
Where does the tour end?
We end our tours at  504 4th Ave SOUTH.  Only unforeseen events, such as road closures or excessive traffic, would require us to end the tour in a different location.
What can I bring on the Party Bike Tour?
Bring an   ID   that shows you are at least 21 years   of   age.  
Bring your own alcoholic or non-alcoholic beverages (no glass).
ALCHOHOL MUST BE 8% OR LESS! NO HARD LIQUOR OR WINE IS ALLOWED BY CITY ORDINANCE!
If you rent the whole bike for your party , feel   free to bring   your own playlist .   Decorations and costumes are welcome. We can also store small purses and bags on the bike.  
What Not to bring (because we provide them):
What can't I bring on the tour?
Glass containers   and illegal drugs   are never allowed on the bike.  Please don't bring any animals ,   as they surely won't enjoy the ride.  We will be ped aling   around our great city so make sure not to bring any big bags or extraneous   items that could fall off the moving vehicle.  
Wine & Liquore are not allowed. Alchoholic drinks must be 8% or less!
Water, Ice, Cups, and a cooler are all provided, so you will not need to bring any of that.
What Happens in the Event Of a Road Closure for Festivals or Other Activities?
Often Times Nashville closes roads to vehicle access for events and activities. This can impacts the party bikes ability to traverse Broadway and potentially other streets. For instance, they close Broadway to up-and-down vehicle access every weekend at 8pm. While road closures and be both expected and unexpected in such a hot Destination like Nashville, we are positive this will not impact your experience on the Nashville Bar Bike!  If you have question about road closures during your booking please feel free to contact us !
How many people can go on the Bar Bike?
We need a minimum of 6   pedalers   to move the bike efficiently. We can take   a   maximum of 15 people.     
How does drinking work on Party Bikes in Nashville?
BYOB! Bring your own alcohol and mixers. We are not allowed to provide you with alcohol   for the trip , but we will be your bartender for the drinks you provide .   We will also provide coolers, ice, and cups for the journey.   We are happy to talk with you about   where   to procure alcohol for your trip.   Alcohol can only be consumed while sitting on the bike.  
Wine & Hard Liquor are NOT ALLOWED. Alchohol content must be below 8% for beverages on the Party Bike.
How long are Party Bike tours?
Our tours   are approximately 1 ½ to 1 ¾ hours of pure bliss gliding through our beautiful city!  
What is the cancellation/rescheduling policy?
If you need to cancel your reservation, we will provide a full refund if given notice at least 14 days prior to tour date. Missing the start time or canceling within 14 days of the ride date will preclude you from receiving a refund. We do offer a one-time rescheduling option.   A r eschedu le   request must be made at least 2 days prior to the tour date. The reschedule date must be within 7 days of your original tour date.  
There is a $50 fee for no-shows (i.e. you have a scheduled tour and do not show up.) Please make sure to contact us as soon as possible if you can't make your tour.
What happens if it rains?
We keep a close eye on the sk ies a nd will let you know if the weather will make it unsuitable or unsafe to ride.   We will inform you if the ride will be cancelled due to weather, please do not make any assumptions regarding cancellations. If cancelled, you will receive a full refund.   
How hard is pedaling on the Bar Bike?
Pedaling  is  much easier than it looks! The bar bike is equipped with an electric assist motor. P assengers are only asked to exert a level of energy that is comfortable for that individual. There are also seats available that require no pedaling be done at all.
What should I wear during my Bar Bike Tour?
We encourage everyone to be comfortably dressed. Please keep in mind you will be pedaling. Also, the bike seats are elevated, so consider how upward breezes may affect your outfit. Please do not wear high heels, open toe shoes, or sandals.   
Do we stop anywhere? How Many Stops are there?
Yes!   There will be one or two stops on each tour based on your preferences. The stop(s) will be at one of our favorite local bars, allowing you to get another drink, stretch your legs, and use their facilities.   The stop will not be long, the vast majority of the tour takes place on the bike.  
Should we tip the Party Bike Operators?
Our operators work hard to   provide   an enjoyable experience.
This is how they make their money so if you had a great time, compensate appropriately. Cash, Venmo, CashApp, Zelle are a few acceptable forms of payment for tipping.
Is Hard Liquor & Wine Allowed?
Hard liquor and wine IS NOT ALLOWED. Alchoholic drinks must under 8% alchohol. 
Is Water Provided? Should I bring my own?
We provide water on the Nashville Party Bike. Please do not bring your own as we have some ready and available for you!
Water, Ice, Cups, and a cooler are all provided, so you will not need to bring any of that. 
Are People Under the Age of 21 Allowed?
No one under the age of 21 is allowed on the Nashville Party Bike. 
Should/Can I Bring my Own Cooler?
Do not bring your own cooler. We provide one as well as water, ice, and cups. 
How Do I Book A Private Party Bike Tour?
Private tours require a minimum of 10 people, and you must call us to book. 
Are You Hiring?
Yes we are! Please visit this page to apply!
WHY THE NASHVILLE BAR BIKE?
Nashville's most affordable 15-person beer bike offers the ultimate pub crawl experience for your vacation. Pedal your bicycle bar along the best sights and taverns on Broadway and Music Row. This group tour is perfect for birthday celebrations, bachelor and bachelorette parties, corporate outings, and team building exercises.
​Our tour is not just grinding gears and turning sprockets, it is a BYOB party on wheels. We provide the driver, ice, cooler, plastic cups, and premium sound system for all your favorite contemporary and country music. Pedaling is not required for all participants, as the bike features an electric motor. The motor keeps the bike from crawler speed, but does not turn the vehicle into a rocket. Expect a stop at one of the city's famed clubs or dive bars.
RECENT POST
Definitive Wings Guide to Nashville | Best Wings Ever!
Vinyl Shopping Guide to Nashville | Best Local Record Shops to Score Big!
Best Burgers in Nashville | Award Winning, Local, & Delicious
Special request, or looking for more info.
Nashville Bar Bike can accommodate your special request. We can create custom tours and deliver Bar Bikes to operate at your special event! Contact us today to get started and book Nashville's #1 party bike.
CALL, TEXT, OR EMAIL ANY TIME!
[email protected], 615-800-0035.
Email Address
6 AWESOME Party Bike Tours in Nashville, Tennessee
This site is reader supported. When you buy through links on this site, I may receive a small commission. Thanks for your support! Read More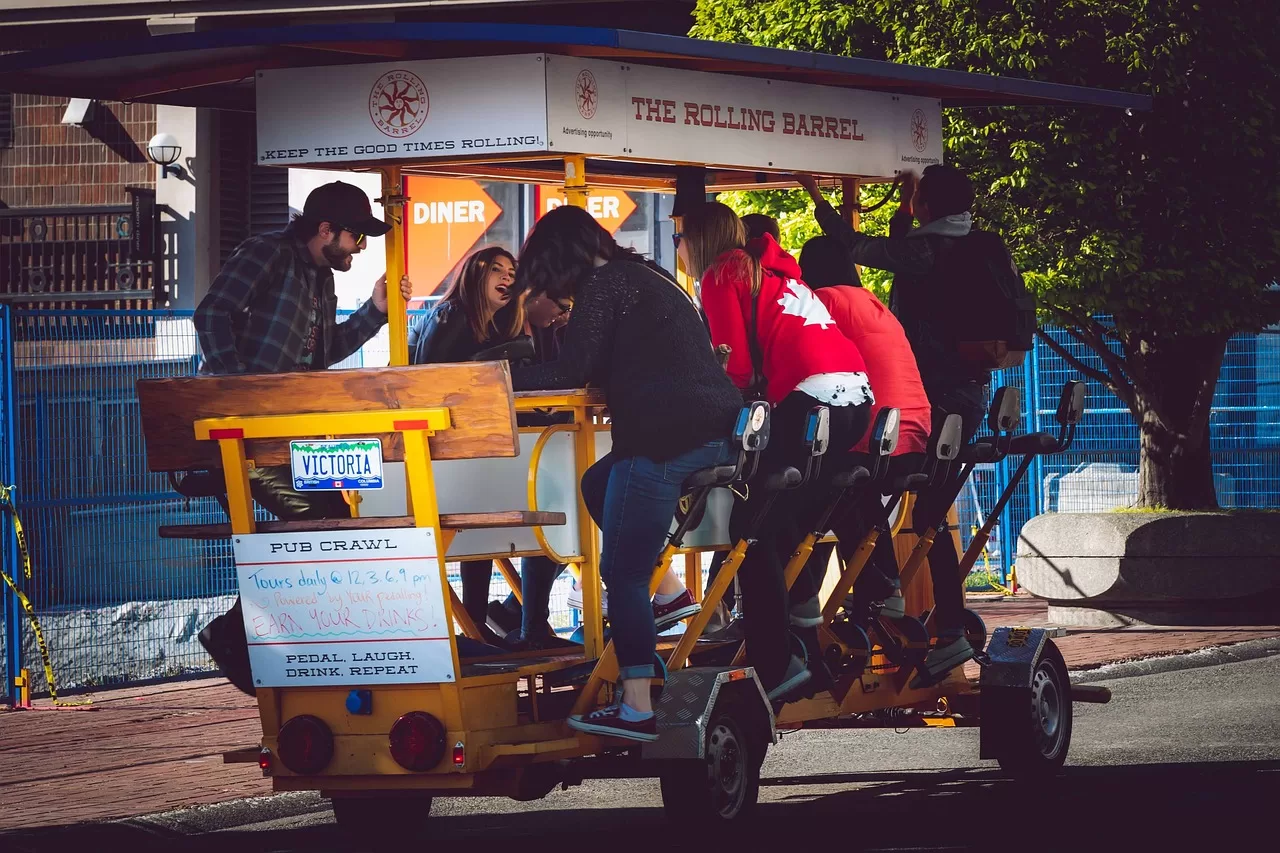 Nashville is a city that's full of surprises, and one of the best ways to explore it is on a party bike tour. Party bike tours have become increasingly popular over the years, and it's easy to see why. These tours are a unique way to explore a city, and they're perfect for groups of friends, coworkers, or anyone who wants to have a good time. With one of these tours you can meet new people, sample the town's brews, and party with music and lighting all inside the bus/slash party bike.
A party bike tour is essentially a large bike that's powered by the people on it. These bikes usually have a roof on top, and they're designed to carry a groups people, who pedal along while drinking and partying. The tour is led by a guide who takes the group to different locations around the city. Along the way, the group can stop at different bars, restaurants, or other attractions, depending on the tour.
Here, we'll take a closer look at the different party bike tours available in Nashville.
​Laws and Regulations
A few things to get out of the way first, though, with laws and regulations:
No glass bottles or other glass containers are allowed.
You must bring your own beverages (BYOB) – these tours are not allowed to serve alcohol on board their shuttles and party bikes, so bring your own alcohol.
No kids are allowed – everyone must be over the 21 years of age to join.
No alcohol over 8%. Sorry, that means most wine, some beers, and all hard liquor and spirits.
Sprocket Rocket Party Bike
View this post on Instagram A post shared by Sprocket Rocket Party Bike 🚀 (@sprocketrocketnashville)
The Sprocket Rocket Party Bike is one of the most popular party bike tours in Nashville. This 15-passenger party bike comes with a driver and personal bartender, party lights, a premium sound system, and an electric assist motor so you don't have to do all the pedaling yourself.
The tour lasts for about one and a half hours, and takes the group along some of the streets in downtown Nashville. Their downtown location makes it easy to get started and puts you right back in the center of the action when your tour is finished.
Sprocket Rocket prides itself on being the easiest bike to pedal, thanks to the motor giving you 30% of the push. There is one stop along the way, but this isn't a bar crawl bike – the party is right there on the bike!!! Do a loop around town, bring your drinks, and bring the party to you. Afterwards, you can check out the bars in the area.
They have packages available for family reunions, bachelor and bachelorette parties, and even scavenger hunts. You can also book through Party Bike Nashville , so be sure to compare packages and prices before booking.
Nashville Pedal Tavern Tours
View this post on Instagram A post shared by Nashville Pedal Tavern (@nashvillepedaltavern)
Nashville Pedal Tavern Tours are a great way to explore the best music city has to offer. These tours are led by a guide who takes the group to different music venues around the city.
They advertise tours for the public, which are a great way to make new friends fast, private tours, for that special event, and corporate events, which make great company teambuilders to get everyone on the same page.
One of the great things about Nashville Pedal Tavern Tours is that they are one of the only companies that allow you to pre-order your beverages. While they still can't serve you alcohol on the ride, you purchase in advance from them and bring it, making it especially convenient for out-of-towners.
Nashville Bar Bike
View this post on Instagram A post shared by Nashville Bar Bike (@nashvillebarbike)
The Nashville Bar Bike is a pedal pub tour up to 15 people. The tour lasts for around an hour and a half. This one includes a stop at a local tavern, and also ens right at a distillery and local brewery so you can post-game after your bicycle party.
​Like Nashville Pedal Tavern, their bikes hold between 6 and 15 people. Bring your own drinks (and ID of course), and they'll bring the lighting, music, and party! Their bike also has an electric assist motor so you don't have to work out too hard while you're on.
Music City Crawler
View this post on Instagram A post shared by Music City Crawler (@musiccitycrawler)
The Music City Crawler is a popular option for fun way to explore Nashville. This 15-person bike and pedal bar is equipped with a sound system, LED lights, and a cooler to store your drinks. The tour takes you through some of Nashville's most iconic neighborhoods, including Music Row and The Gulch.
You'll also get to see some of the city's famous honky-tonks and bars while pedaling and drinking your way through the city. This tour stops at between 1 and 3 bars along the way, plus you can BYOB for the party on the bike.
Whether you're celebrating a birthday, bachelorette party, or just looking for a fun night out with friends, this tour is for you. Some of the local spots they visit include Wild Horse Saloon, BB Kings, and Honky Tonk Central.
Big Green Tractor Tours
View this post on Instagram A post shared by Big Green Tractor Tours, LLC (@biggreentractortours)
If pedal bikes aren't your thing, but you still want to drink and ride through the city, check out Big Green Tractor. Ride on the covered wagon while being pulled along to the music bumping and your DJ and bartender keeping the vibe going. This tour holds more people than most bike tours, with a maximum capacity of 25 people. If you're planning a big party, this might be the one for you. Nothing like a good ol' Nashville tractor to explore the city!
You can book a private tour for just you and your besties, or you can get an individual ticket. Disabled veterans ride free.
Honky Tonk Party Express
View this post on Instagram A post shared by Nashville's ☝Party Bus (@honkytonkpartyexpress)
The Honky Tonk Party Express is another no-pedal party and ride tour that takes you through Nashville in a stylish party bus that will keep the music pumping during your 2-hour tour. Their party buses hold up to 25 people and comes with a VIP bartender. Cups, coolers, and ice are included but like all other tours in Nashville – BYOB.
Honky Tonk has special packages available just for bachelor and bachelorette parties. Their Jacked Up Bachelor Party package is popular for bachelor parties and includes a trip to the Jack Daniels Distillery. They've also got the Basic Bro package for a more budget-friendly way to party with your buddies.
Their Golden Girl and Platinum Packages for Bachelorettes takes you to the Arrington Vineyards .
The Bottom Line
If you're looking for a fun and unique way to explore Nashville, then be sure to check out a party bike. These tours are a great way to see the city, meet new people, and have an unforgettable time. And if you want the same experience as a party bike but without the pedaling, these tractor and bus tours on the list are a fun experience without worrying about the huffing and puffing.
Post Grid #4
11 BEST Beaches Near Nashville, TN Perfect for a Day Trip
The 9 BEST RV Parks in the Nashville, Tennessee Area
The 9 Best Seafood Restaurants in Nashville, TN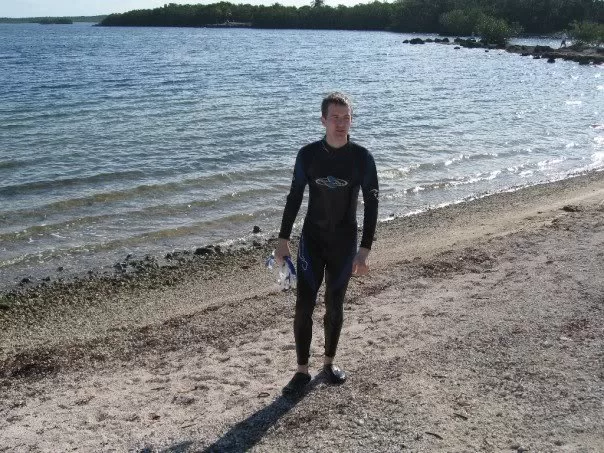 I'm Alex, and I've lived in 3 states throughout the southeastern United States (North Carolina, South Carolina, and Florida). I love to travel and visit the amazing places the southeast has to offer. On this site you'll find the information you need for your next vacation or family outing.
Type your email…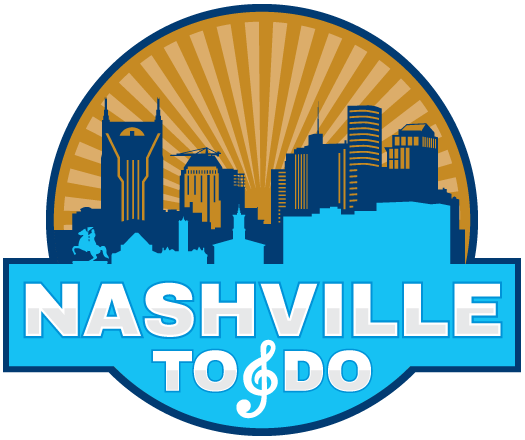 Nashville Pedal Taverns : 4 Bike Bars You Must Ride!
Nashville bike bars are the perfect way to explore and experience the city. Whether you want to explore the city's iconic sights or take a leisurely ride with friends, these bike bars are a great way to do it.
The best Bike bars in Nashville include Nashville Pedal Tavern, Sprocket Rocket Party Bike, Nashville Bar Bike, and the Music City Crawler. These pedal-powered pubs offer seating for groups of 6-15 people, allowing you to explore the streets of Nashville in style. Just remember, generally, you must be 21 or older to participate in their tours.
Nashville Pedal Bars
#1 Music City Crawler
Music City Crawler is Veteran and Women-owned and is Nashville's premier pedal and electric-assist-operated beer bike experience!
Are you ready to pedal and sing your way through downtown Nashville, making stops at one to three honky-tonks along the way? These bars have prepared special drink deals just for you, so you can enjoy a cold one while taking in the sights and sounds of Music City.
Their Pedal Pub Tour is a nice activity for tourists visiting Nashville.
For just $38, you'll discover the city's hottest bars on Honky Tonk Row while riding on their 15-passenger party bike.
The tour lasts for 90 minutes and features special drink deals from their honky-tonk partners.
You can choose to book a private tour or join in on one of their public rides; the choice is yours. And don't forget, Veterans and Brides pedal for free on the Music City Crawler! Seniors, teachers, and all first responders also receive a discount.
Each ride can accommodate up to 15 people, and we require a minimum of 6 riders to operate. Before you get started, you'll need to have a valid ID and sign a waiver on board.
The tour time may vary depending on how long you stay at each bar, downtown traffic, and road closures.
You must be 21 years old with a valid ID to ride the Crawler.
You're welcome to bring your own alcohol on the Crawler. However, all alcohol must be in a can.
Visit Music City Crawler Website To Learn More .
#2 Nashville Pedal Tavern
Nashville Pedal Tavern is the ultimate way to experience the city's vibrant music scene and party atmosphere!
Imagine a giant party bike that seats up to 15 people, equipped with a bartender and a sound system for your own personal entertainment. You'll pedal through the streets, stopping at the best bars and honky-tonks the city has to offer.
One of the unique features of Nashville Pedal Tavern is that they offer pickup and drop-off points at various locations in the city, so you can plan your route according to your preferences.
The rides are typically 90 minutes long. But be prepared to have 2-3 hours in hand, considering all the loading and onboarding stuff.
And Nashville Pedal Tavern does take group bookings, making it perfect for birthday parties, bachelorette parties, or any other special occasion.
There should be six people in the group, and at maximum, there can be 15 people. Don't worry, if your group is bigger than that, you can easily book multiple bikes.
You'll see some of Nashville's most famous landmarks and attractions on your ride, including Music Row , Broadway , and the famous Country Music Hall of Fame.
The Pedal Tavern also makes pit stops at some of the city's best bars and honky-tonks, where you can enjoy drinks and live music. The bartender on board will be serving drinks, and you'll have the option to bring snacks or food on board.
The Pedal Tavern is a unique and fun way to experience Nashville, and it's definitely something you won't want to miss out on. Keep in mind that you must be 21 years of age or older to participate, and a valid ID is required.
Related Read: How to Get into Nashville Bars at 18 + Top 5 Suggestions!
The Pedal Tavern also provides a cooler filled with ice and cups to enjoy your drinks. So book your tour now and get ready for a pedal-powered good time!
Visit the Nashville Pedal Tavern Website To Learn More
#3 Sprocket Rocket
With prices beginning at only $49, the Sprocket Rocket party bike is a nice opportunity to experience the city.
You and your party of up to 15 adults may cruise through Nashville on these bikes while sipping beer or seltzer and taking in the sights and sounds.
The minimum number of passengers required for one of their public trips is 6, and seats are distributed at random by the attendant.
Booking a public tour is still possible if there are less than six of you; the tour company will pair you with strangers to round up your group. If you expect more than 15 people in your party, just make a few more bike reservations.
Lower Broadway and the neighboring streets are a staple of the downtown party circuit. Your driver will try his or her best to avoid steep inclines or blocked roads, but if the Nashville Predators are in town, they will have a backup plan and ride you to a lively neighborhood nearby .
From the moment you check in to the time you are dropped off, your trip will take around 95 minutes. They have ice, coolers, and beverages on board, so there's no need to bring your own.
Order a beer or seltzer in advance or pick one up at the counter when you check-in.
Avoid bringing alcoholic beverages, wine, or glass on the party bike since city rules don't allow them. You should dress casually, with shoes that cover your toes.
You should not wear high heels when cycling since they will cause you to fall.
Visit Sprocket Rocket Website To Learn More .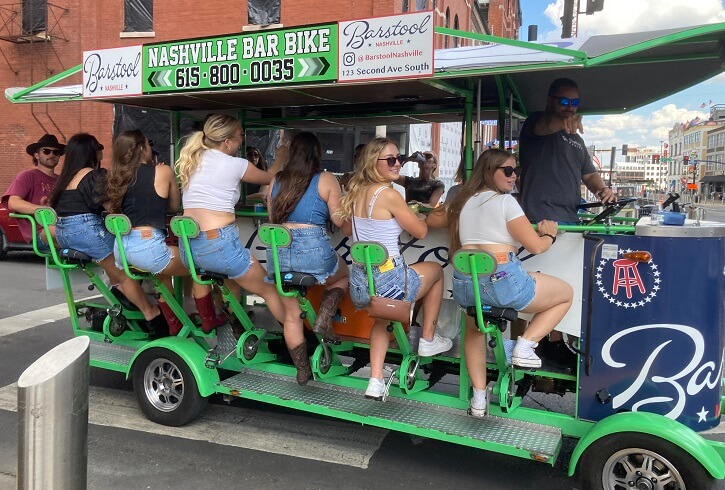 #4 Nashville Bar Bike
Gather your group of 6 to 15 passengers and enjoy a fun-filled night, or grab a couple of seats for a memorable experience in the Nashville Bike Bar.
Perfect for special events such as birthday celebrations, bachelor parties, corporate outings, and other similar events.
The tour includes a stop at a local tavern and individual prices starting at $30 and private tours starting at $350.
Provide your own cans, but not glasses, and be sure to bring identification showing that you're at least 21 years old. Also, please notice that the alcohol content can't be higher than 8%.
When you rent out the whole bike for a party, you may play any music you choose and decorate it as you see fit. A cooler, ice, water, and glasses are provided for you.
You'll need at least six people to get the bike going, and as many as fifteen if you want to go fast. Their trips last between 1.5 and 1.7 hours, during which time you may relax and enjoy the sights of the city.
To put it simply, they want everyone to feel at ease. Take into account how the raised bike seats may affect your clothing in the event of a wind from above.
High heels are not suitable for the event. Each trip will include one or two stops at one of their favorite local bars and pubs where you may get a drink, take a break, and use the restroom.
Visit Nashville Bar Bike Website To Learn More .
Can You Drink On Pedal Bikes In Nashville?
You can drink on Pedal Bikes in Nashville but there are some restrictions. For instance, glass bottles are not allowed on the bike per city regulations.
If your beverage of choice is in a glass bottle, you'll need to pour it into a plastic container before your ride commences.
Beer, High Noons, seltzers, and water are welcome on board – just make sure your alcoholic beverages are no higher than 7.9% alc/vol. Unfortunately, wine and champagne are not permitted on Pedal Bikes at any time.
How Much Is A Pedal Bar In Nashville?
It is common for the rental of a pedal bike in Nashville to range from $30 to $45 for an individual . Private bookings, however, may cost a few hundred dollars.
I also highly recommend checking out our guide on Nashville Bars with the best Live Music .
What Do You Wear At A Pedal Tavern?
When you're cruising around Nashville on the Pedal Tavern, be sure to dress appropriately, especially based on the season!
We recommend comfortable clothing that you can move around in. Don't forget to bring a light jacket as the breeze can get a bit chilly at night.
To get into the Nashville spirit, accessorize with some of your favorite hats, sunglasses, and jewelry.
Now you're ready to explore the city and have a great time with your friends!
Check out next…
Leave a Comment Cancel reply
Save my name, email, and website in this browser for the next time I comment.
Today's news
Skullduggery podcast
Conspiracyland
My Portfolio
Personal finance
Daily Fantasy
Horse Racing
GameChannel
Team apparel and gear
Shop BreakingT Shirts
Entertainment
Style and beauty
Privacy Dashboard
Drake makes up canceled Nashville tour dates with two Bridgestone Arena shows in 2024
Oops! Something went wrong. Please try again later. More content below
Drake has announced a 2024 "It's All A Blur - Big As The What?" Tour, an extension of his 2023 tour, that will bring him to Nashville for two evenings. After postponing his Nashville shows twice this year , the rap scene's Certified Lover Boy will perform at Bridgestone Arena on Wednesday, Feb. 7 and Thursday, Feb. 8 next year.
Instead of his originally planned dates with 21 Savage, J. Cole will be joining Drake in Nashville and on the 2024 leg of the tour.
A Grammy Award-winning hip-hop and rap artist, Drake released his eighth studio album "For All The Dogs" in October of this year, which included hit song "Slime You Out" with R&B singer SZA. Other runaways from his new album included "IDGAF" (feat. Yeat), Jimmy Cooks (feat. 21 Savage) and "First Person Shooter" with his 2024 touring partner, J. Cole.
The tour will kick off with two nights of shows in Denver, CO, on Jan. 18 and 19, and then will take the two rappers to cities including Oklahoma City, New Orleans, St. Louis, Columbus, Memphis and Nashville.
Why did Drake cancel his Nashville shows in 2023?
The tour announcement comes on the heels of Drake postponing two performances in Nashville in September. This was the second time Drake had canceled his Nashville dates, with promises of making up the shows in the future.
Drake was originally scheduled to perform on June 19 , but in April decided to reschedule the show for October 2. Drake then added a second tour stop in Nashville to his roster, originally planning on two evenings of shows at Bridgestone Arena on Oct. 1 and 2.
Nashville wasn't the only city to see rescheduling, with Memphis's Aug. 6 concert completely canceled a few days before the show. Luckily, the 2024 tour will also stop in Memphis at the FedExForum on March 5.
Other cities, including New Orleans, LA, Denver, CO and Columbus, OH experienced postponed shows.
Why did Drake postpone his Nashville shows twice?
Amid the multiple rounds of rescheduling from Drake and his crew, fans wondered about the reasons behind the cancellations.
Upon the postponement of his Sept. 8 show in Denver, Ticketmaster emailed attendees, saying, "due to the distance the road crew has to travel along with the magnitude of the production of the Drake concert, it is logistically impossible to bring the full experience of the show to Denver this September," according to The Denver Post .
Tickets for the Denver canceled shows as part of the original "It's All A Blur" tour were running for up to $3,700.
When Drake canceled two shows in Miami, FL in October, Drake posted on Instagram that he was too ill to perform.
It is unclear as to why the Nashville shows have seen two rounds of postponements.
How do I buy tickets for Drake's rescheduled Nashville shows?
Tickets will be available starting with a Cash App Card presale beginning Wednesday, Nov. 15.
The general sale will begin Friday, Nov. 17 starting at 11 a.m. local time on drakerelated.com .
This article originally appeared on Nashville Tennessean: Drake tour coming to Nashville for two Bridgestone Arena dates in 2024
Recommended Stories
Guard azzi fudd will not play in no. 8 uconn's game vs. no. 20 maryland.
The Washington, D.C.-area native is not available after being injured at practice.
Thursday Night Football: Bengals vs. Ravens score, highlights, news, inactives and live updates
For the first time since Week 2, two contending teams are facing off on Thursday Night Football.
The swift rise and fall of Rep. George Santos: a timeline
The House Ethics Committee issued a report Thursday finding "substantial evidence" that Rep. George Santos of New York violated campaign finance and government ethics laws
The best credit cards to save money on your next Disney vacation
The best travel credit cards for your next Disney vacation maximize both your spending at Disney and at home when your Disney trip ends.
Microsoft Ignite 2023: Copilot AI expansions, custom chips and all the other announcements
Microsoft's Ignite 2023 event came with a lot of updates, and AI product reveals and expansions were front and center as the company laid out its updated vision for IT professionals. As our own Devin Coldewey wrote in October, Microsoft CEO Satya Nadella has made it clear that the company is all-in on AI, and Ignite was proof of that. From rebranding its ChatGPT competitor Bing Chat to be under the Copilot umbrella, to the highly anticipated custom AI chips to compete with Nvidia and ways to generate text-to-speech avatars, there were a lot of AI-centered reveals at the Wednesday event.
A comprehensive list of all the early Black Friday sales you can shop right now — you're welcome
Don't wait to start saving.
These 32 splurge-worthy gifts are actually worth the money — tech, home, style, travel and more
Treat yourself or a loved one with these splurge-worthy gifts. Shop brands like Aēsop, Sonos, Lilysilk, Caraway, The Harmonist and more.
Why 'Rustin,' new biopic of forgotten gay civil rights leader, is the role of Colman Domingo's lifetime
Domingo plays Bayard Rustin, the unheralded activist who organized 1963's historic March on Washington.
2024 Kia Sorento gets quite the update with striking style and new tech
The 2024 Kia Sorento is on display in Los Angeles. This update includes wireless smartphone integration for all trims, more towing capacity and X-Pro.
Charlie Woods, Tiger Woods' son, achieves a feat his father never did with state title
Charlie Woods just gained some early bragging rights at the beginning of his golf career.