PARKING OPTIONS IN LAKE GENEVA
PARKING'S NOT A PROBLEM WITH FREE DOWNTOWN LOTS AND SIGHTS TO SEE
Summer is in full swing and there's a lot to see and do in the Lake Geneva area, including hoping on one of our boats for a lake tour, lunch cruise, private event or to watch the mailboat jumpers. We know how great our little town is on the eastern edge of beautiful Lake Geneva, and every summer thousands of visitors come to enjoy all of the great things our town and the surrounding area has to offer.
With everyone coming to Lake Geneva over the summer, it can get pretty busy in the downtown area. Finding parking to get to us at the Riviera on the lake might not be the easiest, but here are some local tips and tricks we want to share.
Get lucky on Wrigley Drive
Parking is enforced in all downtown parking spots and lots from 9am to 7pm daily, but if you hit the parking jackpot (or arrive early) and get a spot on Wrigley Drive or along another downtown street, you can  pay at the kiosk  or use the parking app.
The app,  ParkMobile , is free to download, and all you need is your license plate and the zone number listed on the parking kiosk. The app lets you pay for your spot, monitor the amount of time left and even add time to your spot from the mobile app.
All metered parking is $2 per hour Monday through Thursday, and $4 per hour Friday through Sunday. There is a 5-hour max time limit. (You can start a new parking session after the five hour limit is reached without moving your vehicle.) Paid parking is enforced from 9 am to 7 pm daily. Parking ticket fines are $30. Parking Map
Remember: Parking is free after 7pm!
SEE SIGHTS, GET YOUR STEPS IN WITH FREE DOWNTOWN PARKING LOTS
There are  two free lots  in downtown. Sage Parking Lot near the City of Lake Geneva Museum and the Dunn Field Parking Lot are available on a first come basis.
Sage Parking Lot ( Lot D on the map ) is 0.3 mile – 745 steps or a 6-minute walk – to the beach. Just head down Geneva Street to Center Street and you'll see some of downtown Lake Geneva's shops and sights, and you'll come out at the lake on beautiful Wrigley Drive.
Dunn Field Parking Lot ( Lot E on the map ) is 0.4 mile – 915 steps or a 12-minute walk – to the beach. If you take Sage Street to Dodge Street, you'll hit Broad Street, which takes you right into the heart of downtown Lake Geneva. If you keep following Broad Street, you'll find us right on the lake at The Riviera, but not before passing some great local restaurants to stop at for a bite to eat.
There's also a 10-hour parking lot just up the hill from Seminary Park. Lot I is 0.4 mile – 837 steps or a 9-minute walk – to the beach. Spots in Lot I are $2/HR Mon-Thurs and $4/HR Fri-Sun, but with the 10-hour time limit you'll have plenty of time to do a little shopping, grab some food and take one of our full lake cruises ! Learn More.
Lake Geneva Tourism
Lake Geneva Holiday Rentals
Lake Geneva Photos
Lake Geneva Map
All Lake Geneva Hotels
Lake Geneva Hotel Deals
Last Minute Hotels in Lake Geneva
Lake Geneva Motels
Business Hotels Lake Geneva
Family Hotels Lake Geneva
Romantic Hotels in Lake Geneva
Spa Hotels in Lake Geneva
Luxury Hotels in Lake Geneva
Lake Geneva Green Hotels
Lake Geneva Resorts
Lake Geneva Beach Hotels
5-stars Hotels in Lake Geneva
4-stars Hotels in Lake Geneva
3-stars Hotels in Lake Geneva
Lake Geneva Hotels with a Pool
Pet Friendly Hotels in Lake Geneva
Hotels with Hot Tubs in Lake Geneva
Hotels with Shuttle in Lake Geneva
Lake Geneva Accessible Hotels
Lake Geneva Hotels with Outdoor Pool
Lake Geneva Hotels with a View
Lake Geneva Non-Smoking Hotels
Lake Geneva Hotels with Air Conditioning
Lake Geneva Hotels with Concierge
Lake Geneva Hotels with Laundry Facilities
Lake Geneva Hotels with Gym
Lake Geneva
Things to Do
Restaurants
Holiday Rentals
Travel Stories
Add a Place
Travel Forum
Travellers' Choice
Help Centre
Where is the closest handicap parking for the...
United States
Wisconsin (WI)
Lake Geneva
Things to do in Lake Geneva
Lake Geneva Cruise Line
Lake Geneva Cruise Line Questions & Answers
Where is the closest handicap parking for the boat tours?
They have street parking, we left our car at the hotel since it was across the street.
just in front of the visitors hall area where the cruise boat is docked. These are metered street parking there
There is at least one handicapped spot on the street at the of the (short) driveway to the boat dock ... very convenient!
We parked on the street in front of the restaurants on Wrigley Dr. I'm not sure if Wisconsin utilizes the blue placard and the yellow placard, but I have the yellow placard from Illinois. I displayed that in a regular spot and had no issues. You may not always get one of those handicapped spots. It is not that far to go from the car to the Riviera.
On the street in front of the dock. Just a few feet away
There is metered street parking, and the spaces closest to the Riviera are handicap accessible. It is probably best to arrive early in the day on weekends for the best spots. The nearest spots are about a half block from the dock.
Browse nearby
Ask a question.
Get quick answers from Lake Geneva Cruise Line staff and past visitors.
Lake Geneva
Things to Do
Restaurants
Vacation Rentals
Travel Stories
Rental Cars
Add a Place
Travel Forum
Travelers' Choice
Help Center
Boat ride was OK, parking was horrid - Lake Geneva Cruise Line
United States
Wisconsin (WI)
Lake Geneva
Lake Geneva - Things to Do
Lake Geneva Cruise Line
Great way to see the lake and the beautiful homes. Crew provided info about the homes. Will take... read more
Cruise was awesome and informative, food was ehhh, but we were there for more of the cruise. It was... read more
Boat ride was OK, parking was horrid
We took a one hour boat tour on a Saturday in August. The town was so busy, we had to park pretty far away from where the boat tour is located. Not that big of a deal, but make sure to plan ahead so you make the tour (if you booked in advance) The boat tour was nice, although many people talked loudly the whole tour and it was hard to hear the guide. The day we went it was about 94 degrees out, so different parts of the tour the boat was quite warm. I would like to do the tour again in fall.
overall very satisfied with tour and lunch. bad experience during lunch one of your crew took grapes off my grand daughter's plate. this was very embarrassing to all of my party of 14 people. she had one bunch of grapes and said she had too much. he broke the bunch in half and put the bunch back on the serving platter.
Great 2 hour tour aboard the Walworth. Got to learn a ton about the mansions and history of the lake and area. Only confusing part was there were 2 boats leaving within a half hour of each other and one huge line so more information or signage separating the groups would be helpful.
Perfect weather helped make it a perfect day on the lake. We have been recommending this to all we meet.
Interesting and entertaining on a beautiul summer day on the lake. Captain and mail runners kept you informed and entertained. Spectacular mansions and stories.
Enjoyed the afternoon on the one hour Bay Tour. The tour guide was very informative, even his wry jokes were laughable.
Hello! I'm Ashton.
Insider tips and recommendations on Where to Eat, Where to Stay and What to Do in Lake Geneva, Williams Bay and Fontana, WI.
Adult , Fall , Family , Fontana, WI , Lake Geneva, WI , Spring , Summer , What to Do , Williams Bay, WI · November 1, 2022
Lake Geneva Boat Tours
Are you thinking of taking one of the Lake Geneva Bout Tours? Below I breakdown all of the best tours with insider tips to make sure you have a wonderful time on Geneva Lake.
If you only do one thing around Lake Geneva it should be a Lake Geneva Cruise Line Boat tour! They offer a variety of narrated tours geared towards different audiences and interests.
This is the BEST way to take in the beauty of the lake! There is nothing better than relaxing on a beautiful boat (cocktail in hand!) while learning about the history of the lakefront mansions and cruising around the lake.
Since my family has been around the lake since the 1930s I put together a breakdown of all of the best boat tours that should not be missed! From family friendly ice cream tours to Jazz dinner cruises, there is something for everyone.
Insider Tips:
Boats leave from the Riviera building in downtown Lake Geneva (boats are all the way in the back of the building)
Allow plenty of time for parking- in peak times the area is packed and you may have to park several blocks away
Tickets should be purchased in advance online HERE .
Show the confirmation email on your phone to board
Boats have cash bars and small snacks for purchase – no coolers or outside alcohol allowed
Strollers are allowed and there are restrooms on board
Boarding is 15 minutes prior to departure (except for the mail boat tour which is 30 min prior to departure)
Tours range from 1.25 hours to 3.5 hours
Non motorised wheelchairs can board however the restrooms are not wheelchair accessible
Best Lake Geneva Boat Tours
Mail boat tour, ice cream social boat tour, geneva bay tour.
Full Lake Tour
Black Point Estate Tour- boat and mansion tour
Jazz Dinner Cruise
Santa Cruise
Sunday Brunch Cruise
Lunch Cruise
Fall Color Tour
This post is all about the Lake Geneva Boat Tours.
This unique tour takes you on the journey of delivering the daily mail by boat! Around 75 homes around the lake still get their mail by boat from mid June to mid September. The boat departs from the Rivera promptly at 10am (boarding at 9:30am) and here is the kicker……the mail delivery is done without the boat actually stopping! The mail runner jumps off the moving mail boat, runs the mail into the dock mail box, then jumps back on the still moving boat! This exciting narrated tour is a can't miss which I highly recommend!
Length: 2.5 hours
Good for: older children and adults
Runs: Mid June-mid Sept
Price: Adults $50, Kids $33, 3 and under free
Portion of Lake: Whole lake
If you have kids this is the best boat tour option. This family friendly narrated boat tour is shorter (1.25 hours), serves each passenger a HUGE ice cream sundae with cookie (either chocolate, caramel or strawberry), and has a cash bar and restrooms on the boat! My sons ages 3 and 11 both love the tour and we have gone multiple times!
Since there are usually a lot families on the boat if you really want to hear the narration or have a more adult focused ride I would recommend the Geneva Bay or Full Length boat tours.
Length: 1.25 hours
Good For: Families with kids
Runs: May 1st-end October
Price: Adults $43, Kids $29, 3 and under free
Portion of lake: Half of lake
This is one of the most popular tours! This narrated tour will take our around the eastern side of the lake, called Geneva Bay. The shorter tour time make it popular with all ages and again snacks and cash bar are available.
Length: 1 hour
Good For: All Ages
Runs: May 1st- end October
Cost: Adults $38, Kids $24, 3 and under free
Portion of lake: Geneva Bay
Full Length Tour
Choose this tour if you want to be taken around the entire lake!
Length: 2 hours
Good for: 12+
Cost: Adults $48, Kids $32, 3 and under Free
Portion of Lake: Whole Lake
Black Point Estate Tour and Boat Cruise
Looking for something different? Take a tour of this historic mansion built by Chicago beer baron, Conrad Seipp in 1888. There were no roads at the time, so the family got to the house by boat. That is how you will also get there! The Geneva Cruise Line offers a Black Point estate tour which includes 45 minutes boat ride followed by an 1.5 tour of the first 2 levels of the home. You will return home by narrated boat tour as well. The entire tour takes around 3.5 hours. Inside tip: There are around 100 steps from the pier to the home so make sure everyone on your tour is ok with this!
Length: 3.5 hours
Good For: Ages 12+ who are comfortable walking the 100 stairs from the pier to the home
Runs: May- End October
Cost: Adult $49; Kids $32
Portion of the Lake: 3/4 of the lake
This Friday evening dinner cruise takes you around the entire lake while listening to a live jazz band and has a cash bar. I thought the salmon was very good and it was a great way for my husband and I to end the week!
Good for: 12+ years old
Runs: Fridays May 1st-end October
Cost: Adults $80, Kids $65
Portion of lake: Whole Lake
Santa Boat Cruise
This is one of the top things to do in Lake Geneva in the winter! The Santa boat tour leaves from Pier 290 in Williams Bay and takes you on a magical journey to catch a glimpse of Santa himself. The cool thing is that all of the kids on the boat have their names on a list and Santa reads each child's name from his nice list as the boat passes by! I mean, a personal shout out from Santa…..what could be better!? Adults will also enjoy getting into the holiday spirit watching the light displays and listening to the holiday story.
Insider tip: Before boarding get into the Christmas spirit by walking through the Festival of Christmas tree display which has multiple decorated Christmas trees and other decorations. There is a cash bar at the tree display but no bar on the boat. The boat is heated however remember it is winter in Wisconsin and cold out! Dress warmly with hats, gloves and coats because it can get chilly. Book tickets in advance because this tour sells out quick!
Length: 40 minutes
Good for: All Ages
Runs: Day after Thanksgiving – Dec 30th starting at 4:30pm
Cost: Adults $30, Kids $18, 3 and under free
Sunday Brunch Buffet Tour
Relax on a Sunday by enjoying this full lake tour with brunch buffet! Gluten free and vegetarian options are available upon request but must be placed at least 48 hours in advance.
Length: 2.25 hours
Good For: 12+ (no age limit but the length could be a bit long for young kids)
Runs: Sundays from May 1- end October
Cost: Adults $64, Kids $53, 3 and under free
Lunch Boat Tour
This narrated boat tour offers a view of the entire lake with a sit down lunch. Menu is classic/retro American and changes so view here . Gluten free and vegetarian options are available upon request but must be placed at least 48 hours in advance.
Good For: Adults (no age limit but audience is normally adults or retirees)
Runs: May 1- end October check here for exact dates and times.
Cost: Adults $60, Kids $50, 3 and under free
Portion of the Lake: Whole lake
Fall Color Boat Tour
This is one of the best things to do in Lake Geneva in the fall! Any boat tour in lake September/October gets to take advantage of the beauty of the fall foliage. Click here for all public tours options.
Which ever boat tour you choose, you are sure to have a relaxing time while learning about the mansions along the lake!
Get on the List
You'll also love, lake geneva shore path.
Hi! My name is Ashton and my family has been living around Lake Geneva since the 1930s! For generations whether living around the lake full time or coming up on the weekend Lake Geneva has always held a special place in my family's heart.
Itineraries
Destinations Around the Lake
Work with me.
Get in Touch
Legal & Disclosures
Latest From Instagram
Lakelikealocal_lakegeneva.
Copyright &copy 2023 · Theme by 17th Avenue
Visitors Guide & Map
Order a Guide
Special Offers
Photo & Video Gallery
Our Communities
E-News Sign Up
Visitor Info Center
Geneva Lake Shore Path
Tours & Sightseeing
Arts & Entertainment
Museums & History
Spas & Salons
Lessons, Classes & DIY
Winter Activities
Fall Activities
Itinerary: Donald Driver's Must See Lake Geneva Spots
Event Calendar
Concerts in the Park
Restaurant Week
Electric Christmas Parade
Hotels & Resorts
Vacation Rentals
Bed & Breakfasts
Campgrounds
Food & Drink
Wineries, Breweries, & Distilleries
Bars, Taverns, & Cocktail Lounges
Bakeries, Coffee & Sweets
Dining Experiences
Fish Fry Fridays
Submit an RFP
Venues Full Service Hotels & Resorts Alternative Venues Banquet Space
Team Building & Group Bonding
Things to Do
Motorcoach & Group Tours
Meeting Support Services
Summer Savings: Meeting Specials
Services Wedding Planners Photographers Florists Caterers, Chefs & Bakers Bachelor & Bachelorette Parties Churches/Ministers/Law Dresses/Tuxedos Entertainment Invitations & Accessories Salons & Spas Transportation
Local Services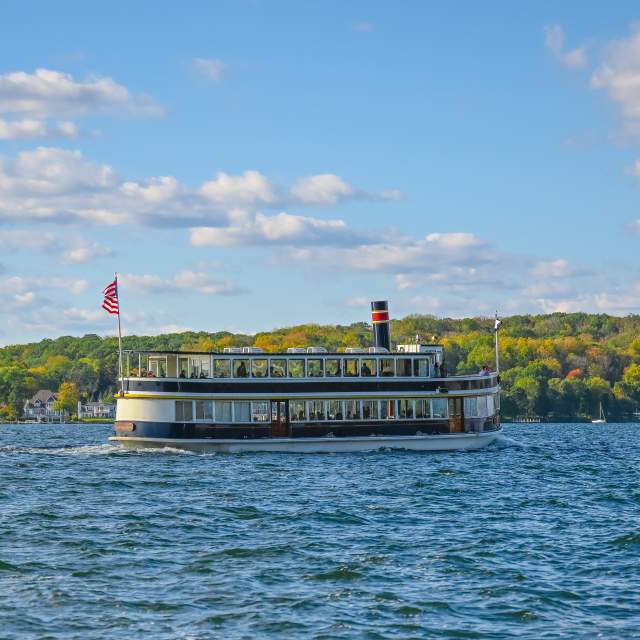 Downtown Lake Geneva
Lake Como Area
Williams Bay
Town of Linn
Other - Near Lake Geneva
Lake Geneva
Outside Walworth County
No available filters
Pet friendly
Wheelchair Accessible
Recommended
Recommended |
Black Point Estate and Gardens

Plan Your Visit
Have you heard.
Black Point Estate and Gardens has been awarded the Travelers' Choice award for consistently earning great reviews from your fellow travelers and ranks within the top 10% of properties on Tripadvisor! Come take a cruise and experience the Victorian summer retreat of a Chicago beer baron!
2023 Season
May 6 – oct 31.

Nov 1 – May 2024 CLOSED
Sat – Sun 10:30 AM – 2 PM
MAY 29 – SEP 3
Mon – Thurs 10:30 AM – 2 PM
Fri – Sun 10:30 AM – 2 PM 12:30 PM – 4 PM
SEP 4 – OCT 31
Mon – Fri 10:30 AM – 2 PM
Sat – Sun 10:30 AM – 2 PM 12:30 PM – 4 PM
Tickets can be booked through Lake Geneva Cruise Line , a private tour company. The cruise and guided tour of the historic site takes roughly 3½ hours. See below for more information about Accessibility .

Adults (18-64): $49 Teens (13-17): $49 Senior (65+): $47 Child (4-17): $32 3 and under: FREE bluestar initiative
Wisconsin Historical Society members receive a $16 discount and 10% off select special experiences .
*10% discount does not apply to any special experience offered through the Cruise Line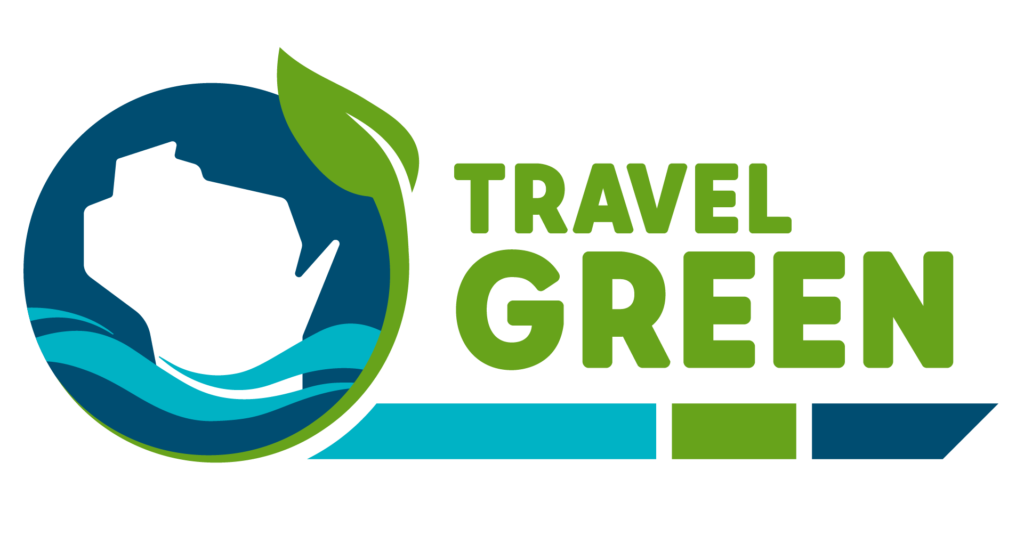 Black Point Estate & Gardens is Travel Green certified!

PARKING & DIRECTIONS
To tour Black Point Estate & Gardens, visitors travel by boat through Lake Geneva Cruise Line in downtown Lake Geneva. There is no parking at Black Point Estate .
Lake Geneva Cruise Line launches from Riviera Docks, located at 812 Wrigley Drive, Lake Geneva, Wisconsin, USA. One block south of the main downtown intersections of Broad Street & Main Street (Hwy. 50). All parking in the City of Lake Geneva is metered. For more information about locating Riviera Docks, see the details on parking & directions from Lake Geneva Cruise Line.
See below for any concerns about Accessibility of accessing Black Point Estate.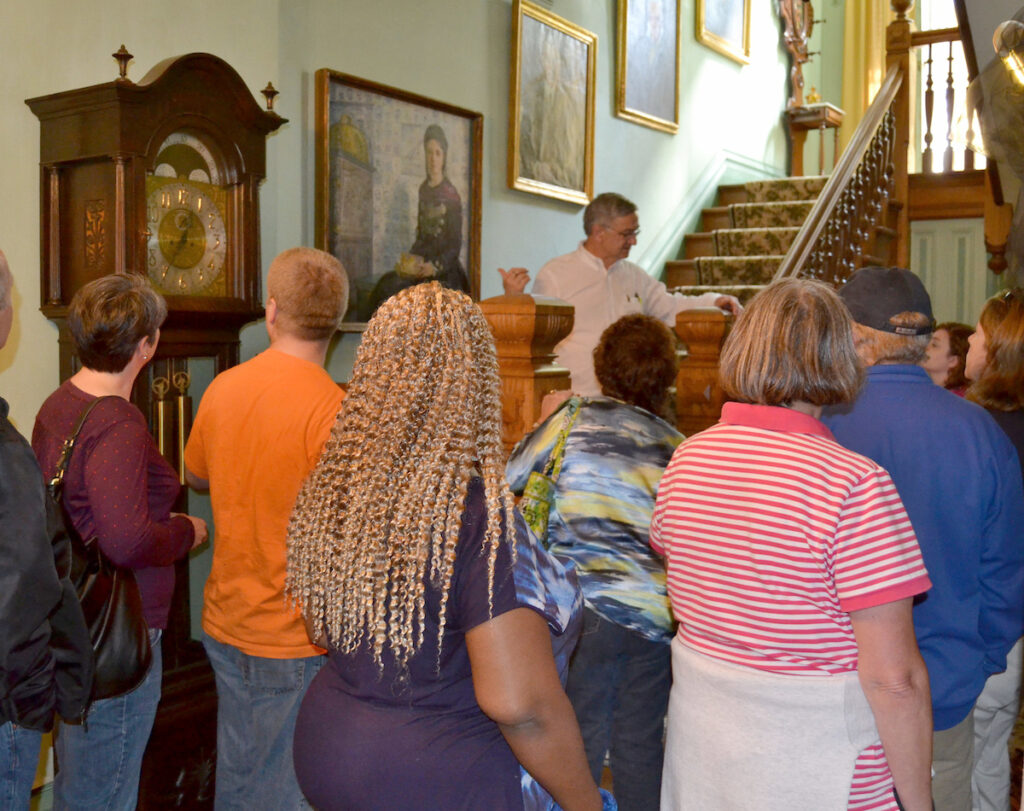 Group Tours
Travel Together Through Time and bring your group tour to the Wisconsin Historical Society's sites and museums. Experience the worlds and wonders of Wisconsin's past. Book your group tour today! Tours include private guide(s) that can be customized to meet the needs and interests of your group.
SHOPPING & GIFTS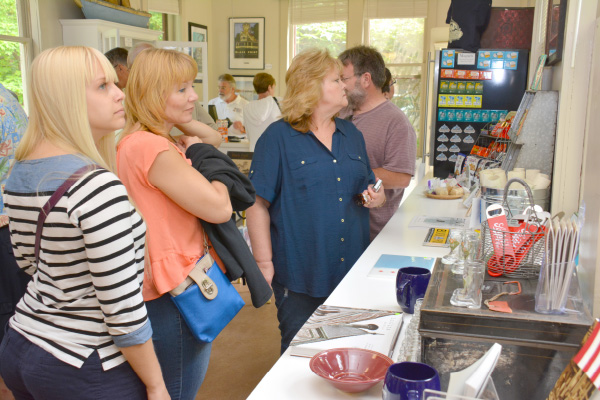 Visit the Museum Store to take home some of the history of Wisconsin. You'll find unique items that are sure to delight visitors of all ages, including books, home decor, jewelry, clothing, toys, and much more!
Enjoy 10 percent off store items as a Wisconsin Historical Society member .
Many of the items we sell in store are available online. Explore the gifts and books that are for sale!
ACCESSIBILITY & SAFETY
We care about your safety! Please make sure to stay home if you're sick and follow these CDC guidelines when you visit us.
Wheelchair Access
Service Animals
Firearms & Weapons
Photo Consent
Attend our Wine Dinner on November 16!
Things To Do In Lake Geneva Before You Head To Pier 290
Lake Geneva and the surrounding area, like Williams Bay, has a lot to offer for sights to see and ways to spend your time. Whether you're starting or ending your day at Pier 290, you not only get a great view and great food and drinks, but our restaurant has a nautical atmosphere filled with rich local and boating history.
We are Lake Geneva's only lakeside restaurant with a beautiful view of Williams Bay from our dining room, outdoor patio and bar, beach or covered canopies. We're a great place to stop on your lake shore path walk or for a quick drive out of downtown Lake Geneva.
We have classic and unique drinks , tasty appetizers, comfort food and great seafood options for lunch and dinner every day.
Lake Geneva Walking Path
If you're starting your day here, one of the best ways to see the lake is from the Lake Geneva Walking Path, which goes right in front of our patio so you can pick it up and head out for either a quick or a very extended walk!
The walking path gives you a very unique view of the lake and the beautiful houses along the lake. The path follows the shore all the way around Lake Geneva. It's about 20 miles all the way around – which can be done in one day, but we suggest breaking it up into different days – and takes you right past beautiful lake homes and gives you an up close and personal view of the properties. There are only a handful of public access points, so make sure to plan where you want to start and how long you want to walk.
Local attractions
If you're heading to downtown Lake Geneva from Williams Bay, perhaps the most recognizable landmark to watch out for is the fountain in front of the Riviera. The fountain is a replica of the Angel of the Waters Fountain in Central Park, New York. It was donated in 2004 by the Driehaus Family, which has one of the largest and most recognizable homes on the shores of Lake Geneva. We recommend selfies in front of the fountain and stopping by at night to catch the beautiful lights.
While most of the shores of Lake Geneva are privately owned, there are several other beaches. Big Foot Beach is actually a Wisconsin state park. The thin strip of beach in Buttons Bay on Lake Geneva is popular with families and groups of people looking to anchor a boat or float by the beach. There are also beaches available to the public for a small fee in Fontana and Williams Bay.
Downtown Lake Geneva
If you continue west from the beach, you'll find Library Park and the Lake Geneva Public Library . Both are excellent spots to get a view of the lake. The library features a local history collection of rare books, photographs, maps, newspaper clippings and articles dating back to 1849.
Looking for some local flowers, products and produce? Check out the Lake Geneva Farmers' Market every Thursday from 8 am – 1pm. The market is held every week from May 2 to Oct. 24. Grab some Wisconsin cheese, some fresh produce, a piece of local pottery or a new bar of soap!
Don't forget to stroll down the public pier to the left of their ticket boat to snap some amazing pictures of you and your friends and family with beautiful Lake Geneva in the background before you leave!
Watersports
A nice walk around the lake or in a beautiful nature conservancy, beach time, watersports – no matter what you choose to do before or after you join us for drinks and some great food, we know you and your friends and family will have a great time visiting our beautiful city and our beautiful lake!
Featured Articles
Make the Most of Winter at PIER 290
Fall Is the New Summer at PIER 290
Cheers from PIER 290
See all articles