Home » Tutorial (tutti) » Regali fai da te (Tutorial) » Baby Changing Mat Tutorial (PUL or Oilcloth)
Baby Changing Mat Tutorial (PUL or Oilcloth)
Leggi questo post in: Italiano
Earlier this week I published a nice, long post for my Learn to Machine Sew series all about PUL fabric : how to prepare it and tips for sewing it without going totally bonkers! So now that you know everything there is to know about PUL (well, more or less….), let's sew something useful with it: a travel changing mat for babies !
What if you don't have any diaper-wearing babies? Make one anyway– these are a highly appreciated gift for any new mom! Nobody wants to change their precious baby's diaper on a scummy changing pad in a public or store bathroom . Or what if you're in the park when a massive blowout occurs? Just lay out one of these pads on the grass or on a parkbench and get that mess taken care of ASAP!
You can fold these mats into fourths along the central sewn lines and just stick them right in your bag ! Or, if you have a particularly squirmy baby, making it dangerous to change him on an elevated changing pad, use these changing mats right on the living room floor to avoid any accidental falls or near-falls. And when they get dirty, just wipe them off with a damp cloth!
This is a pretty simple design, just a rectangle with rounded corners, but you could always add a little strap with a snap or velcro to keep it closed, or add a little pouch or drawstring bag to hold it in.
I want to show you the difference between PUL and oilcloth . Here you can see the front/top/right sides of PUL, chalk cloth (which is a type of oilcloth) and that vinyl which may or may not be oilcloth. The front of the PUL is just regular fabric, while the front of the chalkcloth/oilcloth/vinyl fabrics is plastified.
When you look at the back/wrong sides, you'll see the PUL's lamination , while the chalk cloth/oilcloth/vinyl fabrics have a woven backing .
As I mentioned in the last post , laminated fabrics can be very tricky to sew, but luckily there are some tricks to sewing them easily . One of these tricks is to use a walking foot . As I mentioned in last week's sewing lesson , the walking foot is also very useful when sewing multiple layers of fabric. Therefore I highly suggest you use this foot for this project.
When I got home after buying this vinyl/oilcloth, I realized that both of my kids' names were written right next to each other! Cuuuuute! (We actually spell it "Nicholas," but heck, we'll take it anyway!)
Let's make the pattern. Seeing as we don't want to pin the pattern to the fabric (remember, we don't want to ruin the fabric with pin holes !), use a somewhat sturdy big piece of paper, which will be easier to trace around. I flattened out a paper shopping bag (which a friend gave to me with some hand-me-downs in it. I'm in no way endorsing the store on the bag. I don't even know what store it is.) and cut a 52 x 37 cm rectangle (20 x 15″) from it. You may need to tape the bottom flaps or other parts down. We'll use a 1 cm seam allowance (3/8″) for this project, so that will make a 50 x 35 cm (19.5 x 14.5 ") changing mat. Obviously feel free to modify the size of the rectangle to whatever size you prefer.
Grab a glass, bowl, plate, CD or other round object and trace around it on all four corners of the rectangle, as you can see in the photo above. Then cut along the curves.
And there you have your pattern piece. Don't forget to label it so that it doesn't get mixed up with your other patterns and so you can remember the size of the finished product and the seam allowance.
Now cut out your fabric with the pattern piece: two pieces of PUL or oilcloth and one piece of batting for a wipeable changing mat. (The batting is the inner padding.)
Usually when sewing PUL, you want to hide the lamination, however to make these changing mats wipeable, you need the face the lamination outwards. Seeing as the plastified side of PUL is the wrong side and the plastified side of oilcloth is the right side, in this tutorial I'm instead going to refer to " the laminated side " and " the non-laminated side ," just to avoid confusion.
If you don't want to use a laminated fabric, that's fine! You can use any fabric your heart desires for the outer layers. Just substitute "the laminated side" with "the right side" and "the non-laminated side" with "the wrong side." Or you could use a soft fabric for the top layer and PUL/oilcloth for the bottom layer. If you want to avoid using batting, you could upcycle an old towel, but just realize that the mat will be a little thicker that way.
1. Place one piece of PUL on top of the other, laminated sides facing. Then place the batting on top of that. Use some sort of clip to hold the layers together. (Why not pins? Those are a big no-no for PUL and oilcloth! Read about it here .)
2. Flip over the fabric layers so that the batting is on the bottom. Make two marks about 20 cm (8″) apart in the center of a long side with a regular pen right on the very edge of the fabric. This is where we'll turn the changing mat. (Want to read more about turning and topstitching ?)
3. Position the second mark under the sewing needle and sew all the way around the rectangle up til the first mark with a 1 cm (3/8″) seam allowance . You could maybe get away with a regular presser foot here, but I prefer using a walking foot for all steps of  this project because of the three slippery layers. I used a 3 mm stitch length.
4. Notch the corners of the rectangle and trim off any excess fabric. (top photo)
5. Turn the rectangle laminated side out and iron the fabric carefully (as described here ). Fold the edges of the opening inside and hold in place with clips. (bottom photo)
6. Topstitch all around the rectangle with at least a 4 mm stitch length. For this project, I like to do one line of topstitching very close to the fabric edge, then a second line of topstitching slightly further away (maximum 1 cm [3/8″] from the edge), but do it however you like.
Now that the laminated side is face out , sewing will get stickier… literally. So if you haven't yet, definitely take out your walking foot now. This was enough for sewing the laminated side of the oilcloth, but not for the laminated side of the PUL, perhaps because of the multiple layers. So for the PUL version of this changing mat I actually used BOTH the walking foot and strips of tissue paper (as I described in the lesson about sewing PUL ) from this point on.
Here's a close-up of my two lines of topstitching. Look at how long the stitches are in each line. I'd forgotten to switch to a longer stitch lenth for the first line! Oops!
7. After you've finished topstitching (top photo), make a mark halfway along each side with a pen on the tissue paper. Then fold one side in so that the fabric edge runs slightly to the right of the two corresponding marks (bottom photo).
An alternative, which I only thought of after seeing this post on Facebook , could be to stick a long piece of masking tape so that its left edge runs slightly to the right of the two marks. Remove the tape after sewing.
8. Position the needle on the inner line of topstitching in correspondence with one of the pen marks and sew straight to the opposite pen mark, using the folded fabric edge as a guide , as you can see above. Remember to put strips of tissue paper underneath the presser foot as you sew! Use the same stitch length you used for topstitching.
This is what the stitching should look like.
9. Repeat steps 7 and 8 with the remaining two pen marks made in step 7. The tissue paper cross looks wonky, but the stitching is actually straight.
10. If you used tissue paper, now it's time to tear it off ! As I described in the sewing PUL lesson , pull one long edge of the tissue paper gently away from the stitching, not upwards. Then pull the other edge out from under the stitching. In the case of the double topstitching, pull the two outer sides off first, and then the center will lift right up.
And you're done !
Being a stiffer fabric, the oilcloth version is definitely stiffer than the PUL version, which actually makes it easier to fold up . The PUL one is floppier when folding it. Do note that the oilcloth could split open at the stitched fold lines if it gets folded frequently, which I why I suggested before to use a longer stitch length with that fabric choice.
Perfect for newborns, babies and dolls alike! (Don't you give your kids too-small cloth diapers for their dolls and stuffed animals, too?!)
If you're making a gift for a new mother, why not pair the changing mat up with some cloth wipes and a wet bag for carrying them around?
A clean baby = a happy baby. A happy baby = a happy mother! Now for a bit "Yah!" all around!
16 thoughts on "Baby Changing Mat Tutorial (PUL or Oilcloth)"
This is very cute and useful! xxx
Hey, Zoe! Thanks! This could of course get jazzed up with bias tape, snaps, and other fun things, but just wanted to keep it nice and simple here!
Awesome posts posted! Really cool posts. Good job!
Thanks, Doloris!
Where on earth did you find the cute oilcloth…I have searched and searched and never find anything cute for kids. I've made these mats before and love them, but I never find anything except fruits, flowers, etc.
Actually, I just got it at my local hardware store! It was from a huge roll of vinyl fabric that you can buy by the meter to use as a waterproof tablecloth! It was definitely unusual in terms of the print!
Wouldn't sewing in the center of the pad cause urine to leak through the stitches?
Well, it could if there was a large amount of liquid. I suggest sewing through to keep the layers together and also create a crease for easy sewing. But you could just do it without it, too, and see how it goes.
Leave a Comment Cancel reply
Save my name, email, and website in this browser for the next time I comment.
Notify me via e-mail if anyone answers my comment.
Hey! I'm Lisa!  Welcome to Cucicucicoo, where you can find the best sewing and crafting tutorials, patterns and all sorts of other FREE creative resources! Click "Blog" above for tutorials that'll bring out the best creativity in you, or "Shop" for eco-friendly sewing patterns!
Free sewing course
Free sewing challenge
Sew Cucicucicoo Patterns
Baby Products
Portable Changing Pads
Enjoy fast, free delivery, exclusive deals, and award-winning movies & TV shows with Prime Try Prime and start saving today with fast, free delivery
Amazon Prime includes:
Fast, FREE Delivery is available to Prime members. To join, select "Try Amazon Prime and start saving today with Fast, FREE Delivery" below the Add to Cart button.
Cardmembers earn 5% Back at Amazon.com with a Prime Credit Card.
Unlimited Free Two-Day Delivery
Instant streaming of thousands of movies and TV episodes with Prime Video
A Kindle book to borrow for free each month - with no due dates
Listen to over 2 million songs and hundreds of playlists
Unlimited photo storage with anywhere access
Important: Your credit card will NOT be charged when you start your free trial or if you cancel during the trial period. If you're happy with Amazon Prime, do nothing. At the end of the free trial, your membership will automatically upgrade to a monthly membership.
You can return this item for any reason: no shipping charges. The item must be returned in new and unused condition.
Read the full returns policy
Go to Your Orders to start the return
Print the return shipping label
Image Unavailable
To view this video download Flash Player
Portable Diaper Changing Pad - Waterproof Foldable Baby Changing Mat - Travel Diaper Change Mat - Lightweight Changing Pads for Baby - Baby Changer - Machine Washable (Gray Mod)
Purchase options and add-ons
About this item.
Large Changing Area - Swift Baby Diaper Changing Pad features a large diaper changing area of 25.5" by 13.5" | 65cm by 35cm, making it suitable for newborn to 36 months. You get more space to move your baby around while changing their diaper.
Compact Folded Size - Our Portable Changing Pad is foldable into a clutch-sized 6.8" by 8.5" | 17cm by 22cm pad, taking up minimal space in your diaper bag. Perfect for on-the-go parents, it's an ideal travel changing pad for a day out!
Waterproof Diaper Changing Mat - We use high quality, waterproof and smooth diaper changing surface for easy spot cleaning while on the go. Simply wipe clean with wet wipes or sanitizer after each use.
Soft Cushion Padding - Our soft padded Swift Baby Changing Pad for diaper bag provides comfort for your baby during diaper changes anywhere. Protect your baby from hard and dirty surfaces in public changing stations without any fuss.
Durable and Lasting - Handmade with love from seams to finishing, delivering only the best quality products to you. Our Swift Portable Changing Mat is machine washable and easy to use, making it the perfect modern parent on-the-go essential!
Frequently bought together
More items to explore
What's in the box
From the brand
Product Description
Make diaper changes a breeze.
Meet the KeaBabies Swift Diaper Changing Pad - the ultimate on-the-go diaper-changing solution. Crafted with a lightweight, waterproof, and durable fabric, it folds compactly to fit in any diaper bag. Elevate your parenting game with the stylish and practical Swift Diaper Changing Pad.
Lightweight & Portable
The Swift Diaper Changing Pad is the perfect on-the-go companion for busy parents. It's lightweight and portable, making it easy to take with you wherever you go. With its compact folding design, it easily fits in any diaper bag.
Diaper Change, Swiftly
Softly Padded
The Swift Diaper Changing Pad is designed with your baby's comfort in mind, featuring a soft and plush padding that makes diaper changes a more enjoyable experience for both you and your little one.
Effortlessly Clean
Say goodbye to diaper emergencies with the Swift Diaper Changing Pad. With the waterproof surface, you can easily wipe it clean after each use. So, no more worries about spills or accidents. The surface is also gentle on your baby's skin, ensuring that they stay happy during diaper changes.
Conveniently Yours
Whether you're at home or on the go, this diaper changing pad is the perfect solution for convenient diaper changes, ensuring that your baby stays comfortable and clean, no matter where you are.
Swiftly Diaper Change
Changing diapers just got easier with the Swift Diaper Changing Pad. Our one-hand mode design allows you to effortlessly unfold the pad while holding your baby. And when you're done, simply wipe it clean and fold it back up for easy storage in your diaper bag.
#SwiftParenting
Any surface, anywhere.
Our Swift Diaper Changing Pad is a durable solution for changing your baby's diaper on any surface, anywhere. Stay prepared for any diaper emergency and ensure your baby stays clean and comfortable.
Generously Sized
Sized at a generous 25.5 by 13.5 inches, the Swift Diaper Changing Pad provides ample space for your baby during diaper changes. This ensures that your little one has plenty of room to move around and stay comfortable while you take care of business.
Enjoyable Moments
With the Swift Diaper Changing Pad, you can enjoy the experience of bonding with your baby while taking care of their needs. Change diapers with ease and confidence, knowing that the Swift Diaper Changing Pad has got you covered.
Specifications
Product information
Technical details, additional information, warranty & support, compare with similar items, videos for this product.
Click to play video
A Baby Must Have!
Brady White
Let's open this changing pad
Kristi Hebert
Unboxing this Portable Diaper Changing Pad
Carson Hebert
Watch Before You Buy this Portable Diaper Changing Pad
Reasons why I got this changing pad
Important information.
To report an issue with this product, click here .
Looking for specific info?
Customer reviews.
Customer Reviews, including Product Star Ratings help customers to learn more about the product and decide whether it is the right product for them.
To calculate the overall star rating and percentage breakdown by star, we don't use a simple average. Instead, our system considers things like how recent a review is and if the reviewer bought the item on Amazon. It also analyzed reviews to verify trustworthiness.
Reviews with images
Submit a report
Harassment, profanity
Spam, advertisement, promotions
Given in exchange for cash, discounts
Sorry, there was an error
Sort reviews by Top reviews Most recent Top reviews
Top reviews from the United States
There was a problem filtering reviews right now. please try again later..
Top reviews from other countries
Amazon Newsletter
About Amazon
Accessibility
Sustainability
Press Center
Investor Relations
Amazon Devices
Amazon Science
Start Selling with Amazon
Sell apps on Amazon
Supply to Amazon
Protect & Build Your Brand
Become an Affiliate
Become a Delivery Driver
Start a Package Delivery Business
Advertise Your Products
Self-Publish with Us
Host an Amazon Hub
› See More Ways to Make Money
Amazon Visa
Amazon Store Card
Amazon Secured Card
Amazon Business Card
Shop with Points
Credit Card Marketplace
Reload Your Balance
Amazon Currency Converter
Your Account
Your Orders
Shipping Rates & Policies
Amazon Prime
Returns & Replacements
Manage Your Content and Devices
Your Recalls and Product Safety Alerts
Conditions of Use
Privacy Notice
Your Ads Privacy Choices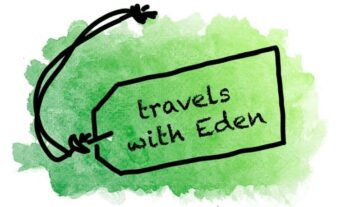 Best Travel Changing Mat For Babies And Toddlers: A Complete Buying Guide [2022]
Are you looking for the perfect travel changing mat for your next trip? Look no further. We've compared 10 of the best travel changing mats on the go.
Purchasing a baby portable changing mat can be a great bonus to your packing list. I've stayed in loads of hotels while my daughter was still in nappies, and not once has there been a baby product mat available. There are other options available (e.g. Changing baby on hotel towels), but what you really need is a portable change mat, whether you're changing baby in the hotel or on the go.
This post is helpful to take you through the best baby changing mat. It helps you find the best one for your little one.
This post may contain affiliate links, which means I may receive a commission, at no extra cost to you if you make a purchase through a link. We are a participant in the Amazon Services LLC Associates Program, an affiliate advertising program designed to provide a means for us to earn fees by linking to Amazon.com and affiliated sites. As an Amazon Associate , I earn from qualifying purchases.   Please see my  full disclosure   for further information.
Travel Baby Change Mat Comparison Chart
What is a portable travel changing mat.
A travel changing mat has the same uses as a regular baby changing mat or changing table, but it's more compact and easy to carry around. Fold up changing mats are compact and easily fit in a baby bag or under a pram.
There are options and factors when choosing the best travel changing mat. These range from foldable waterproof sheets to padded foldable mats, which you can organise with all your baby changing needs.
10 Best Travel Changing Mats – Reviews and Comparison Guide
There is plenty of great travel changing mats for both babies and toddlers on the market today. Your perfect baby mat depends on the key features you're looking for, whether that's the smallest foldable mat to stuff into your hand luggage or the mat with maximum head support. Here are some of the very best baby and toddler changing mats available to buy in 2022: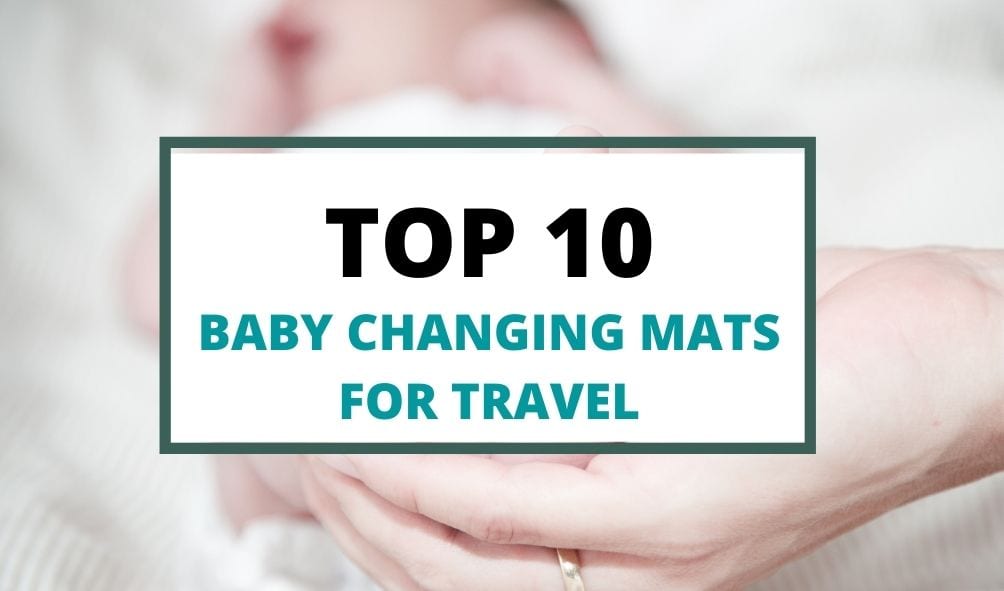 #1 Comfy Cubs Baby Portable Changing Pad – Best Travel Changing Mat
The Comfycubs Portable baby changing mat is thin, lightweight, and very compact when folded. No need to worry about anything. You'll be able to fit this mat in, even if you only have a small luggage allowance or a tiny amount of space in your day bag. You can fold it neatly into a bag that makes it discreet and easy to carry.
The safety mat has a very fashionable design that comes in two neutral colours to fit any gender. The changing pad is of cottony-soft materials that provide ultimate comfort for your little one each day.
This non-toxic product is easy to clean, high-quality, durable, and waterproof. The design of the mat is aimed at younger babies from newborns.
If you want a convenient and high-quality changing travel pad, this is perfect for you.
#2 LEADSTAR Portable Nappy Changing Mat – Home Travel Outside – Best Compact Change Mat
The Leadstar changing pad kit has complete inner layers with the added feature of a headrest which is great for smaller babies. It has a magic sticker for easy and convenient opening and closing.
The inside layer is made of nylon, while the exterior is from a thermoplastic elastomer that is durable and easy to clean. The LEADSTAR portable changing mat has three pockets, one on the outside with a zip and two on the inside, where you can put 6-8 nappies, wipes, nappy bags, baby cream, sanitiser, tissues, and other baby items.
#3 Lekebaby Foldable Travel Changing Mat
The Lekebaby foldable changing mat is padded, lightweight, and super easy to use. The stylish mat is also easy to carry and easily stores in a changing bag. The design of this travelling mat is best to make life much easier for you.
It comes in a bigger size that you can benefit for a toddler. The mat has a perfect size and is all you need for your changing bag. Forget the many different pouches and nappies. It wipes clean and is fast to dry.
Choose this portable mat if you want to have a tested quality product without spending too much money.
#4 Bambino Mio Sail Away Change Mat
Bambino changing travel mat is a large-sized, machine-washable mat that's super soft with a cute pattern. The mat has super absorbent interior paddings. It is an easy item with a clip and loop fastening while being thin and compact, suitable inside your bag when travelling.
The changing pad combines 85% polyester and 15% nylon, and it's also machine washable.
The Bambino mat is compact but big in size; it can fit 2-year-old babies. If you want a highly durable mat from birth to 2 years old, consider buying Bambino Mio cute mat.
#5 Idepet Portable Nappy Changing Mat – Best Portable Changing Station for Small Babies
The Idepet portable changing mat is a practical baby kit that can hold all the things a baby needs. There is a sponge layer in the pad to comfort and keep the baby safe. The inner layer is made of quality cloth, and the surface is made of TPE.
The mat has full range waterproof performance that makes it more durable and practical than the others. This mat is useful for shopping because it is made easy to attach to a pushchair. The nappy mat is wide enough to cover the baby's whole body. It's designed to protect the head from contacting the
public surface.
#6 MORROLS Foldable Changing Mat – Best Waterproof Travel Changing Mat
The MORROLS foldable changing pad has a super soft and waterproof cover, a sponge layer to keep the baby warm and a bottom made of cotton and polyester that is also waterproof and safe for the skin.
This mat comes with two pockets, one inside to store nappies and other toiletries, while the other is outside with a pocket where you can keep other baby's stuff.
This is the perfect baby's travel mat for any outing and driving to the park for a travel adventure.
#7 Lekebaby Portable Nappy Changing Mat – Best Grey Travel Changing Mat
This portable changing mat is important. It offers a hygienic way of changing nappies when travelling. Enough to protect the baby's sensitive skin. The entire surface of the Lekebaby mat is padded for the baby to lie down. It comes with a headrest inside for the baby while changing.
The mat comes with two holders, which you can connect to a pushchair or hold easily. It is easy to carry and does not take up much space.
The lining style is silver-coated waterproof fabric, while the outer layer is all-around water-resistant polyester.
This travel mat has three inner pockets and one zipped pocket on the outside. This provides convenience to bringing enough supplies to keep a parent going for the day.
#8 BelleStyle Nappy Changing Mat – Best Travel Chaning Pad
The BelleStyle nappy changing mat is convenient. It allows more room in the changing bag. The kit has a soft sponge layer for the baby to lie down for ultimate comfort. The mat lining is made of waterproof cloth, and the outer layer is made of TPE. The bottom cloth is wipeable, waterproof, and easy to clean.
The mat is handy and has three pockets with an external zip and two internal pockets for keeping mobile phones, creams, keys, diaper bags, tissues, toys, and other baby products. It has a magic sticker as a seal to make it easier to use and convenient for one-handed operation.
Related Post: 'Take a Look at the best Light and Practical Duffel Bag Options'
#9 Alfheim Portable Nappy Changing Mat
Alfheim portable changing mat is a spot-on product that will hold everything that you need for your baby. It is soft and very light, with excellent supporting layers underneath and a head cushion for your baby's comfort.
This mat with style can hold 3-4 nappies and a packet of wipes. The inside is nylon. It can be easily wiped and cleaned. It is compact and can easily fit under the pushchair or in a bag. It also has many other compartments to put other baby essentials in. The size of the mat is perfect for both babies and toddlers.
#10 OOPSIEDAY Foldable Baby Changing Mat + Changing Bag
The OOPSIEDAY mat is a fantastic product that is very portable. It has loads of space to carry nappies, wipes, and other baby essentials. It's also effortless to clean because of the wipe-friendly material on the inside.
This essential mat has a baby isolation wrap that is fantastic and looks stylish on the outside, as well as being soft, durable, and very wide to give you all the space you need. It also has extra head padding to keep the baby's head comfortably safe.  One of the best for your baby's choice.
What you should I Look for in a Travel Changing Mat?
Compact : When you're researching the best travel changing mat, you should be looking at the size. The comparison table above shows you our top picks of compact changing mats.
Comfort : An added bonus of an excellent mat is the ultimate comfort for your baby. Some travel mat options have built-in head support or general mat padding. Remember that you may not have the comfiest surface to change baby on when you're out and about, so a padded changing mat would guarantee this. It's extra important to get a travel mat with a good head cushion if you have a newborn, especially if they've been through a tough delivery.
Storage Capacity: Some travel changing mats come with complete organization, from side pockets to hidden zips to full foldable changing bags. Being able to carry other baby stuff with a mat will mean people have everything they need when the time comes.
Waterproof: The more waterproof the mat is, the easier it will be to clean. If there are any accidents on the mat, you want to be able to clean it quickly and protect the baby's skin.
Price: Price is paramount when you're deciding on the best mat for your little one. Inexpensive mats are usually great but still have everything you'll need to change baby on the go. Mats with higher value usually have top-quality detail and extra features such as storage capacity. Cheap mats are generally portable mats and more compact, too. It's great to get a good deal and do a bit of thrifty shopping .
Do You need a Travel Changing Mat?
Most accommodation doesn't have anything suitable to change a baby on. I remember countless times resting my daughter on hotel towels to change her. There are always plenty of times I've had to change her in the pushchair.
A travel baby changing pad will save you from using public mats, and you'll have somewhere safe to change baby in your accommodation. You'll feel happy about this.
If you're going on a road journey or an extended stay somewhere, you could get away with bringing regular baby changing bags. However, mats are much more compact, and you'll be grateful not to have to lug a large foam mat around.
Final Thoughts
Some form is essential when you're going anywhere with a baby or toddler. You will definitely get a lot of use out of a portable changing mat, and you never know when you might need to use it…
Enjoy this essential post? Take a look at our Travel Gear  section for more in-depth guides on the best kids travel gear to buy for your next trip, or go straight to other posts in this series below:
Best Travel Irons
Best Anti-Theft Backpacks
Best Travel Binoculars for Kids
Best Travel Hair Dryer
Best Travel Changing Mats
Best Travel Pillows for Kids
Best Travel Potty
Best Portable Blackout Blinds for Travel
Best Gloves for Skiing
Best Leak-Proof Travel Mug UK
Best Ski Goggles for Flat Light
Best Travel Alarm Clocks UK
Recent Posts
Return to Travels with Eden Homepage >>>
Skip to main content
Skip to footer
John Lewis Brands
Customer services
Our services
Track order
My John Lewis
Partnership Credit Card
Baby Changing Mats
John Lewis Safari Animal Changing Mat, White/Multi
John Lewis Botanical Leaf Changing Mat, White/Green
John Lewis Rainbow Print Changing Mat, White/Multi
John Lewis Star Print Anti Roll Baby Changing Mat, Off White
John Lewis Anti Roll Baby Changing Mat, Off White
John Lewis ANYDAY Baby Changing Mat Liners, Pack of 2, White
John Lewis Swirl Dash Changing Mat, Beige
John Lewis Animal Faces Changing Mat, Blue/White
John Lewis Strawberry Changing Mat, Pink
John Lewis Anyday Travel Changing Mat
BabaBing! Flipout Changing Mat Pack
Herschel Supply Co. Sprout Change Mat, Black
Katie Loxton Baby Fold-Out Changing Organiser
Save 10% (Price includes saving on selected lines)
John Lewis Anyday Changing Mat, White
John Lewis Leopard Print Changing Mat, White
John Lewis Leaf Changing Mat, White/Multi
John Lewis Changing Mat Cover, White
Shnuggle Squishy Changing Mat
The Little Tailor Baby Woodland & Gingham Travel Changing Mat, Rose Pink
The Little Tailor Baby Woodland & Fawn Hare Travel Changing Mat, White
The Little Tailor Baby Woodland & Ticking Stripe Travel Changing Mat, Sky Blue
Skip to right header navigation
Skip to main content

Parent, Child and Baby Travel Accessories
Days out with the Kids
Parental Advice
Travelling with Kids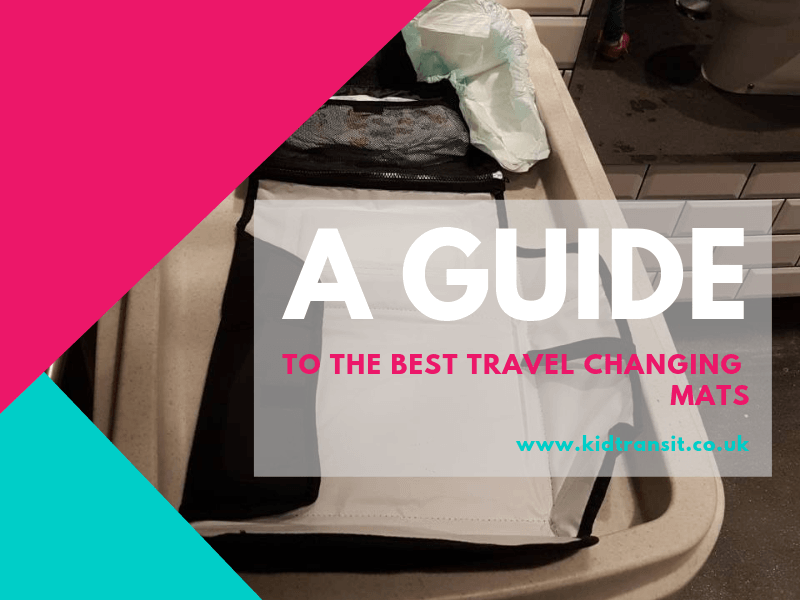 A guide to the best travel changing mats
If you're anything like us here at Kid Transit, you want to find the best UK products that make life easier when going out with kids and this includes the best travel changing mats. One of the universal truths of babies and toddlers is how much they need their nappies changing and just how many fun places they can choose to fill a nappy!
Don't despair, this guide will talk you through baby travel changing mats, where they can be used, which travel changing mat suits the type of traveller you are, and how to get the best out of them.
So read on for all the advice you could need on changing nappies on the go!
What is a travel changing mat?
This is an easy one to answer: a travel changing mat is one that is much easier to carry around than the regular foam filled and padded mat you probably use at home. You can use them for day to day travel to the shops or park and also for holiday travel to help you change your baby on a plane, train or ferry.
With a travel changing mat, at its most basic, you get a rectangle of easy-clean material so you can put something between your baby and whatever surface you are trying to change them on (more on that later….).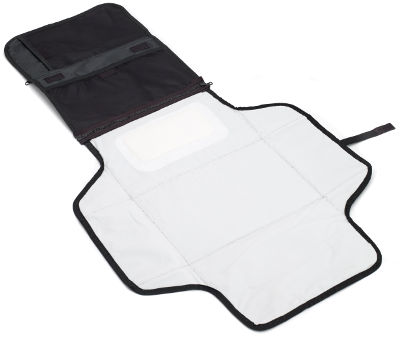 However, not all portable changing mats are created equal: from the very basic ones you can move on up to ones with a little pocket for the odd nappy or some travel wipes and then go all the way to our very own Kid Transit travel changing mat which has enough room to store 4 or 5 nappies, a full pack of wipes, and some bottom cream! This type of fold up changing mat is great for taking with you all day with no need to bring along a full nappy bag. Just sling into the buggy or car and off you go.
Travel Changing Mat
Compact and lightweight travel changing mat with loads of happy customers.
Do I need a travel changing mat?
This depends: if the only journeys you take with your nappy wearing little one are to places with great changing facilities or to friends and family who don't mind you changing your baby on their bathroom floor then no, you don't.
I guess that most parents aren't in that category. We struggled on without one for a couple of months with our daughter before realising that it was an essential piece of the endless baby gear we accumulated and we should really start selling a good one!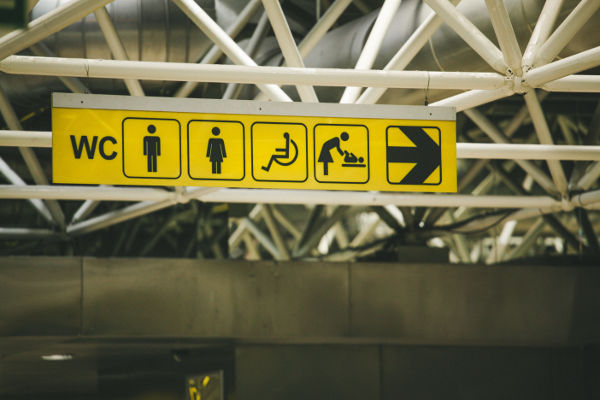 Changing facilities in shops, restaurants, coffee shops, museums etc are always so hit and miss (or sometimes non-existent) that a small foldable changing mat really does become a life-saver (or at least makes it less anxiety-inducing if your baby starts doing 'that face') when out and about.
Places we have used a baby travel changing mat…..
Right, this list is just our top hits of where we have used the Kid Transit travel changing mat and any disasters that it may have averted (I'm mainly talking poop zone here…)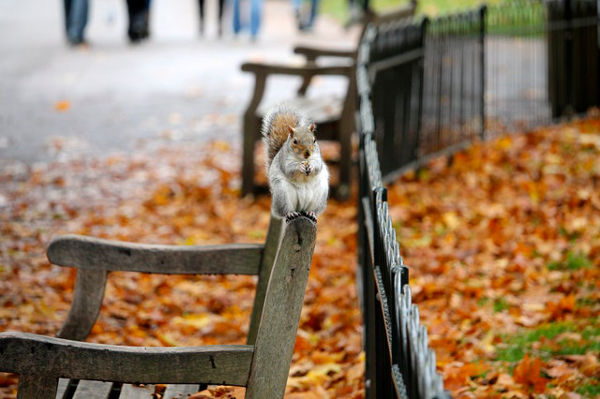 Any number of changing facilities where the provided changing station looked a bit iffy
On the grass in the park that has no toilets
On the bench of the park that has no toilets
Back seat of the car in a motorway layby while raining
Floor of restaurant toilets that had no changing station
On the grass at a motorway service station (smelly toilets)
In the changing rooms at the swimming pool
Every time we visit friends/ family so no accidents occur on their floors (this happened the one and only time we didn't use it, luckily they were parents themselves!)
Various hotels when on holiday
Basically, it gives you that extra bit of confidence when out that if your little one fills a nappy, you can change them straight away and have all that you need to do it in one handy little changing mat and bag combo.
Which travel changing mat shall I buy?
Well, our first pick would, of course, be the Kid Transit travel changing mat. We sell it for a lot of good reasons and hopefully, it will be the one you choose. However, there are many other good ones out there so we will recommend a couple of our favourites that cater to different needs.
Kid Transit Travel Changing Mat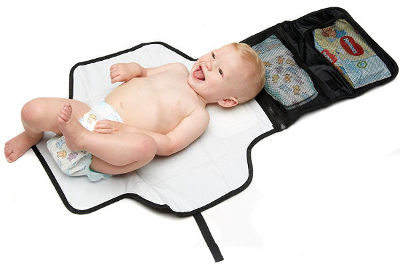 Our lovely changing mat is ideal if you want a strong, long lasting, wipeable changing mat that has a removable compartment for holding all the nappy changing essentials. The changing mat folds out quickly to a large area that we can still use for our 2 and a 1/2 year old. It has a little padded area where the head goes for little babies so they can remain comfortable while you get on with the changing.
The detachable bag part can fit a full pack of wipes as well as a few nappies. This can make it a bit bulkier at times when the wipes are full but it is still easy to close and carry. The front zip pocket is useful for holding other bits and bobs like tissues or even some cash or a card if you don't want to bother taking a handbag out with you every trip to the park.
The portable changing mat has a wrist strap that is perfect for hanging over your buggy handle, as well as making it a lot easier to carry to the changing facilities along with a wriggling baby!
You can always just take the changing mat part with you in your larger nappy bag for those occasions when you need it.
We love to throw the whole thing into the bottom of our buggy when going for short trips.
You can purchase one of our mats through our shop page here.
Roll Up Changing Mat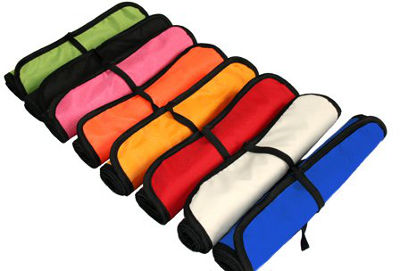 For a truly budget option you can purchase a basic roll-up travel changing mat that will fit easily in your nappy bag. This one we've found gets great reviews on Amazon and comes in a variety of bright colours to match your style. You can easily throw this into any bag you have along with a couple of nappies and some wipes to make your travel changing bag ready to go. Just take a note of the dimensions as its designed more for little babies than toddlers.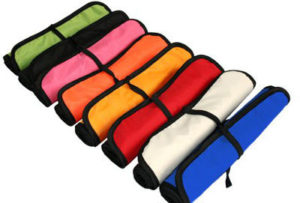 Roll-Up Changing Mat
Compact changing mat, perfect for throwing into a changing bag or back of the car.
Skip Hop Duo Signature Changing Bag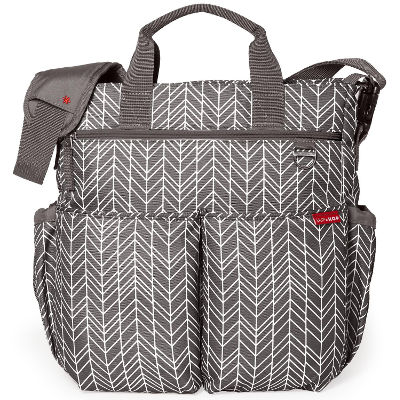 Obviously, this isn't a travel changing mat but a whole changing bag that we're recommending here. From the stylish people at Skip Hop who have been designing usable and beautiful baby products since 2003, we had to include a full travel changing system for people who really do want to have everything to hand in one place. And this bag comes with a great little padded changing mat included.
The Duo Signature changing bag has recently been redesigned to incorporate ideas from their customers and has all you could need in a nappy bag. Lots of compartments to fit all the bits and bobs you need from spare clothes to bottles to wipes. Good top zip fastening to hide things away and keep everything protected from the elements. A tech pocket and a small zipped pocket for keys, mobile, cash etc so you can do away with a separate handbag.
Amazon customers particularly like how flat it hangs on a buggy with the integrated straps (always a benefit as carrying a large nappy bag can sometimes be cumbersome). The bag comes in a variety of different styles as well to complement your buggy.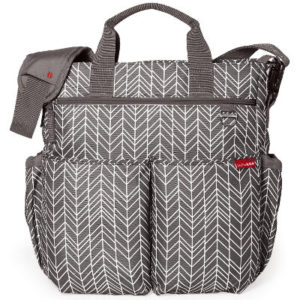 Roomy changing bag with clever compartments and easy pram/ buggy attachment.
Best travel changing mats: final thoughts
We really think that a travel changing mat is an essential item when you have a baby, or a toddler who is still in nappies. For all those occasions when out and about without good changing facilities, to have the peace of mind of knowing you can change your little one easily, comfortably and with everything to hand is great.
Want to discuss products like these with other parents? Join our Facebook group now!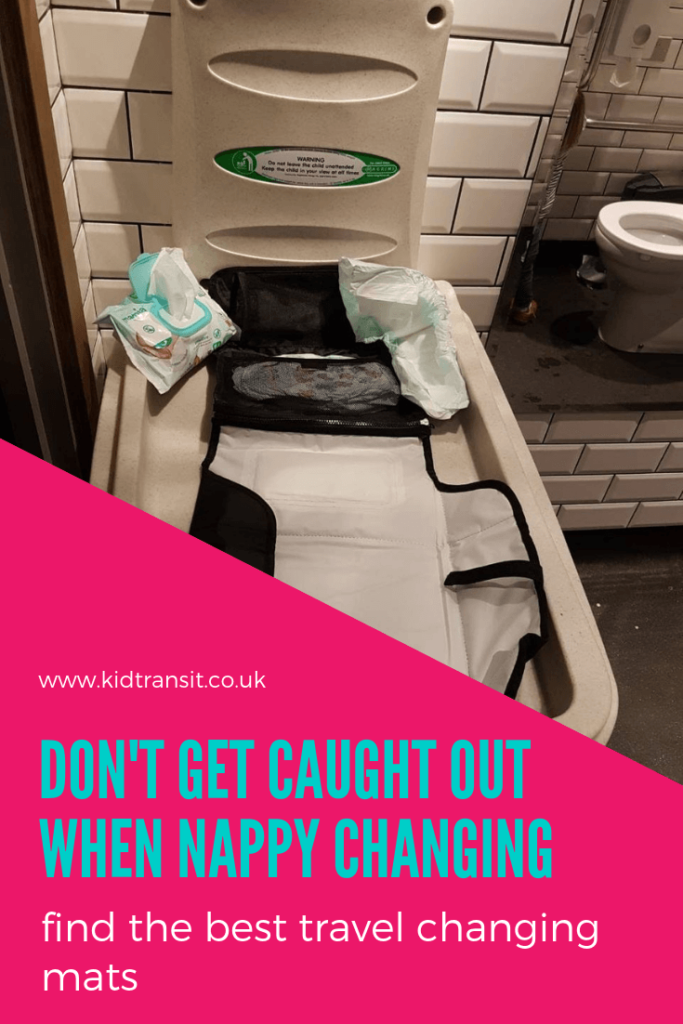 Reader Interactions
Leave a reply.
Your email address will not be published. Required fields are marked *
This site uses Akismet to reduce spam. Learn how your comment data is processed .