Traveling deliberately: Sabre analysis reveals three key trends in the new corporate travel landscape
Agencies & OTAs
Around the Industry
Corporate Travel
Data & Analytics
Developers & Startups
General Blog
Retailing & Merchandising
Travel Providers
Travel Trends
Traveler Experience
Modern Retailing
NDC for Airlines
NDC for Corporations
NDC for Travel Retailers
Sabre Travel AI
Tech Transformation
Sabre Labs & Research
News & Views
Industry & Public Affairs
Press Releases
Share on Facebook
Share on Twitter
Share on LinkedIn
Sabre has examined how new ways of working are impacting the world of business travel. Our data reveals that companies and travelers are taking a more deliberate approach to business travel than ever before.
A pivotal moment for business travel
A new era in corporate travel is emerging post-pandemic to adapt to new ways of working around the world. Globally, more than 40% of employees work from home or in a hybrid model. i And, companies are increasingly laser-focused on how travel can deliver maximum business value in this new ecosystem.
So now, more than ever, it's essential to fully understand how the corporate travel environment is changing and what we, as an industry, must continue to focus on.
At this pivotal moment for business travel, Sabre has taken a dive into our own corporate travel data to identify some of the trends we are seeing in the business travel sphere; finding that corporate travelers are:
Taking longer business trips to maximize the value of each journey
Planning further ahead for business travel
Taking more opportunities to upgrade to a higher cabin class
The shape of corporate travel recovery
What is clear is that business travel is coming back. But it's coming back differently. We're not where we were pre-pandemic in terms of the quantity of corporate travel, but the signs are positive. Industry surveys indicate that corporate demand is expected to be healthy in the coming quarters.
According to data analytics from ForwardKeys ii , for example, business travel recovery is set to overtake leisure bookings recovery this year. Meanwhile Deloitte research in the US and Europe suggests corporate travel may make a full recovery in 2024 iii . In addition, Delta Air Lines said its own recent corporate survey showed 93% of businesses expect to increase travel in the second half of 2023, with several of the so-far least-recovered sectors conveying optimism for increased travel. iv
More long-stay trips
Corporate travelers appear to be staying longer when they make a business trip.
The data indicates that they want to ensure they can make the most of their trip whenever they decide the time is right to make one. As a result, they appear to want to pack in as much as possible during their stay.
It seems corporate travelers are also thinking carefully about what is just right in terms of length of stay. They appear to want to take the optimal length of trip to fit in everything they can, without overstaying.
The sweet spot for most corporate travelers, according to our Sabre analysis, is a stay of two to three days, although there have also been slight increases in the four-to-seven-day stay ranges.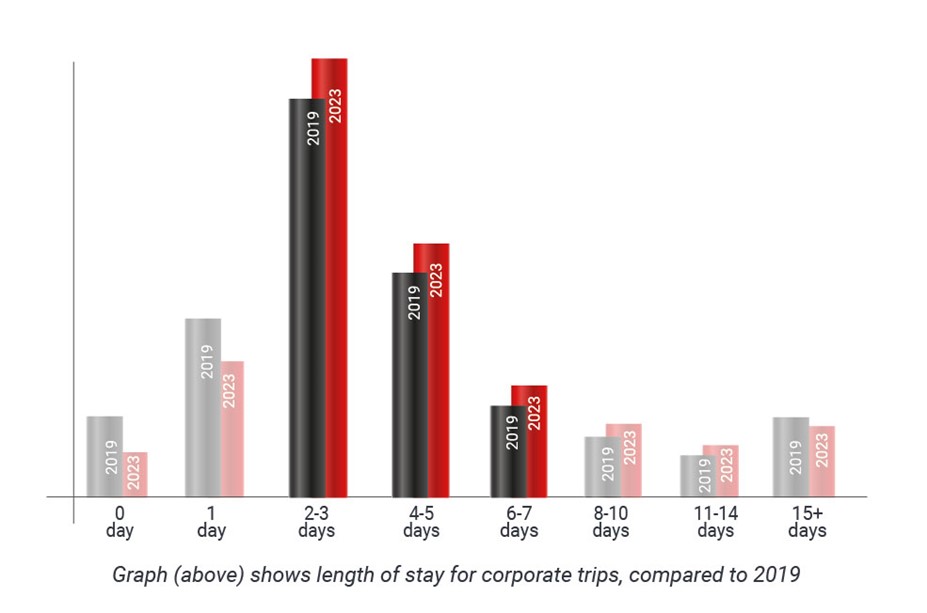 Planning ahead
During the pandemic, it was close to impossible to make travel plans, whether leisure or corporate.
However, our analysis indicates that corporations and their travelers are now making longer-term plans. They're booking further out for business trips than they did pre-pandemic. That means they can book and put together their schedules much further in advance, really taking the time to consider what they want to get out of their trip, and giving themselves time to carefully plan.
Our analysis indicates that the majority of business trips are booked within the 15-to-30 -days-out timeframe, and there's also been an increase in bookings made more than 31 days out.
Corporate travelers are feeling more confident about making plans further ahead of time, and are taking that lead-in time to make plans and set up meetings. Longer booking windows may also be down to regularity of trips to the office for remote workers, and to help corporations to get the best prices, and budget accordingly.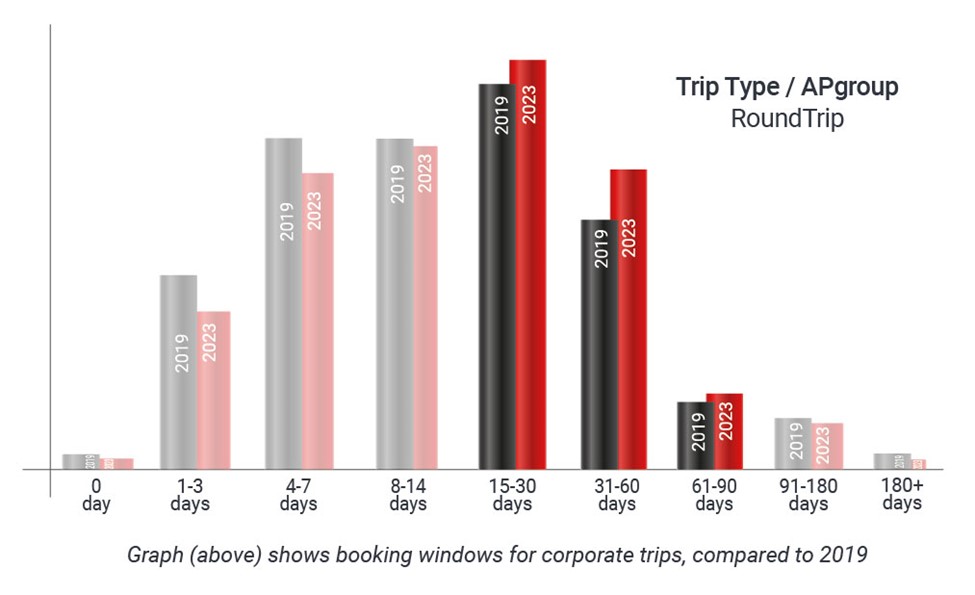 A higher class of travel
While the picture has remained pretty stable for domestic travel, when it comes to international trips, Travel Management Companies (TMCs) are noting a slightly higher share of premium fares.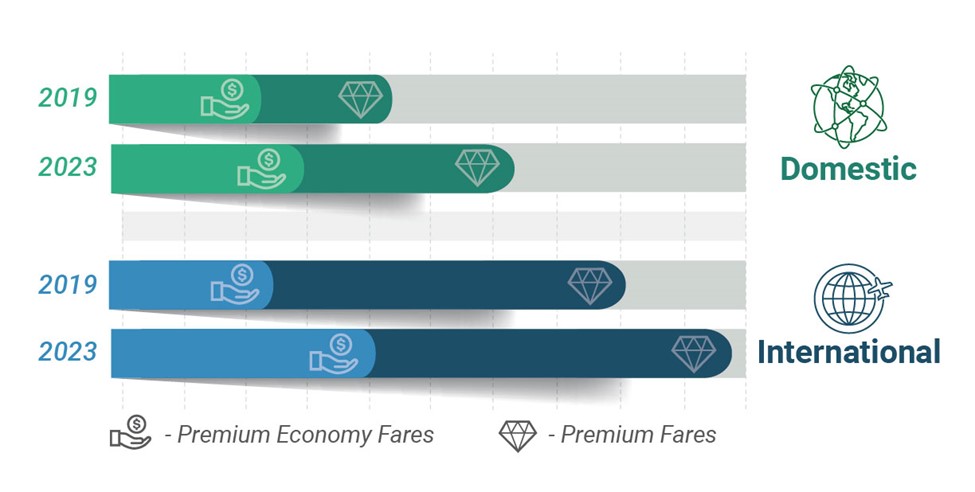 A shift in top corporate destinations
Top domestic corporate routes remain largely the same when comparing pre-pandemic with 2023. There's still a strong focus on Australia, India, the US, and South Africa, with routes from Paris and mining routes in Australia gaining traffic. For international routes, the top route of London to Paris remains unchanged, with destinations from and to Singapore also doing well. Middle Eastern routes have gained strength while Nordic routes have also increased traffic. Unsurprisingly, given ongoing conflict, journeys to and from Russia are seeing a dip in corporate traffic, as are Chinese routes, where travel restrictions were slow to ease.
Considerations for the travel industry
The corporate travel industry is more dynamic and complex than ever. To stay relevant and flourish, corporate travel sellers and Travel Management Companies need to think differently, embrace change, and innovate with new solutions and strategies. They need the right technology to manage companies' approaches to travel.
While business travelers are seeking a carefully considered corporate travel experience, the travel ecosystem has to make certain its own offerings are just as thoughtful and impactful if we are to help ensure that the corporate travel sector continues to recover, grow, and evolve in a way that maximizes revenue for the industry while creating true personalization and value for companies and their travelers.
Want to take this offline? Download the PDF version to read anytime.
[i] Forbes – Remote World Statistics and Trends in 2023
[ii TTR Weekly – Business Travel Recovery Speeds Up
[iii] HCA Mag – Corporate Travel to Make Full Recovery in 2024 Survey
[iv] https://www.businesstravelnews.com/Procurement/Delta-Seeing-Steady-Corp-Improvement
Related Post
March 24, 2023
Video: Driving value through automation | Episode 2
Welcome to the second episode of Explore The Future of Corporate Travel, a video series that dives into the main challenges business travel consultants are facing today and how TMC technology can address them. While there is...
May 5, 2022
Mapping travels new normal: Sabre survey reveals summer 2022 travel trends
Vacation season is just around the corner. To glean insight into the travel industry recovery landscape as the busiest travel season of the year approaches, Sabre recently conducted both quantitative and qualitative surveys with airlines and...
March 16, 2022
Panel: The Future of Business and Corporate Travel and Technology's Impact
Sabre SVP Global Agency Sales and Corporate Solutions Andy Finkelstein recently joined other travel industry leaders as part of an ITB Berlin Convention 2022 panel to discuss corporate travel and the role of technology. The full...
November 1, 2021
Travel Technology Providers Landscape
Infographics ,   Travel
Last updated: 28 Jun, 2023
3 Comments Share
Back in 2011, Scott Brinker, a marketing technology analyst, has unveiled his first version of the Marketing Technology Landscape Supergraphic with about 150 companies. In 2020, the Supergraphic contained about 8,000 companies. The Supergraphic has become "a desk companion" of every marketer out there.
So in 2018, we at AltexSoft decided that the travel tech sector deserved a similar map. The first version of the Travel Technology Providers Landscape consisted of 162 providers within ten travel tech product categories. Since then, we've received tons of feedback from readers and travel tech professionals about the companies we've missed, and justifiably so.
In March 2022, we updated the map to include 401 providers within thirteen categories. To reflect industry changes, we've added sections of Tours & Attractions providers, as well as Airline Consolidators, and Online Travel Agencies. And expanded the existing categories even further.
Today, in June 2023, we've introduced five more categories: Travel Agency Software, Travel Insurance Providers, AI in Travel Providers, Vacation Rental Management Software, and NDC and Flight Connectivity. Below, you will find the most recent version with over 500 providers. You are also free to read our transcript decoding the players on the map and what got updated since its previous installment.
How to use the infographic :
Click on the image to open it in a new tab.
To explore the providers directly, you can use a spreadsheet at the very end of the article where the companies are grouped by categories and alphabetically with links to their websites.
Transcript – What's on the infographic?
Scott Brinker inspired not just us, but professionals from pretty much every field: there are big data, procurement, maritime, blockchain, sales, human resources, and many more technology landscapes. Many appreciated the way one graphic is able to visualize the structure and diversity of industry technologies. But as the graphic gets updated, it acquires another value – the ability to pinpoint how and when new software appears on the market.
According to these goals, we've identified eighteen product categories.
Hotel property management
Also known as property management systems (PMS) , these solutions are used by hoteliers to fulfill reservation and administrative tasks in the property. What must be the largest category on our graphic, PMS products can have ample features ( Hotelogix ) or be minimalistic ( Mews ), can come independently ( Chorum ) or bundled up with other products ( WuBook ). We've also included prominent players that have PMS capabilities that must be integrated with core systems, such as concierge service Vouch and front-desk software GuestDiary .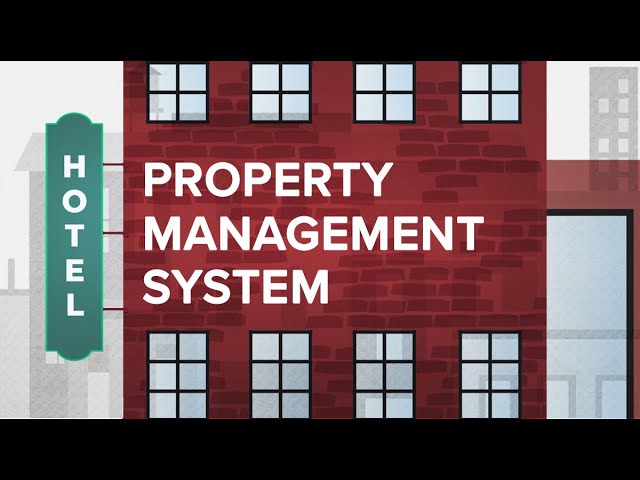 You might notice that since the previous installment, some brands disappeared from the map. That's due to some important changes in this category, namely:
Such leading travel brands as Hotel Effectiveness, ProfitSword, Transcendent, and ALICE have been combined under the brand Actabl .
A hotel data analytics platform Datavision was acquired by myDigitalOffice (MDO) .
A property management system for independent hotels, HotelConnect was rebranded as Noovy.
A PMS Staylists closed and the company moved to a similar product called innStyle .
Hospitality connectivity and distribution
This category hosts products that help deliver rooms to the end customer via the complex distribution flow. This includes:
channel managers by SiteMinder , RateTiger , and more that help hoteliers and the like to post their offers on many websites from one platform,
metasearch engines ( Kayak , Google Hotel Ads , and TripAdvisor ) that consolidate tons of offers across the web for easy comparison,
new direct distribution players such as Impala , Katanox , and HyperGuest ,
data mapping tools such as GIATA and Gimmonix , crucial for adequate data exchange, fell into this category as well.
Hotel reservation systems
Operating at the heart of a hotel, a central reservation system hosts its availability, rates, and inventory data, used to manage bookings. Often integrated with a channel manager, a CRS can be included with a PMS ( eZee , D-Edge ) or purchased independently ( Sabre SynXis , OTRAMS ).
Revenue management systems
We felt like revenue management solutions deserved a separate category, even though they sometimes come with PMS out of the box. As explained in our thematic video, revenue management is the number one tool for hotel success, which applies data analytics to make predictions and automate price optimization. Duetto , Cendyn , and IDeaS are some of the prominent market players.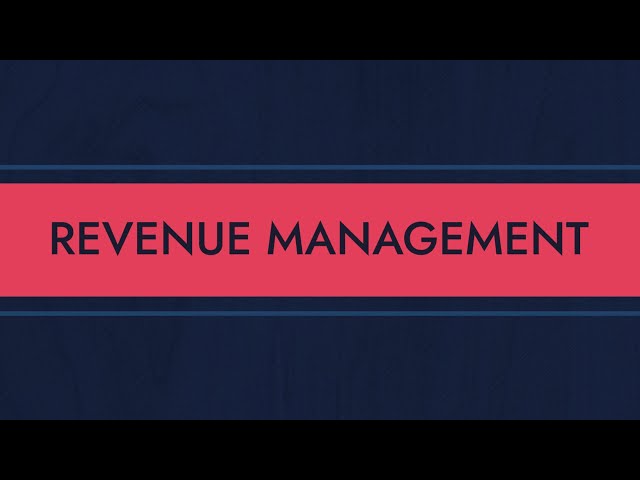 In a recent installment, the RM category features revenue management platforms categred towards vacation rentals, including Beyond , DPGO , Wheelhouse , and more. At the same time, Beonprice has been rebranded as Beonx .
Wholesalers and bedbanks
Hotel wholesalers buy rooms in bulk at discounted prices and resell them to OTAs, travel agents, and other distributors. The market is relatively small with a few leaders such as Hotelbeds , WebBeds , and HProTravel .
Global distribution systems (GDSs)
Sabre , Amadeus , and Travelport stand as a never-changing monolith in the travel technology ecosystem. Although there are dozens of GDSs in the world, these three own over 90 percent of the market and keep expanding their distribution reach with a growing number of agreements with airlines and hotel room sellers.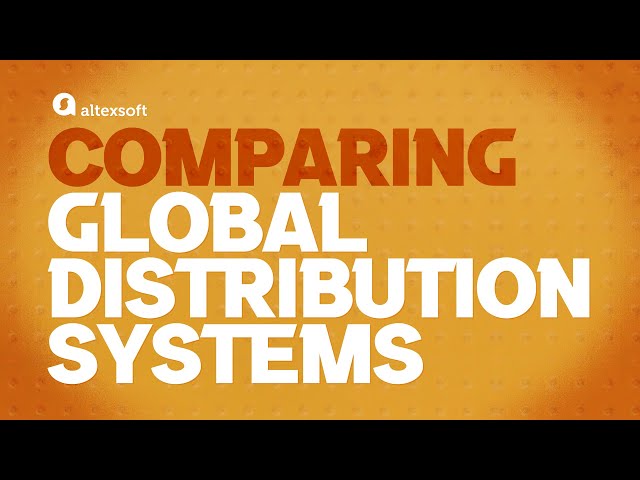 Airline reservation systems
Similar to hotel CRSs, airline reservation systems store information about a carrier's inventory, fares, schedules, PNRs, e-tickets, etc. Many airlines use CRSs provided by a GDS ( Amadeus Altea , Navitaire , SabreSonic ), but there are popular independent providers, too, including SITA Horizon , Radixx , Kiu , and more.
Airline schedules, pricing, and information providers
There are global connectivity solutions that provide technical or specific flight data. For example, Cirium and OAG provide flight scheduling information, ATPCO and Skyscanner provide fares, and SITA is useful for airport, baggage, and boarding data.
Airline operations management providers
Also called MRO (maintenance, repair, and operations) solutions, software for airlines includes a wide range of services from scheduling and load control to crew management and maintenance documentation. These products come both from big aviation companies, such as Airbus' Navblue and Lufthansa Systems , but also from specialized providers such as IBS Software , AMS , and Coforge .
Airline consolidators
Consolidators are aviation's bedbanks, serving as middlemen of flight distribution. Providing bargain prices for resellers, they have been relevant for decades. Most of them, including Picasso , Centrav , GTT Global , and more exist since the 1980s, though the undisputed leader in North America is Mondee Group .
Business travel and expense management
The world of business travel management has been transformed the most since the start of the pandemic. And our selection of players includes different categories of corporate travel providers: there are traditional travel management companies such as Egencia and American Express GBT ; productivity software such as Tripgrid ; expense management from Navan (previously TripActions); and even innovative blockchain-based marketplace from Winding Tree .
Online travel agencies
OTAs shape the modern travel experience. There are so many online booking sites that they may deserve their own graph. There are classic hotel search OTAs such as Booking.com , Expedia , Trip.com , and Despegar and agencies for alternative accommodations including Airbnb , Vrbo , Vacasa , and HostelWorld . Many popular brands are owned by Booking Holdings and Expedia Group, but smaller, local OTAs like Yatra (India), eDreams (Spain and Europe), and Webjet (Australia and New Zealand) are just as influential in their respective markets.
Tours and attractions products
T&A providers cover a wide range of travel activities, from organizing, consolidating, and selling tours to offering event and museum tickets. Tour providers can use these platforms to reach target audiences while tourists get to easily access excursions from centralized apps. While global travel companies like Airbnb, TripAdvisor, and even Marriott offer some kind of T&A functionality, there are tons of specialized services, including GetYourGuide , WithLocals , Klook , Lyte (formerly, Festicket), and many more.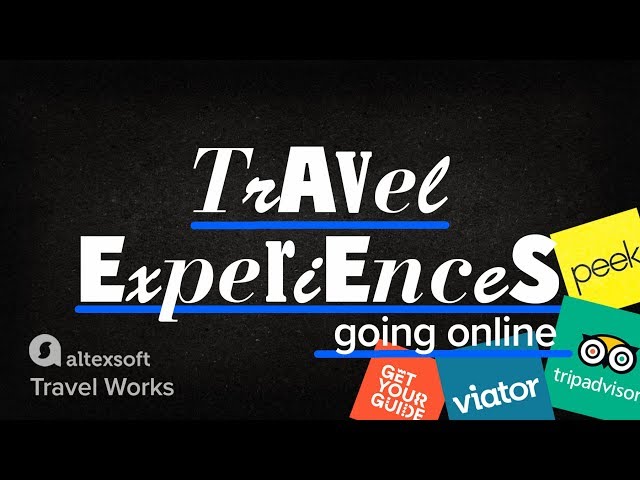 AI in travel providers
AI and Machine Learning have a massive impact on the travel sector and we've explored it extensively on our blog and YouTube channel. And while AI is actively used throughout the ecosystem of providers from Airbnb to Expedia, in the past year, this impact grew even further with the adoption of generative AI like ChatGPT . So, we felt like it deserved a separate section in the landscape.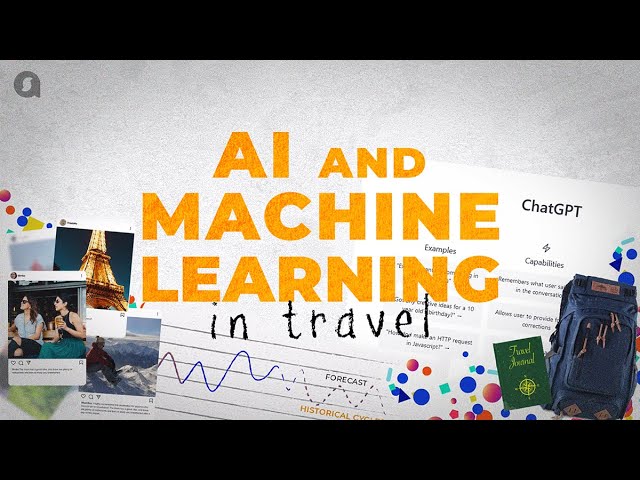 Here we included software from the most popular categories of AI application: trip planning ( Vacay , RoamAround ), trip recommendations ( Tripnotes , GuideGeek ), and hospitality assistance ( Duve , Jurny , Yada.ai ).
Vacation rental management providers
Before, we've included software for short-term rentals among general hospitality management providers, but it's become clear that the vacation rental market has evolved to become more independent. So, we've expanded the list of software for vacation rental management and put them into a specialized section.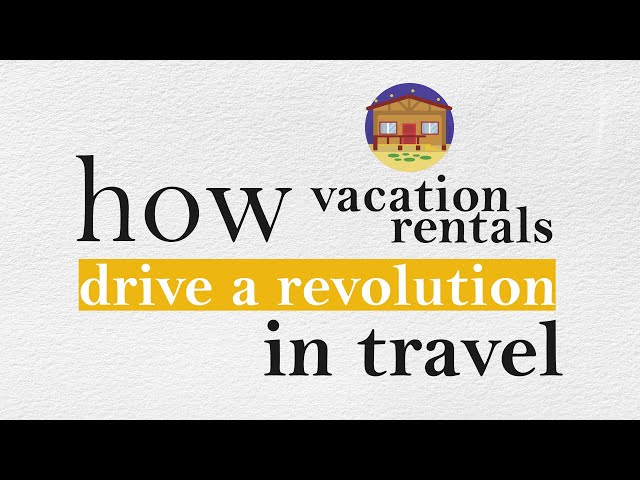 Travel agency software
As we've had sections dedicated to hotel, vacation rental, and airline management, it's only fair to include travel agency management providers. These companies offer booking, payment, tour building, analytics, and more capabilities.
Travel insurance
Since Covid-19, travelers became more cognizant of the benefits of travel insurance and the market has experienced a bolt. Both travel-specific businesses and general insurance providers with APIs. have been included on the map.
NDC and Flight Connectivity
NDC or New Distribution Capability is a new communication standard developed by IATA that allows airlines to display rich content and ancillaries in OTAs and other travel distributors. One of the ways OTAs can implement NDC functionality is via NDC aggregators, which is why we included many of them in this section.
As you explore the graphic, you will notice that the same company names pop up in different categories, especially when it comes to B2B operations. But at the same time, the travel sector, despite the past crisis years, has welcomed tons of niche startups, aiming to solve particular business or traveler problems. We've tried to represent them on the graph as well. It will be interesting to see, how both these company groups evolve over the years. For now, let's analyze what changed since the 2022 installment of the travel tech landscape.
Emerging trends and predictions
This map allows us to follow the evolution of the travel tech world and here are a few important updates that we're noticing today.
Generative AI. The advent of large language models like GPT-4 and Google's Bard is bringing massive opportunities to business efficiency and customer communication. APIs and widgets are available to everyone, so the adoption is not hindered at all. This trend will only keep growing and become more normalized, so we're bound to see many AI startups appearing in traveltech.
Traditional tours. Popularity of experiential, luxury, culinary, and other trendy types of tourism calls for more personal approaches to travel. People want to experience something not many have tried before, which is where touring companies with local guides and travel assistants are needed once more. It's likely that traditional travel agency technology will grow to meet the new demand.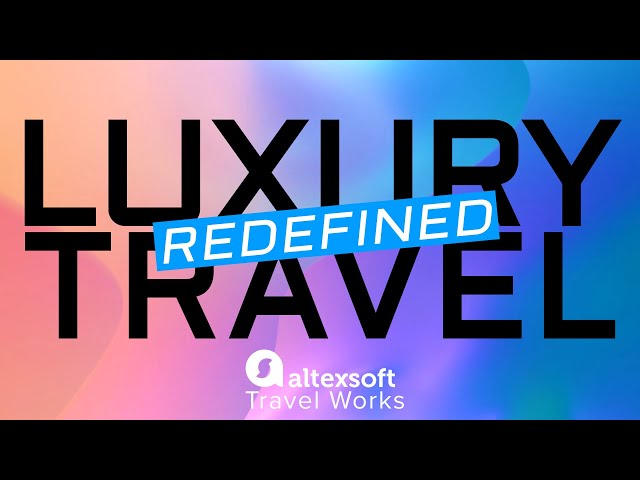 Vacation rentals. Alternative accommodations, short-term rentals, and other types of non-hotel lodging are thriving and even traditional hotels are joining in . This is no longer a niche, but a separate sector in the travel world, so every type of software will soon exist to cover specific needs of vacation rentals.
Let us know in the comments what you think the graph is currently lacking and what trends you can pinpoint from it. We'll keep all suggestions in mind when working on the next iteration.
Subscribe to our newsletter
Stay tuned to the latest industry updates.
Latest Travel Articles
Hospitality & tech: custom solutions, are they relevant, analytics and machine learning redefining travel expense management, ota platform: how to choose a white label solution, and when to go custom, how to choose and integrate travel and expense management software, join us on the techtalks.
Discover new opportunities for your travel business, ask about the integration of certain technology, and of course - help others by sharing your experience.
Write an article for our blog
Almost 50 guest articles published from such contributors as Amadeus, DataQuest, MobileMonkey, and CloudFactory.
Any Questions? Let's Discuss!
Discuss your project needs with our architects.
By clicking contact us you confirm, that you understand and agree to the Privacy Policy
Revue d'économie industrielle
Accueil Numéros 165 Competitive landscape: are touris...
Competitive landscape: are tourism sectors different? Why does it matter?
This study advances empirical knowledge of tourism as an economic sector, from an economics and supply-side perspective. It studies the competitive landscape of tourism sectors in Portugal, based upon a rich, firm level database, of over 3,000,000 observations, over the period of nine years, from 2006 to 2014 (over 300,000 firms per year). The results show a lower level of concentration, and consequently a higher level of competition, just in some sectors of the tourism industry, hence the need to take into account sub-sector specificities when analysing a competitive landscape. The results for Portugal show that tourism as a sector may have contributed to the economic recovery from the financial crisis that began in 2008; but tourism growth should not blur the need to care for efficiency or financial soundness. Managerial and policy implications are derived from our research.
L'étude fait progresser les connaissances empiriques sur le tourisme en tant que secteur économique, du point de vue de l'offre. Il étudie le paysage concurrentiel des secteurs du tourisme au Portugal sur la base d'une riche base de données, comprenant plus de 3 000 000 d'observations sur la période 2006-2014 (plus de 300 000 entreprises pour année). Les résultats montrent un niveau de concentration inférieur, par conséquent un niveau de concurrence supérieur dans certains secteurs de l'industrie du tourisme, d'où la nécessité de prendre en compte les spécificités des sous-secteurs. Les résultats pour le Portugal montrent que le tourisme a peut-être contribué à la reprise économique après la crise financière qui a débuté en 2008; mais, la croissance du tourisme ne doit pas atténuer la nécessité de veiller à l'efficacité ou à la solidité financière. Les implications managériales et politiques sont dérivées.
Entrées d'index
Mots-clés : , keywords: , notes de l'auteur.
Compliance with Ethical Standards: Funding: The first author acknowledges the support of Fundação para a Ciência e Tecnologia SFRH/BSAB/127794/2016, and of the Research Unit on Governance, Competitiveness and Public Policy—GOVCOPP (project POCI-01-0145-FEDER-008540), funded by FEDER funds through COMPETE2020— Programa Operacional Competitividade e Internacionalização (POCI)—and by national funds through FCT— Fundação para a Ciência e a Tecnologia . Any persistent error or missing data are entirely the responsibility of the authors. Celeste Varum declares that she has no conflict of interest. Mariasole Bannò declares that she has no conflict of interest. Ethical approval: This article does not contain any studies with human participants or animals performed by any of the authors.
Texte intégral
1. introduction 2.
2 We acknowledge B. Plim from Banco de Portugal , for allowing us access to the micro-level database.
1 Studying tourism from the economic perspective is a relative area of research, pioneered in the 1960s. Yet, the tremendous evolution of tourism as an economic activity over the past 50 years propelled a remarkable growth in scientific publication in the field (Davies and Downward, 2006; Stabler et al., 2010; Song et al., 2012; Tisdell, 2013; Mohammed and Guillet, 2015). Research in tourism economics has been dominated by demand analysis in terms of research interests and a methodological approach, while less attention has been paid to tourism supply (Sinclair et al., 2003, Papatheodorou, 2006; Song et al., 2012). This is an important area of neglect as tourism has experienced continued expansion to become one of the largest and fastest-growing economic sectors in the world, and countries worldwide have embraced growth enhancing policies for tourism demand and supply. Operating and designing a comprehensive policy framework for greater market efficiency requires a deeper understanding of how these markets behave and their changes over the years.
2 One of the motives for the relative neglect, regarding supply side studies in tourism, relies on the debate about whether tourism is an industry or a market when it is studied from a supply perspective (e.g. Leiper, 1990, 1992; Smith, 1988, 1991; Davies and Downward, 2006; Song et al., 2012). It has been recognised that tourism is neither a single industry nor a single market, but a combination of goods and services provided by different sectors (Wilson, 1998; Stabler et al., 2010). It is common to refer to tourism industries as "those industries that produce commodities or services that would cease to exist or would exist only at a substantially reduced level in the absence of tourism" (Smith, 2006). This perspective underlies tourism supply research, which has mainly mainly the lines of industrial economics, covering a wide range of topics, from firm to industry and market level, as reviewed in Dwyer and Forsyth (2006) Song et al. (2012). Most of these studies cover one or two tourism industries, while only a few of them (e.g Smith, 2006 and Singal, 2015) compare salient structural characteristics of the tourism sectors among them or with other industries.
3 Studies of the competitive landscape of an industry are important for several reasons. First, because of the deep relation between market structures, firms' conduct and firms' performance. The incentives provided by the competitive dynamics between firms in a certain market are a driving force likely to shape their behaviour, affecting, among other aspects, price, quantity and quality of the services provided, as well as their efficiency. Lei (2006), Davies and Downward (2006) and Song et al. (2012) review a number of empirical studies that related market structure, firm conduct, and firm performance in tourism. While some of the existing studies have found market competition to directly influence the performance of a firm (e.g. Davies, 1999; Chung and Kalnins, 2001; Pan, 2005), others discuss how firm conduct (e.g. creating a franchising strategy) contributes to increasing market concentration (e.g. Cunill and Forteza, 2010, in hotel chains), or even others depict a bidirectional causal relationship between the market structure and strategic behaviour (Tung, Lin, and Wang, 2010). Conlin and Kadiyali (2006) also found higher investment in capacity, relative to demand (i.e. idle capacity) in markets with a larger concentration index and by firms with a larger share of market capacity, consistent with the view that concentration affects firm conduct. More recently, Aissa and Goaied (2016) show that market competition affects hotel efficiency. Second, studies analysing industry structure carry the potential to contribute to public policy debates. Finally, they represent a source of theory development and testing.
4 Hence, this study is set to advance the empirical knowledge of tourism as an economic sector. We fill an important gap in the literature by studying the competitive landscape of tourism related sectors, how it differs among them and from other industries, in terms of structural characteristics, such as market concentration, inequality, instability, market power, and firms' structural ratios.
5 This analysis is conducted for Portugal, a country where the tourism sector assumes a considerable expression, having experienced a notable boom in the last decade ( Banco de Portugal , 2014). By 2018, according to data from Turismo de Portugal , tourism accounts for over 6% of total employment, and tourism revenues account for over 8% of GNP (Turismo de Portugal, 2019). While tourism research in Portugal focuses predominantly on the accommodation sector or on the demand side (from tourists), and relates mainly to physical flows (e.g. arrivals, nights spent in tourist accommodations), our study addresses the supply side, and draws upon private enterprises data. We formally analyse the market structure of tourism industries among them and with other industries, as well as other distinctive features of tourism firms, based on a firm level longitudinal dataset, covering the period 2006 to 2014. Data has been sourced from the IES ( Inquérito Empresarial Simplificado ), a compulsory questionnaire for private enterprises located in Portugal, for which the accounting and fiscal information, along with other information, is submitted annually. The questionnaire is collected by the Ministry of Finance. To our knowledge, this is the first study addressing these aspects in the tourism industry in Portugal, having the additional value of using an extremely rich micro dataset of non-financial private societies in Portugal, a vast sample of total firms, which provides to a solid base to derive conclusions for the sector in this country. Further studies in other economies should be conducted so that patterns can be identified, or not identified
2. Theoretical background
6 From a conceptual point of view, Leiper (1979) suggested: "The tourist industry consists of all those firms, organisations, and facilities which are intended to serve the specific needs and wants of tourists" (p. 400). This perspective inspired the United Nations Statistical Commission to adopt the tourism satellite accounts in March 2000, and this laid the groundwork for other academic studies on the economics of tourism supply, such as Smith (2006) and Singal (2015).
7 Following these studies, the tourism sector includes 'industries providing places for sleeping and staying (i.e. accommodations), those that enable people to move across different geographic zones (i.e. transportation services), those that feed people (i.e. food and beverage services), those that entertain people (i.e. recreation and entertainment), and several others that provide tourism related services (i.e. travel agencies and tour operators)' (Smith, 2006).
8 The tourism industry is frequently believed to have a structure with a higher degree of competition than other industries, and several reasons have been pointed out for such an event (Singal, 2015; Pan, 2005; Song et al., 2012; Smith, 2006; Cunill and Forteza, 2010; Singal, 2015).
9 First, there is high agglomeration in attractive destinations, leading to strong competitive localized (geographical confined) markets. As for other services, production and consumption occur simultaneously, and imply a direct interaction between the provider and consumer at a certain location. This is certainly the case for hotels, restaurants, and for most recreation, leisure, and cultural activities, but less for travel agencies or transport. As noted by Singal (2015), the geographic market for hospitality and most tourism industries is characterized by strong localization at a certain destination, whereas the geographic market for other services and for goods-industries is national or global. Mian and Sufi (2014), while distinguishing among markets with varying geographic sizes, by categorising them into tradable and non-tradable industries, note that the hospitality and tourism industry is one of the largest non-tradable industries. In addition, capacity in most tourism sectors (e.g hotels, restaurants, museums) is embedded in a context and cannot be moved to a different geographical market, as is the case in numerous other industries (Conlin and Kadiyali, 2006).
10 Second, there are entry and exit specificities, which vary for each tourism sub-sector. For some tourism related sectors, entry barriers are relatively low and internal basic resources to work are relatively easy to access (e.g. human resources, materials and other inputs). Hence, a situation of saturation in the market, with a high density of small firms, is quickly generated. In other tourism sub-sectors, firms are often tied to assets (e.g. infrastructures, reputation) difficult to sell or to use in other businesses. Within this setting, one expects a scenario of higher competition and a lower degree of market concentration than in other sectors (Smith, 1995). Recently, Singal (2015) confirmed that the hospitality and tourism industry is far less concentrated and, thus, exhibits a higher degree of competition than other industries. Yet, it has also been argued that there is a trend towards oligopolistic structures in several tourism sectors (e.g. airlines, rent-a-car, cruise ships, hotel chains) (Cooper, 2016).
11 More empirical evidence is needed for the concentration and competition landscape in tourism in specific sub-sectors and across countries, as very few studies analysed these issues in the tourism sector in a systematic and comprehensive way.
12 Market structure is just one aspect of the competitive dynamics of an industry. Another aspect relates to the performance of the industry. Tourism service firms are highly dependent on new information technologies on the back office, but on the front-office they are highly dependent on personnel contact. The core businesses of tourism, accommodation, and restaurants, for example, are labour intensive. In this regard, tourism firms are said to suffer from a labour productivity challenge (ILO, 2000), which is translated into lower productivity for the tourism firms when compared to other industries, which has potential implications for companies' financial performance.
13 Smashed margins coupled with dependence on heavy investments in tangible assets leads tourism firms to have a higher debt and lower financial autonomy (Singal, 2015), lower solvability, and lower liquidity. Apart from Singal (2015), we did not find to date academic studies testing some of these expectations. Hence, our study is also innovative in this regard, by testing whether financial autonomy, liquidity, solvability, productivity of labour and capital/labour ratios differ for tourism firms.
3. Materials and methods
14 Although the term "tourism industry" is a familiar one, tourism is not an industry in the conventional sense of the term. Hence, for the classification of the activities as tourism and others, we followed the line used by Smith (2006), Singal (2015), and by the Bank of Portugal ( Banco de Portugal , 2014). The sectoral classification used is detailed in Appendix 1. In this study, the tourism sector includes the typical groups of Hospitality, Restaurants, as well as Transport activities related to tourism (passengers), and a fourth group formed by Recreation and Entertainment, including travel agencies and cultural activities.
15 Data has been sourced from the IES ( Inquérito Empresarial Simplificado ), a compulsory questionnaire for private enterprises located in Portugal, which is submitted annually, to report the accounting and fiscal information of private enterprises, as well as other information. The questionnaire is collected by the Ministry of Finance. Hence, we had access to the yearly data for non-financial societal enterprises over the period 2006 to 2014, which represents the largest share of the firms in the country. Due to changes in the Portuguese accounting system over the time we had to make the necessary adaptations, which may cause problems in comparison across time in particular years. Nonetheless, overall trends can be captured and cross sector comparisons established. Overall, our sample composed of over 3,300,000 observations and about 367,000 firms on average per year. Over the 9 year period, in our data set, tourism related sectors account directly for more than 12% of the number of private firms and about 9% of total employment in private firms and 5% of turnover. Table 1 provides information on the number of enterprises per year and the share of tourism related sectors in total in our database.
Table 1. Yearly average number of firms, employees and turnover (2006-2014)
16 Within the tourism-related sector, Restaurants account for the largest share in the number of enterprises and employees, and transport in turnover. Hospitality is the second tourism sector in terms of share of employees, a reflection of its high labour intensity.
17 Before going deeper into the analysis of the business data, it is due time to remember that over the time period covered in this study, the Portuguese economy underwent major challenges. It dealt with a strong recessionary period, with declines in internal demand and investment, in the follow up of 2008, enhanced by the severe cuts in wages and public investment under the International Monetary Fund (IMF) intervention for national budget consolidation. Hence, the developments of the business sector must be understood in the light of this macroeconomic setting.
18 Figure 1 plots the evolution in tourism industries in the number of firms, employees, and turnover, and its share on the total over time.
Figure 1. Numbers of firms, employees and turnover (€), total and share, 2006-2014
19 The data indicates that the overall number of firms in operation increased over the time period of this study, while employment and turnover declined. It is also evident that the growth on the tourism sector exceeded the growth rates in the overall business sector, in terms of the number of firms, employment, and turnover. There are, however, certain sub-sector specificities. While the number of firms in transport declined, employment and turnover increased, which may signal an increase in the average size of firms in this sector. By contrast, employment in hospitality declined slightly, while the number of firms and turnover increased, which is likely to signal that the sector became more capital intensive. Finally, turnover of recreation and entertainment also declined slightly, despite the increase in the number of firms and employment, which may reflect increasing competition within the sector and further challenges to improve margins. Overall, while the values for the total economy registered declines in number of employees and turnover, aligned with the crisis period post 2008, tourism related sectors have been more resilient.
20 As a result of these developments, over time the tourism sector has grown overall, increasing its contribution to the business sector.
4. Analysis and findings
4.1. industry structure, 4.1.1. methodology.
21 One of the most common measures of market concentration is the C k ratio.
22 C k refers to the market share ( S i   = sales of firms i divided by total sales) accounted for by the top K firms, being the number of firms in the market N (i =  1 ,... n ); S i the market share of each i firm.
23 For the USA, Singal (2015) found a C4 equal to 5.8% for hospitality and tourism, compared with 10.9% for other industries, showing that the hospitality and tourism industry is far less concentrated and, thus, exhibits a higher degree of competition than other industries.
24 We follow this line of research to evaluate whether this expectation is valid for the Portuguese case. In addition to the C k ratios, we also use the Herfindahl-Hirschman Index ( HHI ), an additional measure of concentration from the field of industrial economics, which is very useful for dealing with tourism competition (Li and Song, 2006). The Herfindahl-Hirschman Index is measured as:
25 S i the market share of each i firm, being the number of firms in the market N ( i = 1 ,.. n). The HHI index ranges from close to 0 in perfect competition and to 1 in a monopoly (note that when S i is used s is the percentage ((- 1 /n) ≤  HHI  ≤  10.000 )). The empirical literature usually defines HHI  <  0.1 as the threshold for low levels of concentration, 0.1  <  HHI  <  0.18 as moderately concentrated markets and HHI  >  0.18 as highly concentrated markets (Varum et al., 2018).
26 Another aspect of the dynamics of the industry relates to the turbulence in the market. Over time, in each industry, there is a certain degree of turbulence, of exit and entry of new firms. Schumpeter described this as a process of industrial transformation "that incessantly revolutionises the economic structure from within, incessantly destroying the old one, incessantly creating a new one" (Schumpeter 1975: p. 83). This process leads to changes in the relative position of firms' market shares, which can be measured via an instability index (I) from Hymer and Pashigian (1962).
27 Competition does not depend only on concentration but also on the balance between the players in the market. For similar levels of concentration, competition is likely to be higher if sellers are more equally sized. In this regard, it is often argued that there is a dual structure in tourism supply. One the one hand, it is commonly accepted that the tourism industry is highly diverse and fragmented and made up predominantly of small businesses and entrepreneurs (Cooper, 2016; ILO, 2010). On the other hand, it is recognised that along with a cloud of small and medium firms, there is a group of larger companies formed by a reduced number of firms. These can achieve economies of scale and scope, offering standardised products, frequently to mass markets. They are active innovators and frequently drive the trends for the sector (ILO, 2010). The micro and small size companies often operate under the shadow of a destination, and they are more likely to offer specialised products. They are easier to manage, have advantages of proximity to the local economic basis, and are more flexible.
28 Smith (2006) analysed the data for Canada and his results support the idea that SMEs predominate in the tourism market. Yet, according to his results for the Canadian case, tourism should not be characterised as unique in the high percentage of enterprises that are SMEs. Additionally, Smith (2006) explored the distribution of the relative size of firms. Smith (2006) used Lorenz curves and the Gini coefficient (GINI), which are measures that can be used to examine inequality in firm size distribution between sectors.
29 The Lorenz curve relates the cumulative percentage of a certain output with the cumulative percentage of the population. The closer the curve is to a line with 45º, the higher the equality between the different elements in the population. The GINI coefficient is computed by taking the ratio of the area between the Lorenz Curve and the equality line to the total area under the equality line. Given GINI is a dimensionless measure, it is comparable across industries. The closer the value is to zero, the greater is the extent of competition in the market,
where X i stands for the size of the firm (measured in employees or sales).
30 The results of Smith (2006) from the GINI index show significant differences among the various tourism industries. The asymmetry was high in travel trade, intermediate for food services, accommodation and transportation, and low in recreation and entertainment. We will use Lorenz curves and GINI index to analyse the tourism sector, and to compare tourism with the remaining sectors of the economy.
31 The degree of rivalry in tourism sectors is likely to contribute to lower net income and lower margins (Smith, 2006; SingalAT, 2015). Moreover, the heavy dependence on investments into infrastructures and the installed capacity contribute to low flexibility, posing a difficulty for firms in the sector to adjust to demand fluctuations. Firms are often tied to assets (infrastructures, reputation), difficult to adjust, to sell, or to re-use in other contexts. As a result, companies may remain in the industry, even if margins are low or non-existent.
32 From a theoretical point of view, the ability of a firm to set prices above marginal cost is a measure of market power. At industry level, the classical measure of market power is the Lerner index (1934), also referred to as the mark-up ratio. For a profit-maximising firm, it is defined as the difference between price (p) and marginal costs (c) divided by price. For an industry, firms' price-cost margins (PCMs) are used to calculate an approximation for the Lerner index:
33 Considering that for the tourism industry a higher level of competition is expected, a lower L index is also likely to be obtained.
34 In the next section, C k , HHI, I, Inequality and L were used to analyse the Portuguese sectors. For calculating C k , HHI and I , firms' individual turnover in each year were used. To analyse inequality, we calculated the GINI index and constructed Lorenz curves, using firms' individual turnover and the number of employees. For calculating the Lerner index, we have used firms' individual turnover and variable costs. Variable costs consist of a wage bill (including other benefits) and the cost of materials and services (e.g. subcontractors, electricity, and fuels). More specifically, labour costs comprise wages, other compensations, and social security contributions. Capital is assumed to be a fixed input, a practice typically followed in the literature.
4.1.2. Results
Concentration.
35 Figure 2 shows the concentration ratios C4 and C10 and the Herfindahl Hirschman Index, over the time period of this study. The concentration ratios of all the tourism sectors together are consistently higher than the average concentration ratios of all industries. Yet, the results are considerably affected by the high level of concentration of Transport. The value for Transport is the highest, and it has increased from 2006 to 2014. The value for Recreation and Entertainment (which includes travel agencies) is intermediate. By contrast, the values for Hospitality and Restaurants are relatively lower, reflecting a higher degree of competition.
Figure 2. C4(%), C10 (%) and HHI (x10.000), 2006-2014
Instability
36 A second aspect of market structure relates to the changes in the relative position of firms' market shares.
37 Tourism sectors overall have lower instability than the average for all sectors of the economy, but the difference is not statistically significant (Table 2). Indeed, there are notable differences among tourism sectors. Whereas Transport and Hospitality have lower instability, Recreation and Entertainment, and Restaurants, show higher instability, and a higher than national average.
Table 2. Instability Index (2006-2014)
38 Among tourism sectors, recreation and entertainment, as well as restaurants, are probably the two sectors with the lowest entry and exit barriers, and this might explain the higher instability identified. Otherwise, recreation and entertainment also includes travel agencies, a sub-sector in which firms' market shares underwent significant changes, also as a result of the advent and diffusion of new technologies and e-commerce (Goldmanis et al., 2009; ILO, 2010).
Firm Size Patterns
39 A third aspect of market structure is the distribution of enterprises along firm size within the industries. Table 3 summarises the distribution of enterprises by size, within the categories of micro, small, medium, and large enterprises, as well as its average size. It is possible to observe that micro firms are dominant for the general economy. Hence, tourism related sectors are not unique in this regard. Tourism firms are relatively typical of the overall economy, in terms of the distribution of firms within these groups. Yet, tourism has a larger percentage of firms classed as micro, and a lower share classed as small, medium, or large, than the total sample.
Table 3. Distribution of firms by size (%) (2006-2014)
40 On the other hand, there is some degree of heterogeneity within tourism industries, because Hospitality and Recreation and Entertainment have a higher percentage of small firms, while restaurants and Transport are two of the sectors with the highest percentage of micro firms. Hence, due to the asymmetry, overall, the difference between tourism and non-tourism sectors is not significant. The average size for hospitality firms in terms of employment is relatively higher, reflecting the high labour intensity on these industries. Transport, and Recreation and Entertainment have a higher share of large firms, close to the total average. With the exception of Hospitality, which shows a high level for average employment, the mean size in terms of employment and turnover is lower for tourism sectors.
41 In order to explore further the inequality of firms within tourism related sectors, we analysed deeper the distribution by size classes. According to Smith (2006), firms were classified into 8 size categories of size, considering employment. It is worth noting that the share of firms reporting zero employees is considerably high and above the national average in hospitality, and recreation and entertainment. Firms with at least 1 employee are distributed as reflected in Table 4.
Table 4. Percentage distribution of enterprises by size category, employees (2006-2014)
42 As expected, the highest percentages are found in class 1 (1 to 4 employees). The value is particularly high for Transports. The percentages of enterprises steadily declines as one considers successively larger employment categories. However, the rates of decline show pronounced differences among the various tourism industries.
43 The Lorenz curves and the GINI index for the different industries and for the overall economy reflect those difference in terms of inequality between firms within each industry. The GINI results for the period 2006-2014 reveal that inequality in firm size is relatively high within the Portuguese context, and is even higher in terms of firms' turnover (Figure 3). Tourism related sectors have slightly lower inequality levels overall, either by turnover or employment. The restaurant sector displays the most uniform distribution of enterprises in terms of size, either measured in terms of employment or turnover. The values for hospitality, recreation and entertainment are still high, and about the national average. Transport displays more pronounced asymmetry, with indices above the total average.
Market power
44 Figure 3 reports the Lerner index for tourism related sectors and for all business sectors. While, overall, the difference between tourism and non-tourism sectors is not significant, the Lerner index is higher and above the overall average for Transports, Recreation and Entertainment, and lower for Restaurants and Hospitality.
Figure 3. The Lorenz curves and the GINI coefficient (based upon size, measured by employees and turnover): TOTAL sample (2006-2014)
45 As shown in Figure 4, the Lerner index has increased slightly over the time period of this study in all industry segments represented, except for in Restaurants. The Lerner index for Restaurants registered a decline over the time period of this study, reaching even negative values in 2012 and in 2014. In this regard, it is to highlight a number of factors likely to have contributed to these developments. On the one hand, the economic recession and the decline in domestic demand, which negatively affected the demand for the restaurant sector,, and of the other hand, the contraction might have also been related to the highly criticised increase of VAT on restaurants, to 23% in 2012—a situation that was reversed in 2016, with the new government in place. In the face of a smashed internal demand, firms were pressured to keep their prices, apparently with strong reflections upon their margins.
Figure 4. Lerner Index
46 Finally, Table 5 summarises the results for instability, concentration, inequality, and market power. The results signal an association between concentration, inequality, and market power; sectors of higher concentration are those with higher inequality and with higher market power. Yet, in more concentrated sectors, instability can be high (i.e. travel agencies) or low (i.e. Transports).
Table 5. Summary Table
47 Among all of the sectors, Transports shows the less competitive landscape, showing high concentration, high inequality, low instability in market shares across time and higher market power. For Restaurants, competition is strongest, reflected in lower concentration but also in lower inequality, higher instability in market shares across time and lower marker power. In Hospitality, concentration, inequality, and market power are lower, but instability is also low. Despite the level of competition, there is some degree of continuity in terms of market players. In this industry, some sub-sectors are dominated by high fixed investment costs (e.g. infra-structures and branding for Hotels and Transports). Otherwise, firm strategies aimed at differentiation, customer commitment, and brand loyalty generate obstacles that favour incumbent firms. Considering the heterogeneity between sub-sectors, specificities are likely to arise. For Recreation and Entertainment, even if concentration, inequality, and market power are higher, there are also significant changes in market shares across time.
4.2. Labour and Financial Analysis
4.2.1. methodology.
48 As a second step, we run a panel regression model (unbalanced), having, alternatively, five different dependent variables: capital/labour intensity, labour productivity, and three alternative financial ratios. Capital/labour ratio corresponds to the ratio tangible and intangible assets to labour costs. Productivity of labour is measured as a ratio of gross value added to total labour costs. Liquidity corresponds to the ratio between current assets and current liabilities, and measures a company's ability to repay short-term liabilities such as accounts payable and current debt, using short-term assets such as cash, inventory and receivables. Financial autonomy is measured by the ratio equity to assets, and shows the capacity to finance assets with equity. The lower the value obtained by this ratio, the greater the company's dependence on external capital. Solvability is accounted by the ratio equity to liabilities. It expresses the organisation's ability to meet commitments to third parties as they mature. Values greater than 1 indicate that the assets of the company are sufficient to cover all its debts, which means that it is solvent.
49 As main independent variables, we considered in each case some dummies for tourism (equal to 1 if the firm belongs to the tourism sector and zero otherwise), and for each tourism related sector (Hospitality -equal to 1, if the firm belongs to the Hospitality sector and zero otherwise; Transports -equal to 1, if the firm belongs to Transports and zero otherwise; Restaurants -equal to 1, if the firms belong to the Restaurant sector and zero otherwise; Recreation and Entertainment -equal to 1, if the firms belong to the Recreation and Entertainment sector and zero otherwise.
50 Along with the main independent variable of interest, we controlled for firms' ratios, for equipment productivity and size, measured in total assets. The regressions were run for the full sample and for the sub-sample for the period 2011 to 2014, to ensure the availability of comparable ratios across time, and firms with turnover above zero.
4.2.2. Results
3 Here we report the results using the data from 2011-2014 and turnover above zero. Similar results ( (...)
51 Table 6 reports the results for five different dependent variables, considering the tourism dummies as the main independent variables. In all combinations, results from the Hausman test indicate that the fixed effects model is the most appropriate 3 .
4 Here we report the analysis for the period 2011-2014 and imposed the condition of turnover being 0. (...)
Table 6. Labour, Productivity, Liquidity, Financial and Solvability Analysis, Models from 1 to 5, Fixed Effects 4
52 The results confirm that controlling for the other firm related variables, firms in the tourism sector, overall, tend to have higher labour intensity (tourism is negative related to capital/labour ratio) and lower productivity of labour. While these results hold for Hospitality and Restaurants, labour productivity is positive for Transport, while for Recreation and Entertainment the results are not significant.
53 Model 3 shows that the results for liquidity are not significant for the overall sample, due to contrasting differences among tourism sectors. While hotels and restaurants tend to have significantly lower liquidity, Transport, and Recreation and Entertainment show positive and significant coefficients for liquidity.
54 Model 4 shows that financial autonomy (i.e. equity/assets) is lower for tourism firms, in particular for Restaurants, Recreation and Entertainment.
55 Model 5 shows that solvability (i.e. equity/liabilities) is lower for tourism firms, in particular for Hospitality, Recreation and Entertainment.
56 Hence, the regression estimates for Portugal support the argument that tourism firms tended to have higher labour intensity and lower productivity, lower financial autonomy, and lower solvability, when compared with the average for all firms, and when controlling for other firms' variables. The results for liquidity are more ambiguous. Second, the results also reveal considerable differences between sectors. Transport firms show significant different patterns from the remaining firms in tourism, depicting higher productivity and higher liquidity, while their results for solvability and financial autonomy are positive but not-significant. Recreation and Entertainment show similar patterns to the overall tourism sector, in terms of solvability and financial autonomy, but not for the remaining variables.
5. Conclusion and discussion
57 This paper was set to unveil structural characteristics of the tourism sector in Portugal, from a supply side perspective. Empirically measuring and formalising the differences between the tourism related sectors and other industries, and among tourism sub-sectors, opens up numerous opportunities for evaluating decisions pertaining to strategic market positioning in the industry and policy options.
58 First, based on general opinions that the tourism industry is different from other industries, we suggested and tested distinctive features of the tourism industry and its firms. The results from concentration measures, applied to the Portuguese business data point to a lower level of concentration, and consequently, a higher level of competition not in all, but just in some sectors of the tourism industry, Hospitality and Restaurants in specifically. By contrast, Transport shows a high level of concentration, while the value for Recreation and Entertainment is intermediate.
59 Second, the results confirm that other characteristics of the competitive landscape need to be analysed. Tourism is often characterised as being dominated by SMEs and by a strong degree of competition. This study confirms this statement. Yet, it reveals additional evidence worth retaining. This work refutes the idea that tourism is different in this regard from other sectors of the economy. Yet, tourism sectors differ slightly in what regards inequality, instability, and market power. Tourism related sectors have slightly lower inequality levels overall, either by turnover or employment. The tourism sector overall reveals lower instability than the remaining sectors of the economy on average; the Lerner index for tourism is very close to the overall average.
60 Third, the results evidence clear differences among tourism sub-sectors, hence the need to conduct sub-sector analysis in future research. Transport shows the lowest competitive landscape, followed by Recreation and Entertainment. Competition is strongest in Restaurants, followed by Hospitality. Future policy actions directed at tourism supply should take into account sectoral specificities.
61 Our results are based on a dataset for Portugal. A solid sub-national analysis is not possible to conduct with this dataset. Hence, future research could be conducted at a sub-national level with other datasets, which could provide further knowledge about the dynamics in the sector. Also, our results cannot be generalised to other destinations. Yet, from them one may derive implications for tourism practice in other economies facing similar challenges.
62 Firstly, the result for productivity raises concern about the management and competencies of human resources, one of the major assets of the tourism industries. The productivity challenge is related to a wide range of issues, which deserve careful attention from managers and policy makers alike. Although tourism is one of the fastest growing industries and the largest sources of new jobs in the world, employment in this sector might not be so attractive, compared to other economic activities (ILO, 2010). Low pay, rough working hours, and the temporary nature of much tourism work (e.g in hotels, catering, and travel) are among the aspects justifying the low attractiveness of tourism related jobs, from an employee point of view. Additionally, there are also high levels of employee turnover, because people working in tourism opt for better jobs at the earliest opportunity (ILO, 2010).
63 The tourism industries are largely labour-intensive and they provide employment on a large scale, including skilled and highly trained professionals, but also a large number of workers for whom it is difficult to find another job, and workers with little qualifications. Many tourism firms, mostly large groups, have recognised the need for a competent and stable labour force, adopting modern human resources management strategies. By improving labour related procedures, it may be easier to attract, develop, and retain quality employees, turnover may decrease, and productivity may increase. Hence, it is necessary to also mobilise the majority of firms which are not aware of it. Along with actions at the firm level, there is also the need to act upon the supply of qualified personnel, otherwise the tourism sector may suffer from a shortage of workers with required minimum qualifications or skills. In Portugal, the offer of specialised training for tourism activities has developed strongly, but there might still be a mismatch between skill supply and demand, especially in a context of expansion, implying more on-the-job training.
64 Second, the results on market power show that price face-to-face battles during the crisis may have led to financial exhaustion and worse financial indicators. Also, this type of competition did not guaranty the company the highest efficiency, neither the best services, nor the highest profits. Firms should instead compete on non-price dimensions, searching for differentiation, costumer engagement, and brand loyalty as sustainable competitive factors.
65 Third, one should not become blinded by past growth. The nature of tourists and their demands change, the sector will need to be creative in supplying products and services to respond to new market opportunities.
66 For policy making, our results call for the need to carefully analyse the supply side of tourism, and to not become puzzled by strong increases in indicators from the demand side; they do not necessarily translate into increases in financial gains on the supply side. For example, given the scale of tourism activity, there has been an increase in attention towards tourism taxation in most countries. Yet, greater understanding of the economic underpinnings of tourism taxation and its effects is necessary, so that appropriate policies for tourism taxation can be formulated. Coupled with this, qualitative advances imply a improved institutional framework for developing small and medium sized enterprises and entrepreneurship. Hence, recent governmental actions taken along these lines are greatly welcomed.
67 Finally, while many studies mostly consider the demand side of tourism, we look at the supply side, giving voice to a highly important principle of tourism studies: all agents of demand and supply side are important and interact. Inevitably they are often examined individually, but in reality all of these agents are linked. Knowledge of their interrelationships provides a stronger, more comprehensive understanding of tourism.
Bibliographie
Ben Aissa, S. and Goaied, M. (2 016) Determinants of tourism hotel market efficiency.
International Journal of Culture, Tourism, and Hospitality Research . 1 0(2), 173-190.
Banco de Portugal (2 014) Análise do setor do Turismo. Estudos da Central de Balanços. 2014.
Chung, W. and Kalnins, A. (2 001) Agglomeration effects and performance: a test of the Texas lodging industry. Strategic Management Journal . 22 (10), 969–988.
Davies, B. (1 999) Industrial organization: The UK hotel sector. Annals of Tourism Research . 26 (2), 294-311.
Davies, Brian and Downward, Paul (2 006) Structure Conduct Performance and Industrial Organisation in Tourism. In Dwyer, L. and Forsyth, P. (eds.) International Handbook on the Economics of Tourism. Edward Elgar, chapter 4.
Dwyer, L. and Forsyth, P. (2 006) International Handbook on the Economics of Tourism.
Edward Elgar.
Enz, C.A. (2 009) Hospitality strategic management: concepts and cases. John Wileyand Sons.
ILO (2 010) Developments and challenges in the hospitality and tourism sector. International Labour Organization. GDFHTS/2010.
Leiper, N. (1 979) The framework of tourism. Annals of Tourism Research . 6 (4), 390-407.
Leiper, N. (1 990) Partial industrialization of tourism systems. Annals of Tourism Research . 1 7(4), 600-605.
Leiper, N. (1 992) Industrial entropy in tourism systems. Annals of Tourism Research . 19(3), 600-605.
Goldmanis, M., Hortaçsu, A., Syverson, C. and Emre, T. (2 010) E-Commerce and the Market Structure of Retail Industries. Economic Journal . 120(545), 651-682.
Gort M. (1 963) Analysis of Stability and Change in Market Shares. Journal of Political Economy. 62, 51-61.
Hymer S. and Pashigan, P. (1 962) Turnover of Firms as a Measure of Market Behavior. Review of Economics and Statistics . 44, 82-87.
King, C.A. (1 995) What is hospitality? International Journal of Hospitality Management . 14 (3), 219–234.
Lei, Z. (2 006) The theoretical pillars of industrial organization in tourism. In Papatheodorou, A. (ed) (2006), Corporate Rivalry and Market Power—Competition issues in the tourism industry, I.B. Tauris. London, 20-34.
Li, Gang and Song, Haiyan (2 006) Quantitative techniques for tourism competition analysis. In Papatheodorou, A. (ed) Corporate Rivalry and Market Power— Competition issues in the tourism industry, I.B. Tauris. London, 35-53.
Mazzucato, M. and Tancioni, M. (2 005) Indices that capture creative destruction: questions and implications. Revue d'Economie Industrielle . 110, 199–218.
Mohammed, B.D. and Guillet, R. Law (2 015) The contributions of economics to hospitality literature: A content analysis of hospitality and tourism journals. International Journal of Hospitality Management. 44, 99–110.
Neils, G. and van Dijk, R. (2 006) Market definition in the tourism industry. In Papatheodorou, A. (ed) (2006), Corporate Rivalry and Market Power—Competition issues in the tourism industry, I.B. Tauris. London, 187-200.
Pan, C.M. (2 005) Market structure and profitability in the international tourist hotel industry (2005) Tourism Management . 26 (6), 845-850.
Papatheodorou, A. (Ed.), 2 006. Corporate Rivalry, Market Power and Competition Issues in the Tourism Industry: an introduction. In Papatheodorou, A. (ed) (2006), Corporate Rivalry and Market Power—Competition issues in the tourism industry, I.B. Tauris. London, 1-19.
Provenzano, D. (2 014) Power laws and the market structure of tourism industry. Empirical Economics . 47(3), 1055–1066.
Sinclair, M. T., Blake, A. and Sugiyarto, G. (2 003) The economics of tourism. In Cooper, C.
(ed.) Classic Reviews in Tourism. Clevedon, Channel View Publications. 2 2-54.
Schumpeter, J. A. (1 975) Capitalism, Socialism and Democracy. Harper, New York (orig. 1942).
Singal, M. (2 015) How is the hospitality and tourism industry different? An empirical test of some structural characteristics. International Journal of Hospitality Management . 47, 116– 119.
Smith, S. L. J. (1 988) Defining tourism: A supply-side view. Annals of Tourism Research . 15(2), 179-190.
Smith, S. L. J. (1 991) The supply-side definition of tourism: Reply to Leiper. Annals of Tourism Research . 18(2), 312-318.
Smith, S.L.J. (1 994) The tourism product. Annals of Tourism Research . 21(3), 582-595.
Smith, S.L.J. (1 995) Tourism Analysis: A handbook. 2 nd edition Harlow, UK: Longman.
Smith, S.L.J. (2 006) How big, how many? Enterprise size distributions in tourism and other industries. Journal of Travel Research . 45, 53-58.
Song, H., Dwyer, L., Li, G. and Cao, Z. (2 012) Tourism Economics Research: A Review and Assessment. Annals of Tourism Research . 39(3), 1653-1682.
Stabler, M. J., Papatheodorou, A. and Sinclair, M. T. (2 010) The Economics of Tourism (2 nd ed.). Abingdon: Routledge.
Tisdell, C.A. (2 013) Overview of Tourism Economics. In Tisdell (ed.) Handbook of Tourism Economics Analysis, New Applications and Case Studies.
Turismo de Portugal (2 019). Turismo em Portugal 2018. Turismo de Portugal.
Varum, C. Valente, H., Resende, J.; Sarmento, P.; Pinho, M., Jorge, S. (2 018) (2 ed.) Economia Industrial. Teoria e Exercícios Práticos. Edições Sílabo.
Wilson, K. (1 998) Market/industry confusion in tourism economic analysis. Annals of Tourism Research . 25(4), 803-817.
Appendix 1 – Sectoral classification
3 Here we report the results using the data from 2011-2014 and turnover above zero. Similar results (albeit different coefficients, signs, and significance were identical) were obtained when running the model for all datasets.
4 Here we report the analysis for the period 2011-2014 and imposed the condition of turnover being >0. Hausman test revealed that the preferred model is fixed effects.
Pour citer cet article
Référence papier.
Celeste Varum et Mariasole Bannò , « Competitive landscape: are tourism sectors different? Why does it matter? » ,  Revue d'économie industrielle , 165 | 2019, 9-39.
Référence électronique
Celeste Varum et Mariasole Bannò , « Competitive landscape: are tourism sectors different? Why does it matter? » ,  Revue d'économie industrielle [En ligne], 165 | 1er trimestre 2019, mis en ligne le 01 janvier 2022 , consulté le 21 novembre 2023 . URL : http://journals.openedition.org/rei/7809 ; DOI : https://doi.org/10.4000/rei.7809
Celeste Varum
University of Aveiro, GOVCOPP, Portugal
Mariasole Bannò
University of Brescia, Italy
Droits d'auteur

Le texte seul est utilisable sous licence CC BY-NC-ND 4.0 . Les autres éléments (illustrations, fichiers annexes importés) sont « Tous droits réservés », sauf mention contraire.
Derniers numéros
180 | 4e trimestre 2022
178-179 | 2e et 3e trimestres 2022 Les véhicules électriques, leviers pour une mobilité durable ?
177 | 1er trimestre 2022
176 | 4e trimestre 2021
175 | 3e trimestre 2021
174 | 2e trimestre 2021 Industrie et comportements créatifs : leçons du passé et recherches actuelles
173 | 1er trimestre 2021
172 | 4e trimestre 2020 De l'économie numérique à la transformation numérique de l'économie
171 | 3e trimestre 2020
Numéros en texte intégral
170 | 2e trimestre 2020
169 | 1er trimestre 2020 Industry 4.0: Current Issues and Future Challenges
168 | 4e trimestre 2019
167 | 3e trimestre 2019
166 | 2e trimestre 2019
165 | 1er trimestre 2019
164 | 4e trimestre 2018
163 | 3e trimestre 2018 L'industrie morcelée&nbsp: les chaînes de valeur globales
162 | 2e trimestre 2018
161 | 1er trimestre 2018
160 | 4e trimestre 2017 Histoire et dynamique industrielle : faits, idées et théories
159 | 3e trimestre 2017 L'innovation soutenable
158 | 2e trimestre 2017
157 | 1er trimestre 2017
156 | 4e trimestre 2016 L'économie numérique en question
155 | 3e trimestre 2016
154 | 2e trimestre 2016 Les relations finance/industrie
153 | 1er trimestre 2016
152 | 4e trimestre 2015 Des clusters aux écosystèmes industriels locaux
151 | 3e trimestre 2015
150 | 2e trimestre 2015
149 | 1er trimestre 2015
148 | 4e trimestre 2014 Transition énergétique, industries et marchés
147 | 3e trimestre 2014
146 | 2e trimestre 2014 Écosystèmes et modèles d'affaires
145 | 1er trimestre 2014 Manufacturing Renaissance (2/2)
144 | 4e trimestre 2013 Manufacturing Renaissance (1/2)
143 | 3e trimestre 2013
142 | 2e trimestre 2013
141 | 1er trimestre 2013 Partenariats public privé et performances des services publics 2/2
140 | 4ème trimestre 2012 Partenariats public privé et performances des services publics 1/2
139 | 3ème trimestre 2012
138 | 2ème trimestre 2012
137 | 1er trimestre 2012
136 | 4ème trimestre 2011 L'économie du logiciel libre
135 | 3ème trimestre 2011
134 | 2e trimestre 2011 La finance et l'industrie
133 | 1er trimestre 2011
132 | 4e trimestre 2010
131 | 3e trimestre 2010
129-130 | 1er et 2e trimestres 2010 Trente ans d'économie industrielle
128 | 4e trimestre 2009 La problématique des clusters : éclairages analytiques et empiriques
127 | 3e trimestre 2009
126 | 2e trimestre 2009
125 | 1er trimestre 2009
124 | 4e trimestre 2008
123 | 3e trimestre 2008
122 | 2e trimestre 2008
121 | 1er trimestre 2008
120 | 4e trimestre 2007 Recherche et innovation dans les sciences du vivant
119 | 3e trimestre 2007
118 | 2e trimestre 2007 Paolo Sylos Labini
117 | 1er trimestre 2007
116 | 4e trimestre 2006
114-115 | 2e-3e trimestre 2006 Processus de contagion et interactions stratégiques
113 | 1er trimestre 2006
Numéros sur Persée
Tous les numéros.
Politique éditoriale
Comités éditoriaux
Consignes aux auteurs
Abonnements
Appels à contribution
Appels en cours
Appels clos
Informations
Politiques de publication
Lettres d'information
Affiliations/partenaires
Revue soutenue par l'Institut des sciences humaines et sociales (InSHS) du CNRS, 2023-2024
ISSN électronique 1773-0198
Voir la notice dans le catalogue OpenEdition  
Plan du site  – Contacts  – Crédits  – À propos  – Flux de syndication
Politique de confidentialité  – Gestion des cookies  – Signaler un problème
Nous adhérons à OpenEdition Journals  – Édité avec Lodel  – Accès réservé
Vous allez être redirigé vers OpenEdition Search
Powerpoint Templates
Icon Bundle
Kpi Dashboard
Professional
Business Plans
Swot Analysis
Gantt Chart
Business Proposal
Marketing Plan
Project Management
Business Case
Business Model
Cyber Security
Business PPT
Digital Marketing
Digital Transformation
Human Resources
Product Management
Artificial Intelligence
Company Profile
Acknowledgement PPT
PPT Presentation
Reports Brochures
One Page Pitch
Interview PPT
All Categories
Competitive landscape analysis travel and tourism startup company
Mentioned slide will help the company to show the investors a complete view about its competitive landscape based on key parameters related to travel technology. Parameters covered are affordability, transaction and expenses
These PPT Slides are compatible with Google Slides
Compatible With Google Slides
Google Slides is a new FREE Presentation software from Google.
All our content is 100% compatible with Google Slides.
Just download our designs, and upload them to Google Slides and they will work automatically.
Amaze your audience with SlideTeam and Google Slides.
Want Changes to This PPT Slide? Check out our Presentation Design Services
Get Presentation Slides in WideScreen
Get This In WideScreen
WideScreen Aspect ratio is becoming a very popular format. When you download this product, the downloaded ZIP will contain this product in both standard and widescreen format.
Some older products that we have may only be in standard format, but they can easily be converted to widescreen.
To do this, please open the SlideTeam product in Powerpoint, and go to
Design ( On the top bar) -> Page Setup -> and select "On-screen Show (16:9)" in the drop down for "Slides Sized for".
The slide or theme will change to widescreen, and all graphics will adjust automatically. You can similarly convert our content to any other desired screen aspect ratio.
Add a user to your subscription for free
Do you want to remove this product from your favourites?
PowerPoint presentation slides
Mentioned slide will help the company to show the investors a complete view about its competitive landscape based on key parameters related to travel technology. Parameters covered are affordability, transaction and expenses. Introducing Competitive Landscape Analysis Travel And Tourism Startup Company to increase your presentation threshold. Encompassed with four stages, this template is a great option to educate and entice your audience. Dispence information on Offline Transaction, Affordable, Expensive, Online Transaction, using this template. Grab it now to reap its full benefits.
People who downloaded this PowerPoint presentation also viewed the following :
Diagrams , Business , Marketing , Management , Business Slides , Flat Designs , Circular Cycle Diagrams , Process Management
Offline Transaction ,
Affordable ,
Expensive ,
Online Transaction
Competitive landscape analysis travel and tourism startup company with all 6 slides:
Use our Competitive Landscape Analysis Travel And Tourism Startup Company to effectively help you save your valuable time. They are readymade to fit into any presentation structure.
Ratings and Reviews
by Charles Nguyen
April 5, 2022
by Deandre Munoz
April 4, 2022