Singapore Citizenship Journey: A Guide for New Citizens
by SGTI_Admin
July 21, 2023 July 21, 2023
Are you a newly approved  Singapore citizen ? Congratulations! To complete your transition and fully embrace your new status, you are required to undertake the Singapore Citizenship Journey. This comprehensive process is designed to enrich your understanding of Singapore's culture, values, and history, enabling you to integrate seamlessly into your new home. Let's delve into the five key components of this transformative journey.
1. Singapore Citizenship e-Journey
Image Source:  Singapore Journey
The  Singapore Citizenship e-Journey  is an online exploration that familiarises new citizens with Singapore's rich history, political landscape, geography, and efforts towards a cohesive society. Divided into four chapters, this interactive journey also covers key national policies and the concept of Total Defence. Through engaging videos and informative content, participants gain a comprehensive understanding of Singapore's development and its values.
2. Singapore Experiential Tour (SET)
Image Source:  Singapore Discovery Centre
The Singapore Experiential Tour offers an immersive experience for new citizens by physically visiting significant historical landmarks and national institutions. This half-day tour provides a firsthand perspective on Singapore's journey, showcasing how the nation has triumphed over various challenges in areas such as transportation, resources, water management, and defence. By witnessing these achievements, participants deepen their appreciation for Singapore's progress and resilience.
3. Community Sharing Session (CSS)
Image Source:  The Independent News & Media
The Community Sharing Session is an invaluable opportunity for new citizens to connect with their fellow residents, Grassroots Leaders (GRLs), and Integration & Naturalization Champions (INCs) from the People's Association. During this session, participants engage in meaningful discussions, reflecting on their individual journeys towards citizenship. They also share their hopes and aspirations for Singapore, while GRLs and INCs provide insights and advice for settling into the community. This interactive session fosters a sense of belonging and offers practical guidance for integrating into Singapore society.
4. Final Stage Approval
Image Source:  Xiongdiary
Upon completion of the Singapore Citizenship Journey, participants will receive an email from the Immigration and Checkpoints Authority (ICA) with an update on their citizenship application status. To view the final stage approval letter, participants can log in to the  ICA portal . This letter will include an appointment date for reporting to the ICA to register for  Singapore citizenship  and take the Oath of Renunciation. It is crucial to prepare a photocopy of the renunciation letter before attending the appointment.
5. Citizenship Ceremony
Image Source:  Denise Phua The culmination of the Singapore Citizenship Journey is the Citizenship Ceremony, where new citizens are officially registered and receive their Singapore National Registration Identity Card (NRIC) and the Singapore citizenship certificate. With these documents, they gain access to the rights and  benefits of Singapore citizenship , including visa-free travel, healthcare subsidies, and  housing priority.
How to complete your Singapore Citizenship Journey? Speak to us today!
To maximise your chances of a smooth and successful journey to Singapore citizenship, it is highly recommended to seek guidance from professional  Singapore immigration consultants . These experts possess the knowledge and experience to provide personalised assistance that will enhance your chances of approval and ensure a hassle-free transition into your new life as a Singaporean.
As you embark on the Singapore Citizenship Journey, which includes completing the Singapore Citizenship e-Journey, participating in the Singapore Experiential Tour, and engaging in the Community Sharing Session, you will gain a profound understanding of Singapore's history, culture, and community spirit. These components will enrich your integration into Singapore society. The final stage approval and the subsequent Citizenship Ceremony mark the official recognition of your integration as a proud Singapore citizen. Embrace this exciting chapter in your life with enthusiasm, as you embark on a new journey as a proud Singapore citizen.
A complete guidance that you won't find anywhere else!
Our Services
Singapore Permanent Residence Application
Singapore Citizenship Application
Work Pass Application
Long-Term Visit Pass Application
Business Relocation Service
10 Anson Road, #20-08A International Plaza Singapore 079903

Our Ambition
Our Statutory Boards & Agencies
News & Resources
Arts & Heritage
Resilience & Engagement
Forward Singapore
Budget 2023
Budget 2022
Budget 2021
Budget 2020
Budget 2019
Get Involved

MCCY to enhance Singapore Citizenship Journey using content from Citizens' Workgroup
The Ministry of Culture, Community and Youth (MCCY) will enhance the e-Journey component of the Singapore Citizenship Journey (SCJ) by Q3 2021, using content from the report by the Citizens' Workgroup for the SCJ.
How it began: citizens coming together
Enhancing the singapore citizenship journey.
MCCY appreciates the participants' commitment and enthusiasm throughout the co-creation process with fellow citizens. MCCY has considered the Workgroup's report, and will enhance the e-Journey for naturalised citizens by Q3 2021 in three main areas.
First, MCCY will explore how the revised e-Journey can reflect the personal tone of the Workgroup's report, to forge a stronger emotional connection with e-Journey participants. The Workgroup's report, written in the form of a Welcome Letter to newcomers, is personable, heartfelt and conveys a sense of warmth and welcome.
Second, MCCY will reference the Workgroup's report closely, to frame the content that naturalised citizens should know and appreciate about Singapore in the e-Journey. For instance, similar to the Workgroup's report, the revised e-Journey will open with a chapter focusing on the values and norms, to help naturalised citizens appreciate the values that underpin and shape Singapore society.
Third, MCCY will refresh the e-Journey to incorporate content from the Workgroup's report. For example, the Workgroup's report has a chapter on arts and culture in Singapore. The revised e-Journey will also include a new module on this topic to show how our varied cultural landscape strongly reflects Singapore's diversity and multiculturalism. The arts also provide a useful lens in exploring and examining notions about identity and what it means to be a Singaporean today.
MCCY will update the SCJ handbook by 4Q 2021. The handbook is given out at citizenship ceremonies. The refreshed handbook will be available online at the National Integration Council's website ( https://www.nationalintegrationcouncil.gov.sg/ ).
Exemplifying the ethos of Singapore Together
Minister for Culture, Community and Youth & Second Minister for Law, Mr Edwin Tong, said, "This partnership with citizens exemplifies the ethos of the Singapore Together movement. The revised Singapore Citizenship Journey will include content from citizens, reflecting their love for our country and warmth towards members of our Singaporean community. The Government will continue to partner Singaporeans to thread the diverse strands of our society and weave a more vibrant Singapore Tapestry. Let's work together to shape our shared future and build a home we can all be proud of."
To find out more about the Citizens' Workgroup for the SCJ and view their report, visit https://go.gov.sg/cwscj .
Annex – About the Singapore Citizenship Journey
Issued by the Ministry of Culture, Community and Youth
For media queries, please contact:
Ms Jade Chen Corporate Communications Division Email: [email protected]
October 26, 2023
Live Memories with Me!
Home » Complete the Singapore Citizenship Journey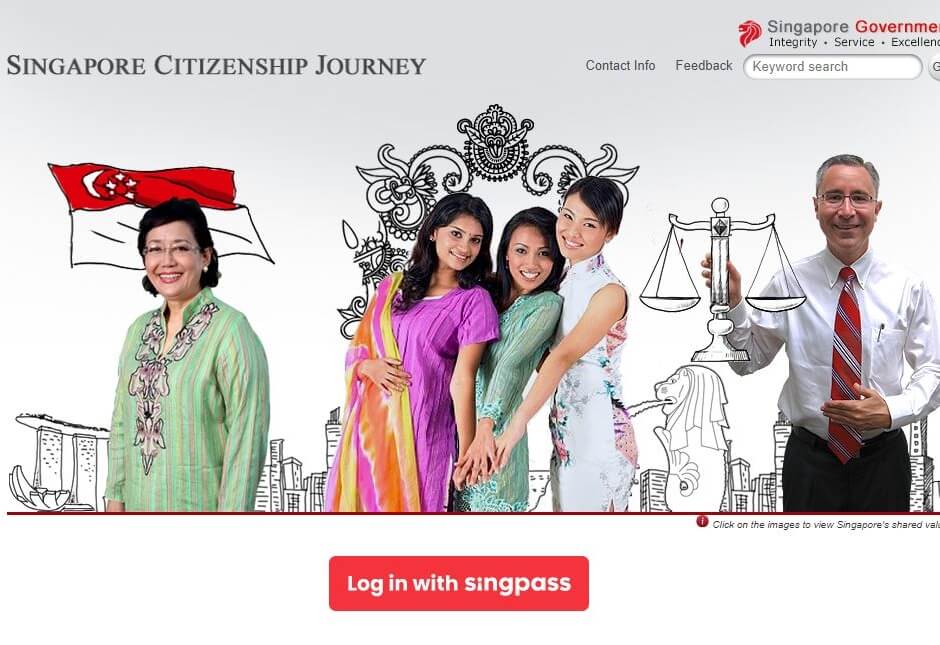 Complete the Singapore Citizenship Journey
On 26-Mar-2020, I received an email from ICA Citizenship Unit that there is an update on the status of my application for Singapore citizenship. I was so nervous and worried because there are only two possibilities, either it is approved or rejected. Without further ado, I quickly log on to ICA portal to check. Bravo! 🎉 The status shows as Approved-in-principle! After nine months of waiting and eventually I got the approved-in-principle (AIP) for my Singapore citizenship application. I am now eligible for the next step to complete the Singapore Citizenship Journey. 😄
From the ICA portal, you can download the approved-in-principle letter where you can find the instructions for the tasks you must complete in this stage. You will also find the citizenship roadmap and useful FAQ to get answers to your queries quickly.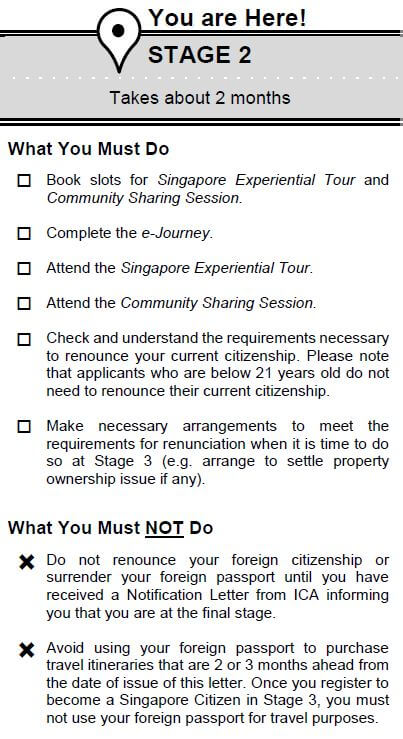 Singapore Citizenship Journey Portal
The next step is to complete the Singapore Citizenship Journey. You must complete the journey within two months from the date stated in the letter.  You need to login to the Singapore Citizenship Journey portal with your SingPass ID to complete the process. 
The Singapore citizenship journey comprises of 
Singapore Citizenship e-Journey
Singapore experiential tour, community sharing session.
The e-Journey is an online journey with a series of video that allows new citizens to learn about Singapore. It includes information on our history and development as a country, key national policies, Total Defence, as well as our efforts in building a cohesive and harmonious society.
Singapore experiential tour is a half-day tour to bring new citizens to key historical landmarks and national institutions. You will learn about Singapore history and how we overcome national challenges in the different domains.
Community sharing session is an event for you to meet fellow residents and Grassroots Leaders (GRLs) from your own constituency. During the session, you will reflect on your journey towards citizenship and share your hopes and aspirations for Singapore. You will also meet other new citizens and learn how they can actively participate in the community.
GRLs and Integration & Naturalisation Champions (INCs) from the People's Association will also share their experiences living in a multi-racial and multi-religious society, and provide valuable information to help new citizens better settle into their community.
However, due to circuit breaker constraints, my Singapore citizenship journey was completed entirely online. In my case it was in the earlier stage where the circuit breaker just started (early April-2020). During this period, most activities were suspended or restricted. 
Final Stage Approval
After completing the Singapore Citizenship Journey, you will be receiving an email from ICA stating that there is a status update of your application for Singapore Citizenship. Login to the ICA portal and you will see the final stage approval letter.
From the letter, you can find the appointment date to report to ICA for Singapore Citizenship registration and to take the Oath of renunciation. So, the next step is to renounce your Malaysian Citizenship at the Malaysia High Commission.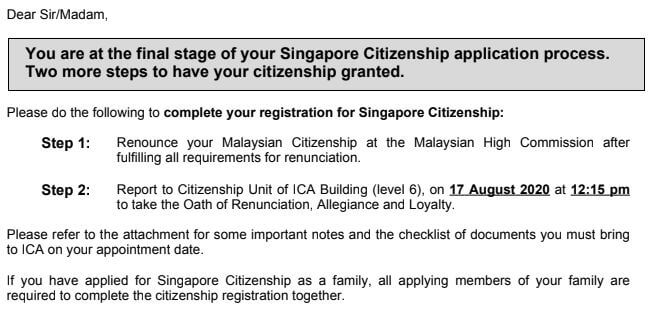 Closing Words
Generally, I would say this is an introductory section for new citizens to get a better understanding of Singapore government structures, culture, and history. Personally, I enjoy this section very much and I learnt new things! Although I have been in Singapore for more than 20 years, there are still many things I am not aware of. 😛
Overall, this is a very informative section, straight forward and nothing hassle. I hope you will enjoy it too. Lastly, thank you for stopping by my website and stay tuned for my next blog post on " Malaysia Citizenship Renunciation ".
PS: Stay tuned for my future posts on other steps in the Singapore citizenship application process. Subscribe to my mailing list so that I can notify you of my new blog posts.
Published in Singapore Citizenship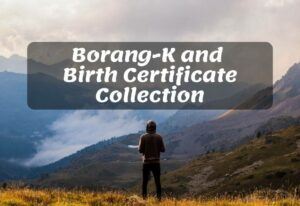 24 Comments
Hi Xiong, after completing all the 3 components in Singapore citizenship journey, how long had you waited to get another notice of approval from ICA? Thanks
Hi CK, I can't recall how long it took to receive the notice from ICA. Should be within a week. Basically, the next notice is to inform you that you are good to proceed with the citizenship renunciation and your appointment for citizenship registration. You may check out my post on that at
https://xiongdiary.com/malaysia-citizenship-renunciation/ https://xiongdiary.com/singapore-citizenship-registration-and-take-the-oath-of-renunciation/
Hi..I received the email to get the approval letter from the Ica ..after I get the letter..what should I do ? And can I back Malaysia by using my Malaysia passport at the moment .thank you ..I very helpless.. pls give some advice ..thank you
Hi Jane, Congratulation to you! 😊 You may refer the Singapore Citizenship Roadmap ( https://www.ica.gov.sg/docs/default-source/ica/files/esc_roadmap.pdf ) from ICA to understand what you need to do next. I believe the roadmap is also included in your approval letter. Alternatively, you may check out all my blog posts on my Singapore Citizenship Journey. https://xiongdiary.com/my-singapore-citizenship-journey/ As for your question on going back to Malaysia, you may continue using your Malaysia passport, as long as you have not renounced your Malaysia citizenship.
how long did it take to for you to get the email , thanks
Hi Dan, I cannot remember how long it was, but I think it is about a week.
It's a must to bring the kids together for the Oath taking?
Hi Irene, You are required to be present with your child to complete your child's registration for Singapore Citizenship. However, your child is not required for the oath taking.
Hi , I'm quite unsure which step to do first. Step 1 or Step 2 ? Because its barely less a month the date of my Oath taking appointment. Please advise.
Thank you . Ganesh
Hi Ganesh, Do the step 1 first. You must first renounce your foreign citizenship before reporting to ICA to register for your Singapore Citizenship. First thing first, send an email to MHC ([email protected]) to book an appointment. Please attached your final approval letter in the email. If the appointment date you gotten is later than your appointment with ICA, then you can reschedule your appointment with ICA. You can do it either via ICA e-service portal or send an email to [email protected] .
Hi Kwah, really Gan En your sharing here to tell me that i need to make appointment at MHC. i just completed the Singapore Citizenship journey on 22 Feb and i thought i just sit and wait the approval letter sent from ICA . When i saw your blog then realised i need to get the approval letter asap. To download the approval letter from ICA (ICA will update the status in next day, very fast), it requested to upload photo. the requirement of the photo is really bother me for whole day to upload successfully. Finally i found a website which is free to edit the photo, https://www.ies.org.sg/ccms.r?pageid=10273&TenID=IES . if anyone cannot find then can try it.
Hi NG, Thanks for stopping by my website. I'm glad my blog can help you. 😊 Thanks for sharing the useful photo editing website. Sharing is caring! 👍
Hi Have you heard if anyone fail e-CSS (required to provide some reflections)? Will that affect processing to the next step?
Hi Ling, I think it is unlikely anyone would fail the Singapore Citizenship journey. The objective is to help the new citizen to know Singapore better. Of course, they would like to listen to your thought for being a Singaporean. Just relax and share your thought of why you want to be a Singaporean and how you can contribute.
Hi Mr Kwah,
I have completed mySC Journey and received email from ICA to download the outcome letter. However upon login to myICA there is step 1 to upload photo before I can go step 2 to download letter. Is this a mandatory step before downloading the outcome letter from myICA?
Hi Lee Peng, Yes, I did upload photo to MyICA portal, but I could not remember at which step. As you cannot proceed further to the next step, I think that should be mandatory.
I am worried that the reflections that I sent in are quite similar to that of my parents for the CSS since we collectively discussed and wrote down the points. I am worried that it would affect the plagiarism part and would contribute negatively to the citizenship journey. Although my dad says plagiarism won't be considered among family members not quite sure about that.
Hi Pooja, In my opinion, the objective of Singapore Citizenship Journey is to help the new citizen to know more about Singapore. Of course, government will love to listen to our thoughts as well. And, we might have the similar thoughts. There are no hard and fast rules on what to be written in your reflection.
Hello, thanks for the detailed information.
I recently saw on my ICA portal that my citizenship application was approved. But I didn't receive any email to update me about it. It was just by random. Also I've not seen any place to download a form or anything. Is this normal? Or will it take some time? Thanks for your thoughts:)
H Rachel, There should be a button for you to download the approval letter. You may want to check with ICA.
Is the tour and community sharing all in english? Do they have màndrin session?
Hi Wei, I am not sure about that. You may check with https://www.sgjourney.gov.sg/contact-us/
Hi, after you complete your sg journey online do you immediately received the final approval letter in MyICA portal?
Or need to wait until they email first?
Hi Ed, I cannot recall how long it takes but I was notified by an email from ICA.
Leave a Reply Cancel reply
Your email address will not be published. Required fields are marked *
Save my name, email, and website in this browser for the next time I comment.
Unveiling the Next Chapter: Navigating Life as a Newly Approved Singapore Citizen
Congratulations on receiving the Approval-In-Principle for your Singapore citizenship application ! You've been through a long journey in the Citizenship application process.
Now that you have reached this critical milestone, it's essential to understand the next steps and requirements involved in the process.
In this article, we will guide you through the post-approval phase and outline the necessary actions you need to take. Let's explore the journey towards becoming a proud Singapore citizen.
Step 1: The Singapore Citizenship Journey (SCJ)
The Singapore Citizenship Journey (SCJ) plays a vital role in enriching new citizens' understanding of Singapore's history, development, and societal values.
It comprises three compulsory components that need to be completed within two months from the date of the Approval-In-Principle letter:
(a) e-Journey
The e-Journey component of the SCJ provides an online platform to explore the significant milestones in Singapore's history. It helps deepen your knowledge and appreciation of the nation's heritage and progress.
Take this opportunity to learn about the diverse cultural tapestry and the collective efforts that have shaped Singapore into the vibrant country it is today.
(b) Singapore Experiential Tour
The Singapore Experiential Tour is an immersive learning programme that allows you to experience Singapore firsthand. It provides opportunities for meaningful interaction with the local community, fostering a sense of belonging and connection.
Through this tour, you'll gain valuable insights into Singaporean norms, traditions, and daily life, further strengthening your integration into society.
(c) Community Sharing Session
The Community Sharing Session is a platform for dialogue and engagement. It enables new citizens to connect with fellow Singaporeans and share their experiences, thoughts, and aspirations.
These sessions promote cultural exchange, mutual understanding, and unity among individuals from diverse backgrounds. Embrace this opportunity to build relationships and forge lasting bonds within the Singaporean community.
Upon successful completion of the SCJ, you will be invited to a citizenship ceremony, where you will be officially welcomed as a full-fledged member of the Singaporean family.
Step 2: Receive Your Approval of Singapore Citizenship
Upon successfully concluding the Singapore Citizenship Journey (SCJ), you can finally await the momentous confirmation of your Singapore citizenship. The confirmation will be sent to you by post, along with important information regarding the next phase of the process.
This notification will specify the appointment date for you to register for Singapore Citizenship at the Immigration & Checkpoints Authority (ICA).
Additionally, before the appointment date with the ICA, you will be advised to renounce your foreign citizenship at the relevant embassy or High Commission in Singapore. This step is crucial to ensure your smooth transition into Singaporean citizenship.
Step 3: Renounce Foreign Citizenship
To renounce your foreign citizenship, visit the respective embassy or High Commission in Singapore with your passport. The embassy or High Commission will issue you letters stating the renunciation of your citizenship and the surrender of your passport.
It's important to note that this step is not compulsory for applicants below the age of 21 and those whose nationality is "stateless."
Step 4: Complete Citizenship Registration Formalities
Before your appointment at the ICA, make sure to prepare the following documents:
Original and photocopy of the renunciation letter of foreign citizenship.
A letter stating the surrender of your foreign passport from the relevant authorities (not applicable for applicants below the age of 21 and for applicants whose nationality is "stateless").
On the day of your appointment, proceed to the Citizen Services Centre at the ICA Building. Obtain a queue number to complete the registration of your citizenship, and apply for your identity card and Singapore passport.
The following fees apply, payable through NETS and CashCard only:
Citizenship registration: $70
Identity card: $10
Passport: $80
After completing the payment, the Commissioner of Oaths will administer the solemn "Oath of Renunciation, Allegiance, and Loyalty."
Step 5: Attend the Citizenship Ceremony
As part of the citizenship process, you will be required to attend a citizenship ceremony at a later date. Please note that applicants below 6 years of age are exempted from this ceremony.
The citizenship ceremony holds significance as it symbolizes the official recognition of your new status as a Singapore citizen.
Step 6: Presentation of Citizenship Certificate & Identity Card
During the citizenship ceremony, you will be presented with a citizenship folder containing your citizenship certificate and identity card. This moment marks the culmination of your journey toward Singaporean citizenship.
Step 7: Receive Your Singapore Passport
Following the citizenship ceremony, you will receive a pink acknowledgment card by post. Collect your prestigious Singapore Passport using the instructions provided. Your passport represents your newfound freedom to travel with the full rights and privileges of a Singapore citizen.
In case you require any official confirmation of your citizenship status, you can request a letter of confirmation from the Immigration & Checkpoints Authority (ICA). For further information and details, please visit the ICA website.
Embrace this opportunity to celebrate your journey towards Singaporean citizenship. Each step brings you closer to becoming an integral part of Singaporean society, enjoying the rights, benefits, and responsibilities of being a proud citizen of this remarkable nation.
Singapore Top Immigration
Our contact details.
+65 6809 5118
+65 8533 3336
Marina Bay Financial Centre, 12 Marina Boulevard, Tower 3, Level 17, Singapore 018982
Copyright © 2020 Singapore Top Immigration | Privacy Policy
Check Your PR Eligibility
Government agencies communicate via .gov.sg websites (e.g. go.gov.sg/open) . Trusted website s
Community Integration
PA's Programmes
Active Ageing
Be a Training Provider
Industry Guru Series
SkillsFuture@PA
PA SHIOK Series
Community Arts
Community Dialogue
Community Sports
Emergency Preparedness
Family Life
imPAct@Hong Lim Green
PAssion Card
PAssion Wave
Racial Harmony
Women's Programmes
SPARKS@BukitCanberra
Volunteering Opportunities
PA through its Grassroots Organisations (GROs) and Integration and Naturalisation Champions (INCs), help new citizens and Permanent Residents (PRs) settle in the community, providing platforms for them to interact with and bond with the local residents. Through their participation in various integration-centric programmes and GRO programmes/activities, the new immigrants can make friends and develop mutual understanding with their neighbours and other residents in the community.
New Initiative: 'Your Neighbourly Welcome Guide'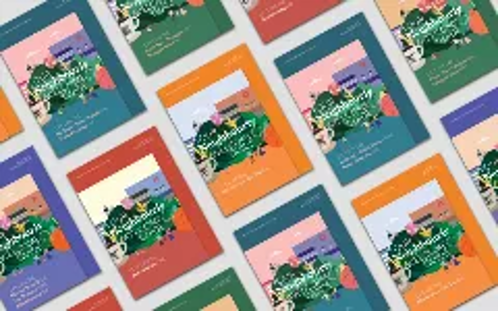 An initiative of the People's Association, "Your Neighbourly Welcome Guide" contains colourful anecdotes and well-kept secrets from residents and volunteers. These unique stories of places, activities and experiences are happening right in your neighbourhood.
Discover the gems of your neighbourhood with the guidebook! (More GRC Welcome Guides are coming up!)
Aljunied GRC and Hougang SMC
Ang Mo Kio GRC, Kebun Baru and Yio Chu Kang SMCs
Bishan - Toa Payoh GRC and Marymount SMC
Chua Chu Kang GRC and Hong Kah North SMC
East Coast GRC
Holland-Bukit Timah GRC and Bukit Panjang SMC
Jalan Besar GRC and Potong Pasir SMC
Jurong GRC, Bukit Batok and Yuhua SMCs
Marine Parade GRC, MacPherson and Mountbatten SMCs
Marsiling - Yew Tee GRC
Nee Soon GRC
Pasir Ris - Punggol GRC and Punggol West SMC
Sembawang GRC
Sengkang GRC
Tampines GRC
Tanjong Pagar GRC and Radin Mas SMC
West Coast GRC and Pioneer SMC
Integration and Naturalisation Champions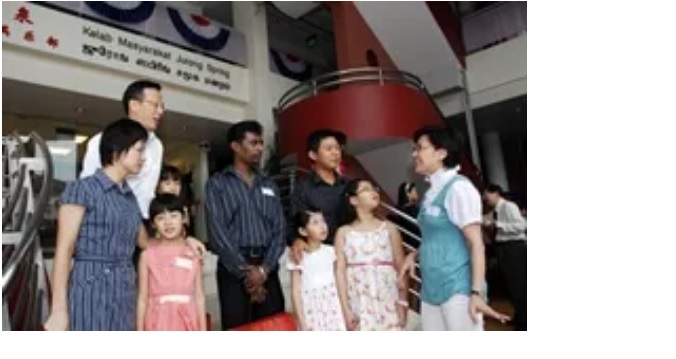 Integration and Naturalisation Champions (INCs) initiate and spearhead integration and naturalisation programmes in the local community. INCs actively reach out to new citizens/PRs by conducting house visits to welcome and invite them to join grassroots activities to expand their social network. INCs also organise various grassroots activities such as welcome tea parties and festive celebrations to engage new citizens/PRs.
Integration Strategies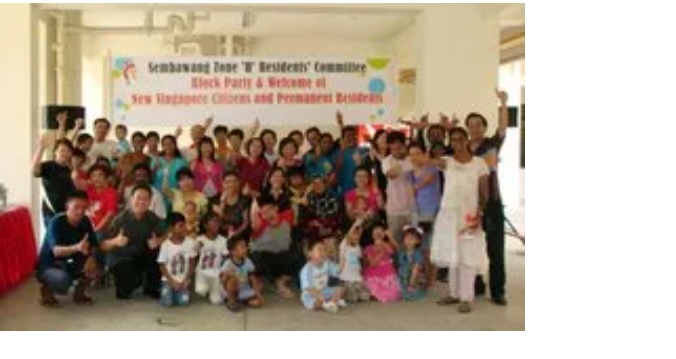 To achieve the key objective of PA's integration efforts to widen our outreach and deepen engagement with new citizens/PRs (new immigrants), PA has adopted the following three key strategic approaches:
Intensifying local integration efforts through the Residents' Committees and Neighbourhood Committees;
Multiplying outreach through partnership with Immigrant Associations and external organisations; and
Promoting greater awareness on integration through publicity and social media.
Integration Programmes
House Visits and Welcome/Floor Parties
INC Activities
Integration of New Immigrants through Interest Groups
Community Learning Journey
Singapore Experiential Visit and Community Sharing Session (part of the Singapore Citizenship Journey for new citizens)
Citizenship Ceremony
People's Association
Singapore citizenship journey.
Project Brief:
Lion Heartlanders has been the appointed tour operator for the Singapore Experiential Visit since year XXXX. The Singapore Experiential Visit is a half-day tour aiming to expose and educate to-be Singaporeans on vital historical landmarks & national institutions in Singapore. Ran weekly, Lion Heartlanders is proud to operate 4 out of 7 tour itineraries offered under the Singapore Citizenship Journey programme organised by the People's Association. Lion Heartlanders has been the appointed tour operator for the Singapore Experiential Visit and has since provided meaningful discovery & education on Singapore's key nation-building sites to PR Citizens applicants.
Our Services:
- Planning of itinerary - Tour Organisation - Script Writing - Tour Guiding - Trail booklet design  - Reflections session to ensure goals were met - Management of post-tour feedback from participants - Adaptation of the tour to reach objectives - Design of souvenirs for the trip  - Design of cultural activities - Meeting educational objectives - Team-building elements 
Complete Your Singapore Citizenship Journey 2023
Table of contents.
Contact us today!
Do not wait any longer and contact us so we can fulfill your immigration dreams in Singapore. You can also check your eligibility.
Frequently Asked Questions About Completing Your Singapore Citizenship Journey
How long is the singapore citizenship journey.
The Singapore Citizenship Journey takes about two months. The date will be stated on your Singapore citizenship IPA letter. All approved Singapore citizenship applicants must complete the three components of the Singapore Citizenship Journey.
Is it difficult to get Singapore citizenship?
Yes, it can be challenging to get Singapore citizenship as the government has a strict immigration selection policy. The process of Singapore citizenship applications is also longer and more complicated than applying for Singapore PR.
What are the benefits of Singapore citizenship?
The benefits of Singapore citizenship are:
Visa-free Travel Singapore Passport
Healthcare Coverage and Medical Subsidies
Central Provident Fund (CPF) Account Entitlement
Housing Priority, Ease of Housing Buy and Rent
No Additional Buyer's Stamp Duty (ABSD) on Your First Home
Education Subsidies and Contributions for Your Children
Parenthood benefits, Baby Grants and Child Subsidies
Singapore Election Rights
Can Singaporeans hold two passports?
No, Singaporeans are not permitted to have dual citizenship. They will have to renounce citizenship in the other country.
Renouncing Singapore citizenship is a major decision as you will lose all the benefits of being a Singaporean, and it is tough to get it back.
Is the Singapore passport powerful?
Yes, the Singapore passport has constantly been ranked in the top three positions of the world's strongest passports. As of 2023, Singapore remained the second most powerful passport in the world after the Japanese passport.
Countries & Regions
International Organisations (IOs)
Climate Change
Counter Terrorism
Disarmament
Cybersecurity
International Peacekeeping
Singapore's Voluntary National Review
Small States
Sustainable Development
Pedra Branca
Singapore Universal Periodic Review
Water Agreements
Find A Singapore Overseas Mission
Foreign Representatives To Singapore
COVID-19 Travel Restrictions
Legalisation of Documents
Apply or Renew My Passport
Passport Matters
Travel Tips
Visa Information
I Need Help Overseas
Useful links
Press Statements, Transcripts & Photos
Announcements and Highlights
Experience Singapore
Foreign Service Officer (Functional and Corporate)
Foreign Service Officer (Political and Economic)
Foreign Service Administration Specialist
Job Opportunities
Pre-University
Undergraduate
Foreign Service Scholarships
Recruitment
Scholarship
Reach.gov.sg
Apply for Singapore Citizenship by Descent/Registration
Singapore Overseas Missions have ceased taking in applications for Singapore Citizenship (SC).
With the enhancements to the online portal for Singapore citizenship applications, SC parents can now apply online and upload all required documents online, saving one physical trip to the nearest overseas mission and/or ICA. To apply, the sponsoring SC parent can log in to ICA's e-service here using your SingPass account. More information can be found here .
For child born overseas, please click here .
Applicants are advised to submit passport applications in tandem with the Citizenship applications, if necessary.
For all queries and update of application status, please email [email protected] or call +65 6391 6324.
The Ministry of Foreign Affairs is a ministry of the Government of Singapore responsible for conducting and managing diplomatic relations between Singapore and other countries and regions.
Travel Page
Things to Do
Restaurants
Vacation Rentals
Travel Stories
Rental Cars
Add a Place
Travel Forum
Travelers' Choice
Help Center
Singapore Experiential visit - Singapore Discovery Centre
Asia
Singapore
Singapore - Things to Do
Singapore Discovery Centre
Singapore Experiential visit
Learned lots of history of Singapore. Clear and good explanation from my tour guide, Huda. Overall I had a good experience coming to Singapore Discovery Center.
Huda was a good guide! Thanks for the trip. Excellent place to learn about Singapore history. Highly recommended.
It was a good session guided by Huda. I myself enjoyed the session. The SAFTI tour was amazing. Thanks
I was on a tour as part of the SG journey program. Huda was my tour guide and she did an excellent job with her engaging session. She was very knowledgeable and very helpful throughout. The entire was well planned and well prepared.
It was a great tour session given by Huda. She was cheerful and knowlegeable. The sharing was interesting.
Very nice place to discover more about Singapore and the history itself. Can bring the whole family. A lot of things to learn