Advertise with us
Explore by categories
Free Online Developer Tools
Privacy Policy
Comment Policy
How to download books (ePub format) from the O'Reilly Learning platform (safari books)
Carlos Delgado
November 02, 2022
17.1K views
Learn how to download books from the O'Reilly Learning platform with your paid subscription.
I'm always looking new material to learn from, just like those +800 courses on my Udemy account, that maybe I will never finish ... but that's another story, I'd like to do the same with the famous books of Programming that you can find on the O'Reilly platform (I mean, reading them, not simply storing them).
You can access the O'Reilly Platform as an individual for $49 USD/month or $499/year. For sure, if you think that spending $49 dollars a month won't hurt you, it's recommendable to pay the subscribtion on the platform, considering the prices of buying every single book that you're interested on and assuming that you will read them, the fee that you pay for the online platform is really small and quite fair. However, as someone that lives in a third-world country (Colombia), $49 bucks right now are almost a quarter (1/4) of the minimum wage here in Colombia, so you know, I'd rather eat (now consider how expensive would it be to buy physical or digital books of similar prices). I would only be able to pay that for a couple of months, not the whole year, just as many other people of my country (and of course I'm not talking only about Colombia).
That's why I want to share with you, two useful methods to access most of the content that you can obtain while paying a single subscription of a month.
Important note: I'm not promoting something illegal though, do not get me wrong, to follow this tutorial you will need obligatorily:
An active O'Rilley Learning subscription of at least a month (you will invest $49 USD if you don't have a subscription already). In my case, I have a subscription thanks to my University, so I'm paying for it indirectly.
The books will be downloaded in the .epub format, so you need an EPub reader software installed on your computer. I use the Icecream Ebook Reader.
A. Using a Browser Extension (My O'Reilly Downloader) [Easier to use, for regular users]
My O'Reilly Downloader is a web browser extension available for Google Chrome and an add-on for Firefox that allows you to download with a simple click any book from the O'Reilly platform in .epub format with a single click. This option is the go-to if you don't have programming knowledge, it is quite straightforward, install the extension and click on a single button to obtain the book.
All you need to do is to install the extension in your browser, once you install it through the official store, search for any book that you want to download on the O'Reilly platform. Once you have it, on the right menu of the page of the book, you will find a tiny O'Reilly icon with a green icon over it (get ebook):
Just press it and wait until the extension prepares the EPub of the selected book. Once it processes all of the batches, a message that states that the "ePub download has been completed" will appear and the download will be triggered in your browser ( book.epub ):
You can open and read the file with any regular EBook reader.
B. Using a Docker container [For programmers]
Now if you're into programming just like me, there's a way to do this through the command line to automatize this project with code if you want to. There's an useful project namely O'Reilly Downloader whose code can be found at GitHub here, and it's basically a CLI tool that wraps the Safaribooks project on Docker.
You will need Docker installed in your computer to do it this way.
B.1. Accessing with your credentials
Downloading a book using this approach is quite easy, you only need to run the following command replacing the following parameters:
<id of the book> : the ID of the book that you want to download. For example if the URL of the book is https://learning.oreilly.com/library/view/magento-2/9781788298025/, the id would be 9781788298025 .
<email> and <password> : use your own credentials to log in to O'Reilly's Platform.
<BookName.epub> : define the name of the output file.
The command with some real parameters would look like this:
Wait until the command finishes and you will have the file of the book.
B.2. Accessing through a SSO Login
If your O'Reilly account, just like in my case, doesn't have a password itself but it uses SSO (Single Sign On) because I get access through my University account, then you need to follow some extra steps to get it working. The first thing you need to do is to log in to the platform with your account, then go to your Profile (https://learning.oreilly.com/profile/).
In this page, we need to obtain the cookie of the browser in JSON format. The easiest way to do this is running the following script that will extract the cookie in the required format and will copy it into your clipboard. To run it press F12 in your browser, go to the console tab and paste the following code:
This will automatically copy the cookie in JSON format to your clipboard, now you need to paste its content in a new JSON file. Create the cookies.json file in your computer, paste the content that you have in the clipboard and save changes.
Note: you have do this everytime you want to download a book because the cookie needs to be updated with your current session.
Then, simply run the following command replacing:
<path/to/cookies.json> : the absolute or relative path to the cookies.json file created previously.
And that's it:
Final thoughts
In my case, I started downloading 2 books Java: A Beginner's Guide, Eighth Edition 8th Edition, Kindle Edition , and Official Google Cloud Certified Associate Cloud Engineer Study Guide 1st Edition, Kindle Edition , both digital versions cost USD $47.48 on Amazon. so if you pay a monthly subscription, you already won:
I downloaded as well other books that I think i'll be reading soon due to my current job. Don't forget that the goal of having access to this kind of book, is to acquire knowledge that will allow you to earn money to pay for this kind of content, for sure buying the content directly from their creators is the best way to do it and support them, but until you can do that, this trick will help you to get on track.
Senior Software Engineer at Software Medico . Interested in programming since he was 14 years old, Carlos is a self-taught programmer and founder and author of most of the articles at Our Code World.
Become a more social person
Related articles.
How to trigger the direct download of a PDF with JavaScript
August 19, 2017
93.8K views
How to manually download a voice note from Facebook Messenger in the Browser using Google Chrome
December 28, 2021
26.2K views
How to download a webfile with electron, save it and show download progress
August 10, 2016
48.9K views
How to download a file from a URL with redirection using Curl
January 26, 2020
21.5K views
How to download a webfile with C# and show download progress synchronously and asynchronously
Tips On How To Create Your Own Image Classifier
Advertising
All Rights Reserved © 2015 - 2023
Read books and more with Apple Books
Buy and download books, and personalize your reading experience, with Apple Books.
Buy and download books on your iPhone, iPad, or Mac
Open the Books app.
Tap or click Book Store.
Browse for a book, or search for a specific one. When you find a book that you're interested in, tap or click it.
To buy a book, tap or click the price.
5. The book appears in your Library in the Books app.
Learn how to adjust font sizes and brightness, take notes, and create bookmarks on your iPhone
Learn how to turn pages and change the screen to landscape orientation on your iPad
Learn how to highlight and take notes on your Mac
Learn how to change a book's appearance on your Mac
Organize your library
In the Books app, you can find all of the books, book series, PDFs, and audiobooks that you purchase from the Book Store or Audiobook Store, or that you manually add to your device.
Learn how to delete books and audiobooks from your devices
Sort your books
On your iPhone, tap Library. On your iPad or Mac, tap or click All under Library.
See your books as a list
To see your books as a list instead of a grid:
Or on your Mac, click View > View As from the menu bar, then click List.
If you don't see a book in your library
If you don't see a book in your library:
Turn on iCloud on your iPhone or iPad. Go to Settings, tap your name, tap iCloud, then turn on both iCloud Drive and Books. Then go to Settings > Books. Under Syncing, turn on iCloud Drive.
Update your iPhone or iPad , or update your Mac .
If you previously deleted a book, redownload the book .
If you previously hid a book, unhide the book .
Discover more ways to read
You can listen to audiobooks in the Books app on your iPhone, iPad, or Mac.
You can save copies of PDFs from emails and webpages to the Books app.
You can also add DRM-free EPUB file format books, books that you create with Pages , MP3 audiobooks, AAC audiobooks, and Audible.com audiobooks to your Library.
Information about products not manufactured by Apple, or independent websites not controlled or tested by Apple, is provided without recommendation or endorsement. Apple assumes no responsibility with regard to the selection, performance, or use of third-party websites or products. Apple makes no representations regarding third-party website accuracy or reliability. Contact the vendor for additional information.
Start a discussion in Apple Support Communities
for Firefox
Dictionaries & Language Packs
Other Browser Sites
Add-ons for Android
My O'Reilly Downloader by Gareth Stephenson
Downloads O'Reilly ebooks, videos, as well as captions.
Extension Metadata
Star rating saved
Report this add-on
If you think this add-on violates Mozilla's add-on policies or has security or privacy issues, please report these issues to Mozilla using this form.
Please don't use this form to report bugs or request add-on features; this report will be sent to Mozilla and not to the add-on developer.
This add-on needs to:
Download files and read and modify the browser's download history
Access your data for all websites
Support Email
Photos, Music & Videos
See all versions
Accessories
Entertainment
PCs & Components
Wi-Fi & Networks
All Coupon Codes
eBay Coupon
HP Coupon Code
OnePlus Coupon
Samsung Promo Code
Microsoft Coupon
Dell Coupon Code
Motley Fool Discount
GoPro Promo Code
Starz Promo Code
AT&T Wireless Promo Code
Black Friday 2021 Coupons
Cyber Monday 2021 Coupons
Newsletters
Digital Magazine – Subscribe
Digital Magazine – Log in
Black Friday Deals
Best laptops
Laptop deals
Desktop PC deals
Best monitors
When you purchase through links in our articles, we may earn a small commission. This doesn't affect our editorial independence .
Access Nonfiction Books and and Video With Safari Books Online
Expert's rating.
Comprehensive search facility
Incredible collection of nonfiction books
Monthly rate high compared to competition
Not the best tool for specific questions
Our Verdict
Safari Books Online offers access to a huge catalog of books and videos about computers and technology for a fixed monthly rate.
One of the biggest challenges in distributing digital content is to make it easier for people to consume legally rather than illegally. When it comes to e-books, this gets even trickier; e-book files are much smaller than video or music files, so they can be downloaded much faster. Safari Bookshelf (various subscription plans, starting at $10/month) is a bid to make it easier, faster, and more productive to consume electronic books online legally rather than download them.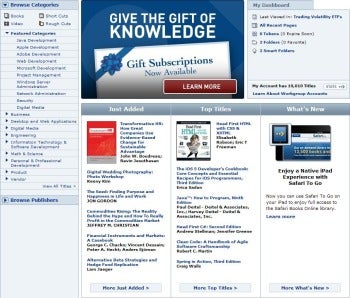 "Slots" are basically places your virtual shelf has for books. Once you choose to read a book, it takes up one slot on your shelf, and must stay there for at least one month. Once that month elapses, you can swap it out for another book. Slots are a good way to offer the service at a reduced price, but they also make it much less useful.
The Unlimited Access plan does away with the concept of slots and lets you read any and all books, but you still must read them online, using a browser (Safari also offers an iPad app and a mobile-friendly version of the site). If you're more interested in downloading e-books for offline reading, both the unlimited and limited plans offer download "tokens." You get five tokens every month, which you can use to download chapters (a chapter usually costs one token). You can also buy extra tokens for $2 each.
The catalog of books offered can only be described as staggering. Safari Books Online hosts books by Apress, Adobe Press, Microsoft Publishing, O'Reilly, Sams, Wiley, and several other big-name publishers. Books span the gamut of programming, Web development, computer graphics (Photoshop and friends), and more. Not all books are computer-related: There are plenty of books about photography, for example. No fiction, though.
The search feature is well thought out, and is one of the best parts of using Safari Books Online. Imagine having to leaf through 19,000 books to find the information you need, or even to search through PDF files on your computer. Safari Books Online lets you do a simple text search, but you can then quickly refine results by category, publication year, author, and publisher. You can also search within the results, so you can search for "macro photography" first, and then search for "Photoshop" to further refine.
Safari Books Online is not only about published books, though. The Unlimited plan also provides access to many video courses, and to a section called "Rough Cuts," containing drafts of pre-published manuscripts–the bleeding edge of online publishing. When reading a Rough Cuts manuscript, a Feedback bar appears at the top of the screen letting you comment about the section you are reading. Comments are publicly visible, and cannot be edited or deleted once submitted, so weigh your words carefully.
Safari Books Online offers a great deal, but it is not a perfect service. For video courses, I still find Lynda.com superior, especially given the price ($25 per month, almost half of the Safari price). And if you are looking for pinpoint solutions to specific problems, nothing beats free tech Q&A website Stack Overflow.
The steep price Safari Books charges for the Unlimited plan only makes it worthwhile if you regularly buy more than two brand-new computer books every month–and I don't know anyone who does, really. Apart from this, Safari Books Online is an amazing service, and is probably the best way to read unlimited computer books online today. Highly recommended.
Note: The free trial lasts for ten days or 1000 page views, whichever comes first.
–Erez Zukerman
Coupon Codes
Microsoft Store Coupon Code Microsoft Store Coupon - Extra 10% Off Sitewide (Education Discount)
Western Digital Coupon Western Digital coupon code- 10% off orders of $50+
Autodesk Promo Code Get 6 months FREE AutoCAD training with Autodesk Promo Code
Temu Coupon Code Temu coupon code: 30% off items above $39
SHEIN Coupon Code SHEIN Discount Code: 20% off
Samsung Promo Code 40% Off - Samsung promo code
E-books: Safari Books Online
Search Ebook Central
Book Details
Read Online
Full Download
EBSCOhost E-book Collections
Gale Ebooks
Safari Books Online
Salem Press
Free E-books Online
Using Ebooks in the Classroom
Safari Books Online offers e xpertly curated, high-quality content. O'Reilly's savvy editorial team delivers exclusive books, videos, and learning experiences—including early release titles and case studies from leading organizations—plus resources from more than 200 of the world's most respected publishers, including Pearson, Packt, Wiley, HarperCollins, and others.
Getting Started with Safari Books Online
Access
You can access Safari using the direct URL: Safari Books Online
Once you click on the direct link, you will be presented with a patron validation screen and prompted to enter your academic email address (Example: [email protected] or [email protected] ).
You will taken directly into the platform.
At the same time, you will also be sent an email to complete the account setup. The account setup asks you to setup a password, optionally you can provide Major and Graduation year (these fields are optional). If you decide you do not want to complete the account setup, that is fine, it is not required and you can still access the content within the platform.
Select your favorite topics
You can tailor your content recommendations around the topics that interest you. When you first create your account, you will be prompted to choose your favorite topics. Based on those choices, you'll receive recommended content on your homepage. You can update these topics of interest at any time.
Get your queue started Safari's queue feature allows you to quickly save a whole book or video (or just sections of a book or video) for later use. You can easily access items in your queue from any page in Safari.
Use advanced search to find what you need Quickly search by title, author, publisher or isbn. Explore and sort all of Safari by a broad topic, or filter by author, media type, sub-topics and/or publishers.
Check out your personalized recommendations Personalized recommendations are based on the topics you choose, what you find interesting, and what's popular with other readers. Over time, Safari will continue to customize your recommendations so you see the content most relevant to you.
Start highlighting and taking notes Highlight important sections of content and add your own notes to enhance your learning. You can even take notes and share with others by sharing a link to your highlights page.
Share valuable content Share the content you find valuable with others on Twitter, Facebook, and Google+, or you can share the link through email. If your recipients don't have a Safari account, they will see a small snippet of the chapter. If they do have a Safari account, they will be brought directly to the linked chapter.
(Content taken from O'Reilly Safari Student User Guide)
Mobile Options
Can I download e-books from the Safari Books Online platform?
Yes! Download the Safari Queue app to access your account from any mobile device. You'll be able to download unlimited books and videos for online and offline use, and your personalized queue will automatically sync on all of your devices.
Publication Types
The platform includes more than 35K book titles plus 30K+ hours of video , proven learning paths, case studies , interactive tutorials , audio books, and videos from O'Reilly's global conferences.
<< Previous: Gale Ebooks
Next: Salem Press >>
Last Updated: Jun 5, 2023 3:46 PM
URL: https://pgcc.libguides.com/pgcc_ebooks
How to download and read ebooks with Apple Books on iPhone and iPad
Take full advantage of the bookstore in your pocket.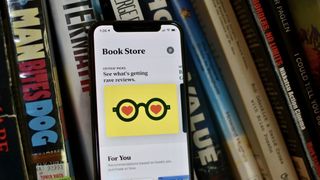 Download a book from the Book Store
Search for a book
Read a book
Quickly scan through a book
Use the Want to Read Collection
Set a bookmark
See a list of bookmarks
See a table of contents
Highlight text in a book
Change the color of a highlight
Remove a highlight
Add a note to a highlight
Review notes in a book
Remove notes from a book
Find text in a book
Formerly known as iBooks, the Apple Books app is the all-in-one book store and reading application for iPhone, iPad, and Mac. You can use it to read ebooks and listen to audiobooks, but before you can do that, you need to know how to find and download books in Apple Books.
We'll show you how to do exactly that below and explain everything from page-swiping behaviors, highlighting, and searching within books to navigating the Book Store to find your next favorite title. Read on for all the details.
How to download a book from the Apple Book Store
As we explore the features of the Apple Books app, let's start on page 1: Finding something to read.
The Book Store has been reorganized into sections, including For You (recommendations based on previous purchases), New & Trending, Top Charts, Book Store staff recommendations, genres, etc.
Tap the Books app.
Tap the Book Store tab to browse the virtual shelves.
Tap the Browse Sections button to get a list of sections in the Book Store.
Tap a section to browse.
Tap a book to download.
Tap Get (if the book is free) or Buy if the book has a cost. If you'd like to download a sample chapter from the book, tap Sample . You can see more information about the book by scrolling up within the book's card.
Authenticate with Face ID, Touch ID, or your Apple ID password and the book will begin to download.
Tap Read to read the book.
How to search for a book in Apple Books
If you know the name of the book you're interested in (or its author), you can search for it and get results for books and audiobooks both in the Book Store and in your library.
Tap the Search tab.
Enter the search text .
Tap Search or a suggestion in the list of matching results.
Tap a book to begin the steps to download the book .
How to read a book in Apple Books
Now that you've got a book, it's time to read.
You can access any book on your device by tapping the Library tab. You can also use the Reading Now tab to continue with the book you're currently reading, resume other books you've recently been reading, and recommendations for books based on what you've bought before.
Tap a book to open it.
Tap the right margin or swipe from right to left to go to the next page.
Tap the left margin or swipe from left to right to go to the previous page.
You can change this margin-tapping behavior in the Settings app. When you're done reading, tap the back button in the upper left-hand corner to return to your library. Your place in the book will be saved automatically—no bookmark required.
How to quickly scan through a book in Apple Books
You can flip through the virtual pages in your book with one finger. Try that with a regular book.
If the controls do not appear at the bottom of the page of the book you are reading, tap on a blank part of the page.
Tap the menu icon at the bottom right of the screen.
Tap and hold the Contents bar.
Drag left or right to move through the book's pages.
How to use the Want to Read Collection in Apple Books
Think of Want to Read as a wish list containing books that you're curious about or that other people may have recommended to you.
Books that you've downloaded but haven't finished are automatically added to the Want to Read list. In addition, you can add other books to this collection. Here's how to do it when browsing the Book Store.
Tap the Book Store tab.
Tap a book you're interested in.
Tap Want to Read .
The book will be added to your Want to Read collection.
How to set a bookmark in Apple Books
Not too many people can finish a book in one sitting, and that's why bookmarks were invented. You can set a bookmark—as many of them as you want, actually—quickly and easily in Books.
Tap the Menu icon at the bottom right-hand corner of the screen.
Tap the Bookmark icon in the bottom right-hand corner of the screen.
The bookmark icon will turn red and get added to a list of bookmarks for that book. To remove the bookmark, tap it again.
How to see a list of bookmarks in Apple Books
Tap the menu icon in the bottom right-hand corner of the screen.
Tap the Bookmarks & Highlights tab.
To go to a particular bookmark, tap it. Swipe left to remove a bookmark from the list, then tap Delete .
How to see a table of contents in Apple Books
Most books have a table of contents. If your book does, you can use it to jump to a particular chapter without scrolling through the entire book.
Tap the table of contents entry to go to that page.
How to highlight text in a book in Apple Books
You can use the tip of your finger as a virtual highlighter—in different colors!—to mark significant passages in a book.
Open a book .
Touch and hold at the starting point of the text you want to highlight, then drag to the end of the text.
Tap Highlight .
How to change the color of a highlight in Apple Books
Tapping highlighted text reveals a menu of options to work with that highlight.
Tap the Highlighted text that you want to edit.
Tap the word Highlight.
Tap the colored circles to display a palette of colors.
Tap a color . The underlined A button will remove the color highlight and underline the text instead.
How to remove a highlight in Apple Books
Tap the Highlighted text that you want to delete.
Tap the Remove option.
How to add a note to a highlight in Apple Books
Once you have highlighted the text, you can also add a note to it.
Tap the highlighted text that you want to add a note to.
Tap the Add Note option.
Enter your text and tap Done
You'll now notice a little color-matching square beside your highlighted text. You can tap this to read or edit the note at any time.
How to review notes in a book in Apple Books
The list button at the top of the page in your book provides convenient access to all the notes in your book.
Tap the Bookmarks & Highlights tab. Your notes will appear under the Highlights option.
To go to a particular note, tap it.
How to remove notes from a book in Apple Books
In the book, tap the highlight for the note you want to delete.
Tap Delete when prompted to remove the note and its highlight.
How to find text in a book in Apple Books
One of the biggest benefits of an electronic version of a book is searching for text and finding it almost instantly. Here's how to do it.
Tap the menu icon at the bottom right-hand corner of the page.
Tap the Search Book bar.
Enter the search text and each instance of your text in the book will show up. You'll also see options to search Wikipedia and the web.
You can tap any result to go to that part of the book and use the links at the bottom of the list to search the web or Wikipedia. And if you put a page number in the search field, you can tap the page number in the search results to go to that page.
Turn your Apple device into an e-reader
As you can see, the Apple Books app has some reasonably advanced functionality tucked away in various menus in iOS 16 . So whether you've already picked up the best iPad for reading or want to make the most of every spare minute to read a bit more of the latest page-turner on your phone, the Apple Books app is a great choice.
Master your iPhone in minutes
iMore offers spot-on advice and guidance from our team of experts, with decades of Apple device experience to lean on. Learn more with iMore!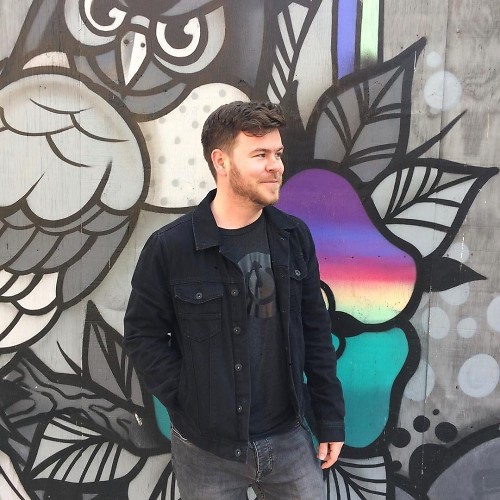 Adam Oram is a Senior Writer at iMore. He studied Media at Newcastle University and has been writing about technology since 2013. He previously worked as an Apple Genius and as a Deals Editor at Thrifter. His spare time is spent watching football (both kinds), playing Pokémon games, and eating vegan food. Follow him on Twitter at @adamoram .
Karen S Freeman Contributor
Slashed! A new low price makes AirPods Pro 2 the steal of Black Friday so far
$70 off Oura Ring at Best Buy is the Black Friday deal to make you reconsider your Apple Watch
8 ways to get Apple TV Plus free on Black Friday
Most Popular
By James Bentley October 24, 2023
By John-Anthony Disotto October 23, 2023
By John-Anthony Disotto October 20, 2023
By John-Anthony Disotto October 18, 2023
By Alex Walker-Todd October 16, 2023
By John-Anthony Disotto October 16, 2023
By Matt Evans October 13, 2023
By John-Anthony Disotto October 04, 2023
By John-Anthony Disotto October 03, 2023
By James Bentley October 03, 2023
By Sarah Thwaites September 22, 2023
2 $70 off Oura Ring at Best Buy is the Black Friday deal to make you reconsider your Apple Watch
3 8 ways to get Apple TV Plus free on Black Friday
4 Experts love it — why this LG OLED for under $900 is the Black Friday TV deal to beat
5 This incredible Disney Plus Black Friday deal will have you ready for Doctor Who this week

What would you like to find?
Books & E-Books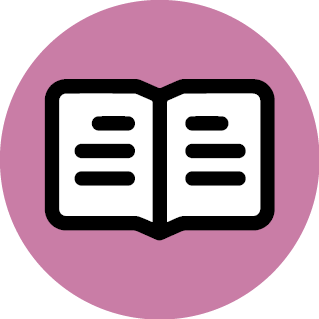 We love to read. The only thing we like more is helping readers like you discover books you will not want to put down. Explore our staff picks and recommended reading lists, or ask us for suggestions.
Explore Books & E-Books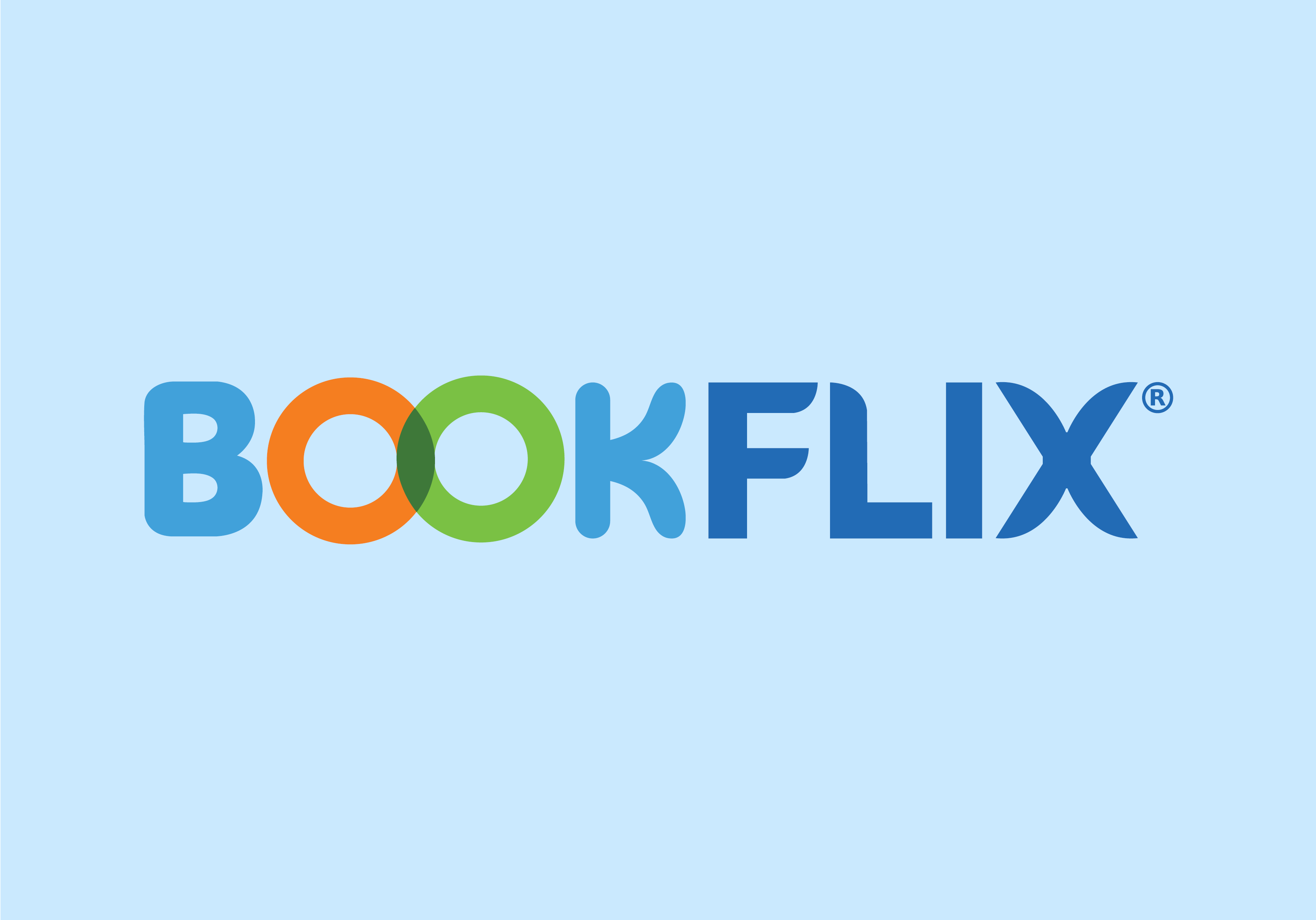 BookFlix pairs animated stories with real-world concepts to help new readers improve their skills.
Explore BookFlix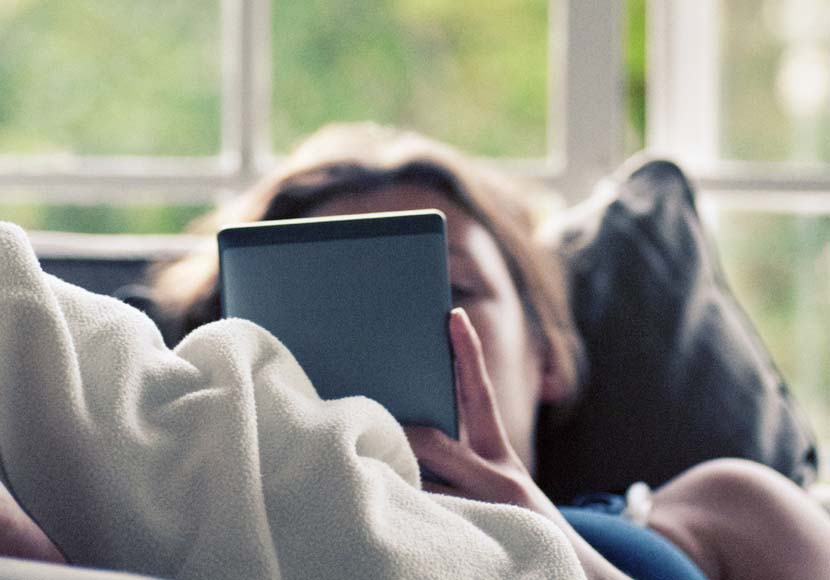 Books on Your Device
Learn how to get started with e-books and audiobooks on your device.
Explore Books on Your Device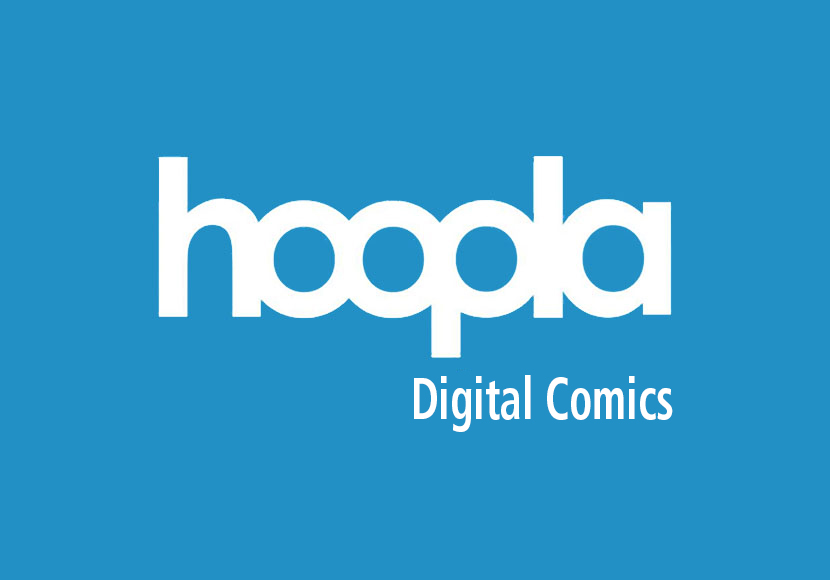 Hoopla Digital Comics
Enjoy thousands of digital comics and graphic novels in our Hoopla Digital Collection.
Explore Hoopla Digital Comics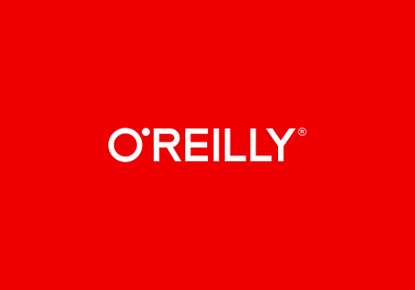 O'Reilly Complete Public Library (formerly Safari Books Online)
Read digital books on software, programming and business.
Explore O'Reilly Complete Public Library (formerly Safari Books Online)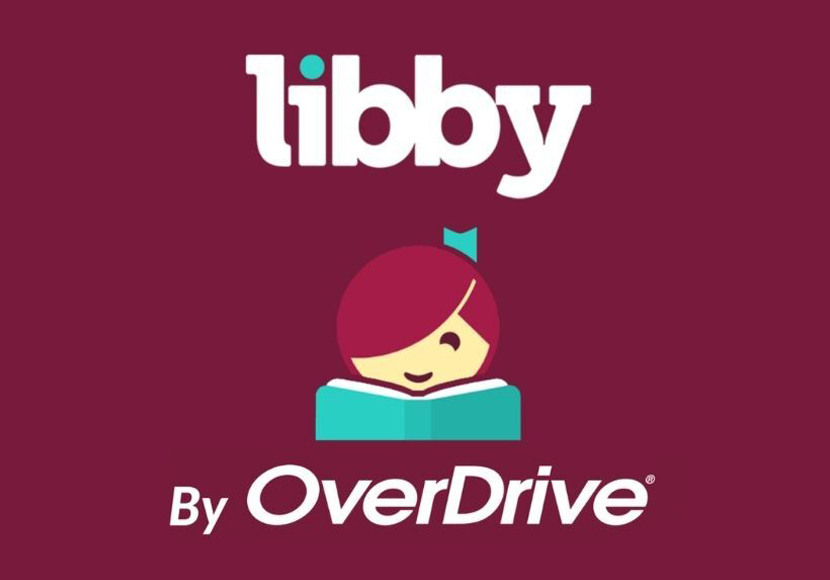 OverDrive and Libby
We have thousands of e-books and audiobooks you can borrow for three weeks and download to most devices.
Explore OverDrive and Libby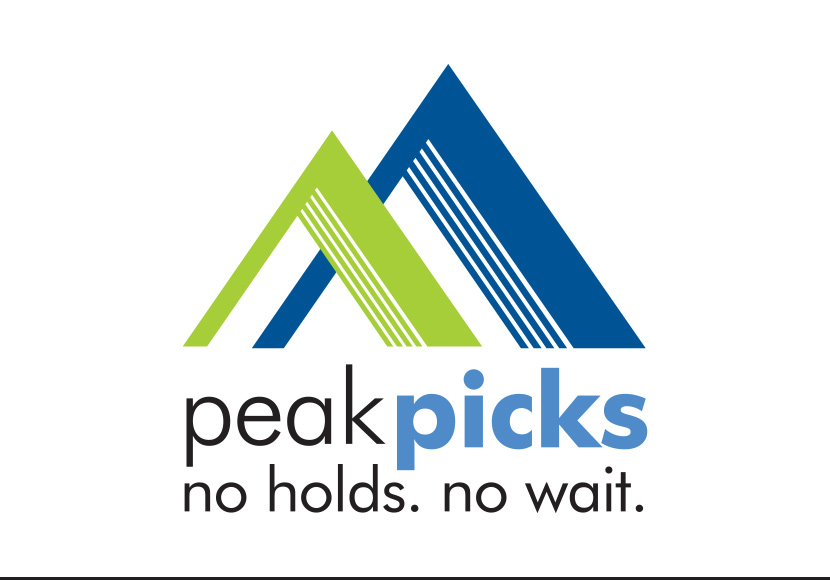 Visit any Library branch to find new and popular books available with no holds and no wait.
Explore Peak Picks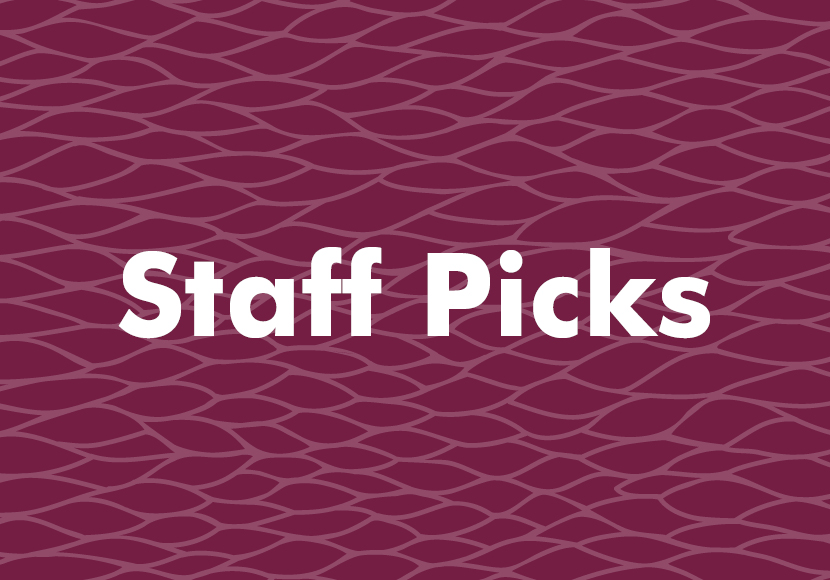 Staff Picks
Discover the best fiction and nonfiction books, selected by our staff.
Explore Staff Picks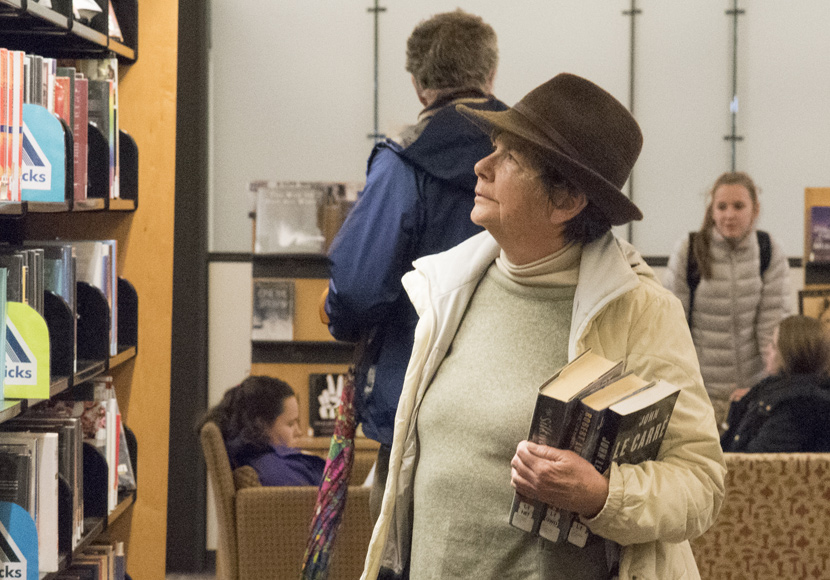 Staff Picks for Adults 50+
Discover books on topics related to the aging experience.
Explore Staff Picks for Adults 50+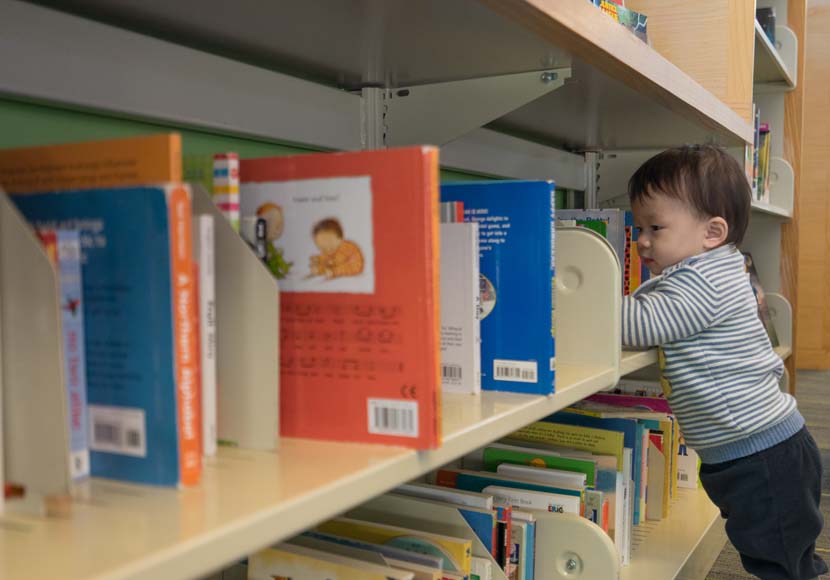 Staff Picks for Kids
Discover the best books for kids of all ages, selected by our staff.
Explore Staff Picks for Kids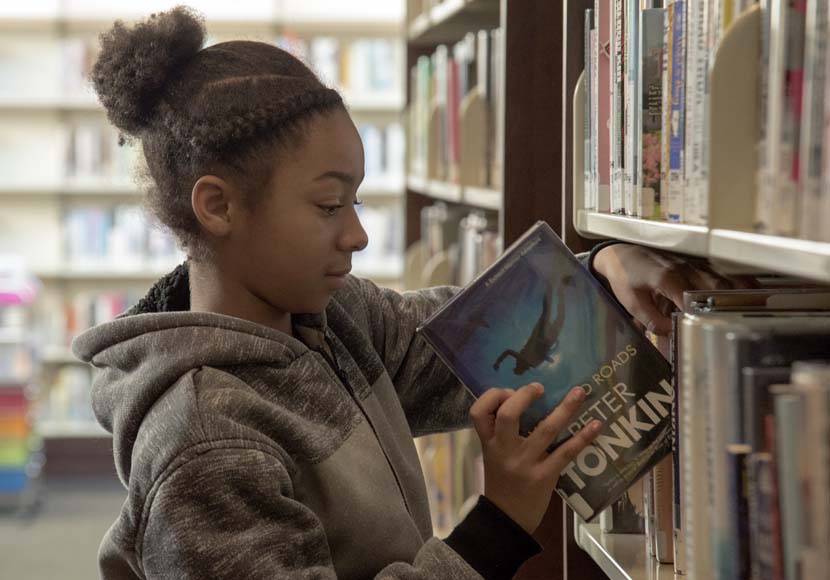 Staff Picks for Teens
Discover the best books for teens and fans of young adult fiction, selected by our staff.
Explore Staff Picks for Teens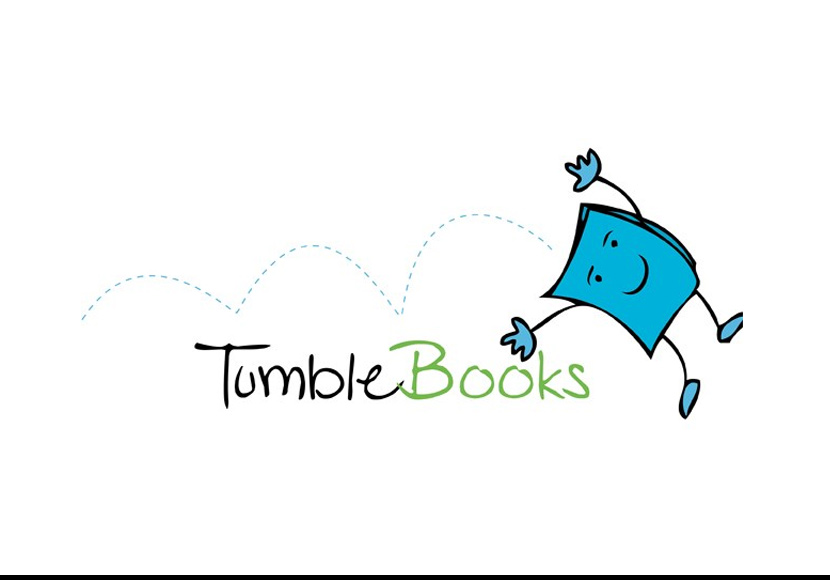 TumbleBooks
TumbleBooks is a curated database of children's e-books.
Explore TumbleBooks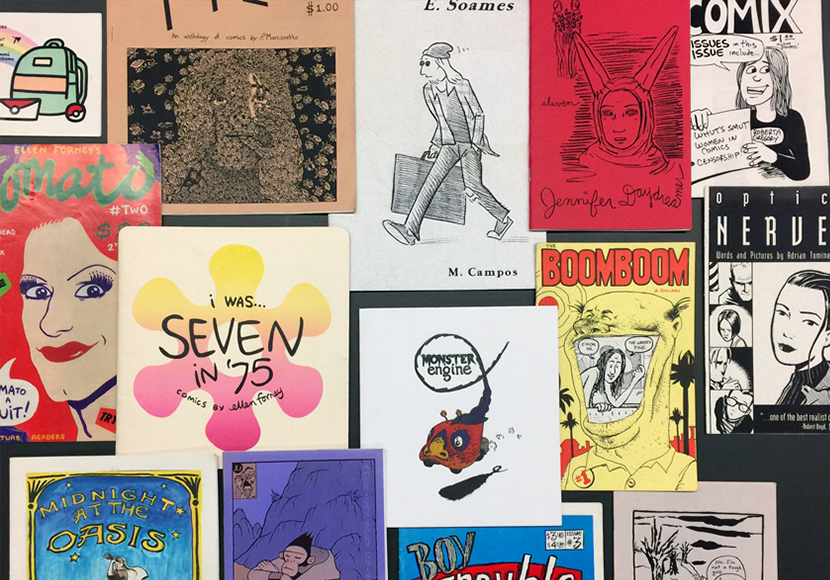 ZAPP Zine Collection
Discover more than 30,000 zines, minicomics and other self-published and small press titles.
Explore ZAPP Zine Collection
If you have a question or need help, Ask Us or call 206-386-4636.
Native American Fiction 
Swim Home to the Vanished
Basham, Brendan Shay
A Minor Chorus
Belcourt, Billy-Ray
To Shape A Dragon's Breath
Blackgoose, Moniquill
Calderón, Gabe
The Missing Morningstar
Denetsosie, Stacie Shannon
Dimaline, Cherie
The Lost Journals of Sacajewea
Earling, Debra Magpie
Native American Nonfiction
New Native Kitchen
Bitsoie, Freddie
The Rediscovery of America
Blackhawk, Ned
A Drum in One Hand, A Sockeye in the Other
Coté, Charlotte
Living Resistance
Curtice, Kaitlin B.
Birding While Indian
Gannon, Thomas C.
Poet Warrior
The 500 Years of Indigenous Resistance Comic Book
Native American Fiction and Nonfiction for Teens and Young Adults
The Companion
Alender, Katie
Five Midnights
Cardinal, Ann Dávila
Clown in A Cornfield
Cesare, Adam
Harrow Lake
Harrison, Margot
Hide and Seeker
Hermon, Daka
Whispering Pines
Lang, Heidi
Native American Books for Kids
Autumn Peltier, Water Warrior
Lindstrom, Carole/ George, Bridget (ILT)/ Peltier, Autumn (INT)
Goade, Michaela
Sorell, Traci
Just Like Grandma
Rogers, Kim
My Powerful Hair
Lindstrom, Carole
Otter Doesn't Know
Fritz, Andrea
We Still Belong
Day, Christine
What You Are Looking for Is in the Library
Aoyama, Michiko
Legends & Lattes
Baldree, Travis
A Season for Second Chances
Bayliss, Jenny
A Ghost in Shining Armor
Beharrie, Therese
Grave Expectations
Bell, Alice (Gaming website editor)
Meddling Kids
Cantero, Edgar
A Psalm for the Wild-built
Chambers, Becky
Related Links
Authors & Books
Books & Reading
Book Groups
Shelf Talk blog
Seattle Reads
Email newsletters
Your Next 5 Books
Suggest a Title
Sign up for our email newsletters
Get the latest about Library events, new programs and services and other Library news delivered to your inbox.
If you need help or have a question or suggestion, we want to hear from you. You can reach Library staff by chat, email or phone during open hours.
Support your Library
Find out how you can support your Library by donating money, books or your time as a volunteer.
Search code, repositories, users, issues, pull requests...
Provide feedback.
We read every piece of feedback, and take your input very seriously.
Saved searches
Use saved searches to filter your results more quickly.
To see all available qualifiers, see our documentation .
a SafariBooksOnline downloader that generates respective .epub books for offline and kindle reading
nicohaenggi/SafariBooks-Downloader
Name already in use.
Use Git or checkout with SVN using the web URL.
Work fast with our official CLI. Learn more about the CLI .
Open with GitHub Desktop
Download ZIP
Sign In Required
Please sign in to use Codespaces.
Launching GitHub Desktop
If nothing happens, download GitHub Desktop and try again.
Launching Xcode
If nothing happens, download Xcode and try again.
Launching Visual Studio Code
Your codespace will open once ready.
There was a problem preparing your codespace, please try again.
Latest commit
Safaribooks downloader & epub generator.
SafariBooks-Downloader is a project created and maintained by Nico Haenggi .
The project is currently setup in two branches.
master also known as stable - The ePub generator 'should' be stable on this branch, and is generally well tested
dev also known as unstable - The ePub generator is being developed on this branch, and is not always well tested and stable
If you discover a bug in the generator, please search the issue tracker first. If it hasn't been reported, please create a new issue .
Feature Requests
If you have a great idea to improve the generator, please search the feature tracker first to ensure someone else hasn't already come up with the same great idea. If it hasn't been requested, please create a new request . While you're there vote on other feature requests to let the me know what is most important to you.
Pull Requests
If you'd like to make your own changes ensure your Pull Request is made against the dev branch.
Installation Guide
How to install.
Install Node.js. We recommend the LTS release . The SafariBooks-Downloader has been tested on most node versions between v4.4.5 and v.6.9.5 and should therefore cause no problems running on one of these versions. For more information about how to install it on your environment, see Installing Node.js via package manager . To verify your installation, run:
If a version is returned, you did successfully install Node.js. Next up, make sure npm is properly installed. To verify, run:
If the command returns a version number, you're all set. Next, we'll clone the repository.
Install all the dependencies with npm.
Congratulations! You've successfully installed SafariBooks-Downloader. If you desire to do so, you can install the tool globally on your machine. To do so, run:
To verify the installation, please run:
If the command returns a version number, you have successfully installed the tool globally. The current release is v1.0.0 .
How To Update
Stop the downloader if it's running. (use control + c to stop it)
Run git pull This will update the generator to the latest master branch
Reinstall dependencies with npm install or npm install -g using npm install -g will install the generator globally
Run safaribooks-downloader --version After you are done following it this will print out the current version of the generator.
The tool provides the following six options. The options --bookid, --username, --password and --output are required. However, if the username and password options are provided once, they will be cached and are no longer required to run the CLI.
displays usage information
displays version number
the book id of the SafariBooksOnline ePub to be generated you can find the book id by having a look at the URL while reading the book e.g. https://www.safaribooksonline.com/library/view/building-apis-with/9781484224427/A435096_1_En_7_Chapter.html whereas the id will be 9781484224427
username of the SafariBooksOnline user - must have a paid/trial membership , otherwise will not be able to access the books
password of the SafariBooksOnline user
output path the epub file should be saved to. On some systems, the path may require to contains no whitespaces .
enable debug mode for request package.
An example showing how a SafariBooksOnline with id 9781484224427 is downloaded and converted into a ePub file testbook.epub .
An example showing how a SafariBooksOnline with id 9892595335538 is downloaded and converted into a ePub file testdebugbook.epub .
generating ePub with cover image, authors and publisher
custom stylesheets will be imported (only one currently)
support for several different stylesheets in one book
directly generating .mobi files
Nico Haenggi : conception & development
cyrilis : a big thanks to cyrillis for his epub-gen package which I relied upon heavily while integrating my own epub generator
Copyright & License
Copyright (c) 2017 Nico Haenggi - Released under the MIT License
Contributors 6
Catalog and Account Help
Log In / Register
My Library Dashboard
My Borrowing
Checked Out
Borrowing History
ILL Requests
My Collections
For Later Shelf
Completed Shelf
In Progress Shelf
My Settings
Online Resources
By Format: eBooks
Gale Presents: Peterson's Test and Career Prep eBooks
Previously known as Teaching & Education Reference Center plus Career Center (TERC)
Use this database to search thousands of college and graduate school entries. Identify scholarships that meet their financial needs. Take on-line practice tests and use test prep eBooks to obtain your education goals.  Take a Career Assessment, get career help, and find job listings from Indeed.com.  Use the VisualCV Resume Builder to easily create a professional-looking resume. 
BiblioBoard eBooks Primary Sources
California Indie-Authors, Indie Author Project Select, and local content.

Digital Public Library of America (DPLA): Palace Open Bookshelf eBooks
Read classic novels, children's books, textbooks, and non-English titles, all for free, with no login or library card needed. These books are also available to read via the SimplyE app - choose Digital Public Library of America from the list of libraries.

Diversity & Ethnic Studies eBooks (EBSCOhost) eBooks
This subscription collection includes academic eBooks related to diversity, anti-racism, ethnic studies, disability studies, gerontology & age studies, migration studies, gender and sexuality studies, cultural studies, and religious studies. The collection utilizes outside resources and scholarship to ensure that the collection remains up to date and aligned with current research.
Divorce Solutions California by Nolo Press Occidental [in-library-use only] eBooks In Library Use Only
IN LIBRARY USE ONLY
This collection includes two eBooks: How to Do Your Own Divorce in California in 2019 by Ed Sherman Make Any Divorce Better by Ed Sherman

EBSCO eBooks eBooks
Explore eBooks, available in the browser or for download, for adults, teens, and kids on a variety of subjects. Downloaded eBooks from EBSCO can be read in the EBSCO Mobile app or in Adobe Digital Editions. Check out our Quick Start Guide for instructions.

enki Library eBooks
California Libraries' own eBook platform for small publishers and self-published works.  Check out our Quick Start Guide.

enkiGeo eBooks
This collection from enki Library can be read in the browser or through the BiblioBoard app. No login is necessary for anyone located in California!

Gale Directory Library eBooks
The GDL hosts a variety of directory products that particular libraries can choose from. Use it to search, sort and export information both from current directory editions as well as prior editions that are maintained as searchable backfiles. Multiple directories can be cross-searched. GDL includes Encyclopedia of Associations.
Gale eBooks eBooks Primary Sources
Formerly known as Gale Virtual Reference Library. Gale eBooks offers encyclopedias and specialized reference sources for multidisciplinary research. Includes reference eBooks, literature resources, and more.
Gale Presents: National Geographic Kids eBooks eMagazines & eNews
Explore amazing adventures in science, nature, culture, archaeology, and space. Best for children aged 6–14.  Provided courtesy of the California State Library.
hoopla BingePass eAudiobooks eBooks eMagazines & eNews Streaming Video
hoopla BingePass lets you, well, binge! Entire collections of streaming content are at your fingertips with just one 7-day checkout.
hoopla's BIngePass collection includes materials for adults, teens, and kids.  Choose from a growing collection of content.

hoopla BingePass – for Children eAudiobooks eBooks Streaming Video
hoopla BingePass lets you, well, binge! Entire collections of streaming content are at your fingertips with just one borrow. Each borrow allows you to consume as much content as you want for 7 days. Not done? Check out another pass!
Each Kids' BingePass offers eBooks, eAudiobooks, and/or Streaming video focused on fun subjects, popular publishers, and more.  Check them out!
Current BingePass Options:
Reading Corner
Kids' Books in Action
Hellosaurus
Highlights Collection
STEAM Powered Kids
Cuentos para niños en español
Growing Up: Social-Emotional Learning
Read-Along to Learn
Learn About the World

hoopla Digital eAudiobooks eBooks Streaming Music Streaming Video

hoopla Digital Comics eBooks
hoopla Digital offers a huge collection of comics and graphic novels from the most popular publishers in the field, including DC, Marvel, Dark Horse, Image, and many more. hoopla comics are always available - no waits, no holds! Check out our Quick Start guide .

Kindle eBooks from OverDrive eBooks
Find eBooks to read on your Kindle.  OverDrive is the only library platform that offers the Kindle format. Check out our Kindle Guide .

LOTE4Kids eBooks
With LOTE4Kids, kids can now enjoy 2000+ read-along eBooks in over 50 languages including American (ASL), British (BSL), New Zealand (NZSL), and Australian Sign Language (AUSLAN), together with English translations. Check out our Quick Start Guide .

MAS Reference eBook Collection eBooks
This ebook reference collection offers a rich selection of eBook titles covering a broad range of general reference subjects for high school students. Topics include biography, history, careers, language arts, literature, government, health, math, science, current events, and social-emotional health.
MasterFILE Reference eBook Collection eBooks
This ebook reference collection offers a rich selection of eBook titles covering a broad range of general reference subjects. Topics include biography, history, careers, cooking, literature, genealogy, health, parenting, personal finance, politics, architecture, science, current events, social-emotional health, sports, and travel.
Middle Search Reference eBook Collection eBooks
This eBook reference collection offers a rich selection of eBook titles covering a broad range of general reference subjects for middle school students. Topics include social studies, math, history, language arts, technology, geography, culture, and science.
O'Reilly for Public Libraries eBooks Streaming Video
O'Reilly for Public Libraries offers unlimited access to 50K+ titles (including O'Reilly books in early release), 30K+ hours of video, case studies from top companies, learning paths, expert playlists, and more—with nearly 1,000 topics to explore in technology and business.
O'Reilly for Public Libraries replaces Safari Books Online.
OverDrive Comics Reading Room eBooks
Our Comics Reading Room offers thousands of comics for all ages.  Check out our Quick Start Guide .

OverDrive eBooks and eAudiobooks eAudiobooks eBooks
OverDrive provides eBooks and eAudiobooks for download and browser reading/listening. Includes Project Gutenberg classics. Get your Kindle eBooks here! Check out our Quick Start Guide .

OverDrive Kids' Reading Room eAudiobooks eBooks
OverDrive provides eBooks and eAudiobooks for download and browser reading. Includes Project Gutenberg classics. Get your Kindle eBooks here! Check out our Quick Start Guide .

OverDrive LGBTQIA Reading Room eAudiobooks eBooks

OverDrive Romance Reading Room eAudiobooks eBooks

OverDrive Teen Reading Room eAudiobooks eBooks

Palace Project eAudiobooks eBooks
The Palace Project app gives Alameda County Library cardholders one interface to browse, borrow, and read eBooks and listen to eAudiobooks.  With one login and as few as three clicks, you can start discovering and reading our entire collection of nearly 200,000 eBooks and eAudiobooks.  Read or listen to OverDrive titles, enki Library titles, and much more!

Primary Search Reference eBook Collection eBooks
This ebook reference collection offers a rich selection of eBook titles covering a broad range of general reference subjects for primary school students. Topics include social studies, history, language arts, geography, culture, math, and science.
ProQuest Search eBooks
Search across all of the ProQuest resources we have available to find eBooks, articles, audio and video, dissertations and theses, and more.
Safari Books Online is now O'Reilly for Public Libraries! eBooks
Safari Books Online is now O'Reilly for Public Libraries! 
Please find this resource under 'O' for O'Reilly.
SimplyE eAudiobooks eBooks
NOTE:  We have changed from SimplyE to the Palace Project!  Check out our Quick Start Guide to Palace and get started now!
The Palace Project app gives Alameda County Library cardholders one interface to browse, borrow, and read eBooks and listen to eAudiobooks.  With one login and as few as three clicks, you can start discovering and reading our collection of nearly 200,000 eBooks and eAudiobooks.  Read or listen to OverDrive titles, enki Library titles, and much more!

Related Information
Powered by BiblioCommons.
BiblioWeb: webapp06 Version 4.15.1 Last updated 2023/11/16 09:33
Blazing fast. Incredibly private.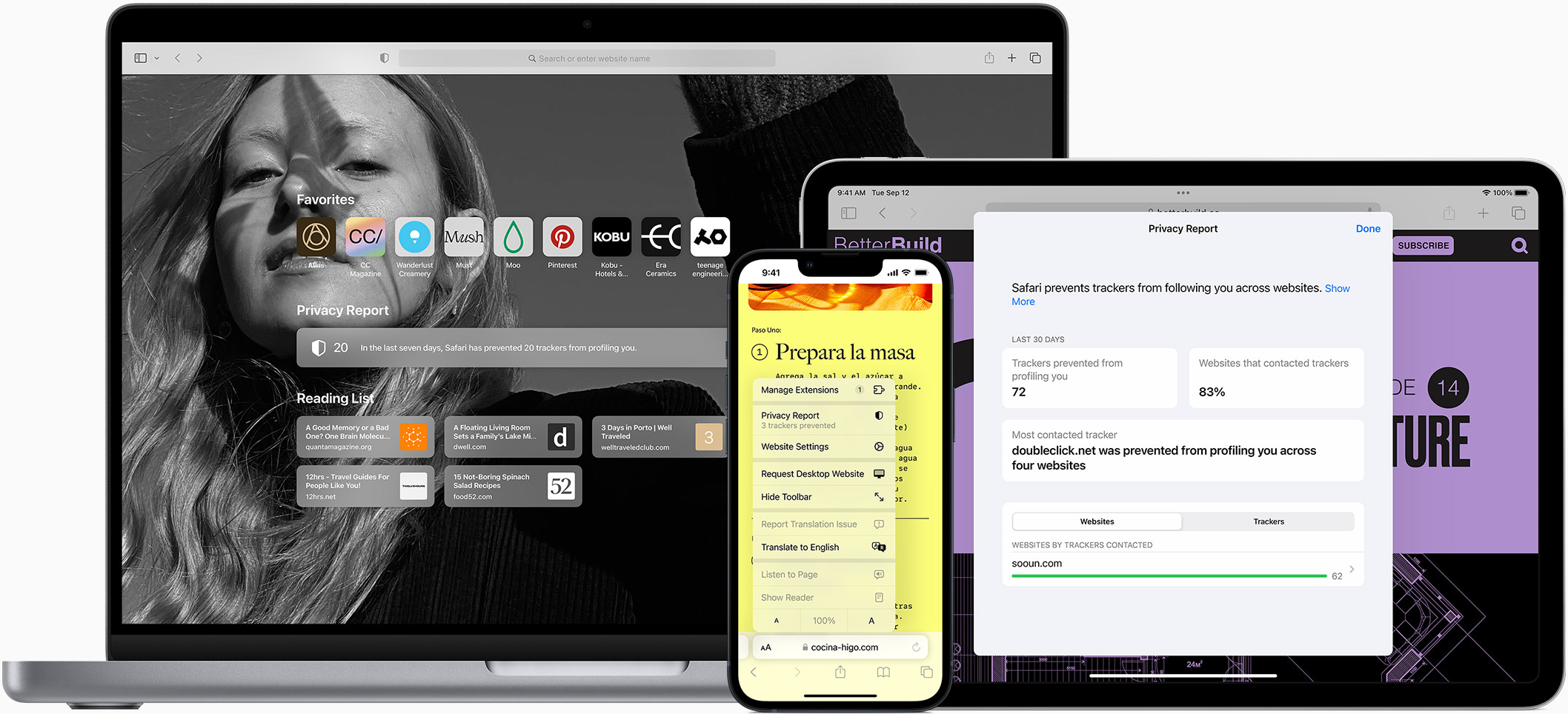 Safari is the best way to experience the internet on all your Apple devices. It brings robust customization options, powerful privacy protections, and optimizes battery life — so you can browse how you like, when you like. And when it comes to speed, it's the world's fastest browser. 1
Performance
More with the battery. less with the loading..
With a blazing-fast JavaScript engine, Safari is the world's fastest browser. 1 It's developed to run specifically on Apple devices, so it's geared to make the most out of your battery life and deliver long-lasting power.
Increased performance
We're always working to make the fastest desktop browser on the planet even faster.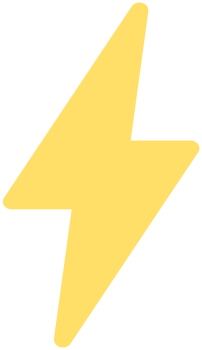 Improved power efficiency
Safari lets you do more online on a single charge.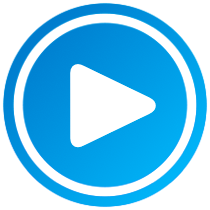 Up to 4 hours more streaming videos compared with Chrome 3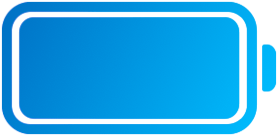 Up to 17 hours of video streaming 3
Best-in-class browsing
Safari outperforms both Mac and PC browsers in benchmark after benchmark on the same Mac. 4
JetStream /
MotionMark /
Speedometer /
JavaScript performance on advanced web applications. 4
Safari vs. other Mac browsers
Safari on macOS
Chrome on macOS
Edge on macOS
Firefox on macOS
Safari vs. Windows 11 browsers
Chrome on Windows 11
Edge on Windows 11
Firefox on Windows 11
Rendering performance of animated content. 4
Web application responsiveness. 4
4K video streaming
See your favorite shows and films in their best light. Safari supports in-browser 4K HDR video playback for YouTube, Netflix, and Apple TV+. 5 And it runs efficiently for longer-lasting battery life.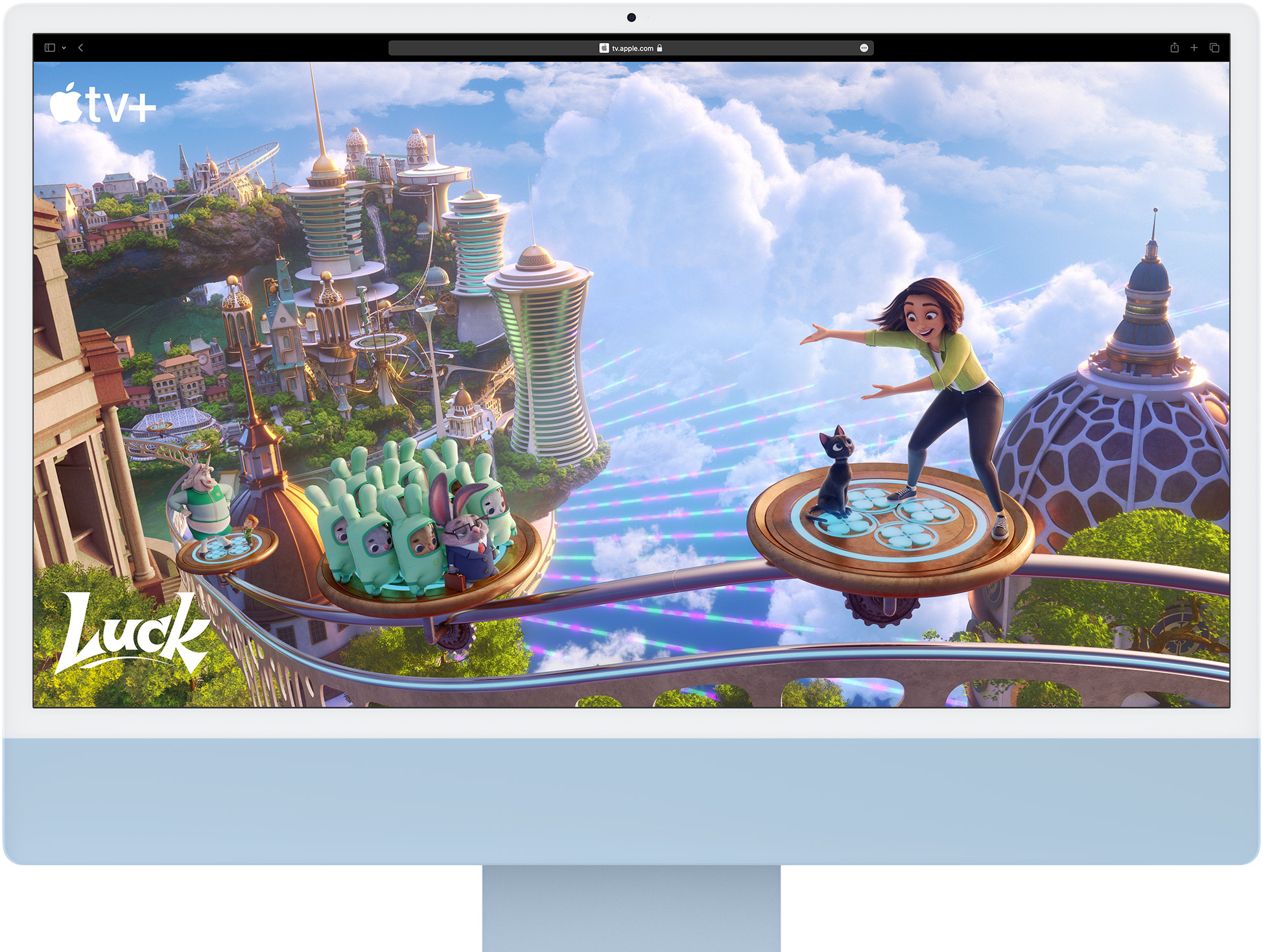 Privacy is built in.
Online privacy isn't just something you should hope for — it's something you should expect. That's why Safari comes with industry-leading privacy protection technology built in, including Intelligent Tracking Prevention that identifies trackers and helps prevent them from profiling or following you across the web. Upgrading to iCloud+ gives you even more privacy protections, including the ability to sign up for websites and services without having to share your personal email address.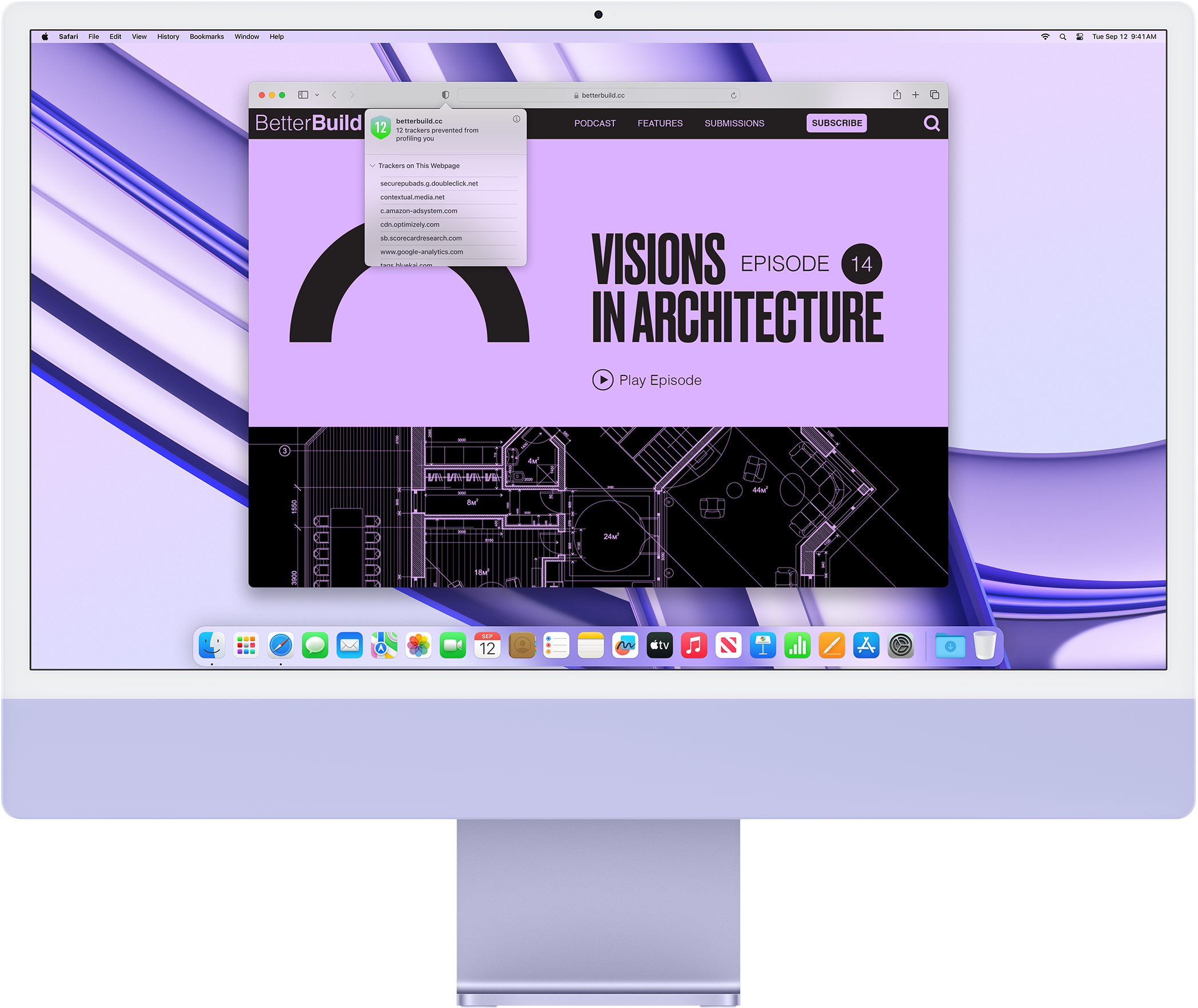 Intelligent Tracking Prevention

Safari stops trackers in their tracks.
What you browse is no one's business but your own. Safari has built‑in protections to help stop websites and data-collection companies from watching and profiling you based on your browsing activity. Intelligent Tracking Prevention uses on‑device intelligence to help prevent cross‑site tracking and stops known trackers from using your IP address — making it incredibly difficult to learn who you are and what you're interested in.
Privacy Report
Safari makes it simple to see how your privacy is protected on all the websites you visit. Click Privacy Report in the Safari menu for a snapshot of cross-site trackers currently prevented from profiling you on the website you're visiting. Or view a weekly Privacy Report to see how Safari protects you as you browse over time.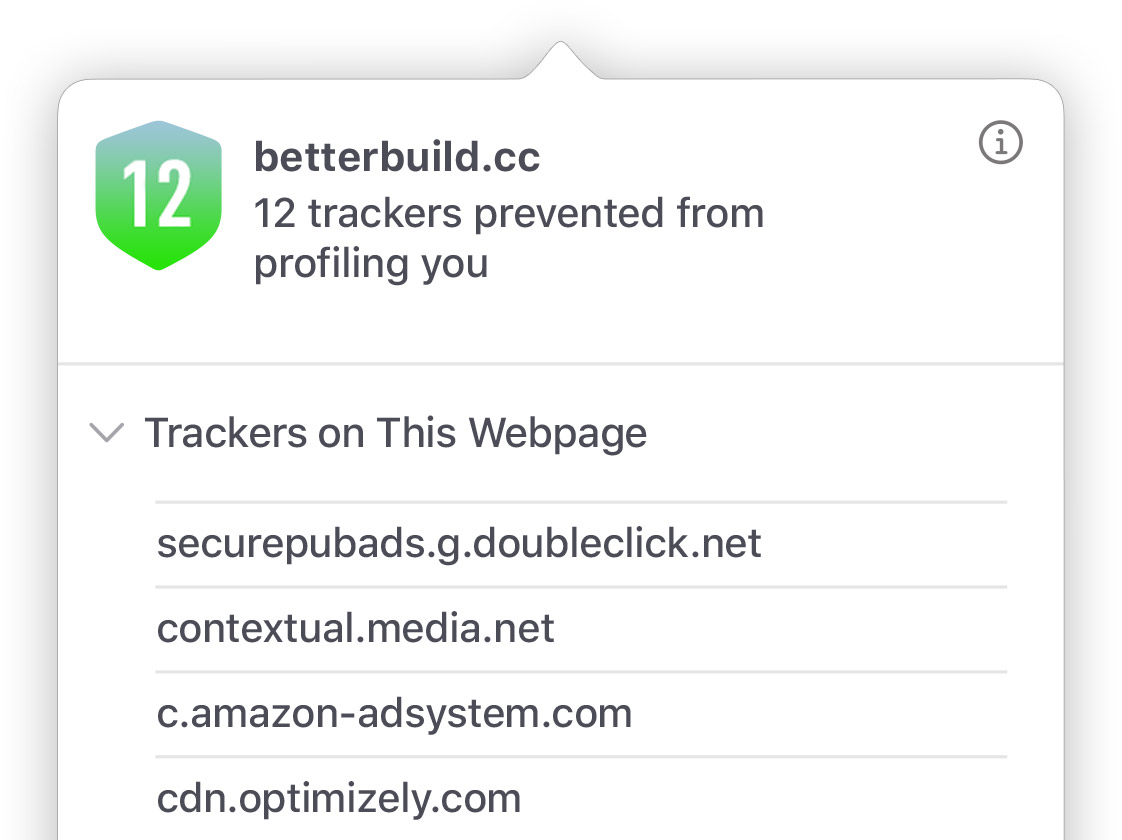 Customization
Putting the you in url..
Safari is more customizable than ever. Organize your tabs into Tab Groups so it's easy to go from one interest to the next. Set a custom background image and fine-tune your browser window with your favorite features — like Reading List, Favorites, iCloud Tabs, and Siri Suggestions. And third-party extensions for iPhone, iPad, and Mac let you do even more with Safari, so you can browse the way you want across all your devices.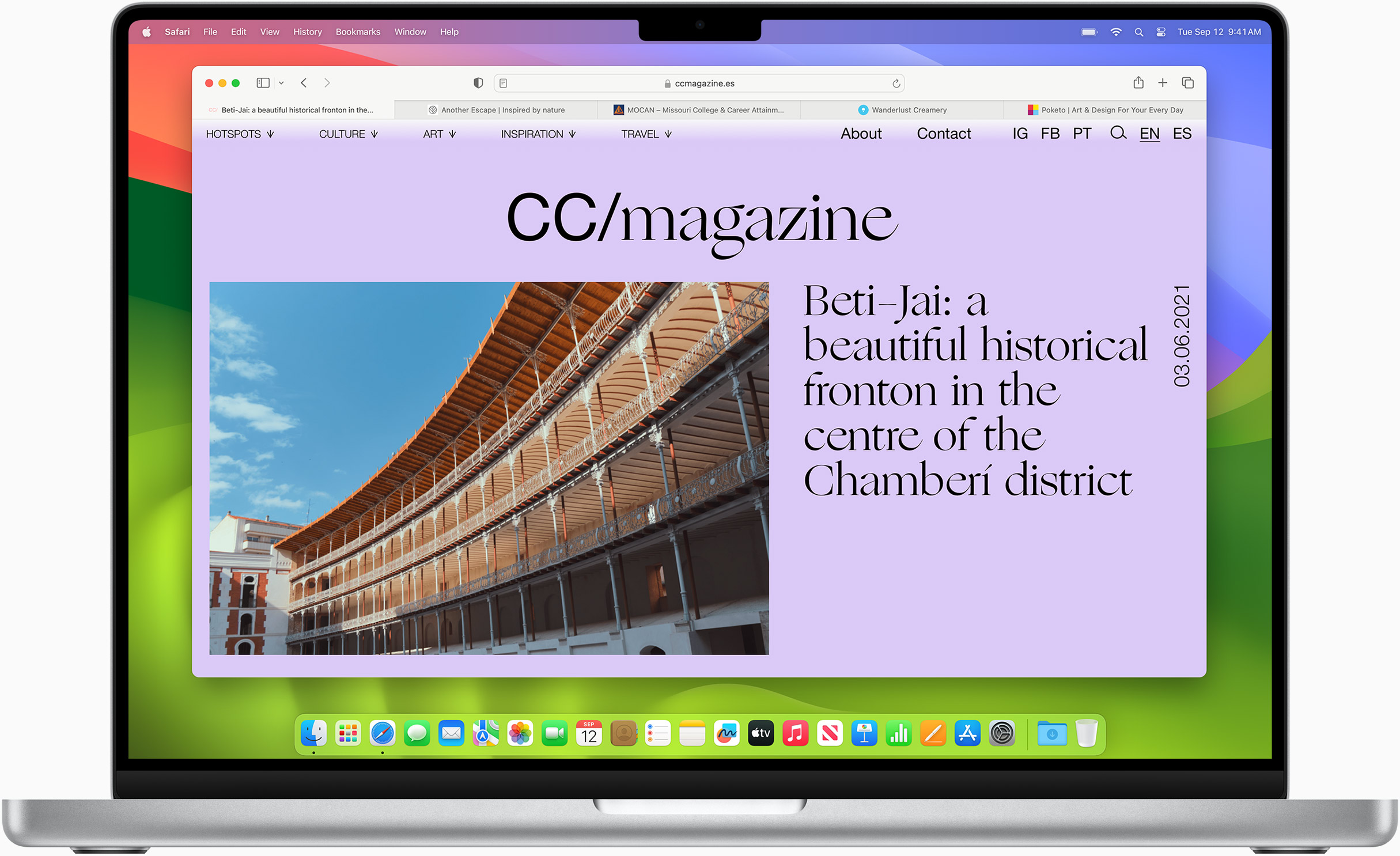 Safari Profiles allow you to separate your history, extensions, Tab Groups, favorites, cookies, and more. Quickly switch between profiles for topics you create, like Personal and Work.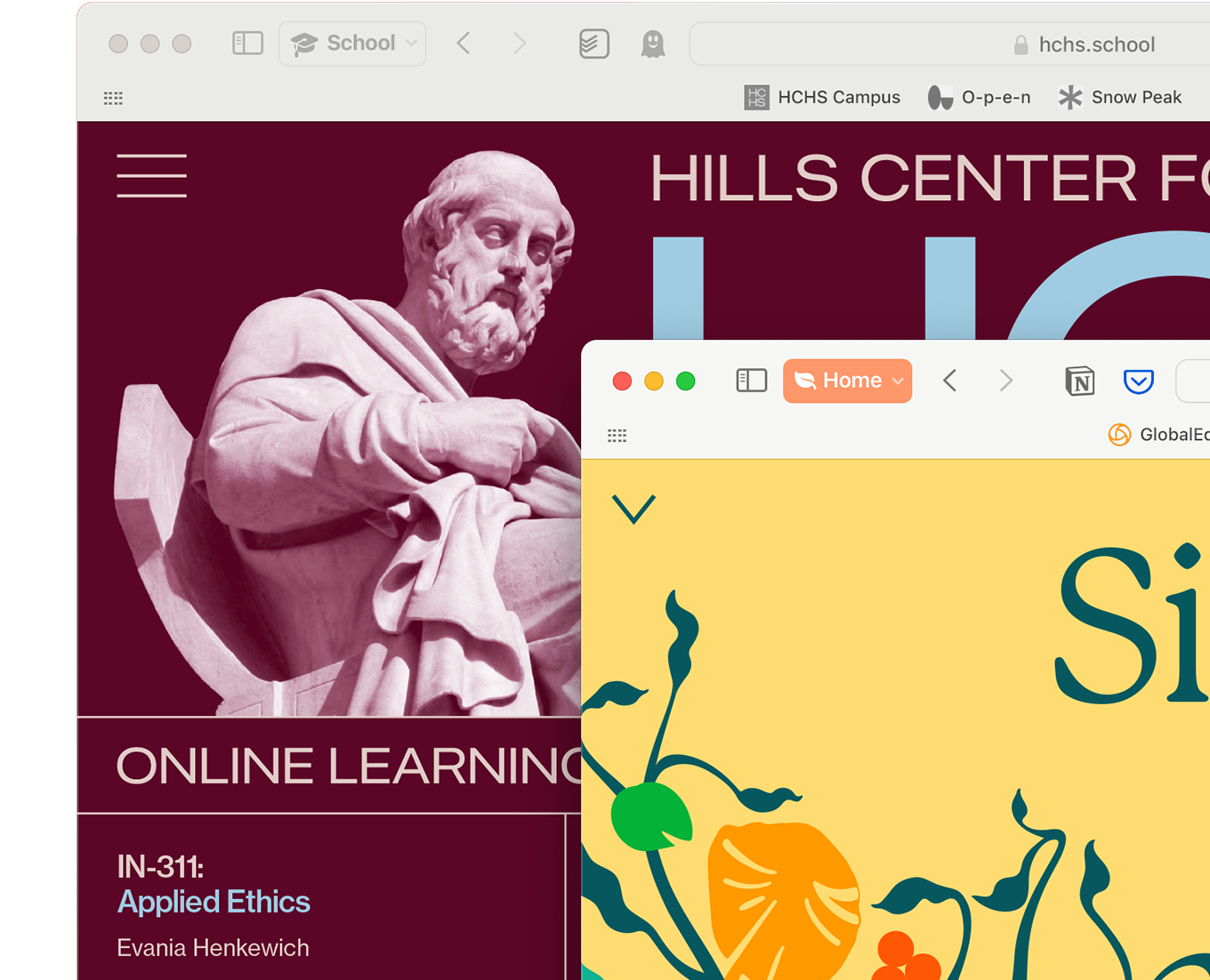 Web apps let you save your favorite websites to the Dock on Mac and to the Home Screen on iPhone and iPad. A simplified toolbar and separate settings give you an app-like experience.
Safari Extensions add functionality to your browser to help you explore the web the way you want. Find and add your favorite extensions in the dedicated Safari category on the App Store.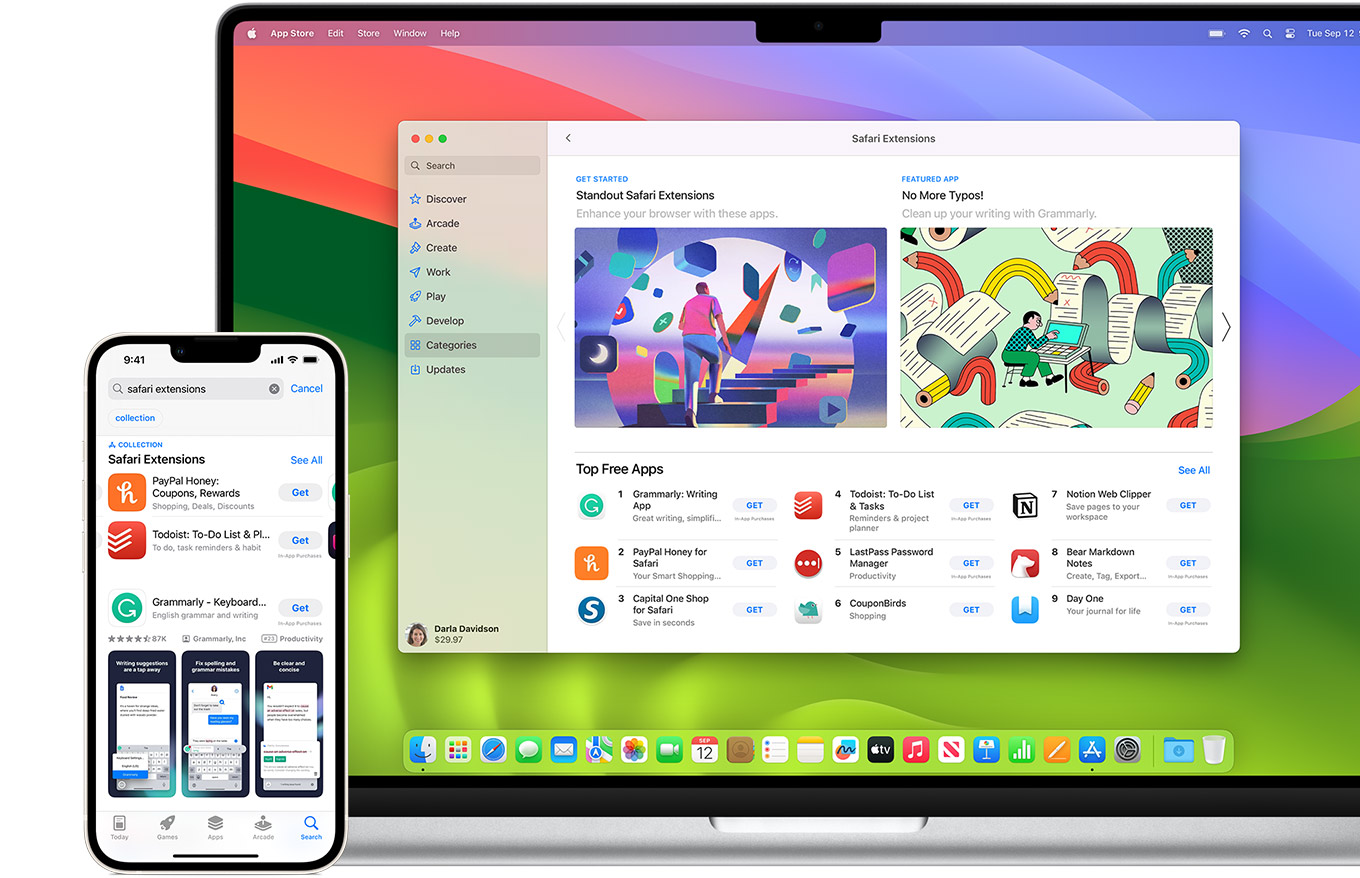 Save and organize your tabs in the way that works best for you. Name your Tab Groups, edit them, and switch among them across devices. You can also share Tab Groups — making planning your next family trip or group project easier and more collaborative.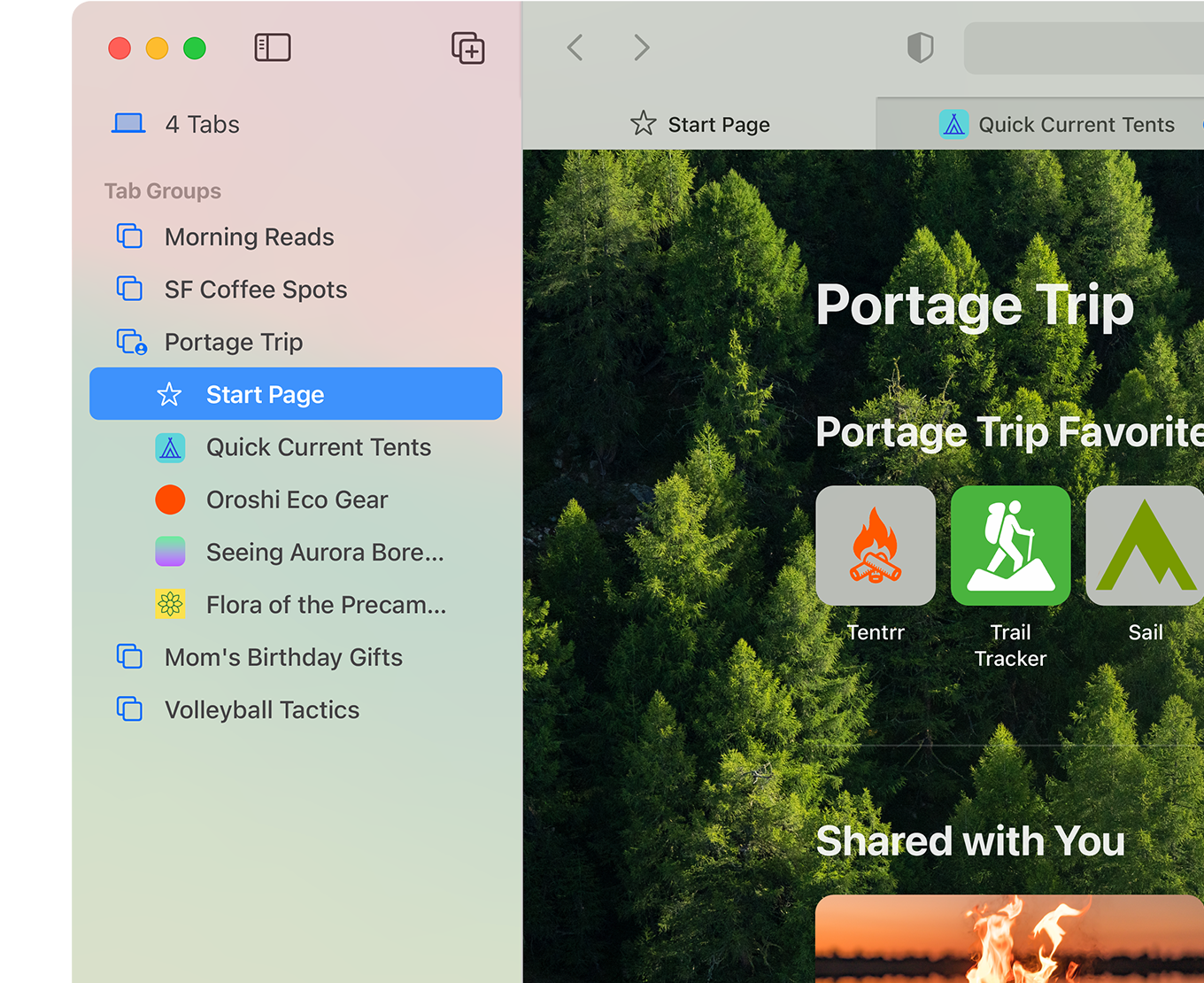 Smart Tools
Designed to help your work flow..
Built-in tools create a browsing experience that's far more immersive, intuitive, and immediate. Get detailed information about a subject in a photo with just a click, select text within any image, instantly translate an entire web page, and quickly take notes wherever you are on a site — without having to switch apps.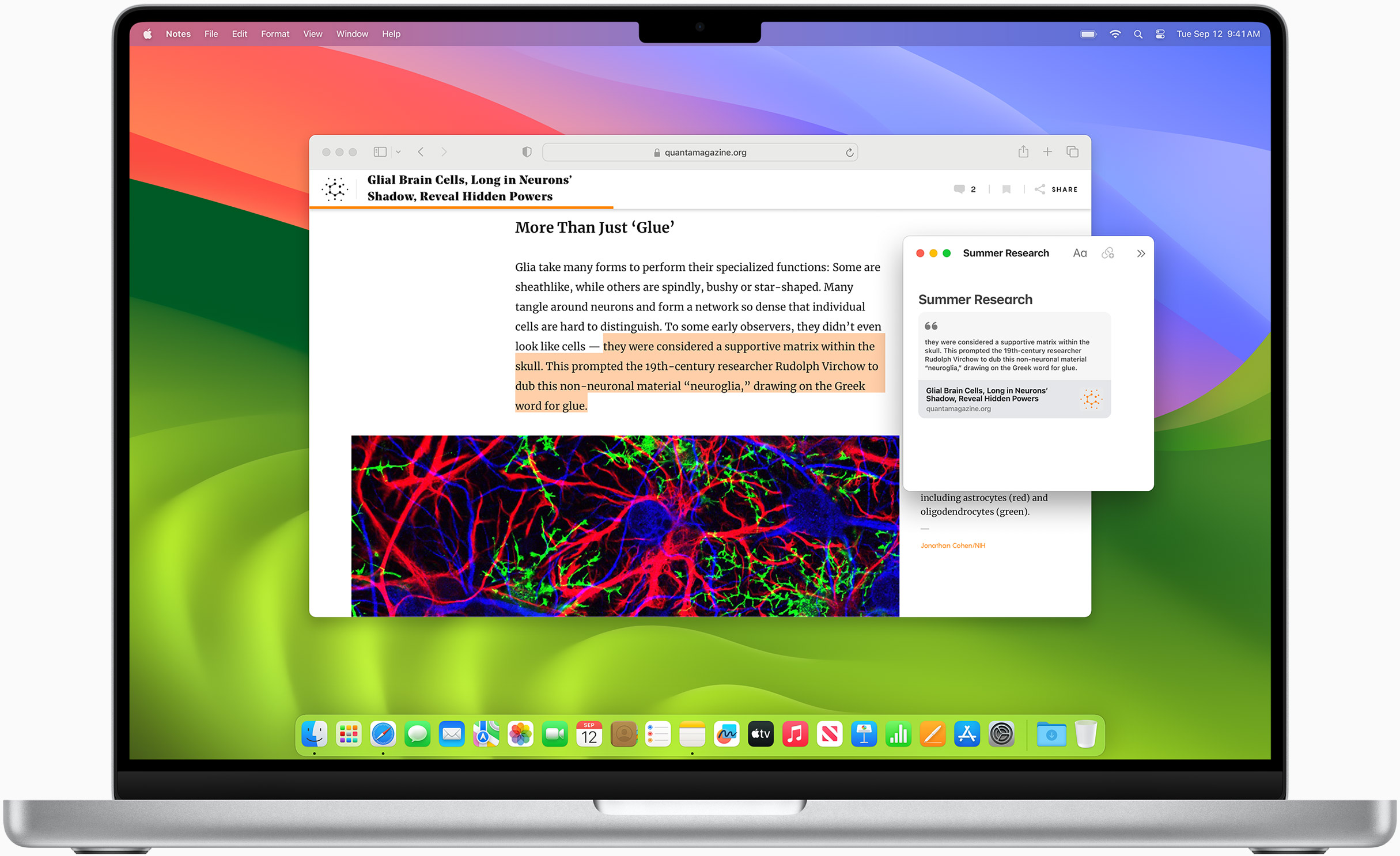 Notes is your go-to app to capture any thought. And with the Quick Note feature, you can instantly jot down ideas as you browse websites without having to leave Safari.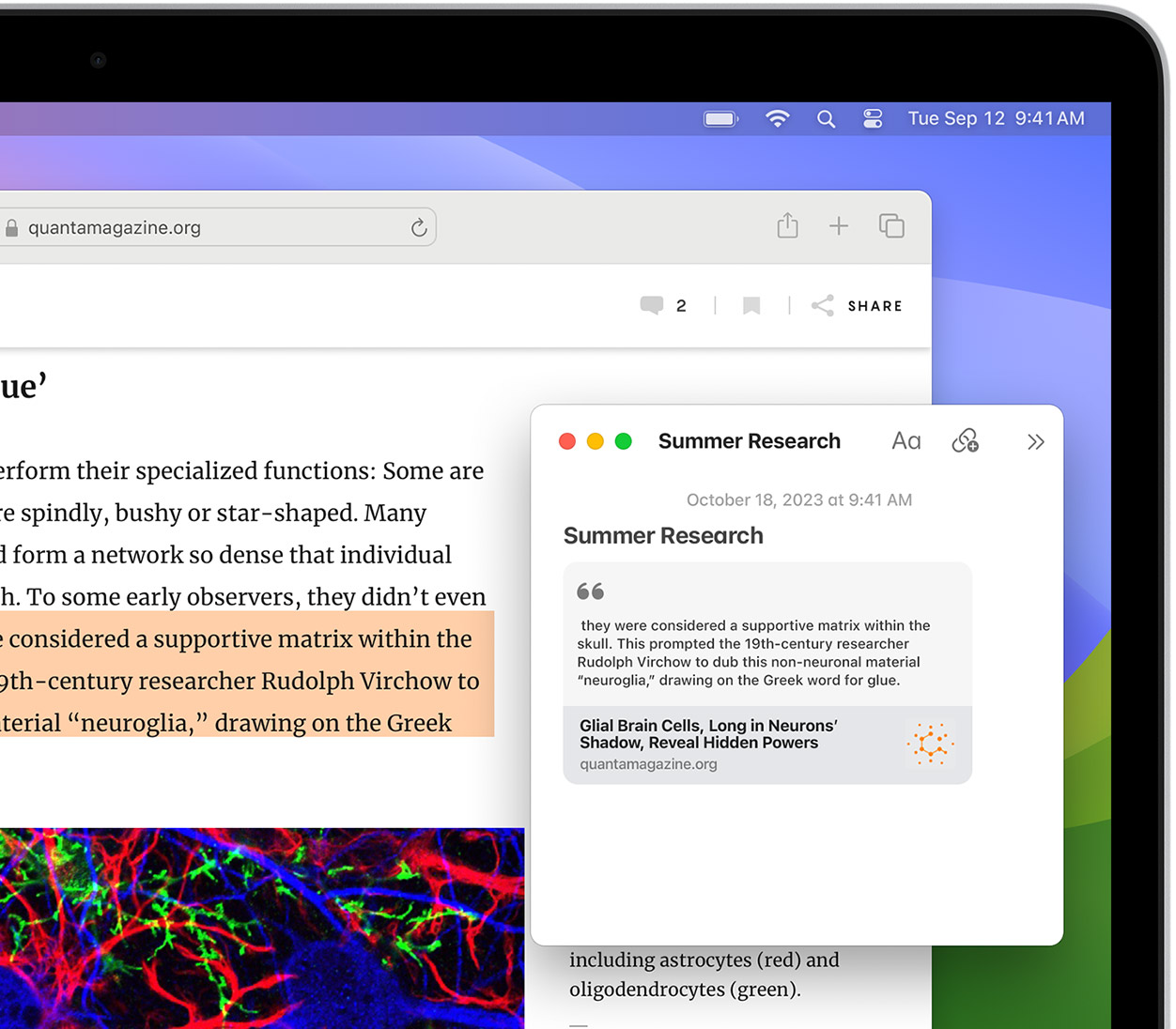 Translation
Translate entire web pages with a single click. You can also get translations for text in images and paused video without leaving Safari.
Interact with text in any image or paused video on the web using functions like copy and paste, translate, and lookup. 6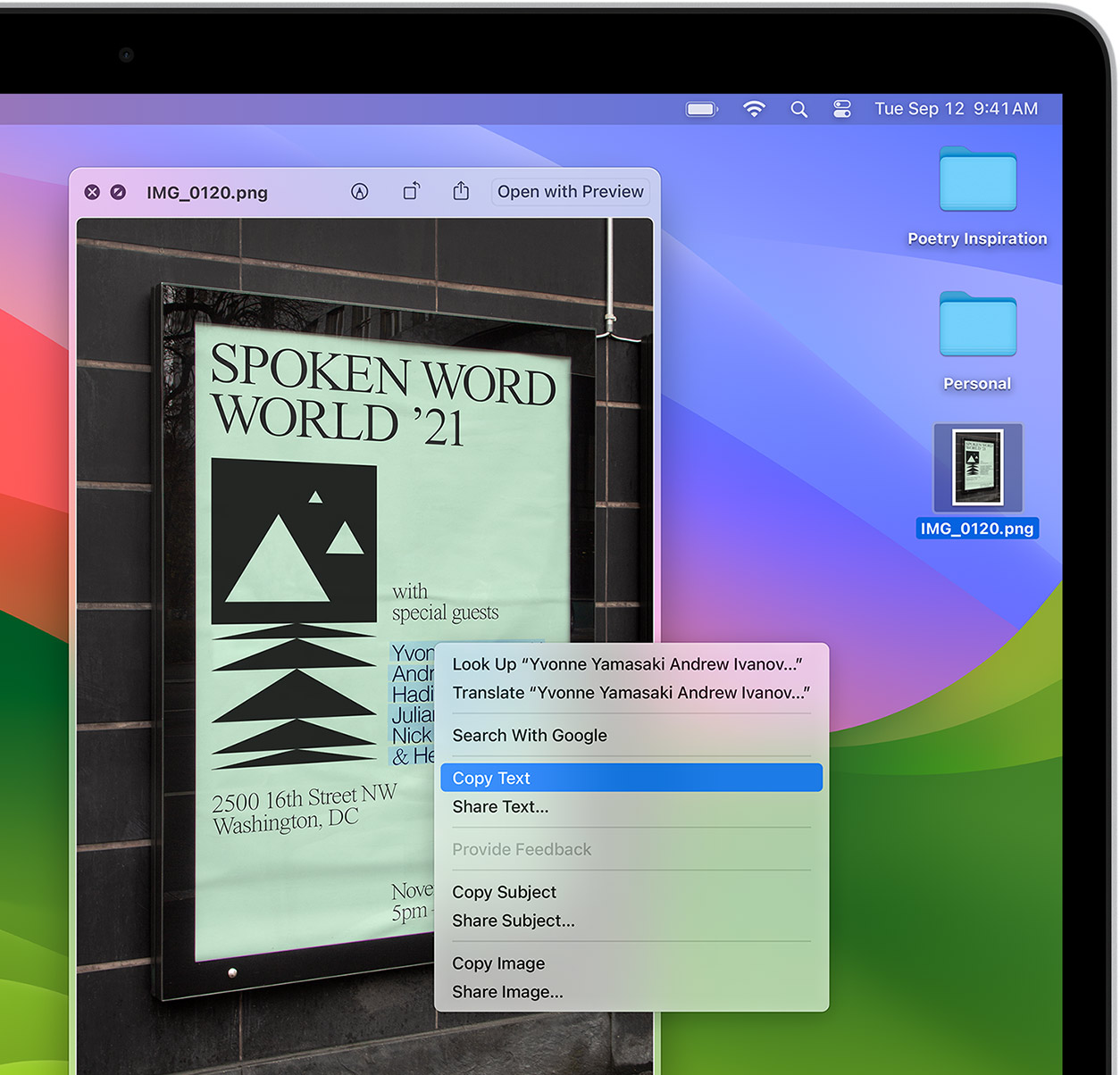 Visual Look Up
Quickly learn more about landmarks, works of art, breeds of dogs, and more with only a photo or an image you find online. And easily lift the subject of an image from Safari, remove its background, and paste it into Messages, Notes, or other apps.
Surf safe and sound.
Strong security protections in Safari help keep you safe. Passkeys introduce a safer way to sign in. iCloud Keychain securely stores and autofills passkeys and passwords across all your devices. Safari also notifies you when it encounters suspicious websites and prevents them from loading. Because it loads each web page in a separate process, any harmful code is always confined to a single browser tab so it won't crash the entire application or access your data. And Safari automatically upgrades sites from HTTP to the more secure HTTPS when available.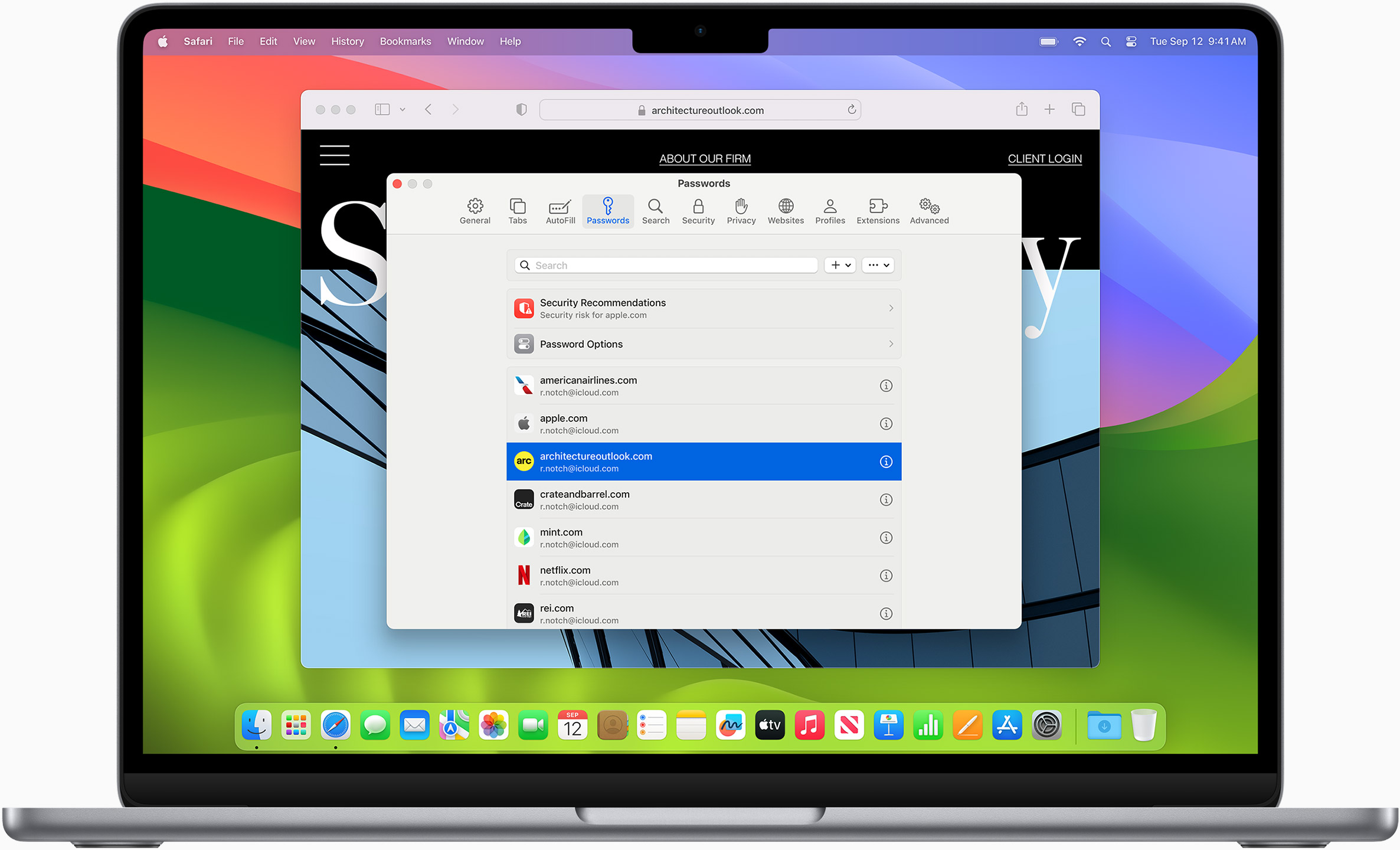 Passkeys introduce a more secure and easier way to sign in. No passwords required.
Passkeys are end-to-end encrypted and safe from phishing and data leaks, and they are stronger than all common two-factor authentication types. Thanks to iCloud Keychain, they work across all your Apple devices, and they even work on non-Apple devices.
Learn more about passkeys

Apple Pay and Wallet make checkout as easy as lifting a finger.
Apple Pay is the easiest and most secure way to shop on Safari — allowing you to complete transactions with Face ID or Touch ID on your iPhone or iPad, with Touch ID on your MacBook Pro or MacBook Air, or by double-clicking the side button on your Apple Watch.
Learn more about Apple Pay
With AutoFill, you can easily fill in your previously saved credit card information from the Wallet app during checkout. Your credit card details are never shared, and your transactions are protected with industry-leading security.
Same Safari. Different device.
Safari works seamlessly and syncs your passwords, bookmarks, history, tabs, and more across Mac, iPad, iPhone, and Apple Watch. And when your Mac, iOS, or iPadOS devices are near each other, they can automatically pass what you're doing in Safari from one device to another using Handoff. You can even copy images, video, or text from Safari on your iPhone or iPad, then paste into another app on your nearby Mac — or vice versa.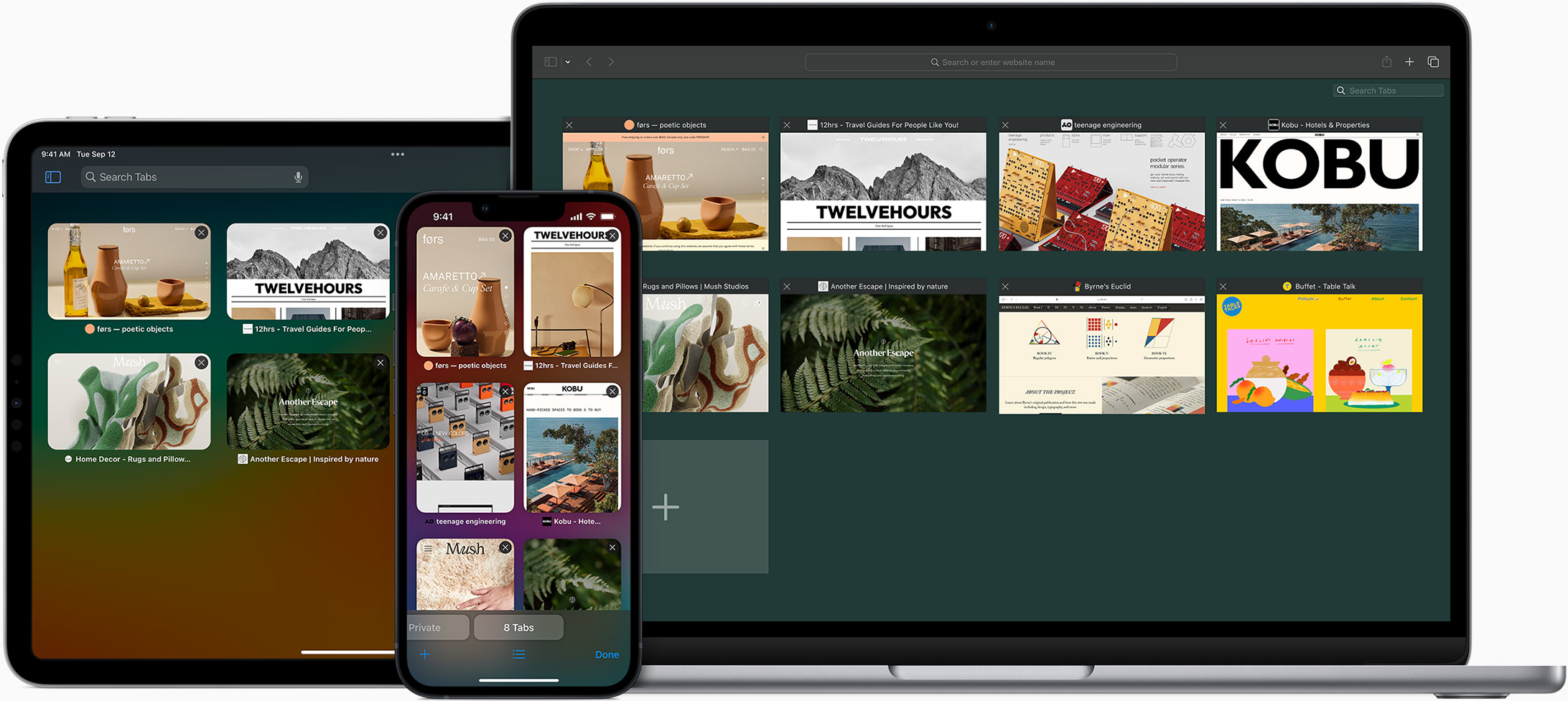 When you use Safari on multiple devices, your tabs carry over from one Apple device to another. So you can search, shop, work, or browse on your iPhone, then switch to your iPad or Mac and pick up right where you left off.
Save web pages you want to read later by adding them to your Reading List. Then view them on any of your iCloud-connected devices — even if you're not connected to the internet.
iCloud Keychain securely stores your user names, passkeys, passwords, and credit card numbers and keeps them up to date on your trusted devices. So you can easily sign in to your favorite websites — as well as apps on iOS and iPadOS — and quickly make online purchases.
Designed for developers.
Deep WebKit integration between Mac hardware and macOS allows Safari to deliver the fastest performance and the longest battery life of any browser on the platform, while supporting modern web standards for rich experiences in the browser. WebKit in macOS Sonoma includes optimizations that enable even richer browsing experiences, and give developers more control over styling and layout — allowing for more engaging content.
Make Safari your default browser
Customize your start page, view your browsing privacy report, monitor your saved passwords, use apple pay in safari, view your tabs across all your devices, read the safari user guide, get safari support.
eBook DRM Removal
Safari online downloader.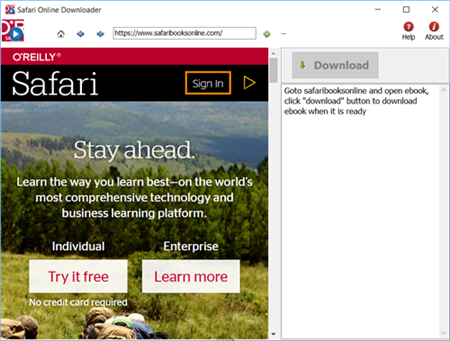 new version 1.23.10820 released.
How to Download Safari Online ebook?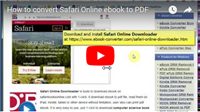 1). Download and install Safari Online Downloader , it run like a browser, user sign in safari online in webpage, find book to download and open it.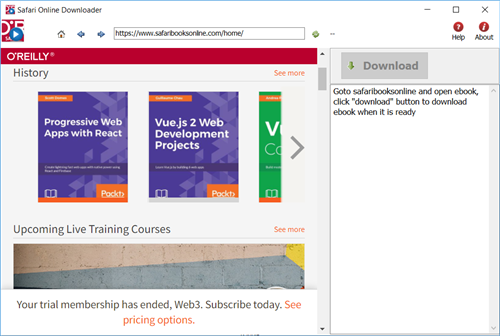 2). User open book in downloader, wait until "Download" button is ready, click download button to download ebook, it takes a while.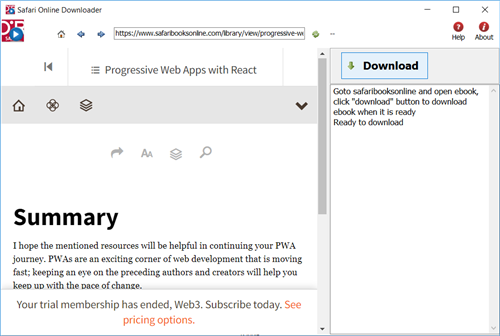 3). Downloader go through all book pages , it takes a while.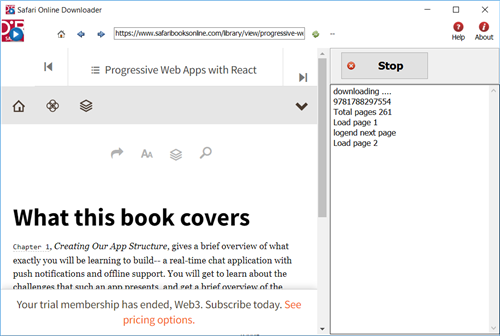 4). new PDF file created when finished, it saved in My document folder, "doc\ebook converter\safari online downloader\" .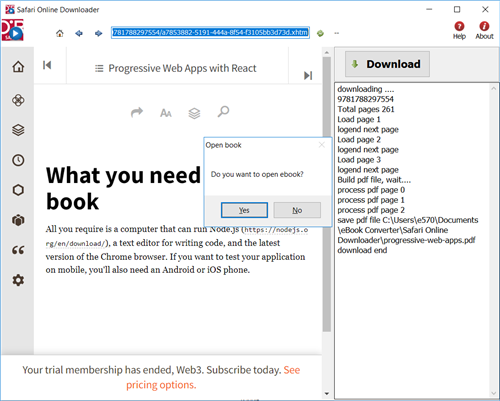 Hands-On Machine Learning with Scikit-Learn and TensorFlow
Related Articles
Remove DRM from Kindle Paperwhite
Thai E-book Provider Ookbee
ePub to Kindle – Read DRM ePub in Kindle reader
How to get read DRM ePub in iPad?
How To Remove DRM from Kindle eBooks
Allumer l'Enlèvement de DRM
How to read public library books on iPad?
Read Barnes & Noble ebook in Kindle
How to read public library ebook on Android tablet/phone ?
Remove DRM from iBook purchased?
How to Download Kobo eBooks And Strip the DRM ?
How to download Wattpad story to PDF?
How to convert .vbk file to PDF file ?
Node.js Design Patterns – Second Edition – pdf download
Convert DRM epub to PDF iPad?
How to convert .kfx to PDF/ePub/RTF/TXT format?
How to remove NOOK DRM from Barnes Noble ebook?
Deep Learning with Keras – pdf download
How to read Google Play ebook on iPad
How to read Kobo ebook in iPad/iphone
Universal Licens for Subscription
eBook Converter Bundle
Kindle Converter
ePub Converter
eBook Converter Bundle Mac
Kindle Converter Mac
ePub Converter Mac
eBook DRM Removal Bundle
ePub DRM Removal
PDF ePub DRM Removal
Digital Editions Converter
Kindle DRM Removal
Audible DRM Converter
Kobo Converter
PDB DRM Removal
PDF ePub DRM Removal Mac
ePub DRM Removal Mac
Kindle DRM Removal MAC
Kindle to PDF
VitalSource Downloader
Chegg Downloader
iBook Converter
Oreilly Downloader
Safari Downloader
Kortext Downloader
HathiTrust Downloader
NOOK Downloader
VitalSource Converter
PDF Reader Converter
ProQuest Downloader
Archive Downloader
Wattpad Downloader
Cloudlibrary Downloader
Overdrive Downloader
Google Books Download
Copyright © 2023 Copyright All Rights Reserved.
Screenshots
Description.
Explore the web with lightning-fast speed, powerful privacy protections and robust customization options. With Safari you can browse sites, translate web pages, and access your tabs across iOS, iPadOS, and macOS. Features • Passwords, bookmarks, history, tabs and more seamlessly sync across iPhone, iPad and Mac • Private Browsing mode doesn't save your history and keeps your browsing your business • Intelligent Tracking Prevention prevents trackers from following you across websites you visit • Tab Groups let you save and organize your tabs and access them across iOS, iPadOS and macOS • Profiles help keep your browsing history, website data, and more separate between topics like work and personal • Shared Tab Groups help you share tabs and collaborate with family and friends • Extensions allow you to personalize Safari and add even more functionality to the browser • Reader formats articles for easy reading without ads, navigation, or other distracting items • Privacy Report shows known trackers that have been blocked from tracking you • Reading List easily saves articles for you to read later • Voice Search lets you search the web using just your voice • Web page translation converts entire webpages into other languages right in the browser • Handoff effortlessly passes what you're doing in Safari from one device to another • Add to Home Screen allows you to quickly launch a website or web app from your Home Screen
Ratings and Reviews
35.6K Ratings
This new layout is better IMO, but there are a few other problems that kinda bug me
Unpopular opinion, but this new layout is better. I don't even remember the old layout since I'm not even a long-time iOS user (this is my first iPhone). I looked up the old layout or the "cascade" layout and it looks more painful to me than the new one. By the looks of it, it's definitely easier to miss a tab you're looking for in the older version, and then you will have to spend like 10 more minutes scrolling to find the tab you're looking for. Sure, it may be "faster", but it's definitely harder to find the certain tab you're looking for if most of the tabs are only viewable by a little area at the top. This app is mostly fine except for a few problems I get from time to time. Today I'm having a problem where I was trying to look at some Google images and then I tried to look at more but it was just stuck on loading. It wouldn't even finish loading. This happened only on like 2 searches thankfully though. I'd probably give it a 95% since it has some minor lags and problems.
Your Underrated Prince, Safari
In my humble opinion, Safari is the underrated king among multiple web browsers on the market. I was a PC devotee from '95 to '16, since then, it's been all Tim Cook 🍎 all the time. My only regret is not purchasing a smartphone back in '07 from Steve Jobs. Presently, I own an iPhone 6s Plus in rose gold (2016), iPad Mini (2016), iPad Pro (2019) & MacBook (2018) in rose gold with matching Beats By Dre headphones. All four are set up with Safari, not Chrome, TOR, Brave, Edge, or DDGo. I love the ability to quickly save favorites, add to reading list & share content to other platforms. My favorites are alphabetized for quick reference & the reading list keeps all articles & pages in chronological order for quick recall. Also, I learned Safari quickly because it's extremely user friendly. The browser helped my navigation of Apple when switching from PC. I'll admit, learning MacBook isn't easy, but, Safari keeps things familiar for me on the desktop. When lost, just go back to Safari & start over. It's surprising no one in tech media mentions Safari more often as a go to source for navigating the internet. Chrome is the reigning king of, Land Of Browsers, without an heir apparent. I nominate Safari as the prince with future king potential. Citizens of Land Of Browsers don't like their chrome-plated dirty laundry aired, sold or tracked.
I have been using this for years and had no problems with it. I ran over my phone with my lawn mower and was without my phone for over a year due to having to fight with the insurance company. However when I finally got a lawyer involved the insurance company finally replaced it for me. I DID not lose anything and I mean anything. I like the cards better because they are easier to clear out. You have to back everything up to your cloud every day or every other day so that you don't have to worry about losing anything. As I always make sure that I back everything up just in case. It is not apples fault if you lose your any of your information it is yours for not backing up your phone to your cloud. So most of the people who write bad reviews either don't back up or they just don't or they just don't care. Apple doesn't charge a lot to add more space to your cloud so there is no reason why you can't back you things. This is better than anything that google has. By far. If you want your information used by third parties then use google's and quit complaining. You can change your browser in safari so that you don't have to use them get with it you bad reviews and learn how to use safari.
App Privacy
The developer, Apple , indicated that the app's privacy practices may include handling of data as described below. For more information, see the developer's privacy policy .
Data Linked to You
The following data may be collected and linked to your identity:
Data Not Linked to You
The following data may be collected but it is not linked to your identity:
Browsing History
Diagnostics
Privacy practices may vary, for example, based on the features you use or your age. Learn More
Information
English, Arabic, Catalan, Croatian, Czech, Danish, Dutch, Finnish, French, German, Greek, Hebrew, Hindi, Hungarian, Indonesian, Italian, Japanese, Korean, Malay, Norwegian Bokmål, Polish, Portuguese, Romanian, Russian, Simplified Chinese, Slovak, Spanish, Swedish, Thai, Traditional Chinese, Turkish, Ukrainian, Vietnamese
Developer Website
App Support
Privacy Policy
More By This Developer
Apple Books
Apple Podcasts
Find My Friends
Shazam: Music Discovery
You Might Also Like
Private Browsing Web Browser
Total Adblock - Ad Blocker
Opera Browser with VPN and AI
Firefox: Private, Safe Browser
Firefox Focus: Privacy browser
Advertisement
Safari Books Download for Google Chrome
Softonic review
A free app for Chrome, by chenditc.
About safari books download for chrome.
This app has been published on Softonic on September 8th, 2023 and we have not had the chance to check it yet.
We encourage you to try it and leave us a comment or value it on our website. This will help a lot the rest of our users!
The OS requirements of Safari Books Download are not available at this time. The current version of the app is 1.5.1.
User reviews about Safari Books Download
Have you tried Safari Books Download? Be the first to leave your opinion!
Related Articles
A deep dive into the Bard YouTube Extension experience
Why you should watch Monarch: the Legacy of the Monsters, the Apple TV+ series about Godzilla
An advertisement for Assassin's Creed… inside an Assassin's Creed game
Party Up Pokemon Go rewards and more
Breaking news.
The new iPhone 15 features support for Thread: what does it mean for our smart homes?
NASA just released the picture of a baby star, and it's the most impressive thing you'll see today
The Burning Body: What is the real story behind the Netflix series?
The 3 keys to the Razer Viper V3 HyperSpeed
When does Berlin, the Money Heist spin-off, come out? We have a Netflix release date
When will macOS Sonoma be released: earlier than expected
Laws concerning the use of this software vary from country to country. We do not encourage or condone the use of this program if it is in violation of these laws.
In Softonic we scan all the files hosted on our platform to assess and avoid any potential harm for your device. Our team performs checks each time a new file is uploaded and periodically reviews files to confirm or update their status. This comprehensive process allows us to set a status for any downloadable file as follows:
It's extremely likely that this software program is clean.
What does this mean?
We have scanned the file and URLs associated with this software program in more than 50 of the world's leading antivirus services; no possible threat has been detected.
This software program is potentially malicious or may contain unwanted bundled software.
Why is the software program still available?
Based on our scan system, we have determined that these flags are possibly false positives .
What is a false positive?
It means a benign program is wrongfully flagged as malicious due to an overly broad detection signature or algorithm used in an antivirus program.
It's highly probable this software program is malicious or contains unwanted bundled software.
Why is this software program no longer available in our Catalog?
Based on our scan system, we have determined that these flags are likely to be real positives.
Your review for Safari Books Download
Thank you for rating!
What do you think about Safari Books Download? Do you recommend it? Why?
OOPS! This is embarrassing...
Something's gone terribly wrong. Try this instead
We will keep fighting for all libraries - stand with us!
Internet Archive Audio
This Just In
Grateful Dead
Old Time Radio
78 RPMs and Cylinder Recordings
Audio Books & Poetry
Computers, Technology and Science
Music, Arts & Culture
News & Public Affairs
Spirituality & Religion
Radio News Archive
Flickr Commons
Occupy Wall Street Flickr
NASA Images
Solar System Collection
Ames Research Center
All Software
Old School Emulation
MS-DOS Games
Historical Software
Classic PC Games
Software Library
Kodi Archive and Support File
Vintage Software
CD-ROM Software
CD-ROM Software Library
Software Sites
Tucows Software Library
Shareware CD-ROMs
Software Capsules Compilation
CD-ROM Images
ZX Spectrum
DOOM Level CD
Smithsonian Libraries
FEDLINK (US)
Lincoln Collection
American Libraries
Canadian Libraries
Universal Library
Project Gutenberg
Children's Library
Biodiversity Heritage Library
Books by Language
Additional Collections
Prelinger Archives
Democracy Now!
Occupy Wall Street
TV NSA Clip Library
Animation & Cartoons
Arts & Music
Computers & Technology
Cultural & Academic Films
Ephemeral Films
Sports Videos
Videogame Videos
Youth Media
Search the history of over 867 billion web pages on the Internet.
Mobile Apps
Wayback Machine (iOS)
Wayback Machine (Android)
Browser Extensions
Archive-it subscription.
Explore the Collections
Build Collections
Save Page Now
Capture a web page as it appears now for use as a trusted citation in the future.
Please enter a valid web address
Donate Donate icon An illustration of a heart shape
Kwon The Don - Safari-ep (DatPiff.com)
Audio item preview.
Share or Embed This Item
Flag this item for.
Graphic Violence
Explicit Sexual Content
Hate Speech
Misinformation/Disinformation
Marketing/Phishing/Advertising
Misleading/Inaccurate/Missing Metadata
plus-circle Add Review comment Reviews
Download options, in collections.
Uploaded by DATPIFF Archive on November 20, 2023
SIMILAR ITEMS (based on metadata)
Learning Java, 4th Edition by Patrick Niemeyer, Daniel Leuck
Get full access to Learning Java, 4th Edition and 60K+ other titles, with a free 10-day trial of O'Reilly.
There are also live events, courses curated by job role, and more.
Safari® Books Online
Safari Books Online ( www.safaribooksonline.com ) is an on-demand digital library that delivers expert content in both book and video form from the world's leading authors in technology and business.
Technology professionals, software developers, web designers, and business and creative professionals use Safari Books Online as their primary resource for research, problem solving, learning, and certification training.
Safari Books Online offers a range of product mixes and pricing programs for organizations , government agencies , and individuals . Subscribers have access to thousands of books, training videos, and prepublication manuscripts in one fully searchable database from publishers like O'Reilly Media, Prentice Hall Professional, Addison-Wesley Professional, Microsoft Press, Sams, Que, Peachpit Press, Focal Press, Cisco Press, John Wiley & Sons, Syngress, Morgan Kaufmann, IBM Redbooks, Packt, Adobe Press, FT Press, Apress, Manning, New Riders, McGraw-Hill, Jones & Bartlett, Course Technology, and dozens more . For more information about Safari Books Online, please visit us online .
Get Learning Java, 4th Edition now with the O'Reilly learning platform.
O'Reilly members experience books, live events, courses curated by job role, and more from O'Reilly and nearly 200 top publishers.
Don't leave empty-handed
Get Mark Richards's Software Architecture Patterns ebook to better understand how to design components—and how they should interact.
It's yours, free.
Check it out now on O'Reilly
Dive in for free with a 10-day trial of the O'Reilly learning platform—then explore all the other resources our members count on to build skills and solve problems every day.
My O'Reilly Downloader