Our Recent Work
Migration & Design System implementation for Stanford Graduate School of Business
How to Create a Connected HCP Customer Journey
Customer behavior has changed significantly. The micro-moments that drive preference and decision-making have the most impact on a customer journey. Businesses try to make the best use of these micro-moments by focusing on digital customer experiences.
Can the pharma industry also adopt the B2B customer journey that has proved efficient for other industries like retail?
Can pharma create connected HCP customer journeys and deliver exceptional experiences?
The marketing landscape is constantly fragmenting itself, from influencers to micro-influencers and market segments to micro segments. The target consumers refuse to be treated like fragments and instead prefer to be treated as individuals.  Google reports  that 69% of online consumers agree that the timing, quality, and relevance of a brand message influence their decision-making process.
Healthcare professionals are no less and expect the same level of personalization in their customer experience journeys. Modern HCPs prefer digital modes of interaction, especially after the pandemic. HCP engagement is no longer optional, it is a necessity for pharmaceutical companies. 
Evolving HCP engagement landscape
The internet and emerging technologies have empowered HCPs to access crucial and relevant medical information on multiple channels. Traditional digital channels no longer work effectively. Marketing and content are evolving day by day. Starting from engaging with HCPs on a single channel to multiple channels, then omnichannel, and now channel-less, digital experiences have come a long way.
An omnichannel strategy focuses on connecting as many channels as possible whereas a channel-less strategy focuses on the experience delivered on any channel. This progress works in tandem with the preferences of HCPs. The kind of medical information HCPs require has not changed but the timing, format, and delivery of such information have changed.
HCPs require a pharma company that provides them with relevant, authenticated, and curated medical content. The new generation of time-constrained HCPs does not have time to gather and consume copious amounts of information. They want relevant and useful content that they can consume at the right time. When it comes to effective HCP engagement, the when, where, and how matter significantly. And these essential facets are the main pillars of a connected HCP customer journey. 
Why create HCP customer journeys
The pharma industry has a direct relationship with HCPs, not the patients, and yet it plays an important role in the HCP decision-making process that impacts patients directly. A customer journey will help pharma clarify the interplay between its customers, the HCPs, and their customers, the patients. It will also align the latest customer needs with customer behavior and emerging technologies.
A customer journey also enables pharma companies to keep up with the latest developments in the industry that is evolving rapidly. Pharma companies can curate effective marketing communications targeted at a relevant audience and reduce the high costs that come with poorly targeted marketing. To sum up, a customer journey provides insight into HCP behavior and needs and empowers pharma companies to prepare themselves to fulfill those needs most effectively.
Leverage content, data, and technology
The content still matters the most. What is required is content that engages HCPs meaningfully with deep educational information. HCPs desire curated medical information to understand new treatments and make better therapeutic and diagnostic decisions.
A content strategy should be a part of an HCP customer journey. All of the following will help pharma to leverage content in delivering better HCP engagement.
Personalized and high-quality content
Content library to engage across the whole journey
Interactive content for multi-touch experiences
Relevant information to cut through the clutter
Medical topics tailored to HCP's personas
Content in bite-sized, downloadable, and animated format
Rich facts, stats, and evidence for products  
Pharma companies have large volumes of data at their fingertips that can be used efficiently. Sales-based data helps to identify the sales potential of HCPs, such as the level of decision-making or the annual number of prescriptions. Behavior-based data provides insights into the differences between HCPs in their beliefs, prescription habits, or scientific appetite. Data based on content and channel preferences yield results on the level of engagement, popular channels, and modes of engagement.
A data management strategy coupled with predictive and visual analytics will help pharma companies to chart an HCP customer journey based on the insights. The following steps help to include data-driven insights in an HCP customer journey.
Identifying rich data sources
Assessing data quality and addressing data gaps
Sourcing additional data if required
Centralizing HCP customer data
Connecting data from across the organization
Identifying tools and capabilities required to process data
Defining audience segments from current data insights
Creating HCP customer personas
Personalize content as per customer personas  
Choosing the right technology depends on two main verticals: content and channel. Content as considered above is the information and messaging delivered to HCPs, and channel means the technology that is currently used to deliver the content. Technology in an HCP customer journey needs to fulfill the following engagement criteria:
Seamless and intuitive engagement across omnichannel
Recognition of internal and external user workflows
Optimized user experiences tailored to HCP interests  
In the past pharma companies have used descriptive analytics to launch traditional business models for communication and engagement. Today, technology has increasingly progressed towards sophisticated analytics that is powered by Artificial Intelligence and Machine Learning. Predictive, visual, and prescriptive analytics transform communication strategies to deliver meaningful interaction with HCPs.
Technology should be an essential part of business strategy for pharma companies. Some capabilities that pharma requires for elevating HCP engagement are:
A 360° view of HCPs and their customer journeys
Integrating marketing automation tools with CRM systems
Aggregating real-time insights across all digital channels
Real-time engagement through social media
Insights to identify the right mix of channels for each HCP
An ideal blend of digital and in-person channels  
Creating quality experiences for HCPs
HCPs will appreciate and engage fully only if pharma companies deliver quality experiences. Such experiences can transform HCPs into loyal customers who will continue to engage with pharma more in the future. While there is no one-size-fits-all experience, pharma companies can succeed if they consistently fulfill the below criteria in their HCP customer journey.  
Relevant:  Interactions must be truly helpful and make the best use of an HCP's time.
Consumable:  Content must be conveniently digestible to an HCP
Accessible:  HCPs should be able to access the required support on their own terms.
Connective:  HCPs should be able to connect with like-minded peers to share knowledge and insights.
Purposeful:  Any HCP interaction or content must authentically add to the purpose of helping patients.
Successful HCP customer journeys
QED42  has been working with multiple big pharma companies to personalize HCP customer journeys and deliver exceptional digital experiences. Consider a few examples. 
Dr. Reddy's Laboratories
We partnered with  Dr. Reddy's Laboratories  to design and build a digital engagement portal for healthcare professionals to access high-value medical resources content tailored to their various practice needs.
1772 HCP onboarded
3 seconds load time
1 day to roll out a new website
Fortune 500 pharmaceutical company
We partnered with a top leading pharmaceutical company to create a digital engagement portal for healthcare providers to access high-value medical education resources, articles, & research papers via an easily accessible healthcare provider portal.
40 websites rolled out in 2 years
Rich data insights from HCP interactions
Peer-to-peer collaboration
Facilitated knowledge consumption
Fortune 500 biopharmaceutical company
We partnered with  a huge biopharmaceutical company  to deliver a seamless user experience across 3000+ websites with improved security, performance, and feature enhancements.
3000+ websites managed
25+ modules audited
Regular sites update to secure from breaches  
If you are looking for a similar elevated HCP engagement for your pharma, plan and work on creating connected and personalized HCPs customer journeys.  
Get in touch with us to help elevate your digital presence.
Related Articles
Assemble the Right Digital Experience for your Customers with a DXP
The ROI of Digital Experience Platforms (DXP)
How to Connect your Business Ecosystem with a DXP
This is not the end, inquisitive friend
Our Design experiments and success stories.
Design Open Source Illustration System
Imagine your website with SPACE Design System
Stay tuned to our Design Podcast Designwise
Drupal Development
Decoupled Drupal
Drupal Migration
Drupal Staff Augmentation
Design + dx
Design System
UI/UX Design
Visual Design
Javascript Development
Web Application Development
Mobile Application Development
API Development
Quality Engineering
Automation Testing
Mobile Application Testing
Web Application Testing
Performance Testing
Product Engineering
Support & Maintenance
Digital CoE
Accessibility
Digital Experience Platforms
AI & Machine Learning
Build with Acquia
Pharma's role in creating quality HCP experiences
3-minute read
May 03, 2021
"Rocking remote". "Venturing into virtual". "Delighting with digital".
There is a proliferation of industry commentary out there today about the future of HCP engagement beyond COVID-19. If we consider the sum of the HCP's experience as a blend of reach (how you access them) and value (what you engage them on once you've captured their precious time and attention) the focus can often over-index on the former. Talk of omnichannel with its notes of velocity, efficiency and automation can often dominate the discourse on the 'how' – but we need to think more broadly than that.
Never has the opportunity to be differentiated and distinctive been so great. The COVID-19 pandemic created a new, wide-open "experience playing field" and the old engagement landscape won't be the same again. To truly appreciate and embrace the possibilities of this chance for change, we ought to take a step back and consider what 'quality' HCP experiences really mean in practice.
So, what are the dimensions of quality that make for a truly valuable encounter with pharma that HCPs will appreciate, sincerely engage with and want more of in the future? There's of course no one-size-fits-all answer as each person's likes and dislikes are unique, but we can acknowledge some common ingredients:
Relevant – "I feel this is a truly helpful and interesting use of my time"
Consumable  – "I can digest this in a way that's convenient for me and my patients"
Accessible  – "I can source the support I need on my own terms"
Connective – "I can learn and share with like-minded peers"
Purposeful – "I feel this is authentically customer-centric"
Relevant : We know that HCPs appreciate exchanges that are tailored to their own unique interests and needs, and the substance of the interaction must be thoughtfully planned for as well as the medium. Presenting a detailing aide remotely - however elegantly done - is by no means a guarantee of relevance. Recognizing the deeply personalized insights the field reps who know HCPs best can offer, there is an opportunity to be seized for field talent to play a more established role mapping the HCP journey itself - such as advising on customer experience design and co-creating with their marketing colleagues. When it comes to bringing those experiences to life in the field, empowering reps with more autonomy and trust to tailor meaningful engagements can be a smart route to differentiation. Reps who have the flexibility to hand-pick and enroll physicians in targeted digital campaigns or use outcomes data to target value-oriented conversations for HCPs - could be considered those most well-placed to elevate the experience above the competition.
Consumable : We know that finding the right information to share with their patients can be a time-consuming exercise for HCPs and often isn't as straightforward as they'd like. Patient-friendly content can be too difficult to access, too generic or too peppered with medical jargon to be truly helpful, and pharma-generated materials are often difficult to adapt to serve this need quickly. We've seen some companies respond swiftly to the need for intelligible patient information distilled in an easy-to-consume format during the height of the COVID-19 pandemic. But the value of curation doesn't only serve the patient experience. For HCPs themselves, the opportunity to access fresh and tailored content paired with their professional interests can be truly helpful and valued. Doing this effectively requires two dimensions of understanding: knowing the unique preferences and passions of each individual HCP (e.g. their affiliations, publications, conference attendance, etc.) and establishing how such 'micro moments' communicating distilled information could blend conveniently into the rhythms of the HCP's routine (e.g. via a podcast to listen to on their commute).
Accessible : Even when compellingly executed, HCP experiences that are solely reactive to digital or rep-initiated outreach may be missing a trick. With HCPs' time - or more precisely the lack of it - more of a constraint than ever, it is no surprise that on-demand solutions offering them the ability to proactively connect with reps, source rapid answers to their questions and access resources at the point of need are on the rise. Offering opportunities for a frictionless and convenient mode of engagement on the HCP's own terms, they open up possibilities that pharma is in the early days of embracing but, if done right, could make for a more empowered experience that HCPs actively wish to re-engage with often. The opportunity to interact on-demand via a single hub could, for example, bring value to HCPs able to connect directly with customer-facing colleagues and collaborate in shared workspaces.
Connective : We know that most HCPs are naturally driven to connect with like-minded peers, exchange knowledge and establish lasting connections for future collaborations. This is not only true of physicians but also of other HCP types such as nurse specialists, who often lack the capacity to spend the time they wish on continuing professional development and feel degrees of isolation as their roles stretch more thinly than ever. Brokering networking and peer-to-peer sharing opportunities is an opportunity for pharma to bring a different layer of quality, and it's notable that one rep-to-multiple HCP remote meetings are a growing trend during the COVID-19 pandemic. Add to this HCP appetites for engagement via social channels and there's an opportunity to go even further - for example, by algorithmically matching and connecting HCPs with peers who share their personal and professional interests - but venturing beyond the compliance comfort-zone can often feel like a step too far.
Purposeful : Improving patient lives is the lifeblood of this industry, but pharma often doesn't do as compelling a job propagating its purpose as it could. As COVID-19 re-sets what being in a society and community means and tests our humanity and values, it has also elevated the very idea of 'purpose' and offers organizations a timely moment to (re)activate this new shared purpose in an authentic way. Connecting your customer-facing colleagues to their own unique patient-centric purpose can help them appreciate their authentic motivations for why they do what they do and forge a more emotional and empathetic connection in their HCP engagements. Doing this won't just manifest more human conversations with HCPs; it can drive employee engagement and creativity and bolster individual performance as well.
These five dimensions of quality are not exhaustive and won't be of equal importance to every HCP
However, they're crucial underpinnings to meaningful experiences and bring opportunities to be bold and strike out distinctively in an experience landscape that is rapidly evolving. Each of these facets should be thoughtfully considered and planned for as opportunities to differentiate. But what does that mean in practice and how do you tangibly do it? Here are some starting points:
Acknowledge that no single team owns quality: it is the product of a strategic and enduring partnership across functions. Bring together a coalition of leaders across sales, marketing, medical, analytics and technology to agree the levers of accountability that fuel your customer engagement model – such as the degree of autonomy your reps have over digital and data – and ensure these are continuously bedded-in to ways of collaborating and learning journeys.
Reward quality as well as frequency and volume. Evolve the way you reward and recognize your reps (and others who contribute to the experience) by adapting your incentive compensation and other models to factor quality into the equation. Consider setting new performance measures for reps to play a more collaborative role helping co-create HCP engagement strategies harnessing their unique knowledge about the customer.
Break out of your comfort zone. Going bold on quality can often feel a step too far for an industry bound by rigorous rules as to what can and can't be shared. But organizations truly committed to quality will seek to harness the sparks of opportunity to maximize new modes of engagement HCPs crave – such as social media-enabled peer connections – by leaning-in to creative yet compliant approaches.
While none of us yet know exactly where the course of the COVID-19 pandemic will take us on the future of customer engagements, it's fair to say that these drivers of quality will continue to resonate and take on an even more elevated role going forward.
For more on this topic, I invite you to view a recent session I led at the NEXT Normal Pharma Summit: Reinventing Relevance: Reimagining Pharma's Role Creating Quality HCP Experiences
Managing Director – Life Sciences, United Kingdom
Dutch Dutch
Home /
HCP Customer Journey
Build an Effective HCP Customer Journey Map
How to reach healthcare professionals online using social media advertising?
An introduction to the hcp customer journey.
A lot of medical information can be found online these days. Whether it is information about new treatment methods or the opinion of a peer, the search for information often starts online. This is a great opportunity for LSH companies to engage with their target audience. Mapping a customer journey for your target audience will help you to create valuable touchpoints. On this page, we will elaborate more about the customer journey to engage HCPs online .
User Experience
Vision & Approach
Lead Magnet
Content Strategy
Customer journey mapping
What could the customer journey of an hcp look like, inbound marketing & customer journey mapping, customer journey mapping in life sciences & health.
Explore Our
Other related blogs.
November 2, 2023
SEO Doctor: How Life Science Firms Can Connect With Doctors
Since the creation of search engine optimisation in the 2000s,...
by Jacob Smith
October 20, 2023
The Ultimate Guide to Doctor Marketing Strategy
The healthcare industry is vast, with various specialities and sub-specialties....
October 5, 2023
Master Google Ads for Healthcare Marketing Strategy
In today's age, much of healthcare marketing is based on...
Utilising Email Marketing in Healthcare: A Guide for Life Science Firms
Email marketing remains a powerful tool for businesses across various...
September 5, 2023
Best Healthcare Marketing Platforms and Channels
Healthcare advertising has been the most prominent way for Life...
August 17, 2023
Healthcare Content Marketing Guide For Life Science Companies
One of the foremost challenges within the healthcare industry is...
August 2, 2023
A Beginner's Guide to Medical & Healthcare Lead Generation
In the fast-paced and competitive field of the healthcare sector,...
July 28, 2023
Healthcare Marketing Guide to Targeting HCPs & Patients
As the healthcare industry continues to evolve in the digital...
May 10, 2023
Patient Empowerment: A Key to Success for Life Science Companies
Patient empowerment has become essential for achieving positive health outcomes...
April 28, 2023
Omnichannel Engagement in Pharma: Process and Challenges
Pharmaceutical companies are always looking for innovative methods to interact...
April 3, 2023
Inbound Marketing for Healthcare – Attract HCPs & Patients
Do you know Google receives approx one billion healthcare-related search...
September 27, 2022
A Business Page on Social Media? Create an Effective Strategy!
The success of a business page on social media in...
Test Your AE Protocol for Social Media with our Checklist!
Test yourself with this checklist: Depending on the purpose of...
7 Ways You Can Use Social Media in Life Sciences & Health
Social media has become an integral part of every company's...
Medical Writing in Life Science & Health
Content must be attractive and add value to the target...
Create an Effective Lead Nurturing Flow for Lead Magnets
A lead magnet within LSH is website-provided content targeted to...
Explore Services
Marketing Consultancy
PPC Marketing
Social Media Marketing
Medical Copywriting
Website Development
Search Engine Optimisation
The HCP Journey Is Going Digital. How Can Pharma Brands Adapt?

Research reveals how HCPs prefer to interact with pharma companies in an increasingly digital-first world.
Capturing the attention of healthcare providers in a limited period of time requires precision and a deep understanding of provider needs. However, less than one-third believe the marketing they receive from pharma brands is personalized to them.
In this report, you'll discover:
How COVID-19 has accelerated digital-first habits for healthcare providers
What information HCPs value most when interacting with pharma brands
What HCPs now expect from pharma companies when interacting in person and online
Why providing the right products, information and services online is critical for pharma brands to remain competitive
Learn how pharma brands can use data to understand the provider journey, connect online and offline experiences, and empower commercial teams to deliver relevant, personalized content through the right channels, at the right time.
Download your copy of the report today.
Thank you for your interest in Treasure Data. Unfortunately, our website requires JavaScript be enabled to use all the functionality. Please email us or click here for additional ways to get in touch.
5 Caveats For Global Omnichannel Event Platform Deployment To Life Science Affiliates
An all-in-one enterprise event management platform to help you organise all types of events with ease.
Get a compliant event platform made with life sciences, pharma congresses, and HCP engagement in mind.
Omnichannel HCP events
Medical education events
Discover why SpotMe is the preferred event platform with enterprise-grade security.
Privacy & data management
Information security
Standards & certifications
The all-in-one event tech services to help you create engaging and compliant events.
Onsite services
Production services
Backstage content management
Manage and scale your events easily with a platform that helps before, during, and after.
Check-in & badging
Attendance tracking
Event builder
Event planning
Lead capture
Turn your event into an interactive and engaging experience your audience will love.
SpotMe Anywhere
Activity feeds
Gamification
Transform your hybrid and in-person events into engaging experiences with a cutting-edge mobile app.
Mobile event apps
Personalized agendas
Targeted push notifications
Custom branded apps
Meeting scheduler
Seamlessly integrate the event data that matters into industry-leading CRMs to enrich participant records.
Be inspired to run more engaging events with the latest articles, courses, talks, and templates. Visit our blog →
Training & certification
Events Calendar
Content Hub & On-demand
Case Studies
Knowledge base
Delivery network
SpotMe has been named a Leader in The Forrester WaveTM: B2B Event Management Technology, Q1 2023. Find out more →
Get to know us better, see our job vacancies, and reach out to discover what we can do for your events. Get in touch →
Partnership
Whether you're an event participant or organizer, log in to the SpotMe platform with one click.
HCP Engagement: Emerging Trends, Success Metrics & Omnichannel Strategies [2024]
Kathryn Humphries
November 17, 2023
HCP engagement is no easy task. In this ever-changing digital world, HCPs' needs and expectations are constantly changing, making it hard for you to keep up.
But getting your HCP engagement strategies right is key if you want to generate a positive ROI and achieve the results you want.
Read on to discover the emerging trends in HCP engagement strategies, success metrics to measure, and omnichannel techniques to make your pharma events a success.
This article was inspired by the session on 'Building solutions and skills to support the future of medical education' led by Doreen Lee (Medical Excellence Manager, Boehringer Ingelheim ), Donseok Ahn (Global IT Director – Medical, Reckitt ), and Pierre Metrailler (CEO, SpotMe ) at Veeva APAC Commercial Summit .
What is HCP engagement?
Healthcare Provider (HCP) engagement refers to the strategies and methods used by healthcare organizations, pharmaceutical companies, or medical device manufacturers to interact, communicate, and build relationships with HCPs.
The goal of HCP engagement is to provide value to these professionals, fostering collaboration, trust, and mutual understanding. This can involve various activities such as sharing relevant medical research, providing product information, facilitating continuing education, and understanding their needs and feedback.
Effective HCP engagement is crucial in the healthcare industry as it influences the acceptance and use of medical products, impacts patient care, and plays a significant role in shaping healthcare delivery.
To find the best HCP engagement solution for you, check out our ultimate list .
Why is HCP engagement important?
According to our research, pharma companies spend billions on medical education events. On average, 1–3% of their total annual sales.
That means a $40 billion pharma company spends at least $800 million on the hundreds or thousands of events they run each year.
Take Boehringer Ingelheim for instance. They ran about 500 marketing and medical events in APAC by the end of Q3 in 2022. (And that's excluding all the events they co-hosted with other companies). Then, there's Reckitt . They run at least 1,000 global HCP, patient, and consumer events every year, with 200–300 in APAC alone.
With this growing number of events and cost inflation, life science event expenses are only going to increase.
That's why large pharma companies need to focus on strategically boosting HCP engagement to ensure that the billions they spend on medical education events bring a positive ROI.
How has HCP engagement changed?
Did you know that 50% of HCPs who sign up for a life science webinar don't even show up? Some studies report an even higher percentage.
Think of the billions your company spends on events. What a waste if less than half of the expected participants actually attend.
This statistic clearly shows that HCP engagement and needs have drastically changed. And the pharma industry needs to start acting to meet doctors' high expectations.
Are you a life science company looking for the best event tech to help you run successful virtual and hybrid HCP events? Check out the 9 event platforms we recommend for 2024 .
Channel affinity
Achieving high HCP engagement across channels is challenging. That's because doctors and healthcare professionals prefer receiving content in different ways. Some prefer more digital channels and others prefer more traditional ones.
Their preferences tend to depend on their level of seniority and where they're based. For example, with less and less free time on their hands, junior doctors prefer webinars and virtual events because they can participate while they're on the go.
Doreen suggests analyzing your HCP demographic data to understand what the doctors attending your events prefer. She also recommends tailoring your content and channels to what they want. After all, your events need to be customer-centric in order to boost HCP engagement.
Tailor your event surveys to your HCPs's needs too. For 45+ pre event survey questions and which pre event surveys to use to get more HCPs at your events, check out our blog post.
Personalization
According to a pharmaceutical industry report by EPG Health , less than 20% of HCPs are getting personalized experiences. That means that at least 80% believe they're getting a one-size-fits-all event experience. And that results in low HCP engagement.
Life science companies have to think about the HCP journey and give doctors what they expect. If doctors want to receive medical content through a mobile app, then that's what pharma companies should use.
This was something Donseok recently discovered the importance of. He found that in Asia, 80% of doctors accessed events remotely using their mobile devices. But, in the US and Europe, it was the other way round – 80% of HCPs accessed events using their desktop. That's why it's key to understand your target audience to boost your HCP engagement.
Personalizing your events for HCPs also involves giving them the option to choose whether they'd like to join an event in-person, remotely, or watch on-demand content when they have time. 78% of HCPs would like a mixture of in-person and virtual events (Ashfield Healthcare). So, take this into account when organizing your next medical education events.
Emerging HCP engagement trends
All pharma companies talk about how HCP preferences are changing and how to adapt to them. But what are the top 3 emerging HCP engagement trends? And how can you address them?
Hybrid events
In the past, medical education events were all in person. They then suddenly became completely virtual. As a result, HCPs have seen the best of both worlds. Now they want event experiences that combine both physical and digital channels and engagement. In other words, they want hybrid events.
When we say hybrid , we mean life science events that are available for both in-person attendees and remote ones. So, this involves inviting some doctors to physically attend and others to participate via virtual streaming.
Pierre and Donseok both agree that creating a similar experience for both types of audiences is fundamental for high HCP engagement. You don't want your virtual participants feeling like they're an afterthought. That means you need to have the right combination of in-person and virtual interactions, and sometimes even a mix.
To achieve high HCP engagement at a hybrid pharma event, you need to include all elements and activities at both the in-person and virtual parts.
For example, Donseok highlights the fact that when you attend a well-planned in-person life science event, the experience is exceptional. At Reckitt's events, reps greet doctors as they arrive, take photos of them and provide them with refreshments. A proper VIP experience.
Pierre underlines the fact that there are ways to create experiences like this for virtual audiences too. For example, you could send a swag bag before your virtual event. You could have a welcome message that's personalized to each HCP as they join the virtual event. Or you could create a personalized quiz for remote attendees.
A great way to build an outstanding hybrid pharma event experience (or an in-person event with digital aspects) is by using a mobile event app . It's a sure way to boost HCP engagement. That's because you can run Q&As , polls , and surveys. Plus, you can create networking opportunities and use gamification to get both your physical and virtual attendees interacting with each other.
Using a mobile event app is also a way to track event metrics . Pierre says that the gap between what data insights you get from an in-person event versus those you get from an online event is getting smaller and smaller. By having a mobile event app at your in-person life science event, you can see what sessions HCPs are attending, what content they're engaging with, and how long they spend watching your presentations.
Hybrid pharma events do come with their challenges. One of which is the cost. After all, it's like paying for two events in one. But low-tech hybrid events and lower costs are possible if you do your research. And there's the huge advantage of reaching and engaging a larger audience of HCPs from all over the world.
Looking for ways to boost HCP engagement at hybrid events? Check out 4 hybrid event best practices to increase audience engagement .
On-demand content
Over the past few years, HCPs' time has become even more precious. Many doctors are called last minute to stand in to treat patients, and everyone wants to talk to them about upcoming medical topics. They're therefore very selective about what they spend their free time on.
This is an important factor to consider when thinking about HCP engagement and what you should be investing in at your pharma events.
Doreen says: "When it comes to medical education, doctors have no patience for 30-minute or 1-hour webinars anymore unless there's a super important international keynote speaker. On average, they prefer 5- to 10-minute bitesize case studies".
That's why Boehringer Ingelheim is investing in this kind of content because they want to give their customers what they want. They've found that the typical 45-minute duration of a webinar just doesn't work anymore. HCP engagement is significantly higher when online life science events last 15–20 minutes. And it increases even more when life science companies provide on-demand event videos that last just 3–6 minutes, according to Doreen. Just because an event is scientific and technical doesn't mean it has to be long.
HCPs no longer want to be invited to a session at 14:30 that may not fit in with their busy schedule. They want to consume event content when it best suits them. That means making it available on demand in short, bitesize chunks that they can watch whenever and wherever they please. Between surgeries, for example, or in the hospital lobby while they wait to start their shift.
Pierre has also noticed this HCP engagement trend at the pharma events that have been run through SpotMe's life science event engagement platform . That's why SpotMe will soon be launching a gated Content Hub tailored for pharmaceutical companies. They'll be able to upload their event content for HCPs to consume on demand. (Watch this space!)
Another crucial point about boosting HCP engagement with on-demand content is fighting the so-called webinar fatigue . Doreen states that she's asked doctors about this and found that it's not that they're fed up of webinars and online events. In fact, junior doctors much prefer them because they're efficient. The issue is with "me-too webinars" – so many pharma companies are running events about the same topics.
Read on for a way to solve this dilemma.
HCP interaction
It's often hard to come up with new content for life science events. But according to Pierre, one way to differentiate is by changing the format you use to present your medical content. If you simply deliver the same content differently, you'll instantly attract more attendees.
It could be as simple as changing the name 'webinar' or 'virtual event' to 'live experience' or 'real-time learning'. Or you could create the opportunity for peer-to-peer interactions – another emerging HCP engagement trend.
HCP engagement will be higher if they get to interact and experience something new. For example with a collaborative whiteboard session or clapping along during an event.
Medical education events are not just a way to educate doctors. They're also a way for doctors to network and share scientific knowledge. And there are several ways to do this through HCP interaction.
For example, before your event, you could use the 'submit your case' technique. This is a way to invite HCPs to submit detailed case studies that are used to feed panel conversations. Or during your event, you could organize short 15-minute 1:1 meet the expert sessions that could take place between HCPs and KOLs in person or virtually.
We gathered insights and surveyed about 100 customers and partners in the pharma industry about HCP engagement before, during, and after medical education events. In their opinion, these are some other emerging trends that will shape the future of medical education and HCP engagement:
Having KOL speakers at your medical events is a great way to keep HCPs engaged. Find out how to recruit and nurture KOLs with the ultimate KOL engagement plan for successful pharma events .
How to increase HCP engagement
Now you know how HCP engagement has changed and what the emerging HCP engagement trends are, you may be asking yourself "How can I improve my HCP engagement?" Here are some ways you can boost your HCP engagement strategies:
Personalize and tailor content to HCPs
Create an omnichannel journey
Give HCPs the choice of how they want to engage with your content, e.g., by letting them choose if they want to attend your hybrid event remotely or in person
Use technology like mobile apps at your events to boost digital HCP engagement
Provide on-demand content they can watch whenever and wherever is convenient for them
Set up 1:1 meet-the-expert sessions or meetings with sales reps at your events using a meeting scheduler
Measuring HCP engagement success metrics
Given that HCP engagement has changed over the past few years, the way life science companies measure that engagement has changed too.
With the rise in event technology , there are a lot of opportunities to measure a wide range of event metrics. But this also means it can be difficult to know which metrics you should be measuring.
We've analyzed how our life science customers measure success and KPIs and grouped our findings into 3 types of event metrics that pharma companies should measure before, during, and after their medical education events:
Reach: how many HCPs you attract to your event
Engagement: how engaged HCPs are during your event
Advocacy: how likely are HCPs to recommend your brand/product after your event
To measure reach, you can track open rates, click-through rates, and conversions before you hold your life science event.
This is the main metric that Boehnringer Ingelheim is measuring at the moment. Doreen says that the biggest challenge for them is getting HCPs to accept and adopt event content on their website given that they are a company and not a society.
Once they've achieved acceptance from a certain number of doctors, they monitor how many doctors visit the website each month. Doreen explains that it counts as a 'visit' when an HCP stays on the website for at least 30 seconds. By using first-party data analytics, Boehnringer Ingelheim knows who visits the website and where they're from.
Getting first-party data, such as names and email addresses is key from a marketing perspective and one big reason why you should be investing in medical education events.
There are so many places where it's no longer possible to track people's information to inform your marketing strategies. But, when HCPs attend your events, it's an easy way to collect their data. That's because they don't mind giving their data, as their aim is simply to get educated.
Discover other event marketing strategies by reading 12 virtual event marketing strategies you need to succeed and content marketing for events: how to repurpose your event content .
There are so many metrics you can measure to understand HCP engagement. It all depends on what engagement activities you include in your life science event. Some examples of engagement metrics are attendance, Q&A and poll responses, viewing time, drop-offs, and claps .
Reckitt is concentrating a lot on tracking HCP engagement but they're using fairly simple metrics to do so.
The first HCP engagement metric they look at is access to the virtual event platform. Donseok recalls that at Reckitt's first virtual event, 5–10% of remote HCPs couldn't join because the platform wasn't accessible in their region. If doctors can't access your event, of course HCP engagement will be lower.
The second HCP engagement metric Reckitt focuses on is whether the virtual event platform is easy to navigate and use. The bandwidth needs to be monitored, for example, so that the video and audio quality are smooth and HCPs will have a positive event experience. And you can track HCP interaction during Q&As, polls, and chats with speakers.
The third HCP engagement metric Donseok talks about is survey scores. He and his team create surveys to ask HCPs about the quality of the virtual/hybrid event and their level of engagement. They ensure to send out the survey before the end of a session so that they get a higher response rate. In the past, their response rate has been over 90%. So, take a leaf out of their book for your post-event surveys!
What's the aim of medical education events? Is it to get more participants or higher HCP engagement that then results in positive brand advocacy?
At the recent Veeva APAC Commercial Summit, Luciano Adrade (VP Commercial Operations & Strategy Emerging Markets, GSK), said that it's not about getting 3% more participants. It's about transforming your HCPs, changing clinical practices, and altering prescription habits for the future of medicine. That's how to measure the success of medical education events.
You can measure advocacy after your life science events by monitoring the CX quotient, Net Promoter Score (NPS), and post-event surveys. These are the metrics large pharma companies are using to prove their event ROI.
Want to find out about other event metrics you can track? Read 19 virtual event success metrics you should be measuring .
Creating an omnichannel HCP engagement strategy
People often consider medical education events as very tactical but not highly strategic. But medical education is part of the omnichannel journey. So, pharma companies need to create an effective omnichannel strategy.
The common journey for a life science company going from tactical events to strategic events for full omnichannel deployment is the following:
Consolidate requirements. Including event use cases, desired functionalities, target users, IT & compliance requirements.
Carry out an RFP . Initiate a tender process alongside relevant business owners to assess solutions against your organization's needs.
Select a vendor. Choose a single vendor to ensure consistency and drive efficiencies in your omnichannel strategy.
Define the operating model. Design processes, governance and determine delivery models best suited for your teams (self, agencies, delivery unit).
Integrate with a CRM. Ensure compatibility of solution with your tech stack and seek native integration with your CRM for bi-direction data flows.
Typically, our life science customers consider these 3 things when building their omnichannel strategy:
Operational excellence
Next best action
Let's take a look at them in more detail.
Omnichannel event strategies are becoming more important in 2024. To find out what other corporate event trends are emerging, take a look at our post.
Choosing the right technology for your HCP engagement strategy
The first step in building a successful omnichannel strategy is selecting the technology that suits your company's and HCPs' needs and expectations. You need to think about how an event solution fits in with what you have. For example, most life science companies use Veeva CRM , Veeva Vault , and Veeva Network . So, it's important to find an event platform that integrates with Veeva and adds HCP engagement features to the mix.
Donseok suggests the following 3 steps when deciding on which technology to use:
Ensure you understand your company's ecosystem, capabilities, and operational model. Make sure you ask about the software's partner network.
Talk to other pharma industry experts to understand their IT, procurement, and omnichannel processes. It's useful to know what other life science companies are doing and what lessons they've learned.
Run a pilot of the event technology with the most challenging market in terms of bandwidth and population, and use this to understand its effectiveness.
Donseok also mentions that he spoke to a Forrester analyst who talked about the huge fatigue people experience when companies switch from one platform to another. So, it's important to ensure you choose the right platform and show your HCPs why that platform is the best for your and their needs.
It is possible to run fully compliant medical events using technology. To find out how, read our article on event compliance: busting 5 myths in the pharma industry .
Driving operational excellence within your HCP engagement strategy
When creating an omnichannel strategy, you have to have the end objective in mind to be able to measure its success. Doreen recommends asking yourself "Why am I doing medical education?". Ideally, you want to provide HCPs with the necessary, scientifically sound information so they can provide their patients with the best treatment. So, before you start crafting an omnichannel strategy, you must clearly define your outcome and KPIs.
To achieve operational excellence, Doreen suggests following in Boehringer Ingelheim's footsteps. They start by trialing event technology with small groups of HCPs to test adoption and slowly increase the group size if it's successful.
In their experience, reach starts out as very poor. But they ask for feedback and look at metrics such as how many HCPs accessed the event, how long HCPs spent at the event, the level of HCP engagement during sessions, and the bandwidth speed. Then, they adjust the experience and test it again.
Boehringer Ingelheim managed to go from 5% to 66% reach just by iterating and increasing the size of the HCP group each time.
Enabling the next best action
Emmanuel Desproges (Digital Leader JPAC & Asia, Sanofi) explains that to carry out the next best action, you need to know, organize, and manage your data. Once your data are clear, you can think about your next best action.
By using a life science event platform for in-person, virtual, or hybrid events, you can collect a huge amount of data. These data then feed into an integrated record system, usually Veeva , from which you can derive a lot of business applications.
This is exactly what the Veeva and SpotMe silver technology partnership is about. SpotMe creates the event experience and collects the data, then sends it automatically to Veeva via a native connector integration.
Pharma companies then use these data to score HCP sentiment, scale hyper-personalization, and drive conversions with context. These metrics help guide their next best action.
Planning your next life science event and looking for an RFP template to help you select the vendor that suits you?
SpotMe has created an RFP template tailored specifically to large pharma companies looking for a vendor to fulfill their omnichannel life science event platform needs and requirements.
Not only does it include 200+ new RFP questions for hybrid and virtual event technology success, but it also has sections on new footprint, reputation, integrations, and information security. And it contains an RFP outline and a vendor response sheet, so you can efficiently exchange information with prospective event platform vendors.
As an event engagement platform for life science companies and with approximately 50% of our customers from the pharma industry, SpotMe helps large pharma companies to create, build and execute webinars and in-person, virtual, and hybrid medical events. We, therefore, have first-hand experience of what life science companies need to run a successful medical event and achieve high HCP engagement.
Download our RFP template and join 10,000 life science industry experts who are effectively mapping out exactly what they want from an event solution vendor and ensuring their medical events are a roaring success with sky-high HCP engagement.
Healthcare Provider (HCP) engagement refers to the strategies and methods used by healthcare organizations, pharmaceutical companies, or medical device manufacturers to interact, communicate, and build relationships with HCPs. The goal of HCP engagement is to provide value to these professionals, fostering collaboration, trust, and mutual understanding. This can involve various activities such as sharing relevant medical research, providing product information, facilitating continuing education, and understanding their needs and feedback.
Pharma companies spend billions on medical education events. On average, 1–3% of their total annual sales. That means a $40 billion pharma company spends at least $800 million on the hundreds or thousands of events they run each year. With this growing number of events and cost inflation, life science event expenses are only going to increase. That's why large pharma companies need to focus on strategically boosting HCP engagement to ensure that the billions they spend on medical education events bring a positive ROI.
You may be asking yourself "How can I improve my HCP engagement?" Here are some ways you can boost your HCP engagement strategies: 1. Personalize and tailor content to HCPs 2. Create an omnichannel journey 3. Give HCPs the choice of how they want to engage with your content, e.g., by letting them choose if they want to attend your hybrid event remotely or in person 4. Use technology like mobile apps at your events to boost digital HCP engagement 5. Provide on-demand content they can watch whenever and wherever is convenient for them 6. Set up 1:1 meet-the-expert sessions or meetings with sales reps at your events using a meeting scheduler
As SpotMe's Head of Content, I share useful insights and handy tips on event management, marketing, and tech every day. I have 6+ years' experience writing, editing, and managing content for large international companies. When I'm not coming up with creative ideas, you'll find me singing along to musical theater or traveling the world!
Want to deliver engaging events that audiences love?
Spotme is the enterprise event platform to create engaging experiences that audiences love..
event relationships created by SpotMe
event attendees per month
event builders use SpotMe
rating on G2 and Capterra
years in the event tech industry
Secrets to a Successful Pharma Product Launch: Best Practices For Impactful Events
Omnichannel hcp event engagement benchmarks: conversion, consent, activation, the best medical conference apps [2024], our latest insights, delivered straight to your inbox once a month..

Capabilities
Medical Expertise
AvantSpeak HCP Marketing
Captivating customer experiences: all about the journey.
Every potential customer and attendee of your programs is on a journey. They may be at different places in their career, have different educational needs, have differing perceptions of your company/brand, and may also have a unique set of expectations they hope you will fulfill.
By providing integrated customer experiences, a brand can generate better engagement with healthcare providers (HCPs) and more memorable experiences before, during, and after an event. But to generate these experiences, you must understand the day-to-day routine and expectations of an HCP. Before HCPs receive a single communication about your event—whether it is a dinner series, product theater, or satellite broadcast—you must consider that target audience's current environment, preferences, and perspectives.
Put Yourself in the Perspective of Your HCPs
Considering the point of view of an HCP and making note of all of the opportunities to interact with them along their journey is often called journey mapping. It's a great way to discover new opportunities and tactical touch points to help resolve issues that might otherwise hinder you from meeting your goal. As the journey starts, your prospective HCP already has perceptions about your brand, how programs should work, and what they expect to gain from attending, as well as potential apprehensions about participating. But unless you know and understand your audience, it will be challenging to reach them.
For example: if your goal is to get HCPs to participate in your event or educational activity, consider the practitioner's daily routine or even office stakeholders that may filter information before it even reaches the HCP. If you know that an office manager is going to sort and filter the physician's e-mail, what can you include (or not include) that may help it get to the intended recipient? The channel, the content, and the visuals of the message will greatly affect the appeal, prominence, importance, and ultimately, the response from the HCP.
Details Matter and Timing Is Everything
Early on, HCPs need to know the basics—such as the program title, date, time, location, and speaker details—but perhaps not always in that order. The name of the speaker and their relevance as a recognized expert is a highly valued detail. But it's not the only detail. As the nature of HCP communications evolves over the recruiting phase, the title, date, time, and location of the series all have changing levels of prominence. Even the call to action can and should modulate throughout the recruiting phase. "Save the date," "Register now," and "Seating is limited" messages help readers understand the context of timing.
The medium of communication also greatly affects the nature of the communication. For digital communications, the call to action needs to set expectations for the user experience. For example, "Click here" has no value to the reader, while "Register now" and "Update your calendar" help set expectations for what happens next. Careful consideration needs to be given to the sender, the subject line, and the header information in e-mails. Understanding the context of the message delivery helps increase open rates, click-through rates, and ultimately, conversations (registrations).
Personalized Engagement Is Key
Evolving your strategy throughout the journey is critical to supporting a fully integrated customer experience. The transition from HCP interest to registration should be seamless, even if the outcome is nonattendance. Capturing feedback about non-interest also helps support that part of the model that needs to be interactive (vs only one-way). For those prospects who may abandon a registration form or decide that the opportunity may not work for them after all (conflict in time or location), follow-up re-engagements that share alternative ways to attend (other dates or times, or even other delivery formats) can empower the HCP with more options that may fit their schedule.
And finally, whether an HCP transitions into registration or decides not to engage, a successful campaign can be measured by more than just the headcount for a series. Throughout every touch point along the HCP's journey, if you have carefully shared key content and messages through your communications, there may still be an impact from your recruitment efforts alone. Whether perceptions around the disease state, product, or even your company, changes in these insights can be measured and the value of integrated customer experiences can be demonstrated.
The Collaborative Story Behind Successful Medical Storytelling
Have you ever tried to get a group of people to agree on pizza? It gets stressful. One hates...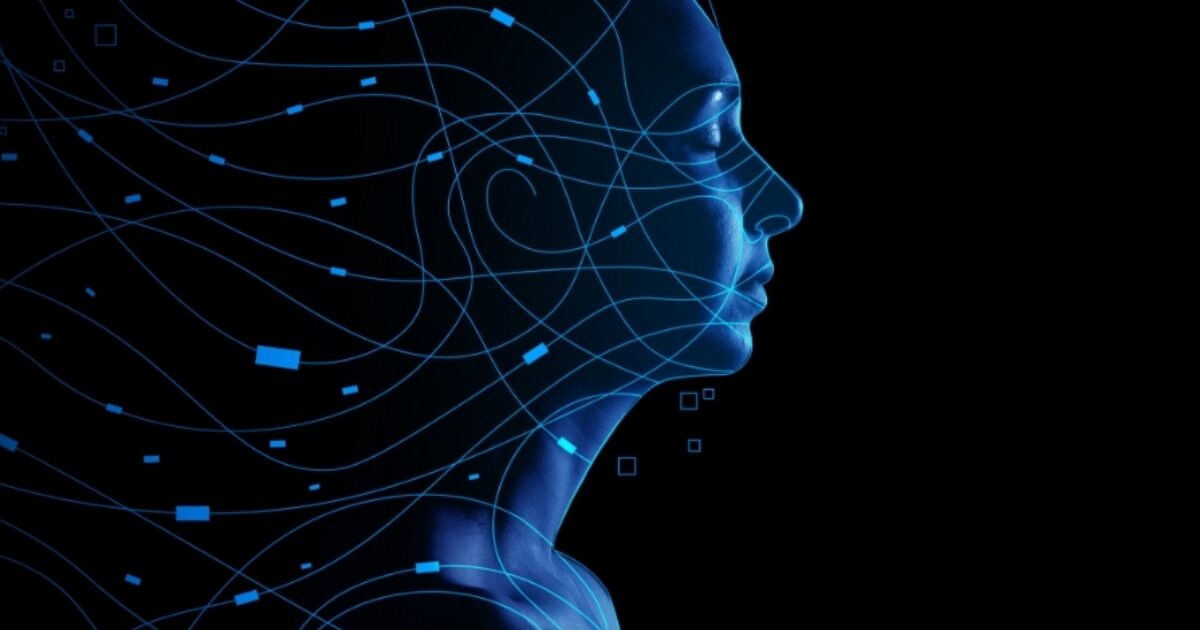 Key Principles of the Communication of Science
Understanding HCP Behavior to Tell Better Medical Stories
As healthcare marketers, we know crafting compelling stories can help change healthcare...
Mapping the Omnichannel Customer Journey in 2023
In 2023, the way in which the consumer engages with a brand has changed significantly. Marketers need to map journeys across various touchpoints and make sure they work seamlessly. This is at the heart of an omnichannel strategy.
A recent report by Arm Treasure Data and Forbes Insight in 2020 shows that 75 percent of consumers are somewhat or very likely to buy from a company based on their experience. This is regardless of price or product. In fact, 77% consider such experiences to be just as important as the quality of a company's products or services.
Understanding and mapping consumer experience throughout the journey, then, has become an even more critical part of a marketer's job. As the Arm, Treasure Data Global Head of Marketing Tom Treanor says: "Companies need to look hard at their customer touchpoints, both in-store and online, and understand what their customers value most and where improvements can be made."
For consumers in the US, a recent report indicates that the most important factors across touchpoints are:
Convenience
Knowledgeable help
Friendly service
To help you to map and design such experiences in 2023, we're going to cover:
Types of channels and touchpoints
How to map the consumer journey
The challenges to overcome
Some best practice examples
A 2021 survey of business professionals revealed that their top business priority for the next five years was to improve customer experience. Let's begin our own journey towards this.
Types of Channels and Touchpoints in 2023
A customer's journey arises from the interaction with various brand touchpoints. In 2020 , almost 90% of retail consumers started with digital channels.
This doesn't mean the role of offline is unimportant. In one study , 78 percent of marketers believed that digital marketing was important to their overall marketing efforts, while 39 percent said the same about offline campaigns.
In the online space, some consumer channels for touchpoints would be social media, e-mail, and advertising.
The role of mobile in online touchpoints has become increasingly important in 2023. More than half of all web traffic is mobile, and a smartphone analytics study predicts a 25% increase in mobile traffic by 2025.
Turning to offline, some common channels for touchpoints are direct mail, in-store interaction, and mainstream advertising. All the above should be matched with a high degree of customer service for the best results.
On a granular level, consumers can interact with product demos, checkout forms, giving feedback, signing up for subscriptions and notifications, and more.
It's important for the omnichannel marketer to focus on providing a consistent and frictionless experience across touchpoints. Today's consumer uses an average of six touchpoints. Nearly 50% regularly use more than four.
How to Map the Consumer Journey
Omnichannel touchpoint mapping consists of outlining all the consumer interactions with your brand. It identifies each step of the buyer's journey. It allows brands to visualize and link every such experience a customer has.
There are many ways to create such maps, from connected notes to spreadsheets. The process starts with research and data gathering. Consumer questionnaires and user testing are some ways to do this.
From this, consumer profiles can be created. These are the behavioral and demographic characteristics of your main consumers. For example, younger first-time users, older loyal users, occasional users, primarily digital users, and so on.
Based on the main segments, the next step is to list out all the touchpoints that they use. Research should also indicate consumer actions, obstacles, and desired outcomes during the interactions.
After this, the omnichannel marketer will check for consistency across all of the touchpoints and try to create a seamless experience across all of them. In some cases, touchpoints can be mapped in terms of how they enable the consumer to move up the marketing funnel. There are several factors to consider, such as:
Gaps can now be identified and plugged. For example, is customer service lacking in a few touchpoints? Is there a missing touchpoint between sales and after-sales to create loyalty? Is there a touchpoint that does not link to the next? Here's a powerful way to visualize customer journeys, identify the drop-offs and engage them from one single dashboard.
To sum up, omnichannel marketers can map consumer journeys by:
Creating profiles
Listing and linking touchpoints
Identifying and plugging gaps
For more advice on real-time consumer journey mapping and how to make use of this powerful tool to influence customer experience, do read this .
The Challenges to Overcome
As with any other marketing effort to streamline and improve activities, there are certain challenges and constraints to be overcome. An earlier survey of retailers and the omnichannel experience by Price Waterhouse identified some of them.
Budgets : Linking and strengthening touchpoints involves an outlay. Often, a business case has to be made for this, competing with other spending such as infrastructure.
Data : For an effective mapping of customer journeys, integrated data is essential. This means integrating all the information that could have been collected separately by various sales and marketing functions.
Skills and Resources : Over half the companies in a Forbes survey a few years ago lacked the analytic skills and tools necessary to analyze data meaningfully. Upgrading of such skills should be a priority for the marketer who seeks to extract meaning from data to create effective consumer journey maps.
Examples of Omnichannel Journey Best Practices
Here are a few examples of companies that have mapped consumer journeys to make a significant difference:
Use-Case 1: Real-time, Personalized, and Hyper-local Alerts
1Weather is one of the top-rated Android weather apps that provides local weather predictions. It has more than 8 million active users, of which 95% are from the U.S. They had the challenge of understanding consumer behavior and providing real-time, personalized, and hyper-local alerts. The brand noticed lower page sessions within the app due to a lack of re-engagement. By mapping users' app behavior and location preferences, they increased opens and overall engagement rate. More details can be found here .
Use-Case 2: Integrating An Overview with Navigation Tools
For some time, Disney has been seen as extremely skilled in mapping consumer journeys for an effortless omnichannel experience. The website and apps give you an overview of the attractions to expect and tools to plan your stay there.
At the park, the same devices allow you to navigate your way around and offer helpful tips to get the most from your time there.
Use-Case 3: Consistency, Creativity, and Willingness to Experiment
Fashion giant Burberry has used some form of omnichannel marketing from the start. They have shown consistency, creativity, and willingness to experiment. They knew that consumers would be looking for Burberry signatures such as a trench coat and tartan design from the beginning of their experience and so made sure these were in focus both offline and online. In their journey mapping, they aimed for consistency. Dedicated customer service accounts and weather advice for fashion were other innovative touchpoints.
What to Keep In Mind
To sum up, omnichannel marketers should focus on providing a consistent experience across touchpoints, integrating online and offline.
There are several ways to map the journey of today's consumers, and it all starts with research and data.
Skills and resources need to be upgraded to take full advantage of the omnichannel marketing opportunity. It's also important to remove data silos to gain an overall picture.
An omnichannel journey is what consumers expect nowadays, and brands need to make it a fulfilling experience. That way, they can be seamlessly moved up the marketing funnel.
Subscribe to Our Library Updates
Be the first to access actionable reports, guides, tips, videos, podcasts from experts in Customer Engagement, retention and more!
Related Articles
Here are actionable resources we've curated for you!
5 Little-Known Factors That Could Affect Customer Activation
5 Winning WhatsApp Marketing Campaign Examples to Get You Inspired in 2023
5 Actionable Tips to Drive WhatsApp Engagement and Growth
How to Craft the Perfect Customer Purchase Journey in 2023
Unlock the Key to Customer Satisfaction: A Comprehensive Guide to Customer Journey Maps
Capitalize on Mobile Personalization with 5 ROI-driven Strategies
Please wait while you are redirected to the right page...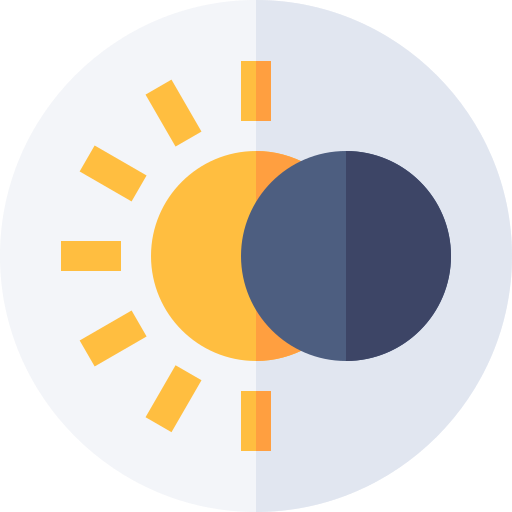 Popular Searches
Approved Email
Product Metrics
My Schedule
In this Topic
Customer Journey Data Model
Creating a visualization using the journey data model, considerations, related links, data model - objects, data model - fields.
Browser (Classic, Lightning)
The Customer Journey data model can be used to store customer journey data and create visualizations. This data model allows you to do the following:
Create a Customer Journey for each product in CRM and link it to a Brand Plan
Assign HCPs to a stage in a Customer Journey based on where they are in the particular product's journey
Define Customer Journey Stages with recommended promotional activities that assist users in promoting the product and moving HCPs along the product journey
For example, Bob Brown, a Brand Manager for Verteo BioPharma, wants to create a customer journey visualization that his team members can use to track HCP progress for Cholecap. He uses the Customer Journey data model to add four stages he wants customers to move through as they become more familiar with the product. Finally, he creates a page layout that displays the journey stages.
Users can create a visualization using the data model and provided page layouts to track activities identified for each journey stage for planned versus completed or skipped activities, types of touch points (channels) used to complete activities, message delivery, changes in customer level of adoption, and HCP progression through the Adoption Stages.
If you need help integrating customer journeys with your specific business requirements, contact your Account Partner. If MyInsights is used to create the visualizations to view and manage the customer journey, you can define where in Veeva CRM you want to display the visualization, for example, within an Account Plan, Account page, or the Home Page and on which platforms.
Implementing the customer journey data model is up to each organization. This is an example of how the data model can be implemented.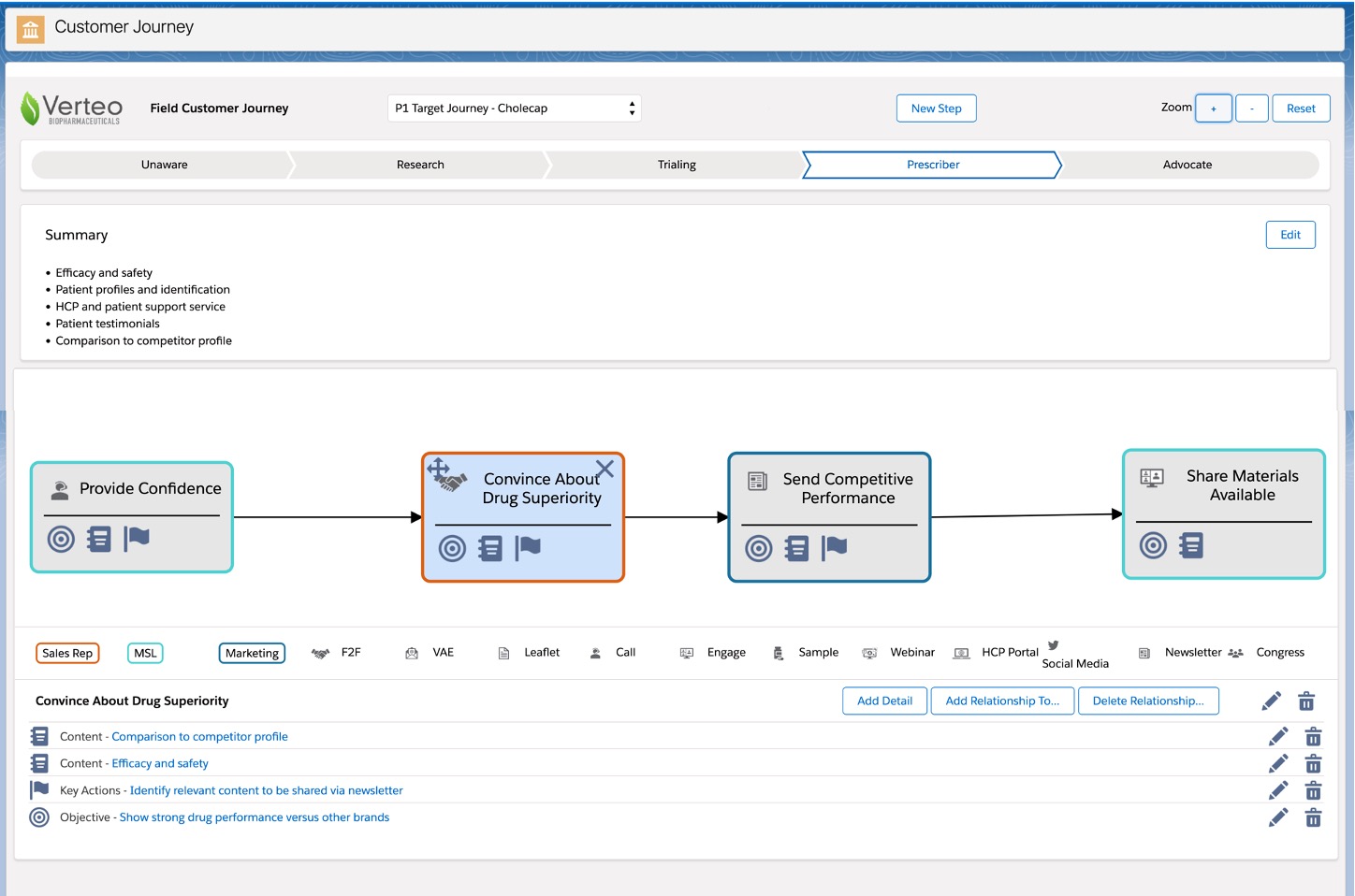 An account can only be added once to each journey
A stage can only be added once to each journey
Patient Journey Data Model
MyInsights Overview
This page was last updated on October 19, 2023 .

Send us an email
What is a customer journey map and how to make your own [examples included]
Written by by Kiran Shahid
Published on November 2, 2023
Reading time 12 minutes
Do you know what your customers see and do before they purchase from you?
They see your ads, interact with you on social media and explore your website before they buy. All these interactions—from the first ad impression to every "Please help" DM customers send—define your customer journey. To keep up with it all and better inform your social media marketing strategy , create a customer journey map as a blueprint to help you understand your customers at each stage.
Let's explore what customer journey mapping is and how it helps your brand.
What is customer journey mapping?
A customer journey map is a visual representation of each point of interaction your customers have with your company. You can style the map like a flowchart, timeline, table or even on sticky notes.
Creating the map is a great internal exercise. Along the way, you might find pain points or touchpoints you didn't know existed. A basic customer journey map includes the buying stages (and support touchpoints) a customer goes through.
More detailed maps include:
actions your customers take
good and bad emotions your customers experienced
departments involved in customer touchpoints
content types you serve your customers
solutions to pain points
What is a customer touchpoint?
A touchpoint on the customer journey map is the point of interaction a customer has with your brand. It doesn't need to be a two-way interaction. Seeing a social media ad, getting a branded newsletter and asking a friend for a product recommendation are all touchpoints.
Customers may experience emotions and actions at touchpoints. When someone asks for product recommendations, people might mention your brand. You might not serve that recommendation to them directly but someone still introduces you to a potential customer.
What are the benefits of customer journey mapping?
A customer journey map puts the customer first by giving you a deeper understanding of how your customers interact with your brand. This enable you to make better decisions and improve customer experiences.
When coupled with social media market research , they help brands:
Provide an overview of the resources your customers use . This helps determine the ROI of customer-centric engagement and service. For example, if blogs are your highest traffic sources, investing more in those channels makes sense.
Identify content gaps . Pain points without solutions are an excellent source for content ideation and development . If customers need help with a specific product issue, for example, but find limited guidance, create in-depth video tutorials to address this pain point.
Identify inefficiencies . Maybe some processes are repetitive, or some solutions cause more friction. If your customers have trouble checking out due to a complicated form, for example, simplify it to reduce cart abandonment rates.
Generate marketing campaign ideas . A clear understanding of customer motivations and journey stages creates targeted campaigns. You can provide them with relevant content and incentives to move them closer to a purchase.
Guide multiple departments. Streamline content creation, social customer care strategy and messaging optimization across every touchpoint. Departments use the customer journey map as a central reference to ensure a consistent and customer-focused approach.
Enhance customer communication . Customer journey maps reveal critical touchpoints, like social media interactions, for timely and meaningful engagement. In fact, The Sprout Social Index™ shows 51% of customers believe the most memorable brands on social respond to customers.
Every business and industry has its unique customer journey maps, but the fundamentals remain the same.
Recently, our social team talked about using social media for the customer journey in the auto industry. Watch the video below to hear their discussion on touchpoints, customer experience and how legacy brands are going beyond traditional tactics like targeted ads to tell their story.
It's a great example of how industry-specific customer journey follows the fundamentals but also has touchpoints specific to them.
What's included in a customer journey map?
A customer journey map is like a detailed travel itinerary for your customer's experience with your brand. It includes elements like:
1. The buying process
The buying process is the step-by-step path a customer follows to make a purchase decision. It tells you where customers drop off or face obstacles during making purchases.
Use prospecting tools, content management systems (CMS) and behavior analytics tools to gather data. Facebook Shops, Instagram Shopping and TikTok Shop data also provide valuable insights into how customers find products and engage with content via social commerce .
Pro tip : Categorize the journey into stages like awareness, consideration and decision to map these steps horizontally on the customer journey map.
Don't forget to integrate feedback mechanisms, such as customer surveys or user testing. These offer qualitative insights into the buying process. Understanding the "why" behind customer behavior can be as important as knowing the "what."
2. Emotions
Emotions show how customers feel at different touchpoints in their interaction with your brand. Emotions heavily influence purchase decisions and brand loyalty which is exactly why it's so important to include them.
Think about it: When someone has a great experience with your brand and feels happy, they're more likely to buy from you again. On the flip side, if they feel frustrated or unhappy, they'll knock on your competitor's door.
Use surveys or feedback forms to ask customers how they felt during their experience. You might have come across these smileys during your own shopping experience:
These scales are a convenient way to gauge how your customers feel at any point.
Pay attention to what they say on social media and in reviews. You can tell if they're happy or upset by their tone.
Tools like Sprout Social use AI-driven sentiment analysis to dig into social listening data to give you insights on what people think about your brand.
These insights are handy when creating emotional marketing campaigns . When you know how customers feel, take actionable steps to solve any negative experiences and encourage positive ones.
3. User actions
User actions are the steps customers take when they interact with your brand. They include steps like visiting your website, clicking on a product, adding items to their cart or signing up for your newsletter.
Actions highlight what people do at each stage. Each of these actions tells you something about what customers are interested in and how close they are to making a purchase.
Analytics tools for your website or app are your best bet for such data. These tools show you which pages customers visit, what they click on and where they drop off.
Once you have this information, tailor your marketing efforts and content to align with the actions customers take at each stage.
4. User research
User research examines what customers search for or where they turn for information during the buying process. This part of the customer journey map helps you understand how customers gather information.
For example, in the awareness stage, buyers often rely on search engines like Google to research solutions to their problems. But it's not just about where they go—it's about what they're looking for. Knowing their specific research topics allows you to address their pain points.
What's the trick? Keep an eye on what customers search for online. Tracking keywords and phrases they use on search engines, as well as social media market research are good places to start.
Also, monitor discussions and conversations to get a deeper understanding of the questions, concerns and topics that are top-of-mind for your potential customers.
The key is to use this information to provide potential customers with what they need at each stage. Targeted content delivery positions your brand as a valuable source of information.
5. Solutions
This section outlines the actions and strategies your brand implements to address customer pain points and improve their overall experience.
It documents the specific solutions or improvements applied at each stage of the customer journey. These include steps like changes to website design that resolve issues and improve the customer experience.
It visualizes how your brand responds to customer needs and challenges at different touchpoints. Besides that, it's a good reference to ensure your team implements the solutions and refines them to increase customer satisfaction.
What are the 7 steps to map the customer journey?
A strategic approach to building a map ensures you capture every touchpoint, anticipate customer desires and address potential pain points. Here are seven steps to build a journey map unique to your customers and business needs.
1. Set your goals
What do you want to get out of this process? And why does it matter to your business? Knowing your goals sets the stage for how you assemble your map.
Some examples of goals include:
Identify the top three customer pain points. Use these pain points to create content.
Understand customer interests and motivations to develop better products and services.
Total the cost of customer interactions to set a better social media budget .
2. Decide on a customer journey map type
There are several different customer journey maps and each one has its advantages. When you decide which map to work with, you know which details to focus on.
These are four of the most common types of customer journey maps: current state, future state, day in the life and service blueprint. We'll go further into detail on each one later on.
Understanding your goals and where your brand stands in its evolution will guide you in selecting the appropriate map type.
3. Create and define your customer personas
Which customers will you focus on? It's difficult to map a customer journey if you don't have a customer in mind. Customer personas are fictional characters that represent each of your target customer groups. They're detailed with everything from demographics to interests to buying behavior.
If you've already created social media personas to understand your audience, you're more than halfway there. But if you haven't, then our buyer persona template  or Xtensio's will be useful. To really get to know someone's purchase decisions and shopping processes, interview existing customers.
Pro tip: If you have distinctively different personas—such as, if you serve both a B2C and B2B market—set up different customer journey maps.
4. Break it down: touchpoints and stages
The customer journey map is divided into stages that usually fit within the funnel illustrated above. List out the stages to begin. Next, list out the main customer touchpoints that exist for your company. When you're done with both lists, place the touchpoints into the different stages.
To get even more detailed, assign department owners to each touchpoint. You can identify where certain social media channels fit into the mix. And, you can assign predicted customer sentiment or emotions to different stages of the journey. It's up to you how detailed you want the map to be.
5. Gather data and customer feedback
You need rock-solid data on how customers interact with your brand to create an accurate customer journey map. Focus on these three aspects:
Analyze existing data
Jump into the data you already have—more specifically website performance, chats with customer support and sales records. This information can tell you loads about how customers act, what they like and what frustrates them.
This quantitative data offers a foundational perspective on how customers interact with your brand, helping you identify both strengths and areas of improvement.
Conduct customer interviews
Get personal with one-on-one chats with customers. Ask them about their experiences, what bugs them and what they expect when they deal with your brand. These talks reveal qualitative insights that numbers can't, like understanding the emotional and psychological aspects of the customer journey.
Create surveys and questionnaires
Turn to surveys and questionnaires for a more structured and broader approach to gathering feedback. Send them out to a bunch of customers and get structured feedback. Ask questions about their journey with your brand, how happy they are and where they think things could get better.
A combination of these three aspects gives you a 360-degree view of what your customers really experience with your brand.
6. Test and identify pain points
To confirm your customer touchpoints, you probably checked in on various departments and spoke to customers. This is great work but you need to take another step further: test it yourself. Go through the customer journey from the viewpoint of the customer.
While you're testing the journey, keep an eye out for challenges, confusion or any frustrating moments. For example, if the website takes forever to load, if instructions aren't clear or if reaching customer support is a headache, make detailed notes of these issues.
It's also a smart move to collect feedback from both colleagues and customers who've gone through the journey. This way, you double-check and confirm your findings for a more complete picture.
A hands-on approach ensures your customer journey map reflects the real-world experience and equips you to take targeted actions to improve the overall customer journey.
7. Make changes and find solutions
So your map is complete. What's next? You need to find or create solutions to the pain points you identified in the previous step.
Now's the time to check in on the goals you established in step one and make the moves to smooth out the journey. Give yourself time and space to implement some of the solutions, whether a quarter or six months, and check back on the map to update it.
As you put these changes into action, make sure to watch your customer journey map closely. Don't forget to keep it up to date to show the improvements and how they affect the customer experience. This keeps your customer journey map fresh and super useful for steering your brand toward delivering an exceptional customer experience.
4 types of customer journey maps and examples
Let's take a look at the four most common customer journey maps and examples of each.
1. Current state
Current state customer journey maps are like an audit. You document how your customers experience their buying and service paths in your company's current state. These are especially helpful to establish a baseline for your customer service experience.
Take a look at this simplified current state customer journey map from Nielsen-Norman.
The map follows the journey of "Jumping Jamie" as they navigate the process of switching to a different mobile plan. The map defines the current journey into four stages. Apart from the journey, it also highlights opportunities and metrics to track.
Current state maps are fantastic for sharing user frustrations with all departments. This helps you get everyone on board with investing in solutions and brainstorming ways to address user pain points.
2. Future state
Future state customer journey maps follow the same format as current state maps except they represent the ideal journey. You can use them alongside your current state maps to identify painpoints and areas to improve.
Here's an example of a future state journey map:
Why does this visual work? It covers different states, feelings and even touchpoints in a cohesive format.
The map visualizes the best-case scenario to create a north star vision for your brand. It aligns your efforts toward achieving the ideal customer journey.
3. Day-in-the-life
Day-in-the-life customer journey maps outline one of your persona's schedules as they go about their day. The interactions may or may not involve your company. Creating one of these maps helps you identify the best times and areas to interact with your customer.
Here's a "day-in-the-life" visual from Pipedrive.
The map doesn't just highlight when the persona does something, but it also highlights different touchpoints and the different people they interact with throughout the day. And, notice those thumbs ups and downs? Those highlight how the child feels during different activities too.
4. Service blueprint
A service blueprint customer journey map focuses solely on when you provide customer service. It ignores components like ads that might exist in other maps.
Miro, a collaborative online whiteboard for teams, created the above map with a bank in mind. You'll notice how this map is only about a customer's visit to the bank. This type of map helps brands look at individual service areas and interactions. It's a macro version of the current and future state maps.
Get started with customer journey map templates
Creating a customer journey map doesn't have to be overwhelming. There are plenty of free and paid templates out there to help you create one. If you think you'll need more guidance or many maps, some companies offer special software to design a custom map. Build your first journey map or improve your existing one with these options.
Current state template , provided by Bright Vessel.
Customer journey map template by Moqups, a design and collaboration tool.
Service blueprint template by Miro
Customer journey map template by Mural, a planning tool.
UXPressia's customer journey map online tool , made specifically to create presentation-ready customer journey maps.
Create a strong foundation with a well-integrated customer journey map
A customer journey map gives you the recipe for crafting personalized, impactful interactions that build customer satisfaction and loyalty.
When you know what they are and why they're important, it's time to make yours. Use data to create a solid customer journey map that exceeds customer expectations at every touchpoint.
Check out how you can turn your B2B social media data into a revenue-driving powerhouse and create a memorable brand.
[Toolkit] Communications Toolkit to Safeguard Your Brand
Find Your Next Social Media Management Tool With This Scorecard
How to ladder up your brand's social media maturity
3 Social media executives share what it takes to build a long-term career in social
Customer Care
Customer Experience
How to build customer relationships with social media
Omnichannel customer experience: exploring seamless customer journeys
The role of AI in creating a more human customer experience
Customer retention strategies for 2023
Build and grow stronger relationships on social
Sprout Social helps you understand and reach your audience, engage your community and measure performance with the only all-in-one social media management platform built for connection.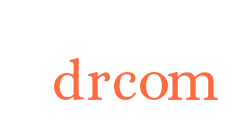 Your Omnichannel Strategy Guide
What does omnichannel marketing in pharmaceuticals imply? What advantages are there? How does it vary from pharmaceutical multichannel marketing? This article provides the essential approach along with helpful pointers for achieving excellence and giving healthcare professionals (HCPs) an exceptional experience after addressing the fundamental concerns. Therefore, if you're just getting started with omnichannel marketing or hoping to maximize the potential of your current strategy, do read the full article!
For any clarifications, please kindly send an email to: michael.phee[at]drcomgroup.com
What is omnichannel marketing for pharmaceuticals?
After working on numerous omnichannel strategies for various pharmaceuticals globally, we've realised that many marketers were confused about the differences between multichannel and omnichannel. What's the fundamental difference?
Multichannel: Multiple channels with the same messages
Omnichannel: Multiple channels with interconnected messages (one seamless ecosystem)
In omnichannel, your messages in one channel will support and/or be relatable to another channel's content; whereas in multichannel, you're basically repeating the same content across different different channels. As such, omnichannel focuses on the customer experience – delivering personalisation.
Here's an example:
Place yourself in the HCP's shoes. Will you visit different channels if the content is the same across the board?
Planning your customer's journey
This is crucial, along with segmentation. By also leveraging on your deep understanding of your customer profiles, you'll be able to deliver a more personalised and precised experience for your HCPs. Here are some possible segmentations which you can consider (but not limited to):
Level of engagement (never, rarely, sometimes, often etc)
Preferred channels
Preferred type of content (product, disease or both)
Knowledge level about a certain topic
For simplicity purposes, we'll use discuss the differences between HCPs who doesn't know about you (HCP 'A') and HCPs who've already engaged with you (HCP 'B').
HCP 'A' will have a different customer journey compared to HCP 'B' due to their difference in their product's and disease knowledge.
HCP 'A': Views a LinkedIn post -> Leaves contact details on a landing page -> Rep schedules remote detailing session to introduce product -> Receives approved email –> Lands on HCP Portal –> Registers for a webinar
HCP 'B': Received approved email –> Lands on HCP Portal –> Registers for a webinar
Recommended best practices
Here are some of the best practices which you can use to enhance your omnichannel strategy:
Data analytics : Leveraging data to make better and more precised customer segmentation
Tracking KPIs : This will assist you in identifying issues to improve your future campaigns
Personalisation : Delivering precise, preferred and a curated experience for your HCPs
Time of delivery : When are your HCPs more likely to (e.g open an approved email)
Storytelling : Making your content stand-out
Framework : Useful to internally visualise your customer's journey
Message flows : Content sequencing for each customer's journey
We hope that we've empowered your knowledge with regards to omnichannel marketing in pharma. If you'd like to view some case studies and to discover how omnichannel marketing can benefit you, please drop an email to: michael.phee[at]drcomgroup.com.
Related Posts
Other , Insights | Aug 14, 2023 - 14:31
5 ways to enhance your HCP engagements
Other | Jul 25, 2023 - 09:05
The Key to Effective Omnichannel Marketing: HCP Segmentations…
Other | Jun 27, 2023 - 09:41
5 Important Benefits of eLearning for Pharmaceuticals in…
News , Other | May 30, 2023 - 10:04
4 ways Chatbots can enhance your HCP engagements
News , Other | Feb 27, 2023 - 12:41
4 ways AI can benefit pharmaceuticals for marketing
News , Other | Jan 13, 2023 - 13:03
5 reasons why pharmaceuticals shouldn't use ChatGPT for…
Other , News | Nov 28, 2022 - 11:55
Your Guide to Snackable Content
News , Other | Nov 8, 2022 - 14:39
French Chamber Philippines Gala Dinner 2022
News , Other | Oct 20, 2022 - 16:23
5 Benefits of Modular Content
Other | Sep 26, 2022 - 15:55
Best Practices for eDetailing
News , Other | Sep 22, 2022 - 16:21
Case Study: A Successful Omnichannel Strategy
Other | Aug 10, 2022 - 10:41
Subscribe to receive monthly insights
For further contact., new york office.
27 W 20th St #800, New York, NY 10011, USA Landline: +1 646 637 3489
Sydney Office
Tank Stream Lab, Level 3, 17-19 Bridge Street, NSW 2000 Sydney, Australia Contact number: +61 422 128 692
Singapore Office
Southbank, #11-05, 883 North Bridge Road, 198785, Singapore Contact number: + 65 82626203
drcom Japan
Japan office.
5-20-2-305 Nishiikebukuro, Toshimaku, 1710021 Tokyo, Japan
Ho Chi Minh Office
3A Floor, VINA Building, 131 Xo Viet Nghe Tinh Street, Ward 17, Binh Thanh District, Ho Chi Minh City, Vietnam Landline: +84 (0)28 5437 1208
drcom Vietnam
Drcom china, shanghai office.
Room 619, No. 1440 Middle Yan'an Road, 200040 Shanghai, China Landline: +86 21 6133 1837
Beijing Office
2F, Building 81, No. 4 Gong Ti Bei Road, Chaoyang District, Beijing 100027, China Landline: +86 10 6461 0260
More From Forbes
Rethinking the b2b buyer's journey in the age of ai.
Share to Facebook
Share to Twitter
Share to Linkedin
Creative Director, ZED Marketing. Using sharp content and strategic thinking to help B2B companies engage with the right audiences.
The foundational blueprint of the B2B buyer's journey hasn't changed: Captivate interest at the funnel's broadest point, identify qualified leads, and then engage and escort them toward a purchase.
While this sounds straightforward, it's actually a delicate and strategic practice that's often underestimated. Even the largest businesses grapple with content gaps, ambiguities and perplexing click paths that can deter even the most interested customer.
When we throw generative AI into the mix, the challenge becomes even greater. Now, companies must compete with floods of rapidly generated content—and it's tempting to simply follow suit rather than devote time to original thinking. If your marketing team is primarily focused on top-of-funnel clicks and page-view numbers, it's easy to slip into a click-bait mindset to try and cut through the clutter. This means a disproportionate amount of energy gets channeled into the short-term reward of clicks and away from developing integrated, well-crafted content to enhance your brand and meet your customers where they are at each stage of the buyer's journey.
Customer Journey Mapping: Spotting The Disconnects
Recognizing and understanding the health of your entire buyer's journey—from lead to conversion—is essential to improving its overall condition. Several signs indicate a faltering system:
• Great SERP rankings that don't translate to measurable content engagement.
• An over-reliance on branded keywords or paid searches to keep website traffic buoyant.
• Too many " zero-click " outcomes. This occurs when users are served answers directly in search engine results pages (SERPs) without needing to click further. Zero click can deliver high impression numbers and look optimistic in analytics reports, but it doesn't translate to page visits.
• Incomplete information. There is an abundance of details about specs, features and benefits but a lack of elementary, early-stage educational content. Or conversely, early-stage content with no bridge to the next phase in the sales funnel.
• Gated content that doesn't pay off. Gathering contact details is great, but you must then reward leads with content that is unique, authoritative and useful.
• Leads that aren't converting. High volume for clicks and page views is unhelpful (even wasteful) if you're not then escorting those leads through to micro- and macro-conversions. With each step deeper in the funnel, content must be increasingly insightful and relevant to meet specific audience needs and retain their interest.
Strategies For A More Robust B2B Buyer's Journey
Don't let your leads get lost in a maze of content. Below are some practical tips for building a more cohesive journey.
Think 'leadership' from the beginning.
The test of leadership is the value provided to audiences. Leaders do more than echo the industry's collective voice; they offer unique and specialized insights that address audience needs. Leaders set up their value proposition from the beginning with educational content that leads audiences, step by step, toward purchase decisions and product preferences. As Stephen Covey wisely put it, they "begin with the end in mind."
Honestly evaluate the validity of your buyer personas.
Personas are foundational. To reflect the realities of your target audience, they must be based upon solid research, interviews and real-world data, not just presumptions. AI can help by collecting and analyzing customer data from sources like social media and review sites to create more accurate and dynamic personas.
Rely on a hub-and-spoke model to establish authority.
Hub-and-spoke content does double duty by offering your readers a very robust and pertinent content journey, and also by demonstrating the linking, relevance and topic organization that Google uses to determine site authority. But, this only works if your content truly demonstrates originality and aligns with Google's E-E-A-T (experience, expertise, authoritativeness and trustworthiness) criteria. Once leads are in the funnel, they begin to expect increasingly insightful content developed by knowledgeable humans.
Think 'choose your own adventure.'
The average B2B buyer's journey is often months long and can include up to 20 decision-makers . Leverage your existing customer data to learn the pain points and interests of these various decision-makers. Then provide options with different subtopics and other types of content including videos, case studies and more. AI tools are useful here to help with ideation and exploring new formats. The key is to make these options visible so that it's easy to take the next step.
Address middle-of-funnel obstacles.
It's at this stage that your leads begin to seriously evaluate their options. They will compare products from various vendors, so don't shy away from offering concrete reasons why they should choose yours. Identify your product's unique selling point (USP). Get specific about features and benefits. Understand market trends and know what competitors are saying.
Create your buyer's journey map.
Take advantage of digital journey mapping tools. In the hands of skilled marketers, they can help to craft a compelling cross-channel journey map that adds visibility and breaks down silos.
Cherish your existing customers.
When building buyer's journeys, there's gold in your customer database. Use AI to analyze past buyer behaviors. Communicate directly with your clientele. Gather reviews (good and bad) and listen to opinions. After all, existing customers spend over 30% more than new ones and are 50% more likely to try your new products.
Continuously evaluate your results.
Regularly gauge results, adopt A/B testing, take responsive action on feedback, leverage powerful analytics and research findings, and strive to raise the bar at every opportunity along the buyer's journey.
In an age of digital noise and on-demand content, it's tough enough to just rise above the din. But getting the attention of a new lead is only the beginning. Once they're on your turf—be it your website, landing page, video or whatever—the hard part is keeping them on the path. A successful buyer's journey involves crafting memorable experiences, establishing irrefutable leadership, and ensuring that all the words, visuals and ideas that you serve up are as relevant and valuable for your customers as they are effective for your brand.
Forbes Agency Council is an invitation-only community for executives in successful public relations, media strategy, creative and advertising agencies. Do I qualify?
Editorial Standards
Reprints & Permissions