Ft. Lauderdale and Miami
Winter schedule –  10/1/2023 — 5/1/2024.
Below is the 2023-2024 Winter Cruise Connection schedule for  Friday, Saturday, Sunday & Monday  scheduled sailings from Ft. Lauderdale & Miami. This schedule and times are  effective   October 1st, 2023 through May 1st, 2024.  Please keep in mind that schedule and rates are subject to change.
If your ship departs or returns on a Tuesday, Wednesday or Thursday please call us to see if we can assist you. Reserve your cruise bus today,  book online  or give us a call to reserve your spot!
EAST COAST AND CENTRAL FLORIDA DEPARTURES AND RETURN SERVICE WILL BE WAITLIST ONLY!   Please call us at 888-501-5388 to add your name to the waitlist.  We must have a minimum number of passengers to run this route.  
PLEASE NOTE THE NEW PICKUP POINT IN MELBOURNE AND OCALA  HIGHLIGHTED  IN RED
Cruise Connection reserves the right to cancel your transportation if there is not enough passenger participation.  Please see full disclosure below
Route 1  clearwater.
Route 1 Arrival:  Ft. Lauderdale/Miami 11:00-2:00 PM
Route 2  Tampa/Brandon
Route 2 Arrival:  Ft. Lauderdale/Miami 11:00-2:00 PM
Route 3  Ocala      THIS ROUTE IS WAITLIST ONLY – CALL 888-501-5388 TO BE ADDED TO LIST
Route 3 Arrival:  Ft. Lauderdale/Miami 11:30-2:30 PM
Route 4  Daytona    THIS ROUTE IS WAITLIST ONLY – CALL 888-501-5388 TO BE ADDED TO LIST
Route 4 Arrival:  Ft. Lauderdale/Miami 11:30-2:30 PM
Rates & Schedules
Summer Schedule –  through 9/30/23
Below is the 2023 Summer Cruise Connection schedule for  Saturday & Sunday only , scheduled sailings from Ft. Lauderdale & Miami. This schedule and times are  effective   May 9th through Sept 30th, 2023.  Please keep in mind that schedule and rates are subject to change.
If your ship departs or returns on a Tuesday, Wednesday or Thursday please call us to see if we can assist you. Reserve your cruise bus today,  book online  or give us a call at  888-501-5388  to reserve your spot!
Traveling in a group of 20 or more? See our  Groups page  for discounted rates and additional travel options.
Need a ride to a Cruise Connection pick-up location?  Take a look at our  Taxi & Ride Sharing List .
Though we have permission to pick up and drop off at each location, we do not have permission for you to leave vehicles.  NO PARKING IS ALLOWED AT THE PICKUP POINTS.  YOU WILL BE TOWED.
Route 1 Arrival:  Ft. Lauderdale/Miami 11:00-1:30 PM
Route 2 Arrival:  Ft. Lauderdale/Miami 10:30-1:30 PM
Minimum passenger disclaimer:  For 25+ years, Cruise Connection has been proud to boast that we have never canceled a departure. In these times however, we must now initiate a minimum passenger policy. We can no longer send a vehicle to and from the ports with only a few passengers. In the event you are scheduled for transportation and there are not enough people booked, Cruise Connection will reach out to any passengers effected to offer transportation options and/or full refunds to include any cancellation protection purchased. We will do so with enough time for the passengers to seek alternate transportation, usually about 2 weeks prior to the departure.  While we will try to never cancel a departure, if we are forced to, a full refund will constitute full settlement to the passenger and will terminate all liability on the part of Cruise Connection by Escot and its agents relating to that Bus Transportation. Cruise Connection will not offer any additional compensation if transportation is canceled.  No compensation will be provided for alternate transportation expenses, to include rental car, Uber/Lyft charges, airfare or hotel room reimbursement in the event of a cancelation4442 U.S. 19
New port richey, fl 34652.
Cruise Connection is a charter bus company, with service by Escot Bus Lines, a Family owned company
Get in touch.
6890 142nd Ave N Largo, FL
Toll-Free: (888) 501–5388
Outside the U.S.
(01) 941–256–8762
Via Fax: 941–371–5750
Commuter Services
Newburgh Local Transit Service
Newburgh, Beacon, Stewart Shuttle
Commuter Bus To/From White Plains
Click Below to View Pricing & Departure Points
Looking for a charter bus rental or other transportation options for your group's cruise ship transfer?
Lay back in comfort as your personal charter bus driver takes you and your group to and from the docks. Charter your cruise ship transfer bus rental with Leprechaun Lines – here to help streamline all your group transportation needs.
Time for some Cruise Control!
Hassle-free Casino Group Transportation
Ride in Comfort and Style
We're the number one bus rental company in New York's Hudson Valley for casino venturing groups because we're able to match all your needs. From 12-passenger mini buses to full-sized coaches that carry 56 passengers , we'll find the perfect bus for you and your group. 
Contact us today to reserve your cruise chip transfer bus rental, our large fleet of charter buses and mini-buses can accommodate groups of any size to any cruise boarding terminal in the tri-state area and beyond! 
Finding the perfect bus rental for your ski trip is easy when you work with Leprechaun Lines.
Ballarat to Melbourne Station Pier 03&nbsp5333&nbsp4181
Don't miss the boat.
Set sail with Cruise Ship Shuttlebus
Stress-Free Transfers from Ballarat to Station Pier
Welcome to Cruise Ship Shuttlebus, your trusted partner in stress-free , direct cruise transfers . We specialise in offering a seamless shuttle bus service from Ballarat to Melbourne Station Pier.
We are excited to announce that we are now taking bookings for the Melbourne Cruise Season 2023/2024! Our commitment is to ensure a reliable and convenient connection for passengers of the Grand Princess and Pacific Explorer cruises, from the heart of Ballarat directly to Station Pier.
Our planned schedule, running from October 2023 to April 2024, is designed to perfectly align with your cruise timings, ensuring your journey to the ship is as enjoyable and relaxing as the cruise itself.
At Cruise Ship Shuttlebus, we believe your holiday should start the moment you leave your doorstep. So why worry about the drive, parking or timing?
Leave it all to us, and start your cruise adventure the moment you board our shuttle.
Book your ticket today, sit back and enjoy the ride.
We look forward to serving you and being an integral part of your unforgettable cruise journey.
Hassle-Free, Direct Transfers
Say goodbye to navigation stress and parking woes! Our direct shuttle service from Ballarat to Melbourne Station Pier lets you start your cruise adventure the moment you board. Enjoy a seamless transition from home to ship with Cruise Ship Shuttlebus.
Perfectly Timed for Your Cruise
With Cruise Ship Shuttlebus, never worry about missing your ship! Our carefully planned schedule aligns perfectly with the Grand Princess and Pacific Explorer cruises. We'll ensure you arrive on time for the Melbourne Cruise Season 2023/2024.
Comfortable Journey, Competitive Prices
Experience a comfortable ride without breaking the bank. Cruise Ship Shuttlebus offers an affordable, comfortable journey to your cruise. Relish in the comfort of our shuttles and arrive at Station Pier relaxed and ready to sail.
All our vehicles are immaculately maintained, fitted with seatbelts and equipped with modern appointments to provide you with the highest standard of safety and comfort.
We'll collect you from one of our many pickup points and deliver you to Melbourne Station Pier. No fuss. No bother. Ready to enjoy your cruise.
Valet Parking
When you travel with us, we can store your car in our secured outdoor parking area at Ballarat for the duration of your trip.  This area is under constant video surveillance.
Arrived with your cruise ship and want to visit Bruges?
Our shuttle buses are ready to take you straight to Bruges and back to the port in Zeebruges. They depart at regular intervals, allowing you to wait a maximum of 30 minutes. Get your tickets for the shuttle in advance. (We only offer our service for Cruise ships, not regular P&O Ferries!)
about Cruise Express
Find your stop nearby
check bus schedules
We offer 3 services
Book shuttle.
Super cheap tickets
Always on time
Book excursion
Travel in group, three promises we always try to keep.
We're very satisfied that you are travelling with Cruise-Express! Our shuttle service starts from the disembarking moment of your ship. From then on we have a bus to Bruges (until +/- 12 am) every 30 minutes.
Supercheap tickets
Retour Trip: €20,00
Single Trip: €15,00
Children ≤ 9y: FREE
always on time
In the afternoon we have buses back from Bruges to Zeebrugge every 30 minutes, depending on the departure time of your cruise ship. First bus: 4 hours before final cruise embarkation. Last bus back: 1 hour before final cruise embarkation.
Discover the exact locations of the shuttle bus at both pick up points
find your stop in
find your way in
Why choose for the services of Cruise Express
Independent.
Cruise Express offers a completely independent shuttle service. We have sufficient seating capacity to take you into the heart of Bruges city centre quickly and comfortably.
Our shuttle service starts immediately after disembarkation and offers a bus to Bruges every half hour (until approx. noon) and to Zeebrugge until 1 hour before final embarkation.
You decide when you depart and return to the cruise ship. You don't have to book a certain time in advance. You can use our service when it best suits you!
Maximize your time
We adapt our transfers to your schedule. If your ship moors later than foreseen, we extend our service. This way you maximize your time in Bruges.
TAILOR-MADE
Do you have something specific in mind? Would you like to rent a private bus for your company? Are you considering luxury transport in vans? Contact us today!
Our satisfied customers
Very easy to get to Bruges. Driver was friendly and helpfull. If we ever come back by cruiseship we'll be sure to use this service again. thanks
Thomas Slonacker
Excellent, the shuttle bus was very easy to find, the driver pleasant.....the cost was half of what you would pay the cruise ship, I would definitely recommend.
Your testimonial
Write a review, your opinion matters to us!
Your score:
Your review has been sent! Thank you for the feedback.
There has been an error. Please try again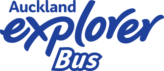 CRUISE SHIP SHORE EXCURSIONS
Hop-on hop-off bus.
Visiting Auckland by cruise ship?
It's easy to see the city with Auckland Explorer Bus. Buses leave from our Viaduct Harbour stop in downtown Auckland, very close to the arrival point for cruise ships.
There are two cruise ship wharfs in Auckland, Princes Wharf and Queens Wharf (by the Ferry Building on Quay St). Both are a short, easy walk from the bus stop.
From Princes Wharf, after disembarking you'll exit the terminal and walk down the wharf onto Quay St. Our bus stop is the next block south from Quay Street, walk to Customs Street and turn left, the stop is located across the road from the Movenpick Hotel Auckland. If your ship comes into Queens Wharf, walk off the wharf onto Quay St, walk south to the next block over from Quay Street, and turn left. The stop is across the road from the Movenpick Hotel Auckland.
Buses leave approximately every 30 minutes between 9am and 4pm (stopping at 5pm). View route information here .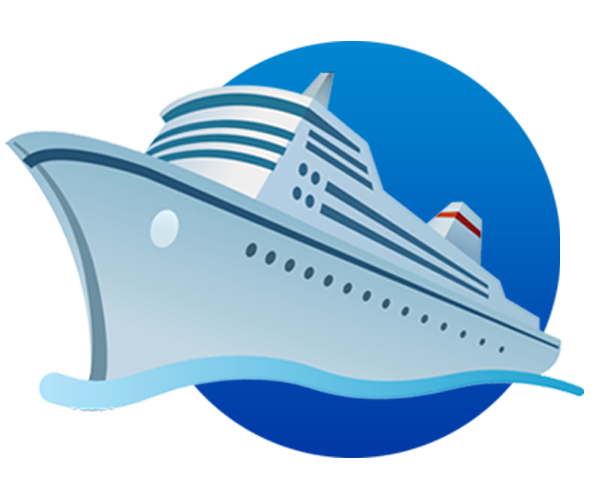 BUYING TICKETS
We recommend pre-purchasing your ticket before you arrive to save time. Simply show the ticket to the driver when you board and they will scan the QR code to validate. You can hop-on hop-off as many times with the time period of your pass.
Tickets can be purchased for 24 or 48hrs or travel.
Our street sellers are also located around the city or you can purchased from the travel desk inside the Ferry Building or the i-SITE Information Centre .
CRUISE SHIP CREW Cruise ship crew with ID can buy an all day bus pass for just NZD$20.
Available from our street sellers only.
PLANNING YOUR VISIT
To maximise your time we recommend stopping off and visiting the attractions as you come to them, rather than doing a full circuit on the bus first. Check out our other tips on our FAQs page .
If you wish to return to the ship for lunch you can easily walk back from Stop 1, then join the bus again in the afternoon. (However, as New Zealand has a reputation for excellent food, it would be a shame not to try some local cuisine while you are here!)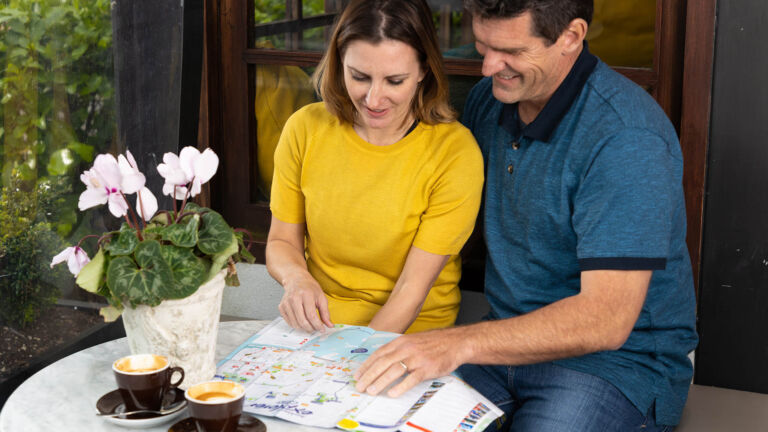 Breadcrumbs
Cruise ship passengers.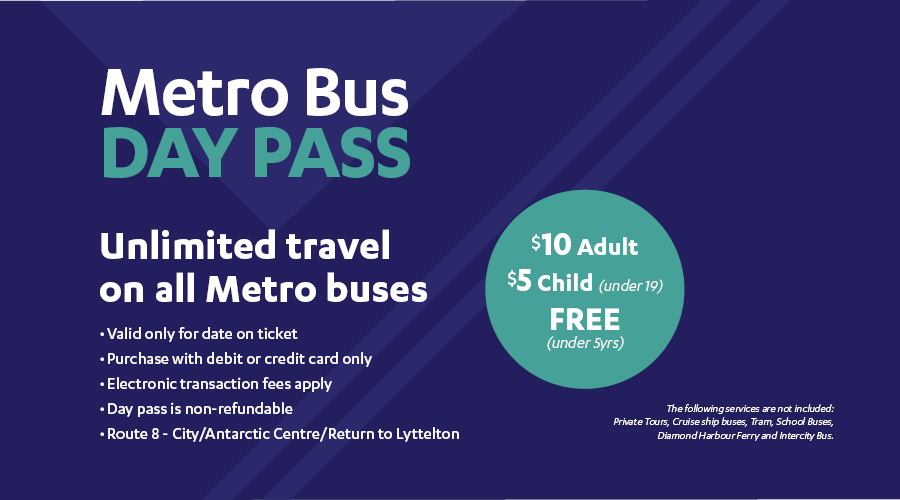 To travel to the Gondola or into Christchurch city, your best options are to use the shuttle buses from the wharf provided by the cruise lines. We have been working hard with our industry partners to ensure that these shuttles offer a fast, direct and affordable service.
There is also local public transport options available to these destinations, however we would ask any cruise ship passengers to instead use the shuttle services provided, respecting locals who rely on our public transport for their daily lives.
$10 day passes are available from the Lyttelton bus stop and can be purchased by credit card/debit cards.
Environment Canterbury are part of a multi-pronged approach led by ChristchurchNZ and including Christchurch City Council, Lyttelton Port Company, and the New Zealand Cruise Association, which aims to reduce pressure placed on our public transport system by cruise ship passengers.
We are unable to accept any cash notes larger than $20NZD on the buses for cash fares and will only accept New Zealand Dollars.
Read the latest update from ChristchurchNZ on its website.
Los Angeles Charter Bus for Cruise Transfers
Charter bus for cruise ship transfers.
We have been proudly providing charter bus rental service in Southern California since 1984!
All the major cruise lines operate out of the Long Beach and San Pedro cruise terminals. TCS has the resources to provide cruise transfers for both large Ground Transportation Operators as well as individual groups requiring transfer service to and from the regional gateway airports.
We specialize in providing safe, comfortable, dependable group transportation anywhere your group needs to go. Every vehicle in the TCS of Full Size Charter Buses  and  Mini Buses passes the most stringent safety inspections; all our vehicles are submitted to monthly inspections to ensure perfect functioning, and our experienced drivers are carefully screened and subjected to the best training in the industry. All of our buses are well-equipped for comfortable rides: premium seating, spacious legroom, seat belts, personal air conditioning system, restrooms (in most vehicles), audio/video system, Wi-Fi access, etc.
Our fleet of vehicles includes all of the following:
Full-Size Charter Bus – 56 passengers & 48 passengers
Mid-Size Charter Bus – 38 passengers
Mini-Bus – Up to 31 passengers
School Bus – Up to 54 passengers
Request a Quote
Our TCS team representatives are available to assist you in finding and booking the best charter bus solution for your company. Call us today at (714) 637-4300 or Request a Free Quote and one of our team members will contact you ASAP.
Servicing the Greater Los Angeles Area
The TCS Difference
Comfortable Our top of the line fleet of charter buses include the amenities that matter most to you while traveling including audio-video entertainment systems, Wi-Fi internet access, air conditioning, spacious and comfortable seats, restrooms, overhead parcel racks, and air ride suspension for maximum comfort and more; Everything you need to make sure your company employees travel safely and comfortably.
Safe We go to great lengths to bring you the top of the line in safety both from our drivers and our equipment to ensure your group's safe arrival at every destination. Our safety measures include monthly inspections and a rigorous maintenance program to keep every one of our vehicles in the best and safest condition. Every TCS bus driver is chosen based on their high qualifications, experience within the industry, and their ability to provide our customers with a friendly and accommodating traveling experience from start to finish.
Reliable At TCS, we are proud of the reputation we have earned as a national leader in the charter bus industry. Having spent over 30 years providing safe, timely, comfortable charters to all of our clients in California and beyond. Our Mission since day one has been to deliver exceptional travel experiences through safe, comfortable, dependable group transportation and helpful, friendly service, from reservation to trip completion for every one of our clients.
Charter Quote Request