Coron Island Hopping – The Ultimate Guide For 2023
Coron Island Hopping is one of the best things to do in Palawan!
There are many different Coron Island tour packages to choose from, but I'll be discussing the best one to book later on this post.
I have put together this complete guide to Coron Island Hopping including where to book, how much it costs, and what to expect on the Coron Ultimate Island Tour.
Table of Contents
CORON ISLAND HOPPING – OVERVIEW
Let's start this guide with all the essentials you should know about Coron Island Hopping, from where to book and more.
WHERE TO BOOK CORON ISLAND HOPPING?
I personally booked the Coron Ultimate Tour online in advance and I highly recommend you do the same.
Coron Super Ultimate Tour is the most top-rated Coron Island Hopping Tour Package with great reviews.
This particular Coron Island tour includes a full day of island hopping on an outrigger boat to Siete Pecados Marine Park, Kayangan Lake, Barracuda Lake, BBQ lunch on Beach 91, Skeleton Wreck, CYC Beach, and Twin Lagoon.
BEST CORON ISLAND HOPPING TOUR
The BEST way to visit is to join a Coron Ultimate Tour !
It includes transportation, all entrance fees, lunch and drinks, and a fun guide!
CORON ISLAND HOPPING – WHAT TO EXPECT
The island hopping Coron begins with a hotel pick-up between 7:30 and 8:00 am and a transfer to meet the boat in Coron Bay.
The Coron Island tour starts at around 9 am and returns again between 4 pm – 5 pm.
Do note that there is an additional fee of 150 pesos to rent snorkeling gear on the tour.
Before jumping on the boat, there are many vendors selling waterproof phone cases, dry bags, reef booties, and all other sorts of products that you may be interested in purchasing.
Prices vary so put your bartering skills to the test!
Once you're all geared up, jump on the boat to begin the Coron Palawan island hopping.
SIETE PECADOS MARINE PARK
The first stop of the Coron Ultimate Tour is Siete Pecados Marine Park and the perfect opportunity to jump in the ocean, get wet and discover the underwater world at this incredible marine sanctuary.
I couldn't believe the size of some of the fish and the abundance of other marine life I saw while snorkeling here at Siete Pecados Marine Park!
It really goes to show that they have been doing a great job preserving the sea life and standing by their no-fishing laws at this location.
Some of the features of the reef are large staghorn coral, table corals, and gorgonian fans.
Schools of fish inhabit the colorful corals, large barracuda skim along the surface and green sea turtles frequent the area.
Safe to say that Siete Pecados Marine Park was the perfect start to a full day of island hopping in Coron!
Have you got travel insurance for your trip?!
We all know accidents can happen and having Heymondo Insurance will save you thousands of dollars if something goes wrong.
Heymondo offers low-cost Travel Insurance to keep you covered on all your adventures.
KAYANGAN LAKE
The next stop on this island hopping Coron Palawan is Kayangan Lake which is hands-down one of the most popular Coron tourist spots so you can expect to encounter many other tour boats and visitors at this location.
Despite the crowds, Kayangan Lake is a phenomenal attraction and I guarantee you'll have an awesome experience!
There is a picture-perfect lagoon where the boat arrives prior to walking over the hill to Kayangan Lake which is a natural beauty in itself.
I decided to fly my drone camera here to capture it all from a birds-eye perspective and I was in complete awe, to say the least!
For all of you drone pilots out there, be careful when flying around the cliffs as the signal is very weak and many drones have been known to drop out of the sky and sink.
I just wanted to give you a heads-up and be aware of this. I took the risk and flew cautiously with no issues.
To reach Kayangan Lake, you'll have to walk across an over-the-water boardwalk and over the hill via a set of stairs which takes no more than 5 to 10 minutes.
The trail emerges at an open clearing and to where you'll get your first glimpse of the crystal-clear Kayangan Lake and the surrounding limestone cliffs.
I jumped headfirst into the freshwater lake and began to explore the underwater cliffs that Kayanagan is most famous for. I have never seen anything like it!
There are also a few fish swimming around in Kayangan Lake but the main attraction is definitely the epic rock formations under the surface!
We spent around 1 hour at Kayangan Lake before heading back to the boat to continue to the next location.
BARRACUDA LAKE
Barracuda Lake is the third stop on the island-hopping tour Coron and another epic underwater phenomenon worth throwing your mask and snorkel on for.
The entrance to Barracuda Lake is another picture-perfect lagoon with a wooden boardwalk that leads over the jagged cliffs and down into the lake.
Similar to Kayangan Lake, it features a large freshwater lake and underwater limestone cliffs which gives Barracuda Lake its vibrant blue color.
It's the perfect spot for freedivers as the water beneath the surface is incredibly clear and the view of the underwater cliffs is unreal.
Barracuda Lake gets its name from a large amount of barracuda fish skeletons that were found in the depths of the lake.
I did not see any skeletons myself, but I did come face to face with a few barracudas swimming around at the surface.
The BEST Hotel in Coron
Need a place to stay? Bacau Bay Resort Coron is conveniently located in Coron.
Whether you're here to explore the sights or relax in comfort, Bacau Bay Resort is a great choice.
BBQ LUNCH ON BEACH 91
By midday, we all had rumbling tummies and it was the perfect time to arrive at Beach 91 for a BBQ lunch on the beachfront.
Beach 91 is a slice of paradise boasting white sands and towering cliffs which is tucked away in a little cove.
A buffet lunch is served under a sheltered beach hut on the shoreline and it's a mix of rice, noodles, salads, fish, crab, chicken, pork, and fruits.
There is more than enough to go around, so be sure to go up for seconds if you wish!
RELATED ARTICLE → 3 WEEK PHILIPPINES ITINERARY
There are some kayaks sitting around on the shoreline at Beach 91 for anyone to use free of charge.
After my food was digested, I grabbed a kayak and went for a paddle around the cliffs with two other lads from Israel that were on my Coron day tour as well.
We found an epic lagoon that was so expansive that we could have spent hours exploring if we had the time.
My favorite spot that I discovered on my little kayaking adventure was a secluded beach with a lone beach hut on its shoreline and a towering limestone cliff behind it.
The boat captain whistled for us to head back to the boat to continue to our next destination.
SKELETON WRECK
Skeleton Wreck is a stone's throw away from Beach 91, featuring a 25-meter Japanese shipwreck that was struck and sunk sometime during WWII.
Skeleton Wreck is one of the more popular stops, so just a heads up you'll see many legs in the water at this location.
Skeleton Wreck is a great spot for freedivers and for those who are not comfortable diving down, snorkeling above the wreck is just as amazing.
The bow of the shipwreck is only about 5 meters below the surface whereas the stern is around 20 meters deep.
Although the name Skeleton Wreck suggests something, you won't find any skeletons inside the shipwreck.
They say the name comes from the rib features that are present on the inside of the shipwreck.
The schools of fish that circulate Skeleton Wreck Coron are not afraid to get up close and personal so don't be alarmed when they do because it's a pretty awesome experience in itself.
Capture All Your Adventures!
I'm sure y'all know by now that GoPro's are arguably the best action cameras on the planet!
The new GoPro HERO 11 boasts 5.3K video, 27MP photo, HyperSmooth stabilization, and waterproof up to 10m!
The second last stop on the tour is CYC Beach which is a tiny little island surrounded by an expansive coral reef and home to an idyllic stretch of sand, fringed with mangrove trees.
Besides snorkeling the reef here at CYC Beach there isn't much more to do other than beach bum on the shoreline, wander around the mangroves or grab a cold beverage from one of the local boat vendors.
I decided not to swim from the boat to CYC Beach and send my drone up instead.
Once again, I was blown away by the birds-eye perspective I was getting of these beautiful landscapes in Coron.
TWIN LAGOON CORON
Last but not least on the itinerary was Twin Lagoon which is a spot I was looking forward to the most on the Coron Island Hopping adventure!
Twin Lagoon is exactly as it sounds – a pair of turquoise blue lagoons enveloped between towering jagged limestone cliffs that looked like something out of a movie!
Our boat pulled into the cove and tied off beneath the vertical cliff walls. Everyone on my boat was quick to jump in and swim towards the entrance to the Twin Lagoons.
I, on the other hand, decided to fly my drone for the last time and boy am glad I did.
The whole area that surrounds Twin Lagoon is other-worldly and I will let the pictures below do the talking for this one!
I landed the drone safely and the captain said I still had around 20 minutes before we needed to make tracks back to the mainland, so I quickly swam inside Twin Lagoon for a quick look.
Floating around inside Twin Lagoon, marveling at the incredible surroundings was the icing on the cake.
I can contentedly say that the Coron Ultimate Island Tour was one of the best experiences I had in the Philippines!
The cruise back to Coron Port takes around 30 minutes on the boat and a hotel drop-off concluded the Coron Ultimate Tour!
WHERE TO STAY IN CORON
Coron has countless accommodation options to choose from, so I have narrowed it down to a few of the best places to stay in Coron to fit the needs of budget backpackers, luxury travelers, and everyone in between.
See the list of accommodations below that I personally recommend before or after going island hopping in Coron Palawan.
Luxury: Bacau Bay Resort Coron
Bacau Bay Resort is a beautiful 4-star accommodation close to the town.
Featuring an outdoor swimming pool, on-site restaurant, bar, fitness center, kids club, a relaxation spa, and free wifi throughout the property.
Choose from a deluxe room or premier suite which is fitted with air conditioning, flat-screen tv, seating area, wardrobe, kitchenette, private bathroom, spacious living, and large comfortable beds.
It's the perfect place to stay in Coron for couples, families, or friends.
Mid Range: Vienna Hotel
One of the best mid-range accommodations in Coron is Vienna Hotel.
Centrally located in Coron town, featuring a swimming pool, massage services, in-house restaurant, bar, free wifi, and a rooftop terrace overlooking Coron Bay.
The rooms are fitted with a desk, flat-screen tv, fridge, seating area, private bathroom, outside balcony, and large comfortable beds.
American, Asian, Continental, English, or buffet breakfast is included for all guests. Recommended for couples, families, or friends as a base when taking this best tour in Coron.
Budget: Hop Hostel
Hop Hostel is one of the best and most popular hostels in Coron, perfect for couples, friends, or solo travelers on a budget.
Centrally located in Coron town near cafes, restaurants, bars, and public markets.
Choose from either a Dorm room, Queen room, or Quadruple room with air conditioning and comfortable beds.
The private rooms are fitted with a fridge, microwave, coffee machine, and wardrobe. There's also free WiFi, a shared kitchen, a lounge area, and a rooftop bar/terrace with incredible views of Coron Bay.
FOR ALL OTHER PLACES TO STAY IN CORON, SEARCH ON BOOKING.COM
Best coron tours.
Looking for the best Coron Island hopping tours?!
Visit the Viator website to see all of the top-rated tours in Coron. Be sure to book online in advance to be guaranteed the best rates!
WHAT TO PACK FOR THE PHILIPPINES
When visiting the Philippines, here is a list of items I highly recommend bringing with you.
Must-Have Travel Essentials
Hidden money wallet.
Keep your cash and other valuables safe with this anti-theft hidden money wallet!
Reusable Water Bottle
The GRAYL GeoPress is the best reusable bottle that allows you to purify water from anywhere!
Travel Backpack
The Nomatic Travel Backpack has 20+ innovative features, perfect for everyday use!
Quick-Dry Travel Towel
The most compact, lightweight, and quick-dry towel for traveling!
Portable PowerBank
Keep your phone, laptop, and accessories charged while you're on the go with the Anker PowerBank!
More Philippines Travel Guides
Click the button below to view all articles related to the Philippines!
FINAL THOUGHTS – CORON ISLAND HOPPING
I hope you enjoyed reading this article and if you have any questions, please leave me a comment below this post and I will get back to you as soon as I can.
For a quicker response, be sure to join Jonny Melon's Travel Tribe on Facebook and post your questions or recommendations about the Coron Tour A, B, C, D to our awesome community.
TRAVEL RESOURCES FOR YOUR NEXT TRIP
Whether you're a seasoned traveler or it's your first trip overseas, here are some useful travel resources to help you kick-start your next adventure!
Search and book accommodation worldwide.
Compare and book cheap flights to anywhere.
Find tickets, tours, and experiences around the world.
Book buses, trains, and transfers online in advance.
Search all rental cars in your next destination.
Need travel insurance for your next trip?
THANKS FOR READING
Hey friend, thanks for reading this guide about Coron Island tour A, B, C, D!
Please know this post may contain affiliate links. When making a purchase through one of my links, I earn a small kickback at no extra cost to you and it's a big help to keep the site up and running. Rest assured, I only promote products and services that I personally use and recommend.
Click here to find out how you can support the site organically .
Many thanks!
Leave a comment Cancel reply
Notify me of follow-up comments via e-mail.
Work With Me
Support The Site
Where To Go
Destinations
Travel Guides
Accommodation Guides
Get Travel Insurance
Packing List For Travel
Find A Rental Car
© 2023 Jonny Melon
Privacy Policy | Sitemap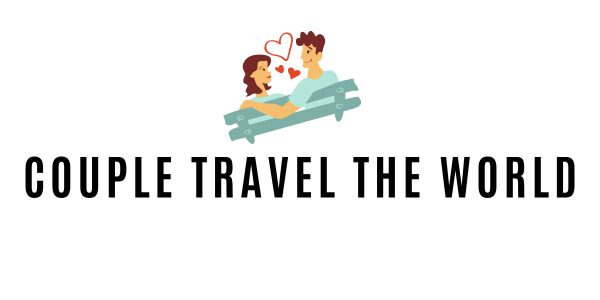 Ultimate Coron Island Hopping Tours Guide
By: Author MC Miller
Posted on Last updated: October 23, 2022
Categories Philippines , Travel Blog Post
Wondering which are the best Coron Island Hopping Tours to spend your money on? We know the feeling!
Having tried and tested the tours we can help you pick the right tour for you.
After experiencing all there was to offer in El Nido , we moved on to Coron (only a short boat ride away).
Like El Nido, Coron is an area where boat tours whisk you to jaw-dropping lagoons, reefs and white sand beaches.
Which Coron Tour should I take? 4 Coron Tours which Rocked!
We did the 4 main tours in Coron with JY Travel & Tours . They were all absolutely amazing!
Know which tour you're interested in? Jump right to it here:
Ultimate Tour
Coron Escapade
Calauit Safari
Coron Town Tour
Or keep reading to see what each tour has to offer to help you decide what is the best for you.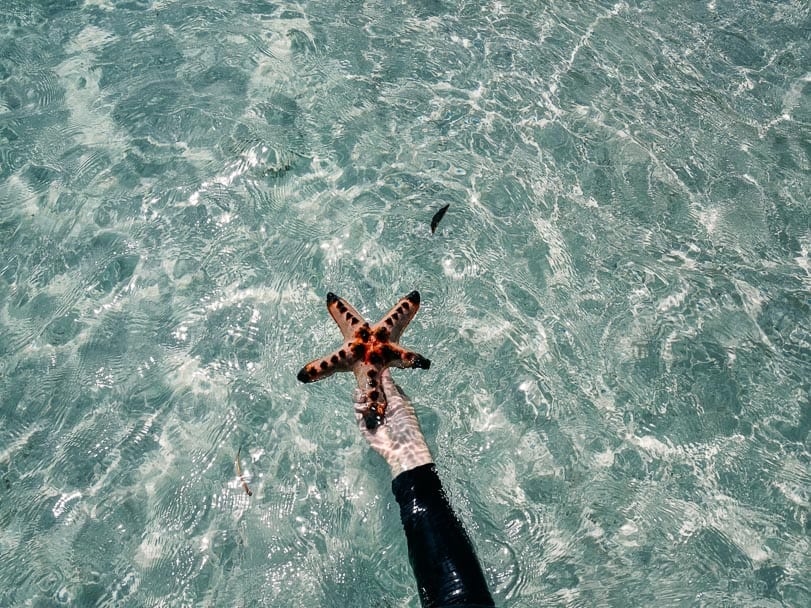 The Ultimate Tour – For those who only want 1 Tour
The Ultimate Tour is exactly as the name suggests – it showcases the best & most iconic areas Coron has to offer.
If we had time for only one tour in Coron, this would be it. The stunning lagoons and amazing landscapes are unique to Coron and something you do not see everyday.
The Ultimate Tour costs 1200 PHP per person ($22 USD).
The tour includes: hotel transfers, an experienced guide & lunch. It does not include the use of kayaks (1000 PHP per kayak).
Tips for the Ultimate Tour:
Unlike the El Nido tours, hiring/buying reef shoes is not really a necessity. We did not hire the reef shoes and were perfectly fine;
Bringing or hiring a snorkel is worthwhile as part of the tour involves viewing of an underwater ship wreck;
Hiring a kayak is advantageous but not essential. You can also enjoy the Twin Lakes by swimming.
Kayangan Lake
The first destination of the day is Kayangan Lake. This is perhaps the attraction we were most excited to see in Coron due to the perfect turquoise water.
To reach this attraction, it involves a 367 step climb.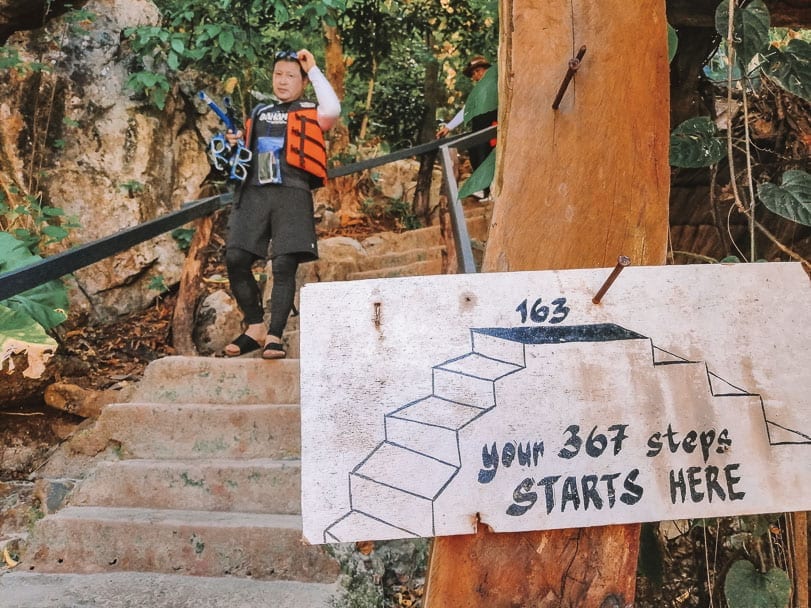 Luckily half way up, you will find an absolutely stunning view of Coron.
As this is one of the most iconic views of Coron, there was quite a line up to get this shot. Well worthwhile for a beautiful memory though!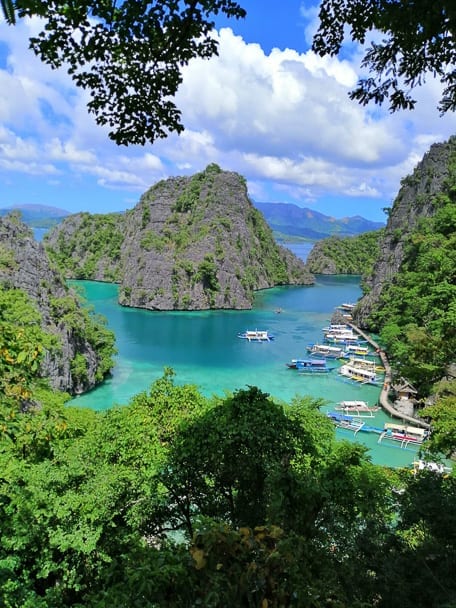 And yes, the hike is completely worth every agonising step up as at the bottom you are rewarded with some of the clearest water in Asia with absolutely stunning natural rock formations.
The water is in fact so clear that you can see garfish swimming around you in the lake.
You are not allowed to swim in Kayangan Lake without a life jacket so make sure you bring one with you from the boat!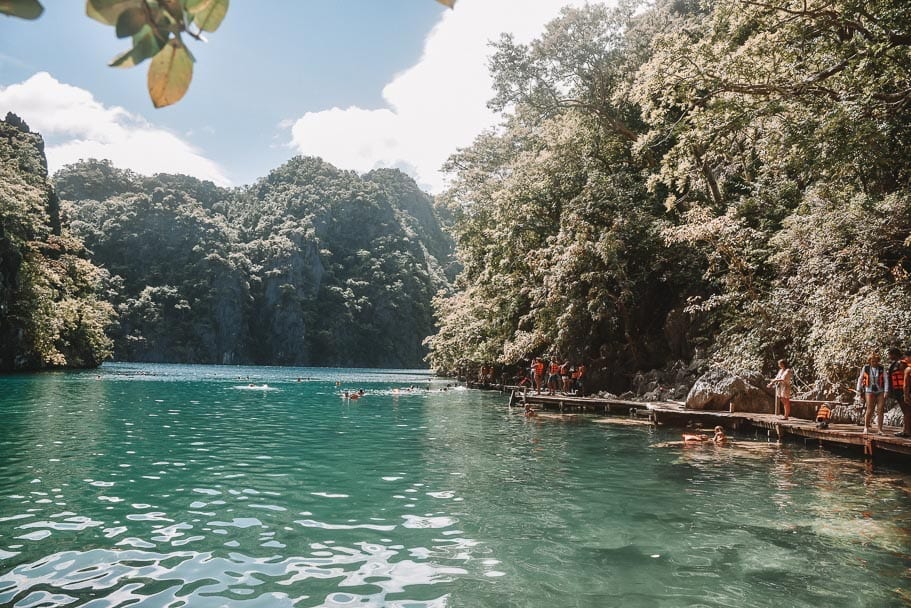 Barracuda Lake
Our next stop was Barracuda Lake. This was an unexpected stop and a "bonus stop" of our tour.
We thoroughly enjoyed Barracuda Lake and would recommend trying to book a tour which includes it.
If anyone is also interested in the best place to free dive in Coron – this is the place to do it! The underwater rock formations at Barracuda Lake are absolutely unreal.
We did not free dive but we had an opportunity to snorkel at Barracuda Lake and were very happy with the opportunity to be able to swim & snorkel in one of Coron's most iconic locations.
We could also see the beautiful underwater rock formations just by snorkeling as the water is SO clear in Barracuda Lake. The visibility is unparalleled anywhere else we visited in Palawan.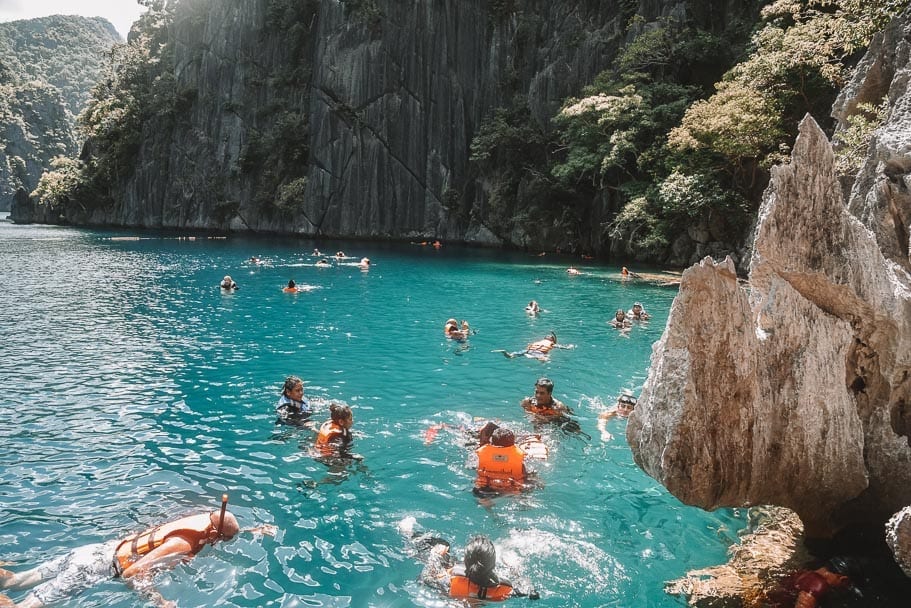 Following Barracuda Lake is one spot we were eagerly awaiting. It's one of the most iconic spots of Coron – the Twin Lake.
Twin Lake is known for the beautiful colour of water & stunning rock formations.
Here you have the opportunity to use rented kayaks. It is advisable but not absolutely necessary to kayak at Twin Lake.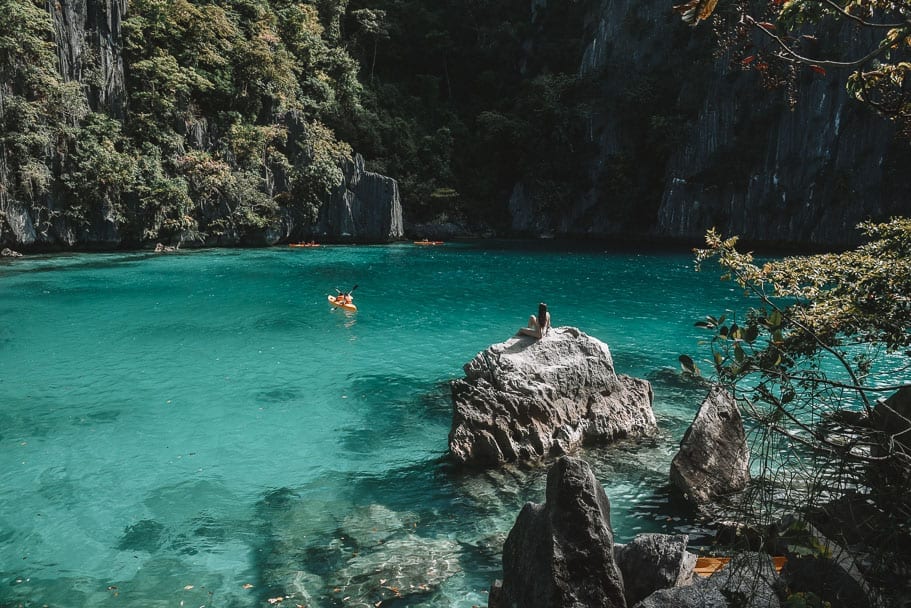 After a fun time swimming & kayaking in the lake, we enjoyed a delicious lunch aboard the boat. This consisted of grilled fish, rice, vegetables, chicken & fruit.
Japanese Ship Wreck
The next stop is a Japanese ship wreck. It was very cool seeing a Japanese ship wreck from WW2 submerged underwater.
As stated above, it is advisable to hire or buy snorkel gear for this tour as it is fascinating to see the ship wreck.
The final stop of the day was CYC beach.
You can swim or use your kayak to access the beach.
Interestingly, we met a French tourist camping overnight on CYC beach. He had actually come on a day trip and asked if he could be collected the next day.
An option for anyone who wants to get back to nature for a night. Ask your tour if this is possible in advance. The tourist brought all his own supplies.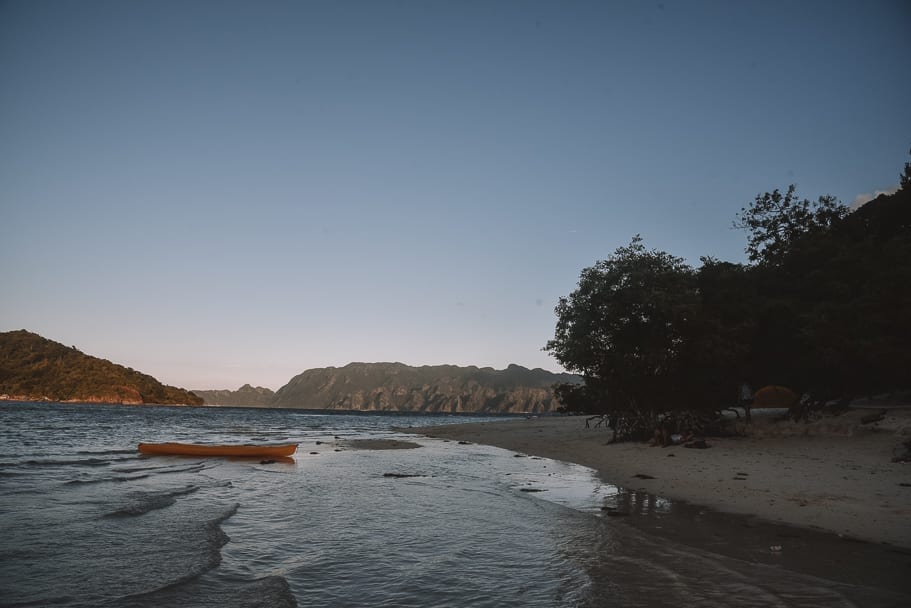 As we got back on the boat, we were treated to "Turon" a Filipino specialty which is banana wrapped in spring roll paper and fried.
Turon was one of the extra perks on our tour with JY Travel and Tours and one of the many reasons why we love them!
Coron Escapade Tour
The next tour we took of Coron was the Escapade Tour . We choose this tour as we wanted to see some spots further away from Coron where fewer tours (and tourists) go.
We recommend this tour for those looking for beautiful beaches further away from Coron.
There are less stops included in this tour as the first stop is 1.5 hours boat ride from Coron.
Tips for the Escapade Tour:
Hiring/buying reef shoes is not really a necessity. We did not hire the reef shoes and were perfectly fine;
Bringing or hiring a snorkel is worthwhile as the snorkeling on this tour is amazing;
Hiring a kayak on this tour is not necessary.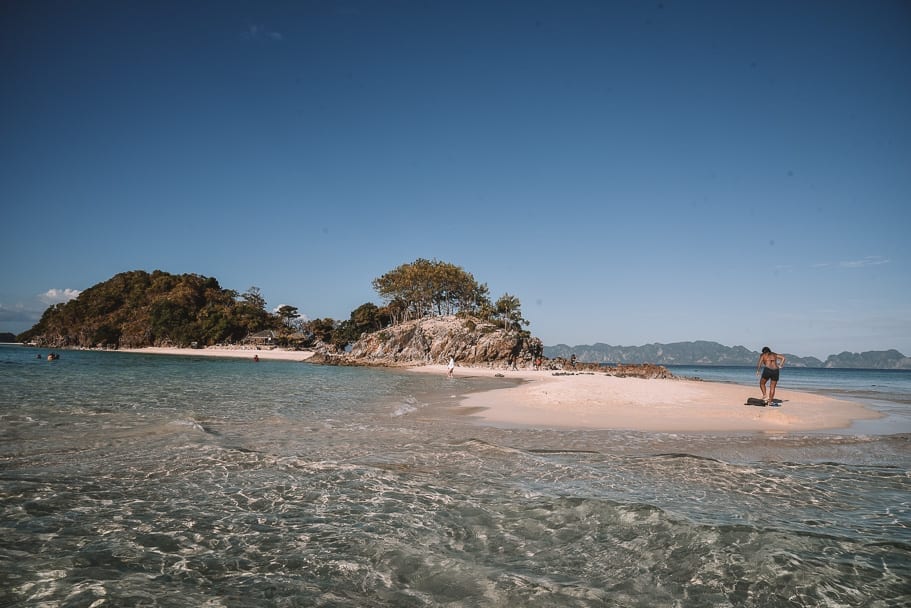 Malcapuya Island
The first stop was Malcapuya Island. This Island is absolutely beautiful – white sand beaches & crystal clear water.
What we also loved about this beach was that there are plenty of tables & chairs to sit on at the beach to keep shaded in the hot weather in the Philippines.
This island is also great for off shore snorkeling so if you have brought or hired a snorkel, this is a great opportunity to see some beautiful reef life.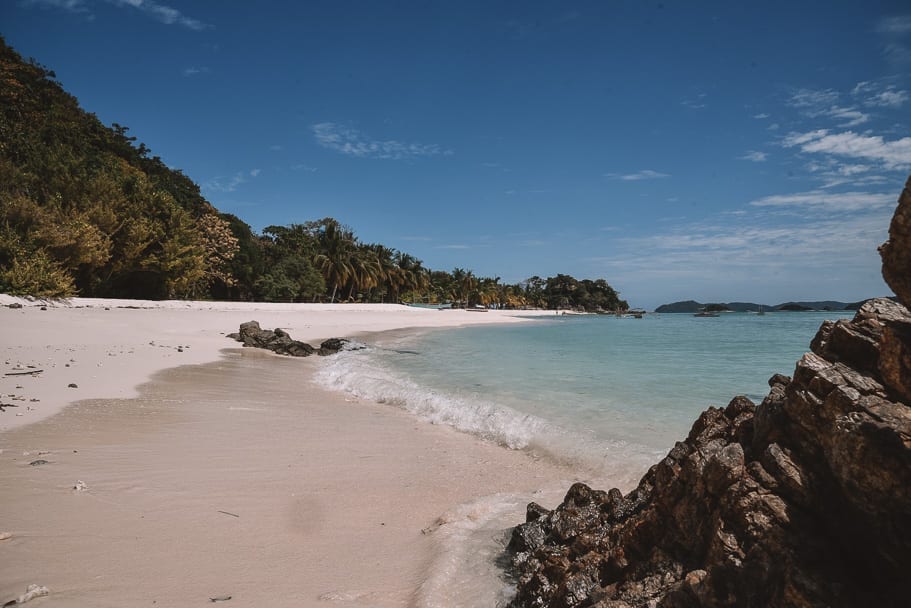 Banana Island
After enjoying snorkeling and swimming at Malcapuya Island, it was time to stop for lunch at Banana Island.
The JY crew prepared the most delicious lunch at Banana Island consisting of grilled fish, chicken, rice & fresh fruit.
Banana Island is also a great place to snorkel. If you feel energised after lunch we highly recommend snorkeling at Banana Island as it was one of the best snorkeling spots we experienced in the Philippines.
Metres from shore Mike found a huge school of fish on a feeding frenzy – check out our Instagram story highlights for more about this!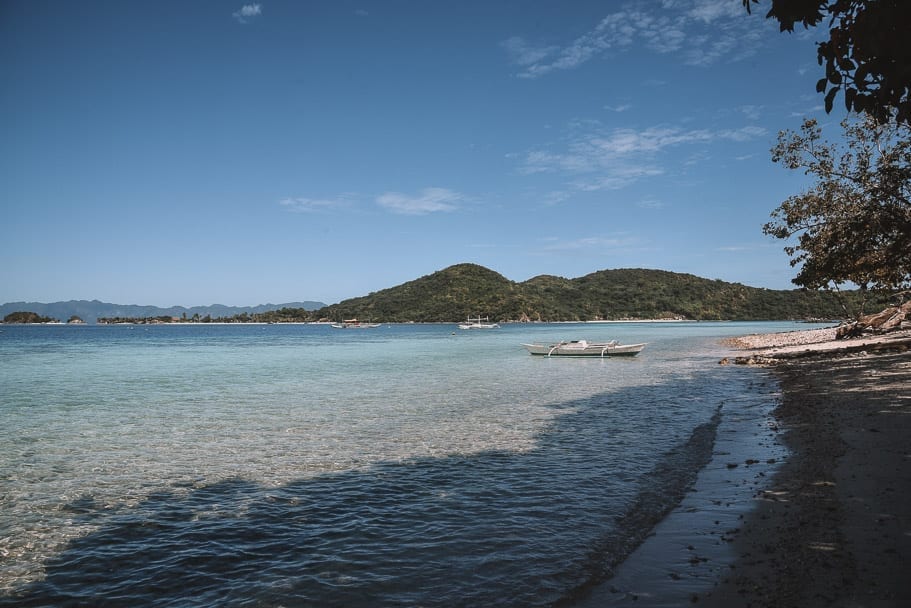 Bulog Dos Island
The island we were most excited about visiting for the day was Bulog Dos Island , which features a stunning white sandbar which protrudes from the beach.
Alas, we are not very lucky with sandbars. Just like our visit to Snake Island, El Nido – we visited at high tide so the ocean covered most of the sandbar.
Even though the full sandbar was not visible Bulog Dos was still an absolutely beautiful island. The snorkeling on this island is also fabulous.
There is also a viewpoint on this Island where you can get some pretty cool Instagram shots.
View this post on Instagram Paradise found ????️ Where is your happy place? . . . . . . @jytravelandtourscoron A post shared by Travel Couple ✈︎ (@coupletraveltheworld) on Nov 18, 2018 at 7:47am PST
Calauit Safari Tour
One of the reasons we were excited to visit Coron was to see African animals at the Calauit Safari.
We had seen this safari park on Instagram and were amazed that there was really African animals living in the Philippines. I mean, how cool is that?
Coron Safari
This tour starts even earlier than regular El Nido and Coron tours. The pickup time for the Coron Safari tour is 5am.
We actually didn't realise this and managed to miss our tour one morning. Not recommended. All of the island tours in Coron start at around 8am. This is different – be prepared.
The first stop is for a local breakfast for those who want it. Breakfast is 100 pesos per person and includes 2 eggs, Filipino sausages & rice.
From here, it takes around 30 minutes to reach the entry to the safari park.
The safari park is a very interesting experience and definitely not be missed if you are in Coron.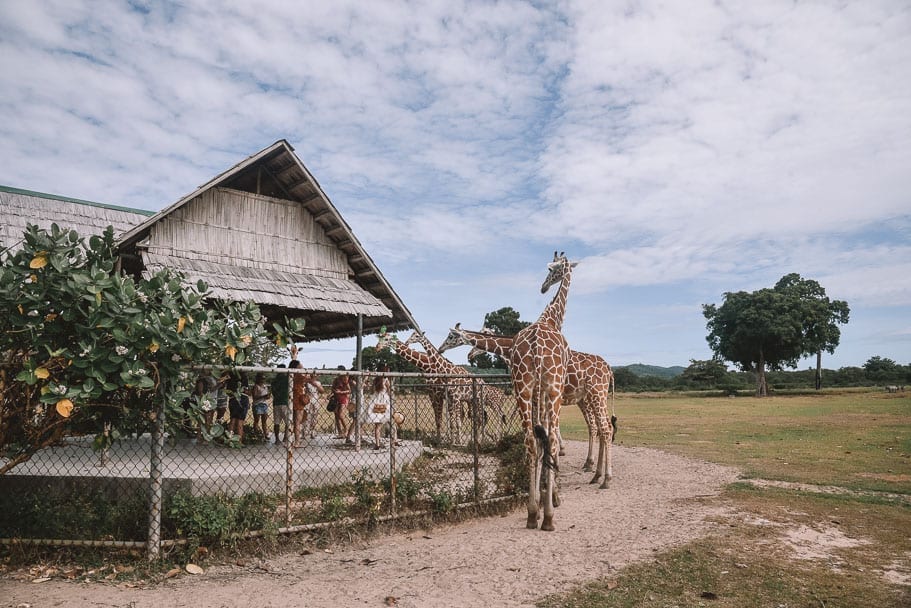 A cool quirk of the park is that it's located on an island reachable only by boat. It really felt like we were visiting Jurassic Park as our boat trundled up to this densely green island where rare animals awaited.
We found the boat ride over to the island to be pretty fun in itself.
When you first arrive, you get to feed the giraffes. It was so fun to be able to feed these animals. They were quite cheeky too so hold on to your branch or they will take it in one bite!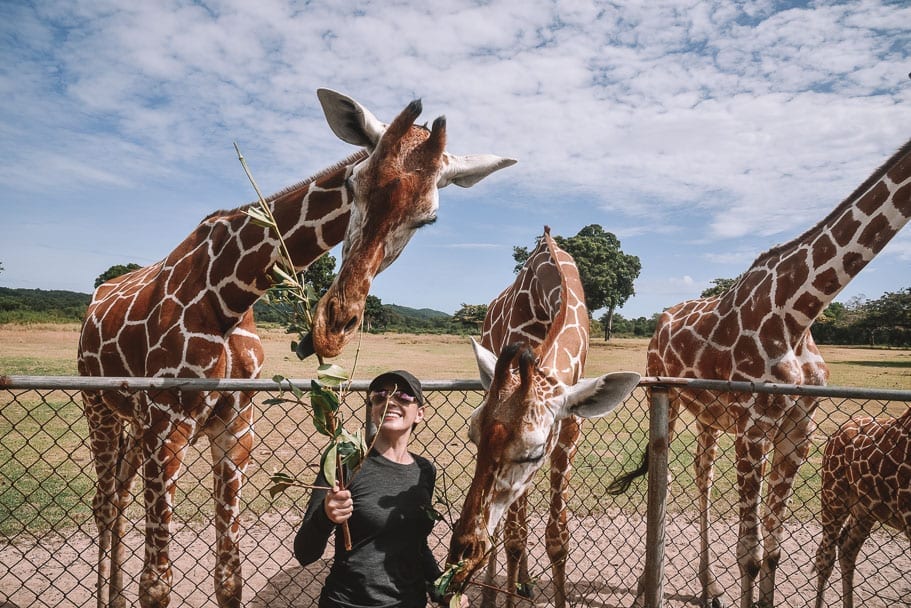 From there the rangers take you around the park to have a longer look at the animals and take photographs.
You can get fairly close to the giraffes and zebras in order to take a beautiful photo. The rangers don't like you getting closer than 3-4 metres.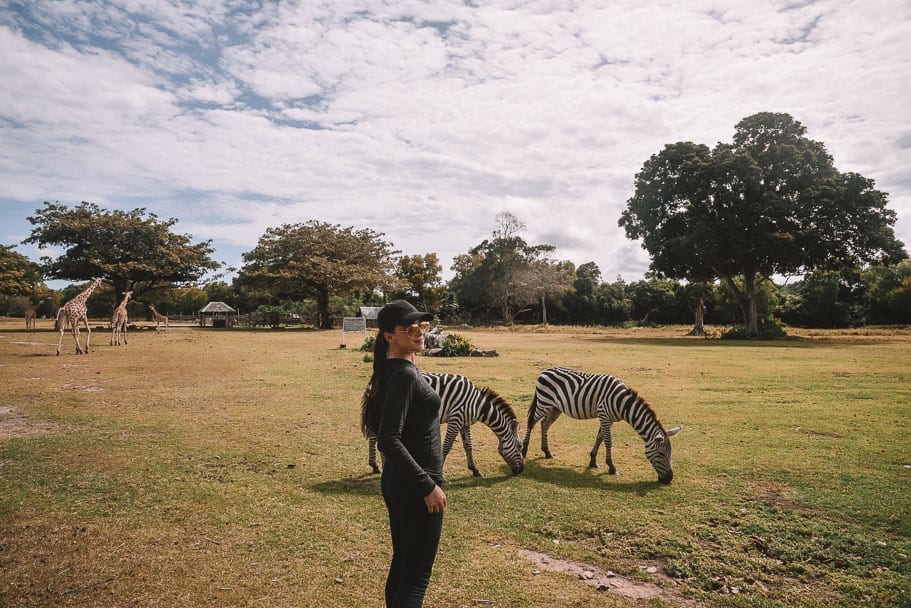 On the safari, the ranger also took us to see turtles, monkeys & a large snake.
It was a great experience and we would highly recommend it to anyone who loves animals.
After the safari, we had a quick pitstop at a local beach before heading back to the same restaurant as breakfast for lunch.
Black Island
After lunch the group split into two: those who wanted to see a waterfall & those who wanted to see Black Island.
We choose to skip the waterfall in favour of Black Island, an absolutely beautiful island off the north coast of Coron.
There is also an amazing cave on the island with a natural swimming hole. If you feel like an icey cold dip, you can even take a swim in the cave.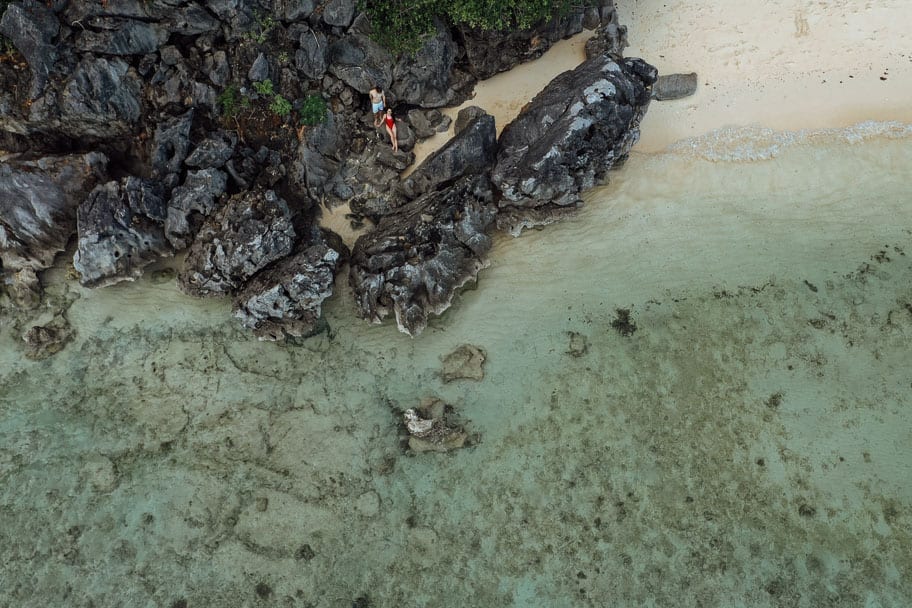 We arrived in Coron after a ferry ride from El Nido. The boat from El Nido arrrives at around 10am in the morning. This means it is too late to do a boat tour.
However, we didn't need to waste any time as we were able to join the Coron Town Tour! This tour starts at 4pm in the afternoon.
Admittedly, we are not usually fans of town tours. We would rather DIY. However, as this tour requires an after dark transfer to the hot springs 30 minutes from town, we think it's good value and more convenient than taking a tuk tuk.
We would highly recommend it if you have an extra afternoon spare while you are in Coron.
Lualhati Park
The first stop on the Coron Town Tour is Lualhati Park.
This was our least favourite spot of the tour but it was only a short stop for 10 minutes.
Basically, it is a nice river view walk/dock boat. Locals sell various souvenirs here and if you haggle, you can get a great price!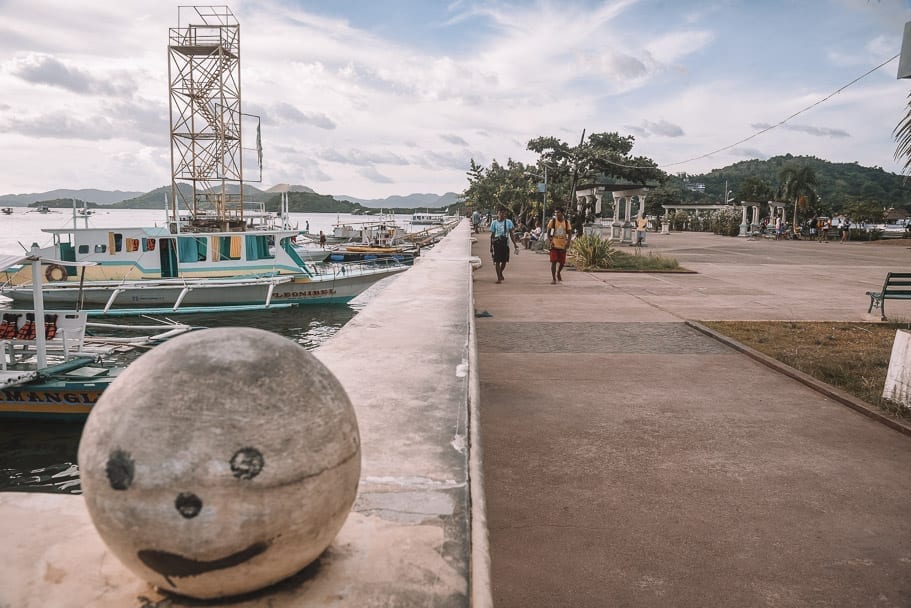 Mt Tapyas View Deck
The highlight of the Tour in our opinion was what came next – Tapyas View Deck.
The view and scenery at the View Deck is sublime.
We were not expecting this kind of countryside in the fisherman village of Coron and we were totally blown away.
In order to access the view deck, it is around a 20 minute stair climb to the top. We found it reasonably tiring (we were quite exhausted at the top).
Our guide told us that older people still manage to make it so it is definitely a doable hike!
From on side of the mountain a view deck with a beautiful vista of Coron town. On the other side is beautiful yellow rolling countryside like the one pictured below.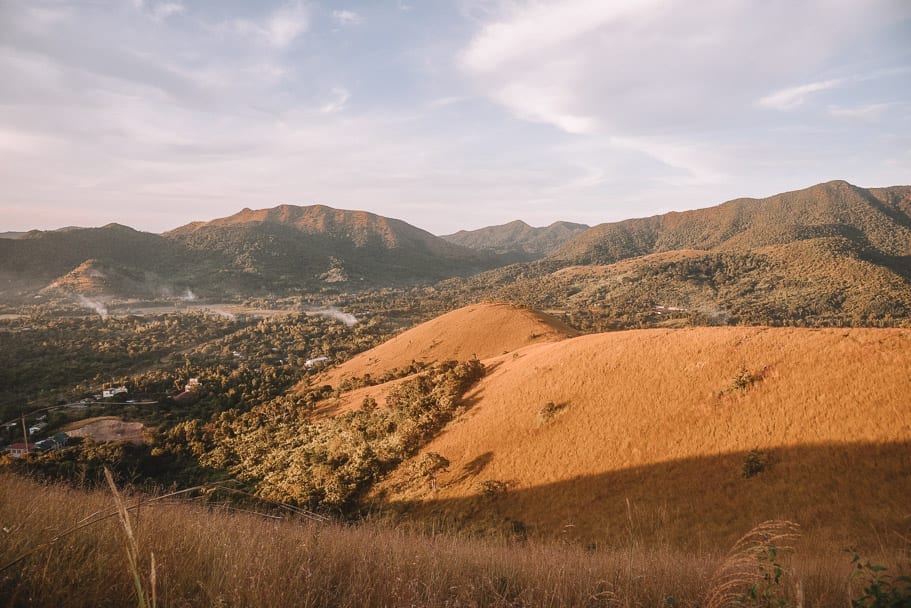 Mt Tapyas View Deck is the perfect place to enjoy a beautiful sunset.
One of the reasons for the late start of this tour is so you can sit down and enjoy the sun set over Coron.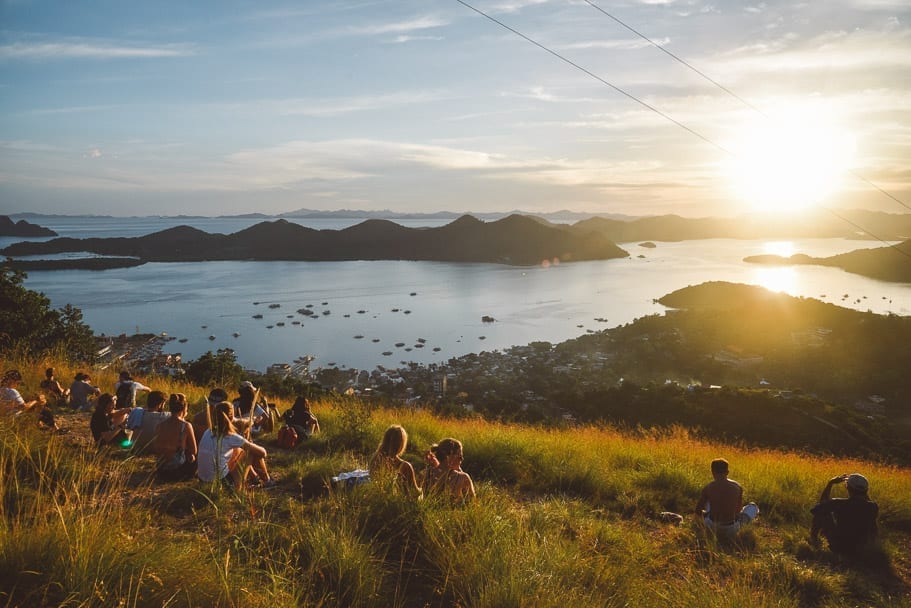 Maquinit Hot spring
After a steep climb uphill, what is better than relaxing tired muscles under the stars?
We weren't sure what to expect of Maquinit Hot Spring but we were pleasantly surprised.
The hot spring was so relaxing. It is extremely hot though and hard to stay in longer than 20-30 minutes at a time.
Luckily, there is a little cafe where you can buy cheap drinks and relax around the hot springs while you steam off.
Our group preferred to stay longer at the bigger attractions. There were a few attractions we missed in this tour: Town Plaza, Souvenir Shops, St Augustine Church & the cashew harvest.
What is great about JY Travel & Tours – they listen to the needs of the group and their preferences.
We loved that the tour is adaptable to individuals interests.
Which Tour Company? JY Travel & Tour
All Tours of Coron we did with JY Travel & Tours. We couldn't recommend this company highly enough.
The staff were fun, professional and looked after our safety the entire time. They were also very helpful with information about the surrounds.
Not only are the staff fabulous but they serve a fabulous lunch consisting of grilled fish, chicken, pork, prawns, grilled vegetables, rich & fruit.
If you are looking for a tour in Coron, we would highly recommend this company.
You can find more information on JY Travel & Tour website . You can also them on Facebook & Instagram .
Where to Stay in Coron
There are so many great places to stay in Coron to suit all budgets.
Click here to search all accommodation in Coron during your dates.
We would recommend staying in town rather than outside of town as there tends to be better access to internet! We stayed in a very clean & comfortable place in town with a great view.
To see where we stayed in Coron click here !
We were guests at JY Travel & Tour as part of these tours. However, as always, all opinions are our own.
We hope this helped you plan your Coron tour! If you have anything to add or need some advice, leave a comment below!
Save this 'Coron Tour Guide' to Pinterest so you can find it again later!
[/et_pb_text][/et_pb_column][/et_pb_row][et_pb_row admin_label="Row"][et_pb_column type="1_3″][et_pb_image admin_label="Image" src="https://coupletraveltheworld.com/wp-content/uploads/2018/12/What-to-do-in-Coron-Philippines.png" alt="What to do in Coron Philippines" show_in_lightbox="off" url_new_window="off" use_overlay="off" animation="left" sticky="off" align="left" force_fullwidth="off" always_center_on_mobile="on" use_border_color="off" border_color="#ffffff" border_style="solid"] [/et_pb_image][/et_pb_column][et_pb_column type="1_3″][et_pb_image admin_label="Image" src="https://coupletraveltheworld.com/wp-content/uploads/2018/12/The-Best-Tours-Coron.png" alt="The Best Tours Coron" show_in_lightbox="off" url_new_window="off" use_overlay="off" animation="left" sticky="off" align="left" force_fullwidth="off" always_center_on_mobile="on" use_border_color="off" border_color="#ffffff" border_style="solid"] [/et_pb_image][/et_pb_column][et_pb_column type="1_3″][et_pb_image admin_label="Image" src="https://coupletraveltheworld.com/wp-content/uploads/2018/12/Things-to-do-in-Coron-and-what-tour-to-take.png" alt="Things-to-do-in-Coron-and-what-tour-to-take" show_in_lightbox="off" url_new_window="off" use_overlay="off" animation="left" sticky="off" align="left" force_fullwidth="off" always_center_on_mobile="on" use_border_color="off" border_color="#ffffff" border_style="solid"] [/et_pb_image][/et_pb_column][/et_pb_row][/et_pb_section]
MC Miller is a travel blogger and writer who has travelled America extensively and abroad to over 80 countries. He founded Couple Travel The World in 2017. Since then, he has spent over 6 years on the road as a full time travel couple. When he not traveling he likes to spend quality time with his partner Bett, planning our their next date or romantic getaway!
View all posts
Thursday 27th of February 2020
OMG! I have been to Palawan at least 5 times and just falls in love with the place even more each time.
coupletraveltheworld
Saturday 29th of February 2020
Palawan is truly amazing. Did you take any of the tours in Coron? Between visiting the islands and meeting the friendly locals we fell in love too

Coron Ultimate Tour, the Best Coron Island Hopping Tour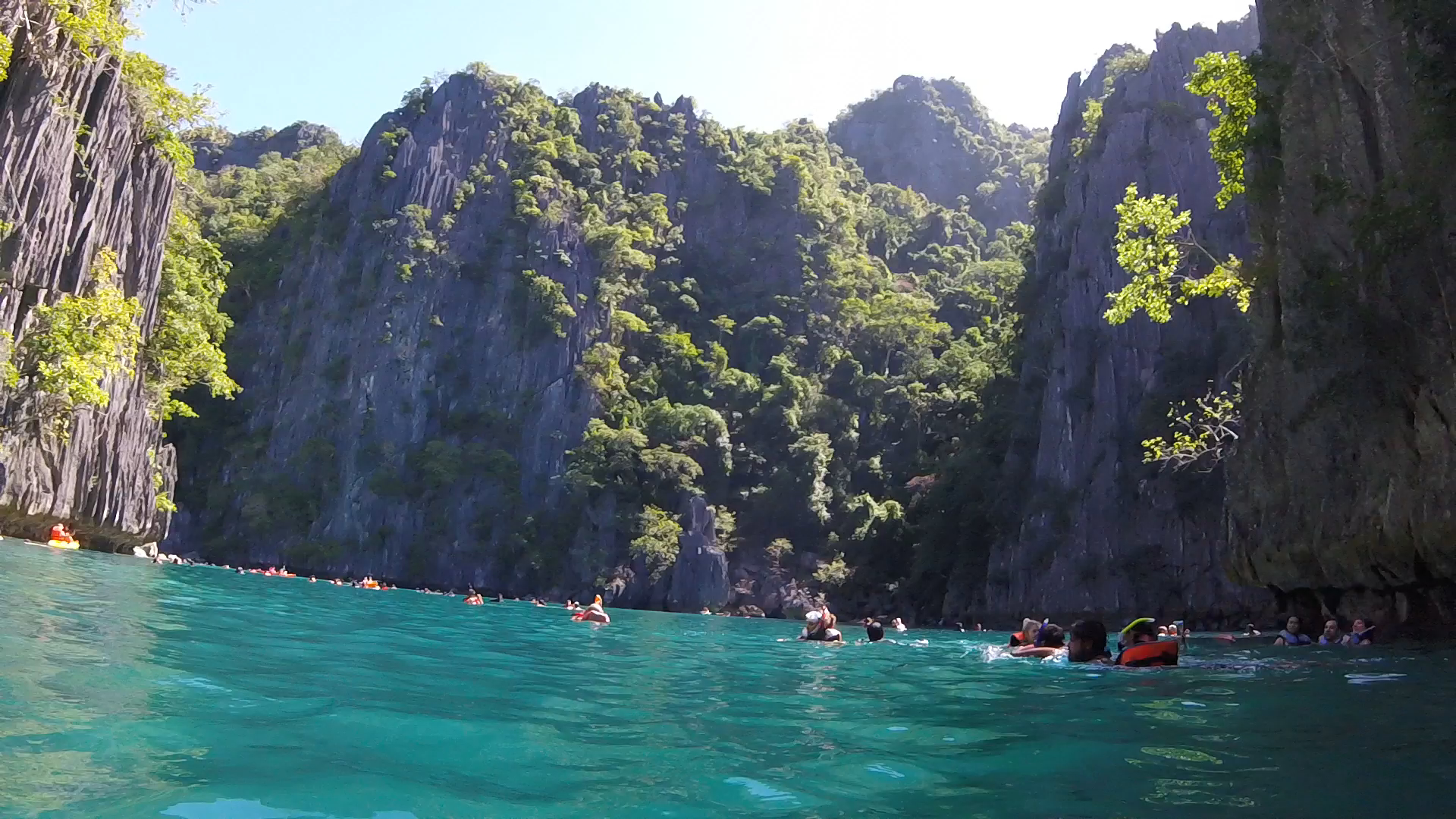 The best way to explore the beauty of the Philippines and its islands from Coron, Palawan, is to join the Coron Ultimate Tour . This tour is a Coron Island-Hopping Tour that hits all of Coron's highlights, including Kayangan Lake and Coron's Twin Lagoons. 
Many of the iconic spots around the Philippines are only reachable by boat, which basically forces you to join an island-hopping tour. For the number of sights and experiences you have on the Coron Ultimate Tour (also called the Coron Super Ultimate Tour) I thought the tour was 100% worth the price.
Several Coron Island-Hopping tours leave from Coron Town including  Coron Island Tour A ,  Coron Island Tour B ,  Coron Island Escapade Tour , and the Coron Ultimate Tour. Many of these Coron island-hopping tours hit the same beautiful lagoons, snorkeling spots, and islands. When I asked around in Coron which tour was the best for snorkeling and area highlights, the  Coron Ultimate Tour  was the answer.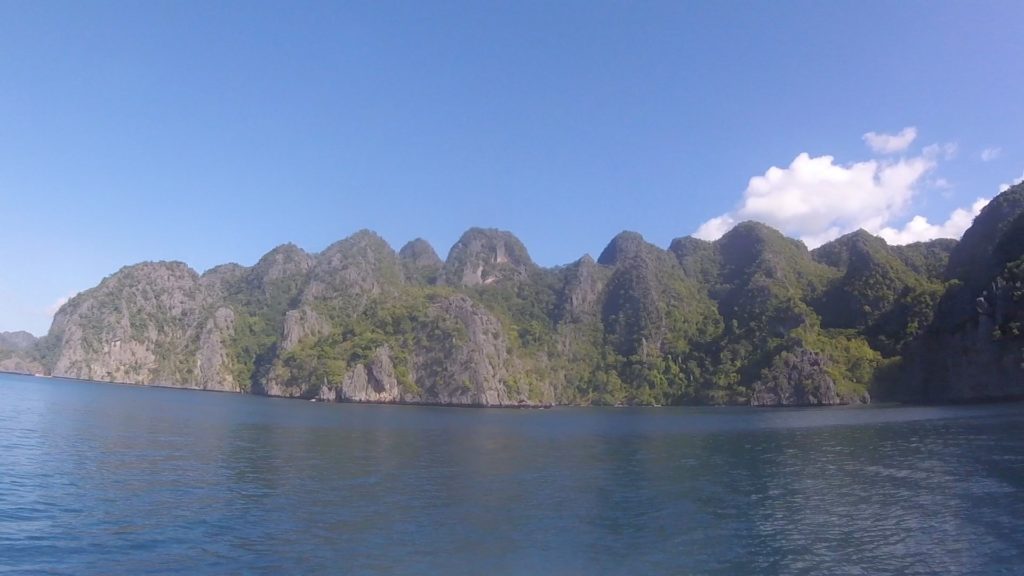 The Coron Ultimate Tour includes a trip to Kayangan Lake , one of the most famous spots in the Philippines, and the Coron Twin Lagoons where cold fresh water mixes with warm salt water from the ocean. On the tour, you'll snorkel a small ship wreck and some coral gardens, plus hang out at two secluded islands. A life vest, snorkel gear, lunch, and snack were provided, as was a tricycle pick up and drop off at your guesthouse. 
Together with Marty from  Intrepid Road , we booked the Coron Ultimate Tour for  1300 pesos per person.  The standard cost across for the Coron Ultimate Tour across all Coron tour companies is 1300-1500 pesos ($25-$30 USD). If you're visiting the Philippines in the high tourist season, I recommend booking the tour ahead of time .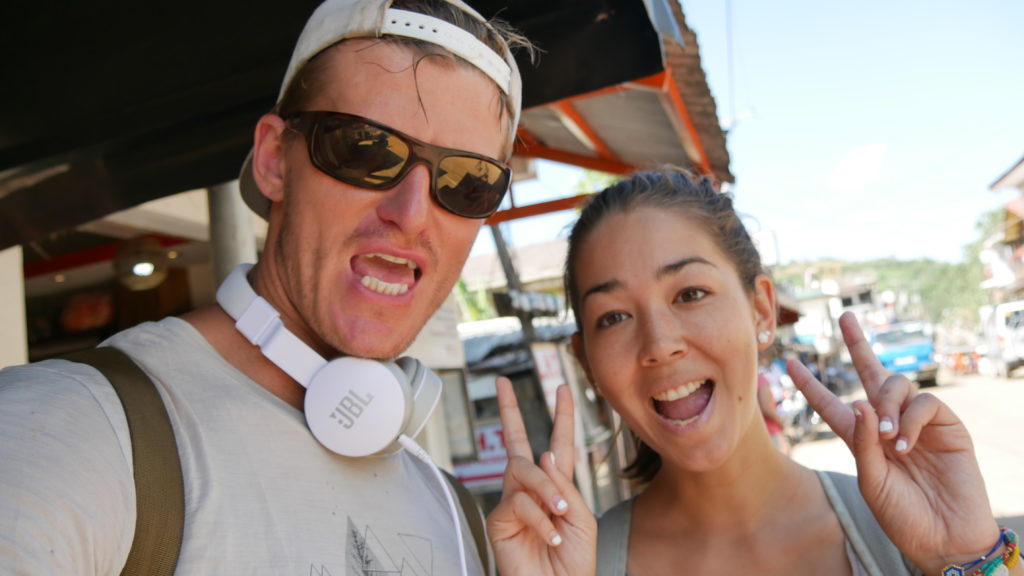 How to Book the Coron Ultimate Tour
Klook is a travel and activity booking platform that allows you to book a spot on a Coron Ultimate Tour before you arrive in the Philippines. The cost of joining a tour through Klook is $30 USD. If your visit to the Philippines and Palawan is on a tight schedule, I recommend booking the tour ahead of time. Booking ahead means you won't miss out on this epic island-hopping adventure!
If you prefer to book a private Coron Island-Hopping tour that goes to all of these Coron highlights, Klook gives you options and prices for private tours also. 
Coron Ultimate Tour Packing List
Underwater camera – I used my waterproof GoPro
A Quick-Dry Towel because you'll be in and out of the water multiple times throughout the day
Water bottle & snacks
Sunscreen – make sure it's reef and marine-life friendly !
Money to buy water, snacks, and alcohol offered during the tour
Water shoes*
*Some companies may provide these, or you may be able to negotiate renting them in the price. Many shops near the catamaran port in Coron rent these for a reasonable price as well.
Check out my other Philippines travel blog posts:
Read up on my Philippines itinerary – Philippines Four Week Island-Hopping Itinerary
Check items off your Philippines bucket list – Swimming with Whale Sharks in Oslob
See sea turtles and snorkel – Bohol Snorkeling Experience
Explore the off-the-beaten-path island of Siquijor – Siquijor Island Travel Guide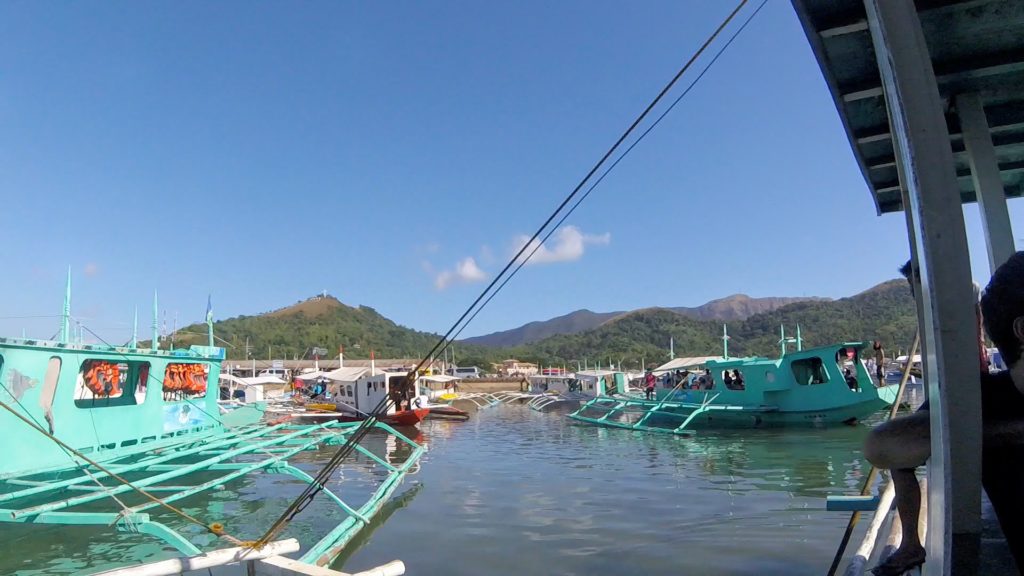 Starting the Coron Ultimate Tour
8:00am pickup
The designated pickup time from our guesthouse was between 8-8:30 in the morning. Of course the pick-up was a bit later than that, but we were put on a tricycle to be taken down to Coron's catamaran port.
Dozens of catamarans are lined up along the shore here, all departing for various Coron tours. Two or three more are often tied to the backs of the front catamarans, conga-line style. Tricycles and vans pull up left and right at the port to drop off tourists. Local tour operators rush around shouting in Tagalog, pointing in every direction. It's a hectic scene for so early in the morning! 
When we were dropped off by our tricycle, a man from our tour company popped up out of nowhere pointed us towards a row of four catamarans. "Last boat, last boat", he said, and ushered us forward. 
Although a snorkel mask and life vest were included in the tour price, flippers were not, so we made a quick detour to a shop that exclusively rented flippers. We rented them for 150 pesos ($2.80 USD) per pair , before heading to our boat. After passing through three other boats, we settled into ours which had about 20 other guests on board.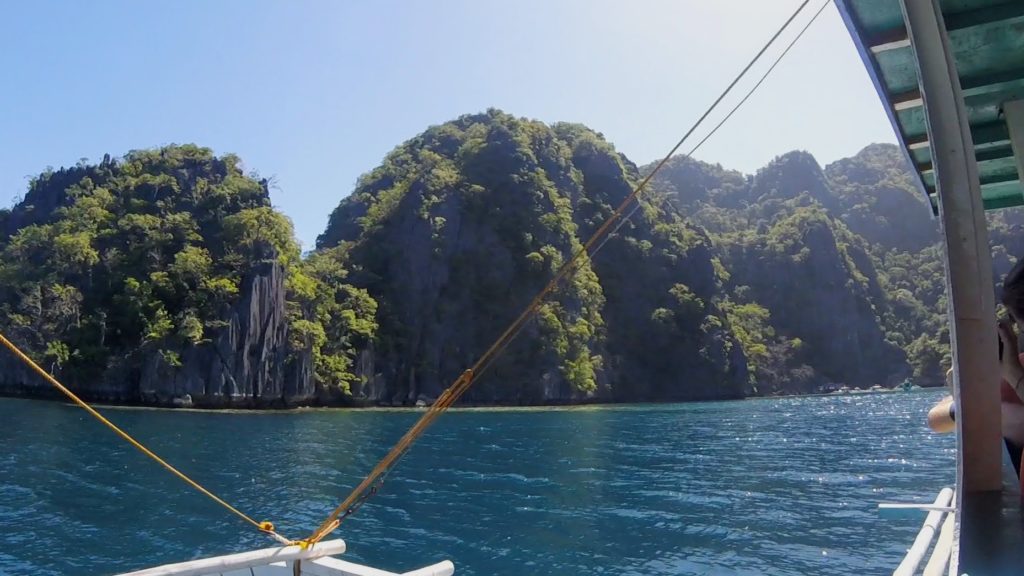 9:00 am 10:00 am departure
At 10 am (not 9 am like advertised) all the catamarans started to leave from the port, each one detaching from the one behind it. 
A local man stood at the bow (front) of our boat and used a massive bamboo stick to push the boat move away from shore. When we were a hundred yards off land, the engine roared to life at ear-splitting octave, propelling us across the water. 40 or 50 boats in total took to the open sea at once, like colorful seagulls ripping over the waves.
We were finally off to discover Coron and Palawan island's incredible natural beauty! Coron, Palawan is known  known for its limestone rock formations that jut aggressively out of the water.  At the base of these formations are coral gardens and caves, sometimes sandbanks.
Coron Ultimate Tour Stop 1: Coron's Twin Lagoon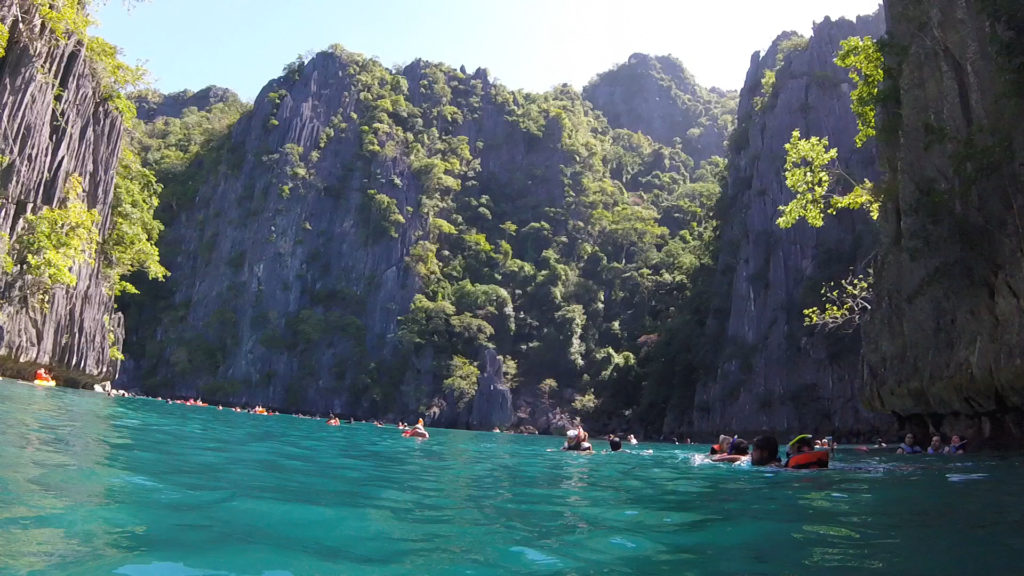 Our first stop on the Coron Super Ultimate Tour was the Twin Lagoon. The boat pulled up to where two limestone cliffs stand side by side, with a shallow sandbank between them. We were required to wear life vests before getting in the water, and took a pair of snorkels out of a communal bucket on-board. Our guide recommended that we wear water shoes because of the sea urchins and stone fish that call this place home. Since most people didn't have shoes, we took our flip flops.
We had 30 minutes to spend here and the only way to start was by jumping about five feet down into the water! 
It was a quick swim to the sandbank, where the water was shallow enough to walk through. The rocks below our feet were sharp, and the sand that was kicked up every step we took made it near impossible to see our feet. I prayed there were no sea urchins or stonefish in front of me as my flip flops dragged through the water with each step. 
Soon the water was too deep to walk in again. As I started paddling, I looked up in awe at the massive limestone rocks that surrounded this lagoon . The lagoon was crowded with floating tourists all wearing their orange life vests. In a sense it added to the beautiful colors of the landscape – the turquoise blue of the water, the green of the forest, the brown and gray the rocks, and the bright orange dots of tourists floating like confetti on the water.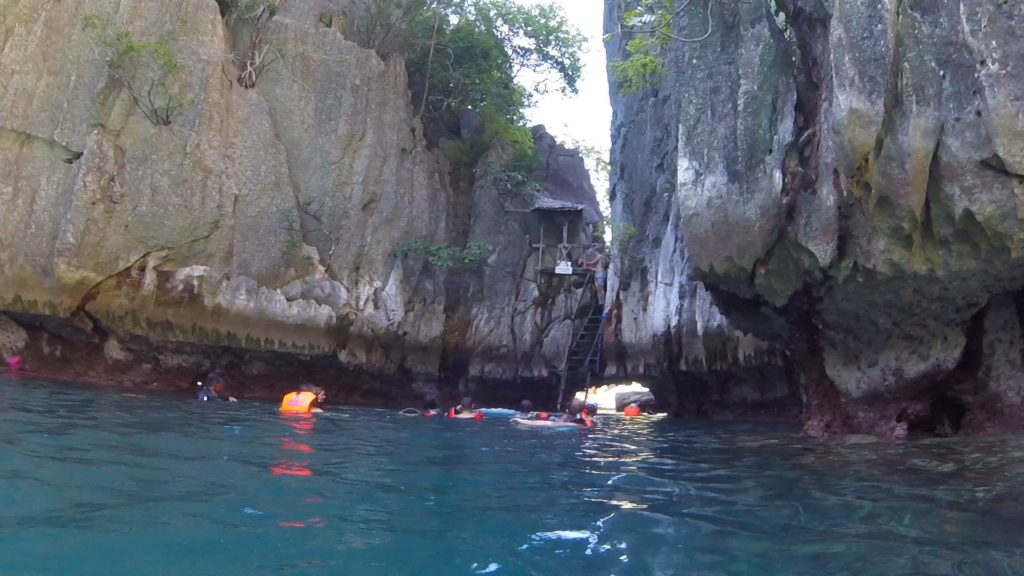 We swam under a rock overpass to reach the second lagoon, which was filled with more catamarans and tourists coming in from that direction too. We spent our time in the larger first lagoon, where depending on where you're swimming, feels cold or warm.
The fresh water mixes with the ocean water here, creating currents of different temperatures. The water was actually too warm in most of the lagoon to see clearly with the snorkels, so there wasn't really a point in bringing them along with us.
Stop 2: CYC Island and Las Islas De Coral (and 7-Eleven)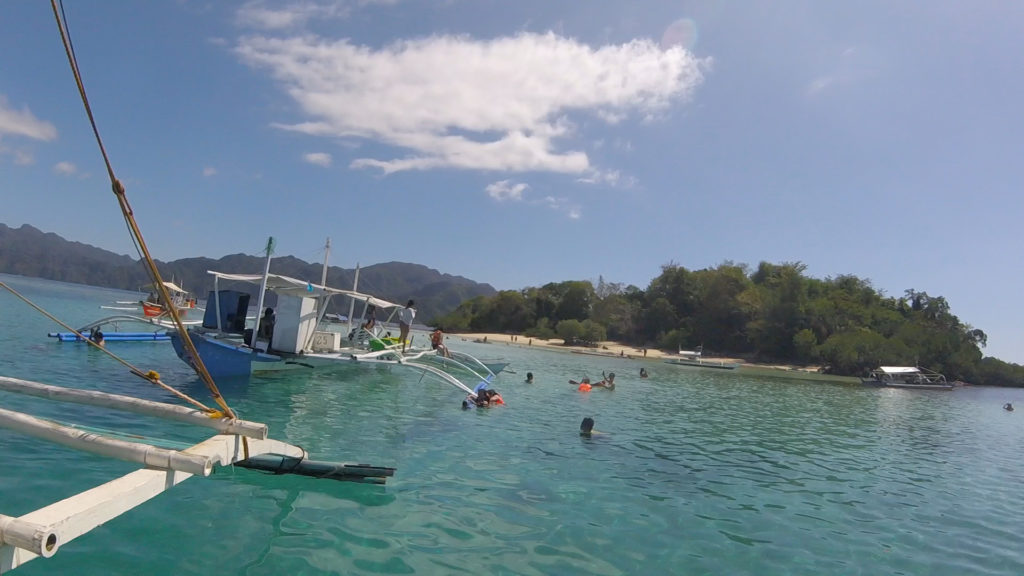 Our next stop  checked off two spots off of the Coron Super Ultimate Tour itinerary: CYC Beach, and Las Islas De Coral . The main attraction here was the island that CYC Beach is on. The tiny island has a large sandbank in the shape of a boomerang that stretches towards the tourist boats. Some locals were hanging out on the island, waiting for tourists to come so they could try and sell some souvenirs.
Our guide told us there was a 7-Eleven on this island, a popular convenience store throughout Southeast Asia. When our guides dropped the anchor, two local guys on paddle boats, each with a trash bag full of chips and a cooler of beer and cola pulled up on either side of the boat. "7-Eleven is here!" our guide joked. Almost everyone reached over the edge with pesos to buy beers and snacks from the paddle boaters.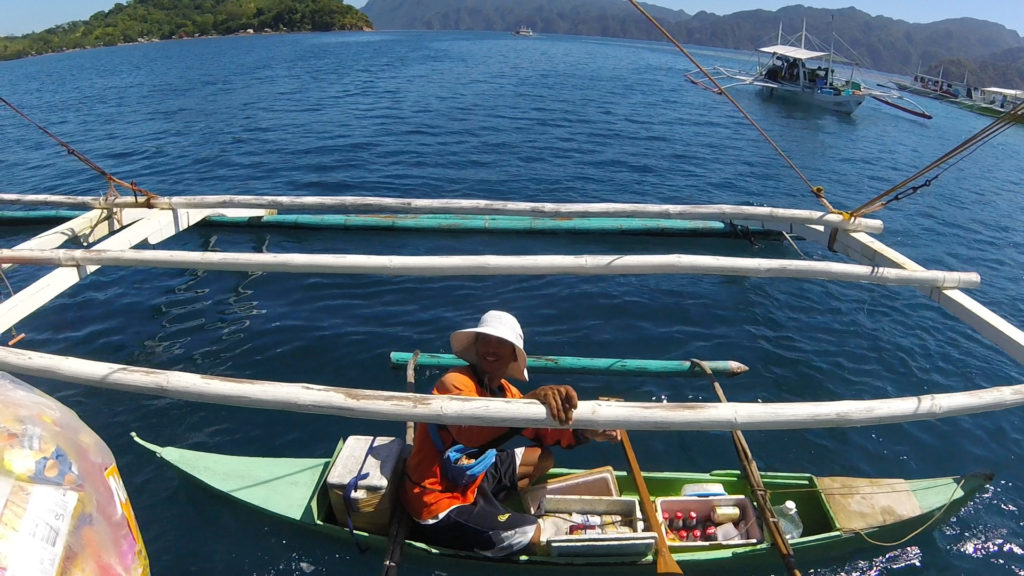 Half of the people on board decided to stay dry and rest while consuming their newly purchased 7-Eleven goods. The other half of us dove into the water with our snorkeling gear. We decided to skip visiting the island and just swim around it to explore the corals. 
Unfortunately the coral here was pretty bleached. A few lonesome fish were swimming around, but the colors were nowhere near as impressive as when we were snorkeling in Bohol. The only common creatures were black sea urchins with stingers over 10cm long.
Stop 3: Skeleton Shipwrek and Coral Gardens
Our next stop on the Coron, Palawan island-hopping tour was way better for snorkeling. Again it combined two separate spots: the Skeleton Wreck , and Coral Gardens . Though the Skeleton Wreck was included in our itinerary, we were happy to have gotten a bonus location, the Coral Gardens, which appears in some of the other tour itineraries.
As the boat was approaching this next island, we could see a swarm of people life vests and all, circling a very small spot in the water. Our guide told us they're swimming above where the Skeleton Wreck is. Luckily the people cleared out by the time we jumped in and swam over.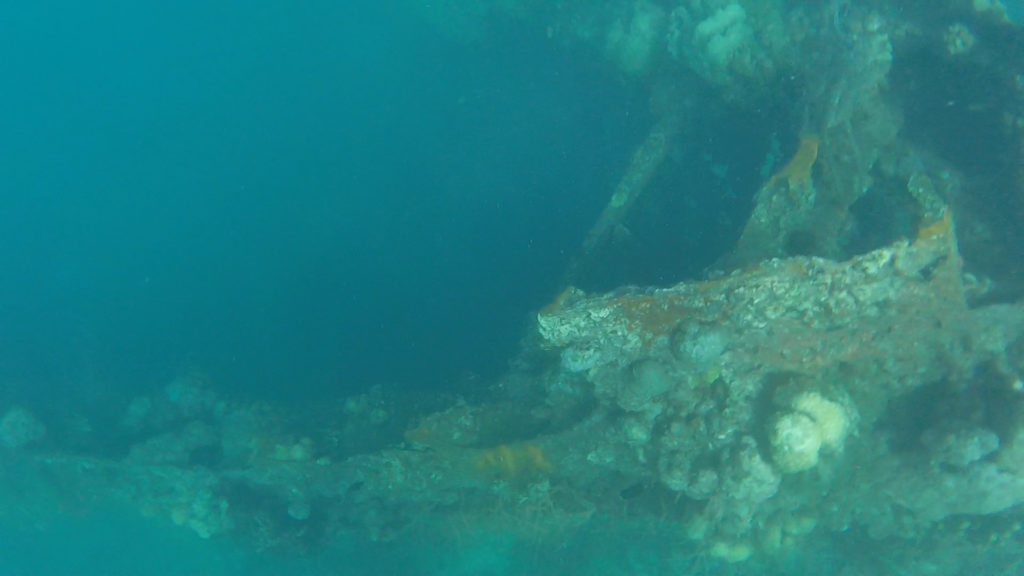 It took us a couple of minutes to find the ship. I expected a massive pirate ship in the water, flag and all, something straight out of Pirates of the Caribbean. When someone finally pointed out the shipwreck to me, it was a unsurprisingly a bit smaller. A small, pointed section at the front of a ship was the easiest to spot, and it had been in the water long enough to basically look like a triangle of corals. The water was too murky to see much more of it, but some people were diving down to get a closer look. 
We spent most of our time here at the Coral Gardens.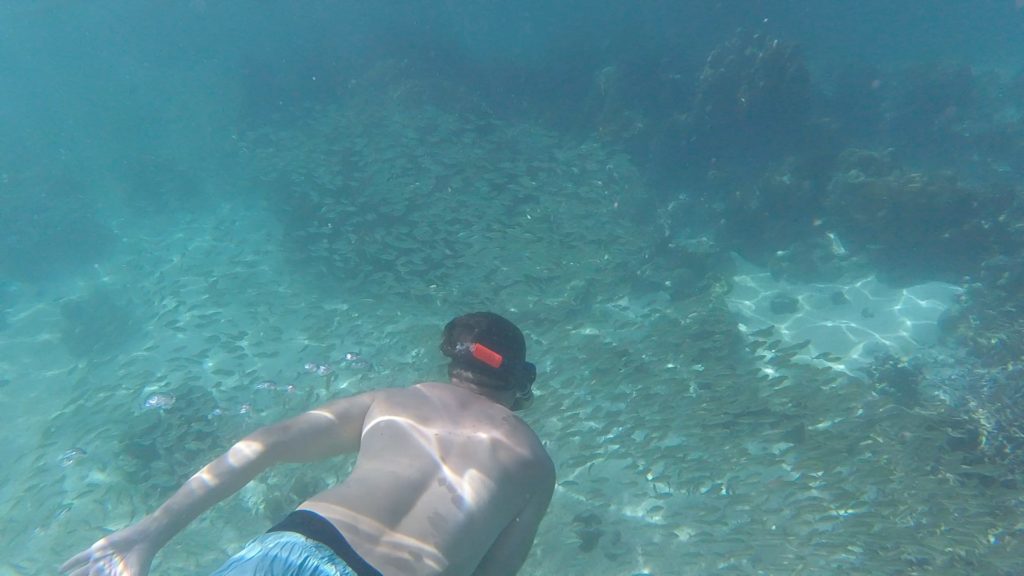 The coral was in great shape here. We could see the blues, reds, greens, and yellows that covered the uneven ground, sticking out in all shapes and directions. There were still sea urchins, but also schools of fish swimming through anemones and the coral. 
A massive school of fish was chilling around the corner all frozen in space. Their eyes were bulging from their small bodies, watching us and reacting just in the nick of time when we swam towards them. When we swam up to them with outstretched arms, their collective group changed shape to avoid us. They didn't scatter, they just flowed around us in a synchronized motion.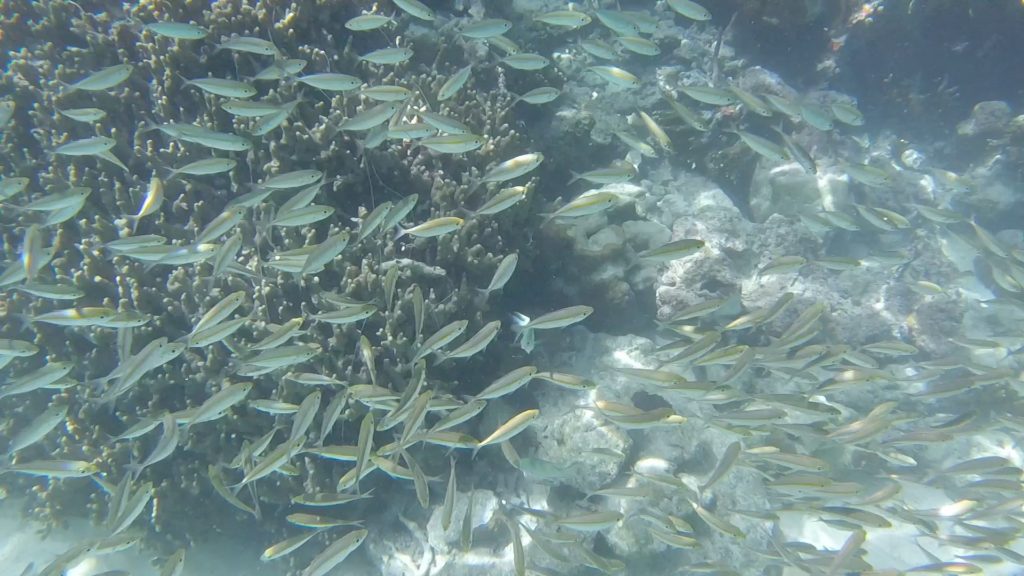 Once of the guides who was in the water with us told us our 30 minutes were up, and in a single-file line, we swam back to the boat. Only when I climbed up onto the safety of the vessel, I heard someone say,  "Did you see that sea snake?"
"What? What?" people's heads started turning. "Yeah, a sea snake! About this big," someone motioned with their hands that it was over a meter long. "Brown and white stripes, just swam past us out of his hiding hole." A guide and another swimmer who was next to him confirmed the sighting. 
Before starting the tour, Marty and I were irrationally afraid of sharks (which are of no concern here). Then we were warned by the guides about sea urchins and stonefish. No one had even mentioned sea snakes! One bite from these creatures will kill you in 20 minutes.
Stop 4: Atwayan Island for Lunch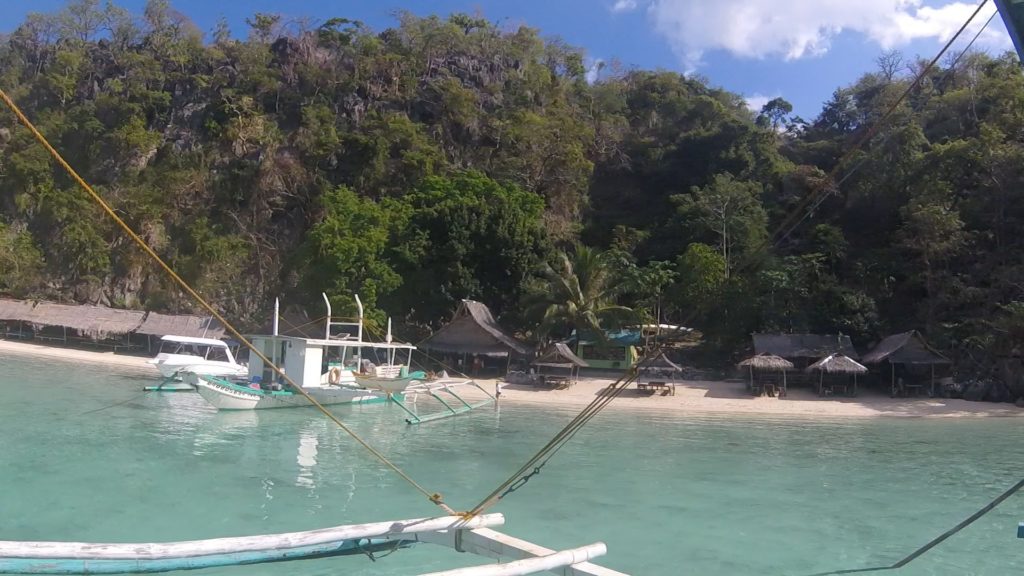 1:30pm – Lunch
Buzzing with excitement because of the sea snake sighting, the boat left for our lunch destination on the Coron Ultimate Tour: Atwayan Island . This island was beautiful and surrounded by other limestone island cliffs. The water was bright blue, shallow and warm, the sand was soft, and many large bungalows were set up along the beach where tour groups would come and have their lunch. 
We all sat in big bungalow built over the water, and the tour guides started to bring out our food: grilled fish, chicken, pork, vegetables, rice, and some pineapples and watermelon. For vegetarians, stir-fried vegetables of mostly green beans and kabocha pumpkin was available, along with the fruits and rice. For the omnivores, the fish and meat smelled wonderful! The guides had been cooking everything on a grill at the back of the boat throughout the day, so it was all fresh.
Stop 5: Kayangan Lake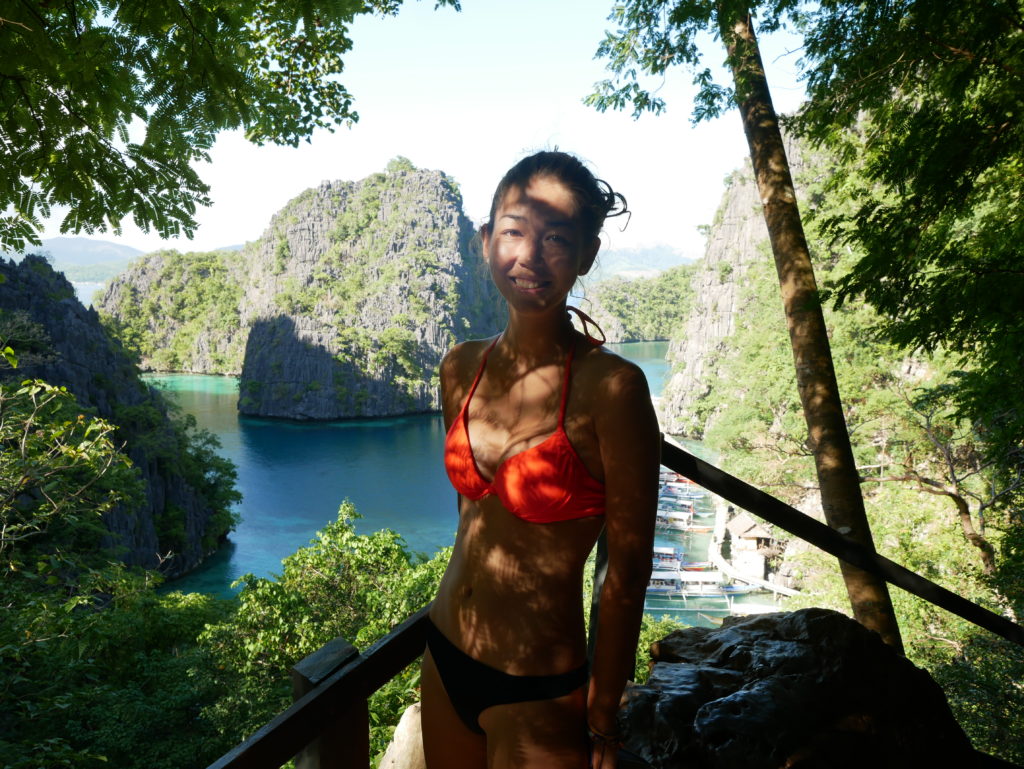 Our next stop on the Coron island-hopping tour was the famous Kayangan Lake. This lake is arguably one of the most famous spots in the Philippines because of its blue waters and dramatic limestone cliffs that surround the lake. To get to a famous viewpoint there was a bit of a climb, but it was the most beautiful view of the day when we got to the top. 
Down another set of stairs leads you to Kayangan Lake, where we were required to wear life vests again. Some people just hung out at the wooden boardwalk that surrounded a part of the lake. Others jumped in the water and swam to the edge of a roped-off area, where the lake opened up to a larger body of water. It was nice to just float around a little bit – there wasn't much to see with the snorkeling mask.
As the boat pulled away from the Coron Ultimate Tour's Kayangan Lake, the guides gave us each a cup of Coca-Cola, and a Philippine donut as a snack.
Stop 6, Coron Ultimate Tour's Last Stop: Siete Pecados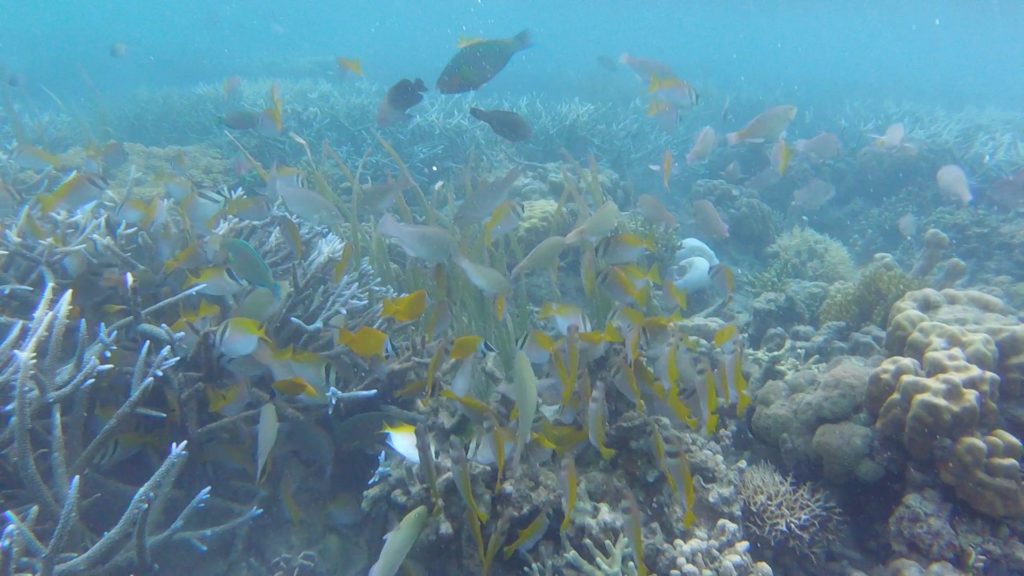 The last stop on the Coron Ultimate Tour was one of my favorites. Siete Pecados means Six Islands in Tagalog, and this is a protected coral area where no bleaching has taken place! The whole area was pretty shallow, so we had to be careful not to hit the ever-present sea urchins or the coral. We were reminded multiple times to not touch the coral, or else we would be fined 500 pesos by the sea marshals, wherever they were. 
Many different, interesting fish species call this place home. Beautiful corals branched out in all directions. The only downside was it was the end of the day when the sun was setting. The water was no longer a bright blue from the sun right above us.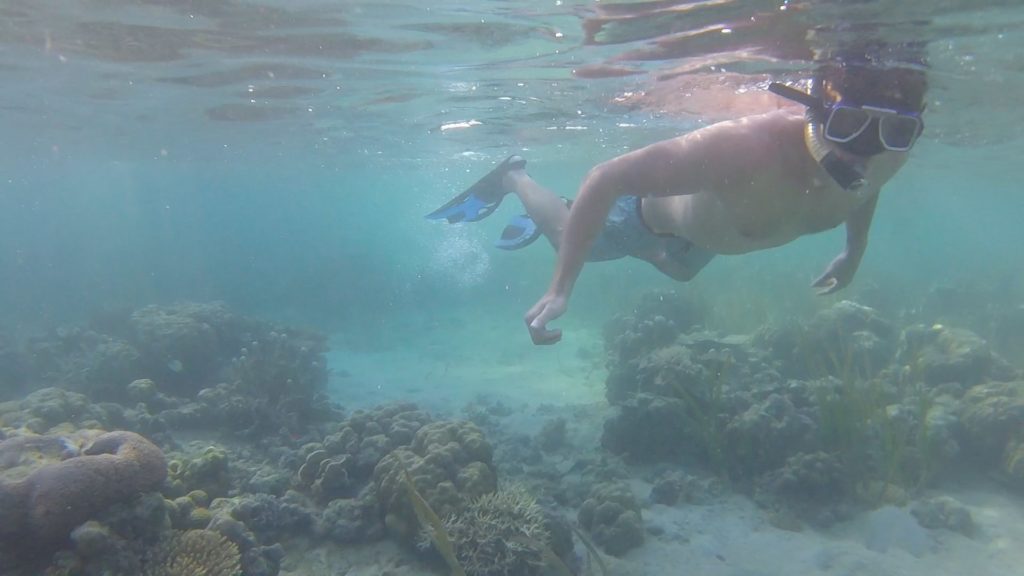 4:30pm – back to Coron
When we returned to the boat, the sun was setting over some islands in the distance, and the sky was turning a brilliant red and orange. Our boat was one of the last catamarans to shore as we locked on to a train of them that were already abandoned for the evening. 
A swarm of tricycle drivers were waiting to pick up passengers. After a little bit of back and forth, we were all sent back to our guesthouses. We were back by about 5:30 pm .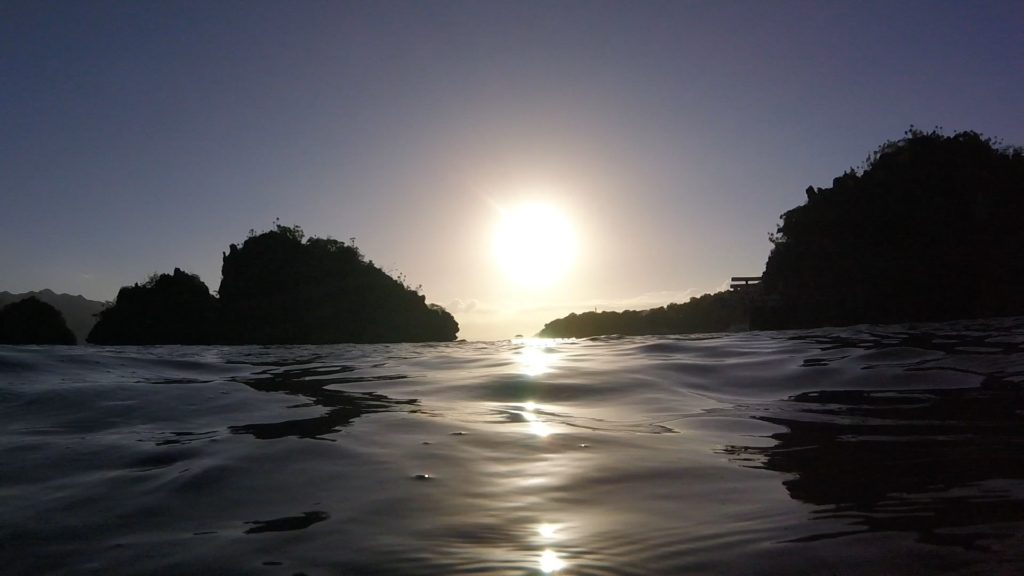 Coron Ultimate Tour Summary
Tour: 1300 pesos, incl of snorkel mask ($25 USD) Flippers: 150 pesos extra to rent a pair for the day ($2.80 USD) Extra Snacks & Water: ~300 pesos ($5.50)
Pickup between 8:00-8:30am Tour starts at 9am (more like 10am for us) Tour ends at 5pm Drop-off to guesthouse by 5:30pm
If I was to visit Coron, Palawan in the Philippines again, I would absolutely join another Coron Super Ultimate Day Tour. I don't doubt that it's the best island-hopping tour from Coron because of the number and variety of amazing sights we saw. The experience was well worth the price of the ticket, and I highly recommend this on any future trip to the Philippines! 
Are You Prepared For The Coron Ultimate Tour and The Philippines? 
Read my Philippines Island-Hopping Itinerary to plan your perfect Philippines itinerary! 
Book Your Flights – To find the cheapest flights, flexibility is key. I use both  Google Flights  and their low fare calendar, and  Skiplagged , which uses airfare loopholes to get the lowest prices. 
Book Your Accommodation – Check out  Booking.com  for the largest selection of accommodation around the world. For backpackers,  Hostelworld.com  is also a favorite. 
Buy Travel Insurance – It's better to protect yourself from mishaps when traveling. Get a quote from  World Nomads  to see how much it'll cost to get you covered! 
Check Visa Requirements – From E-Visas to Visas-on-Arrival,  iVisa  has all the info on country visa requirements. If one is required, you can order one hassle-free through their site.  
Book Local Excursions – Don't miss out on world-class experiences by booking tours and tickets online, ahead of your arrival.  GetYourGuide  and  Klook  both have fun experiences from around the Philippines like  Island-Hopping in El Nido , a Boracay Island Tour , and the Coron Ultimate Tour .
Pack Your Essentials – Check out my posts about Long Term Travel Gear , and Carry-On Luggage Packing Essentials .
You might also like: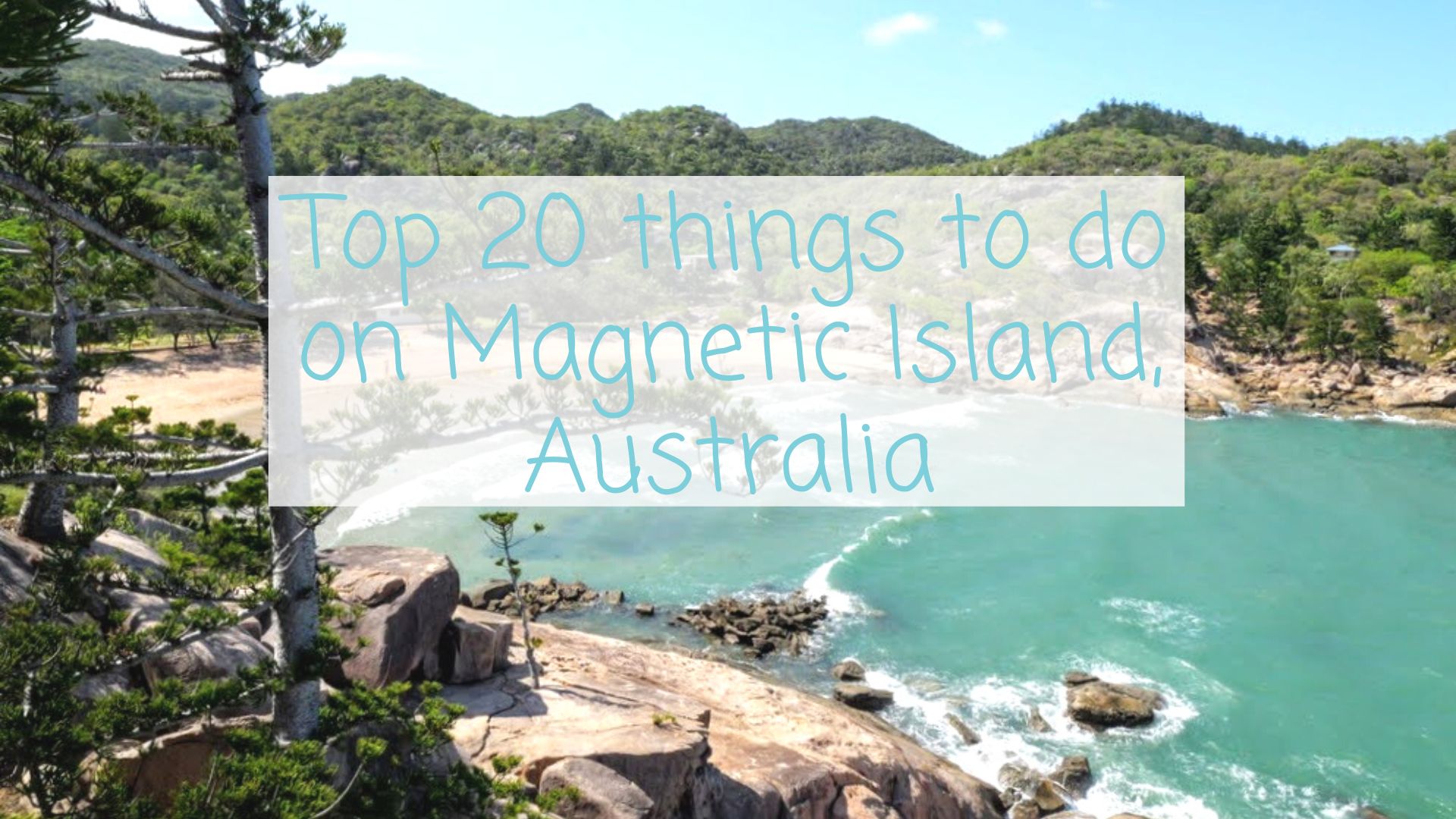 20 Things to do on Magnetic Island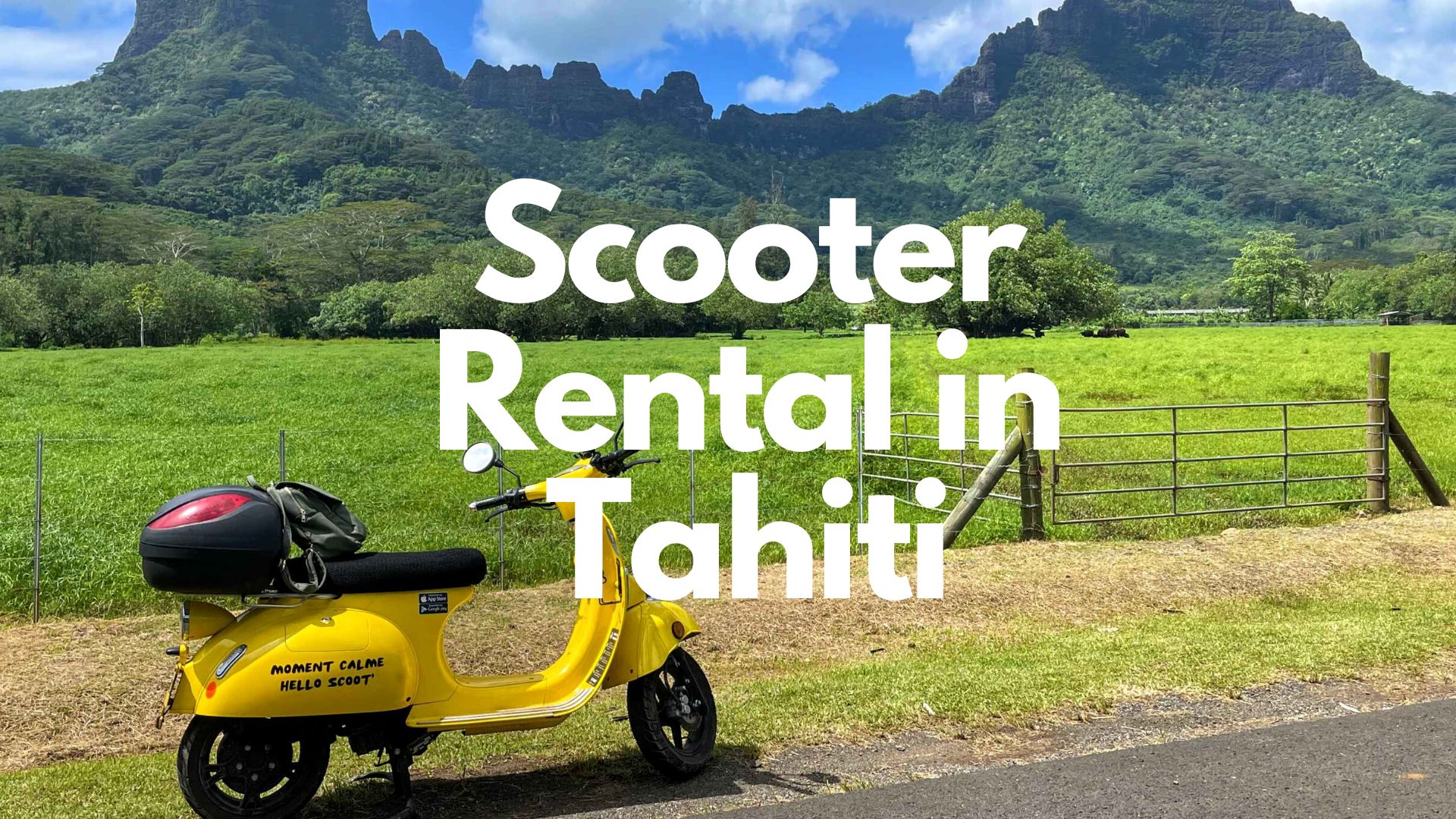 Scooter Rental in Tahiti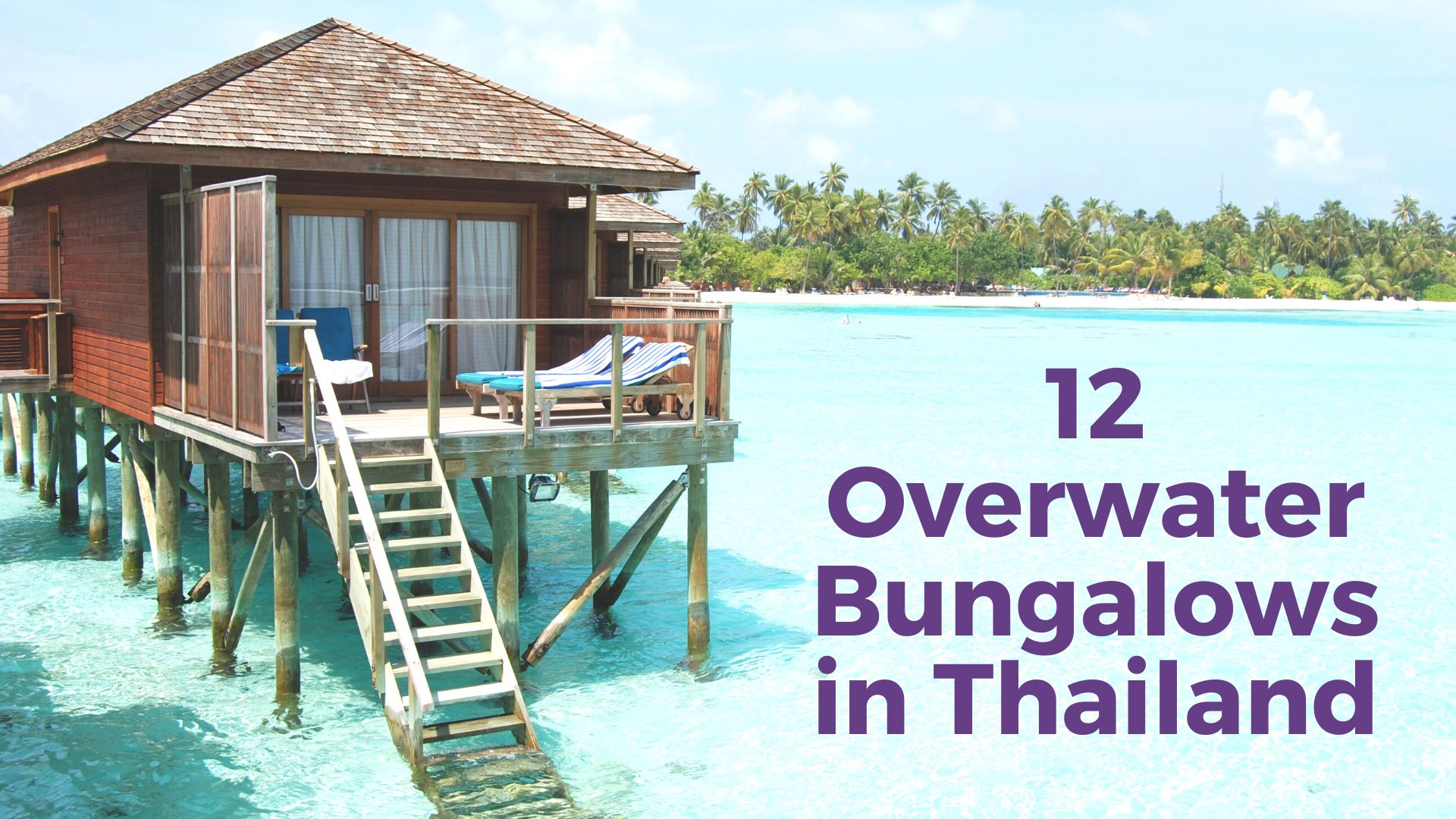 12 Amazing Overwater Bungalows in Thailand
Leave a reply cancel reply.
Your email address will not be published. Required fields are marked *
Coron Island Hopping Tour to Kayangan Lake & Barracuda Lake | Palawan Super Ultimate Package
Description
Experience Coron, Palawan's best shores in one day through this super ultimate island-hopping tour that includes a trip to Barracuda Lake. This experience is perfect for travelers who want to explore the pristine waters of the province while aboard a shared boat. The package also includes shared land transfers, the service of a guide, entrance fees to each attraction, use of a rental cottage, lunch, afternoon snacks, and free pick-up and drop-off within Coron's downtown area. Take note that this is a shared tour, but you have the option to upgrade it to a private tour.
On the day of your Coron island hopping tour, you will be picked up from your accommodations within downtown Coron . Once you have settled in the shared air-conditioned van, you will head to the dock and board your designated boat. From there, you will set sail for your first stop: Kayangan Lake. The lake is well-known for its crystal-clear waters that are perfect for snorkeling as they are home to a variety of fish species. The entire lake is also surrounded by high karst cliffs that shield it from strong winds.
After your Kayangan Lake tour, you will go to Twin Lagoon. While the first lagoon already boasts azure waters, you will find a more picturesque scene upon disembarking from your boat and heading toward the second lagoon. In the second natural pool, you will find clear water teeming with different marine life. After exploring these waters, you will travel to Barracuda Lake , which is only included in the tour operator's super ultimate tours and not in their ultimate island-hopping tours.
A visit to Barracuda Lake is among the best things to do as it is a top diving spot in the Philippines. When you dip beneath the water's surface, you will find a thriving marine ecosystem. Following your Barracuda Lake tour, you will make a stop at Atwayan Beach , where you may enjoy your seaside lunch at one of the beach cottages. Afterward, you can take a few moments to rest before continuing onto the Skeleton Wreck diving site.
This diving spot features a sunken fishing boat that has become a home for a variety of marine animals. Among the species that you can find here are parrotfish, lionfish, and nudibranchs. Next on the itinerary is CYC Beach , a stretch of sand that is close to a forest of mangroves. Here, you can try beach activities like volleyball or head out to the water to go kayaking.
As your tour ends, you will make one last stop at the Coral Garden. As its name suggests, this is a diving spot blessed with vibrant corals. Take in the stunning sight of this colorful scenery and the fish that have made their home here before heading back to the mainland.
Spend a day exploring the top islands and lagoons of Coron by booking this super ultimate island-hopping tour. Check the availability by choosing a date.
Attractions
What to bring
Good to know.
Tour Information: This is a shared tour but you have the option to upgrade it into a private tour. The larger your group is the higher the discount you will get for your upgrade. Complimentary lunch and snacks will be served during the tour. Activities not indicated are to be paid on site should guests want to avail themselves.
Meet-up Information: Guide to the Philippines will send tour reminders at least (1) day before the tour date through your registered email address. Make sure to have the electronic copy of your confirmed tour voucher ready. On the day of the tour, your assigned Tour Guide will meet you at the lobby of your hotel within the vicinity of Coron Town Proper at least fifteen (15) minutes prior to start of the tour. Strictly no latecomers or tour reservation might be forfeited.
Tour Proper: Please be reminded also to dress appropriately. Be mindful of your personal belongings during the tour.
Children Friendly: Children 0-2 are free of charge but are not included in the complimentary lunch. Parents may share their meal or pack food for their children.
Pet Friendly: Pets will only be allowed on private tours.
Senior Citizen/PWD Friendly: There are no extreme activities included in this experience.
Cancellation Policy: The operator may cancel the activity in case of force majeure or unforeseen circumstances like weather conditions. In this case, you will be given the option to reschedule or request a full refund. Schedule cancellation requests must be made 48 hours before your original subject to approval. No shows are not entitled to reschedule and refund.
Verified reviews
Similar tours, top things to do in the philippines.
Discover all the adventures you can experience in the Philippines
Philippines Tour Packages
Boracay Island
Bohol Island
Cebu Island
Coron Palawan
El Nido Palawan
Siargao Island
Iloilo City and Nearby

Coron Island Hopping Guide: Tours & Itineraries
Posted on Last updated: June 4, 2023
Are you looking for the best island hopping tours in Coron? You've come to the right place!
Found in the lush province of Palawan, Coron welcomes travellers into a tropical heaven. It's one of the profoundly beautiful clusters of islands that contribute to the world-renowned reputation of the Philippines.
Coron is surrounded by turquoise waters, mountainous landscapes covered in a layer of dense vegetation, and blue skies as far as the eye can see.
Coron is a must-see for anyone during their Philippines itinerary, and for those who enjoy hopping between impossibly beautiful islands.
I've put together a guide on what you can expect when island hopping in this alluring destination, and all of the magnificent locations you can look forward to seeing.
Learn everything you need to know about island hopping in Coron and get ready for an enthralling journey in paradise!
1 About Coron
2.1 Hiring a private boat in Coron
2.2 Entry fees
2.4 Group Coron Tours
3.1.1 Siete Picados
3.1.2 Kayangan Lake
3.1.3 Twin Lagoon
3.1.4 Skeleton Wreck
3.1.5 Las Islas de Corals
3.1.6 Sunset Beach / Atwayan Beach
3.1.7 CYC Beach
3.2.1 Malcapuya Island
3.2.2 Banana Island
3.2.3 Bulog Dos Sandbar
4.1 Coron Islands and Lakes Tour (Tour A)
4.2 Coron Calauit Safari and Beach Tour
4.3 Coron Reefs and Wrecks Island Hopping (Tour D)
4.4 Coron Town Half-day Tour
5 Where to stay in Coron
Floating in the crystal clear water of Malcapuya Island
About Coron
Nestled within the Calamian Archipelago, Coron is a municipality within the archipelagic province of Palawan.
It's what makes up the entire eastern half of the gorgeous Busuanga Island, as well as the entire Coron Island (yes, there is an island here of the same name). It also makes up a bunch of other must-visit islets.
This municipality of magical islands has a rich history, with Coron Island being renowned for its Japanese shipwrecks from World War II.
When it comes to culture, you'll discover a blend of Tagbanua tribal heritage and elements of Spanish influences.
| READ MORE: THE MOST BEAUTIFUL PLACES IN THE PHILIPPINES |
Enjoying our Coron ultimate tour
Coron Town is the best place for those wanting to enjoy a thriving nightlife scene. And it also has some of the best restaurants with the tastiest Filipino cuisine!
This cluster of islands has a remote feel that adds to its unique atmosphere. It was one of my favourite islands that we visited during our Philippines 3-week itinerary .
A visit to Coron will give you more than a taste of the island-life. It will also be an enchanting journey into a mystifying combination of coastal locations.
The deeper you explore, the more you will fall in love. You can partake in fun watersports, find incredible places to cliff-dive, see hidden lagoons and so much more.
The beach on Malcapuya Island
General info about island hopping in Coron
When planning your island hopping tours, here are some general guidelines to help you decide which option will be best for you.
Hiring a private boat in Coron
You can arrange private island-hopping adventures whilst in Coron. However, when I was there (May 2019) the harbour authority wasn't letting boats set off early.
The earliest you could set off was 9:00 am, which is when all the tours start.
So, even if you did hire a private boat, you wouldn't be able to get to each of the highlights before the crowds. However, you will be able to enjoy your time at your own leisure and choose your own route.
Enjoying the clear water of Malcapuya Island
Prices for a private tour range from 3,000 to 5,000 PHP, depending on what islands you want to visit, and seating between 4 – 6 people.
As a solo traveller it's cheaper to join a group tour, however if you're travelling with a group of friends getting a private boat can work out cheaper and more fun!
Insider tip: If you really want to avoid the crowds, I suggest asking the person you've hired to drive your boat to go in the opposite direction of the tours.
This way, you'll get to the places just before or after the crowds, giving you enough time to without the tours.
Kayaking in the Twin Lagoons in Coron
Just like when island hopping in Siargao , the islands in Coron often require an entry fee upon arrival.
It varies from place to place, but will usually cost between 150 PHP – 300 PHP. Here is a rough guide on how much you can expect to pay for entry to some of the most popular islands:
– Twin Lagoon – 200 PHP
– Banana Island – 150 PHP
– Malcapuya Island – 150 PHP
– Siete Pecados – 150 PHP
– Skeleton Wreck – 150 PHP
– Banul Beach – 150 PHP
– Kayangan Lake – 300 PHP
If you go on an organised group tour these fees are usually included in the tour fee.
The steep cliffs of Twin Lagoons in Coron
Private boat tours don't include lunch, but the group tours usually do. So if you hire a private boat, it's worth bringing your own.
You can either get snacks and sandwiches from one of the many shops in town, or try getting fresh fish and see if your private boat leader is willing to cook it for you.
A lovely grilled fish lunch served on the beach during our Coron ultimate tour
Group Coron Tours
Whilst touring Coron we went on a couple different group tours. It was an unforgettable experience, and besides saving money we we also got to meet some pretty cool people.
An added bonus of going on a group tour is that lunch is included, as well as entry fees and activities. Everything is planned for you, so all you have to do is show up and have a great time exploring.
There are seven standard day island hopping tours, sometimes marked with the lettering system, like El Nido (eg. Island Hopping tours A, C, D). I've listed them all below and gone into more detail for the most popular tours.
Coron island hopping tour itineraries
We did the Coron Island Ultimate Tour and the Coron Island Escape (Tour C) . They were 1500 PHP each. I'm going to dive into the itineraries of these two tours a bit more, since they are the most popular.
Coron Island Ultimate Tour
Our adventures in Coron, Palawan were remarkable. We created memories of a lifetime and can reminisce about the stunning beauty of the islands.
The Coron Island Ultimate Tour is a special treat, and I highly recommend it to first-timers, as it covers all the main highlights that you can see when island hopping in Coron.
These are the wonderful places we got to visit during our Coron day tour.
Check out prices & availability for your Coron Island Ultimate Tour on GetYourGuide , Klook , or the calendar below!
The iconic view over Kayangan Lake that you can see during the Coron Ultimate Tour
Siete Picados
Found near the Maquinit Hot Springs is a cluster of seven islands called the Siete Picados, meaning 'Seven Chopped'. They are sometimes referred to as the 'Isles of the Seven Sins' and they carry a lot of mystery and legend.
It's one of the most popular places to see in Coron, and it's most renowned for its excellent snorkelling and diving. The marine life in the water is incredible, with colourful coral reefs and fish decorating the sea.
If you're searching for one of the most amazing underwater worlds, you'll find it here. On this tour, we got to snorkel and see it for ourselves.
Island hopping in Coron
Kayangan Lake
Kayangan Lake is another one of the most frequently visited gems, with a famous viewpoint you'll actually have to queue for.
But, this amazing viewpoint captures Coron Bay from a unique perspective that is truly breathtaking, so it's worth the wait.
When it comes to swimming in the tranquil lagoon, you'll have to wear a lifejacket on. This is a standard safety procedure, and although it means you can't dive under, it's alright. The lake has the cleanest, clearest water.
Even just floating on the surface of the lake and gazing through the water is a brilliant way to see marine life and absord the beauty of the place.
Just be mindful that although this magnificent lake in Coron is beautiful, it's also incredibly busy. We were lucky in that our tour set off late as we had to wait for a latecomer.
While it seemed an inconvenience at first it actually meant we were slightly behind schedule on the tours, and we arrived at Kayangan Lake as the crowds of the other tours were leaving.
Exploring Kayangan Lake in Coron, Palawan
Twin Lagoon
The Twin Lagoon is a must-see when in Coron, as it's an authentic tropical haven. Your boat will dock in the first lagoon, and then you'll move over to the second lagoon.
The second lagoon is hidden from sight, and only accessible through a small crevice. You'll either squeeze through the crevice, climb over on a ladder or swim over during high tide.
It's not as busy as Kayangan Lake, so you can have the freedom to explore and even swim without a life jacket. If you want, you can also hop on a kayak and cruise the waters to get an even better look at this famous location.
Skeleton Wreck
Skeleton Wreck, Coron is an incredibly cool snorkelling spot. You'll be able to dive and see the notorious site of one of twelve Japanese ships that sank in this spot during WWII. It's an exciting way to appreciate the history of Coron.
Las Islas de Corals
Otherwise known as the Coral Garden, this unbelievably beautiful and unique snorkelling area provides one of the most glorious coral reefs. You can see it as a part of this Coron island tour.
The abundance of strikingly coloured coral and fish species is bewildering. Sea turtles are also occasionally spotted. Jellyfish might join the party, so be on guard when you're soaking in the wonders of Las Islas de Corales.
Snorkelling during the Coron ultimate tour
Sunset Beach / Atwayan Beach
Enjoy one of the most scenic coastal lunch spots, set with white-sand shores and lapping ocean waters. Enjoy a delicious barbecued fish on the beach and hit pause from all the activity.
Atwayan Beach, where we stopped for lunch during our Coron Ultimate tour
End your day off at one of Coron's most famous beaches, the Coron Young Club Beach. It's an amazing place to chill on the beach and soak in the sunshine.
While we were there many local vendors cruised past us on their boats offering cold beers, ice creams, and all sorts of snacks and drinks.
The beach is on a tiny island but still boasts idyllic features of a tropical beachscape, with mangrove trees scattered throughout the shoreline. It's the perfect place to end off an unforgettable day of island-hopping in Coron.
Click here to book your Coron Island Ultimate Tour!
One of the local vendors who sell drinks and snacks to tourists on the tour boats in Coron
Coron Island Escape (Tour C)
One of the most fun and exquisite tours to take in Coron, Tour C is sure to leave you with sandy feet and a big smile. This is what we got up, and what you can expect to enjoy, during this Coron island hopping tour.
Malcapuya Island
The enchanting Malcapuya Island is nothing short of absolutely stunning. It's not as busy as you may expect, due to its distance from Coron.
It's 1.5 hours away, so it takes a while to get to the island, but you can marvel at many coastal sites along the way.
Here, snorkelling and diving are the order of the day and you will be immersed in natural beauty and tropical vegetation.
The beach has fine white sand, and the water is an incredibly clear turquoise. There are palm trees lining the beach where you can relax in the shade, or soak in the sunshine by lying on the fine white sand.
You can also visit Malcapuya Island on a private tour , which obviously works out more expensive, but it's well worth to enjoy the cruise and stunning beaches without crowds.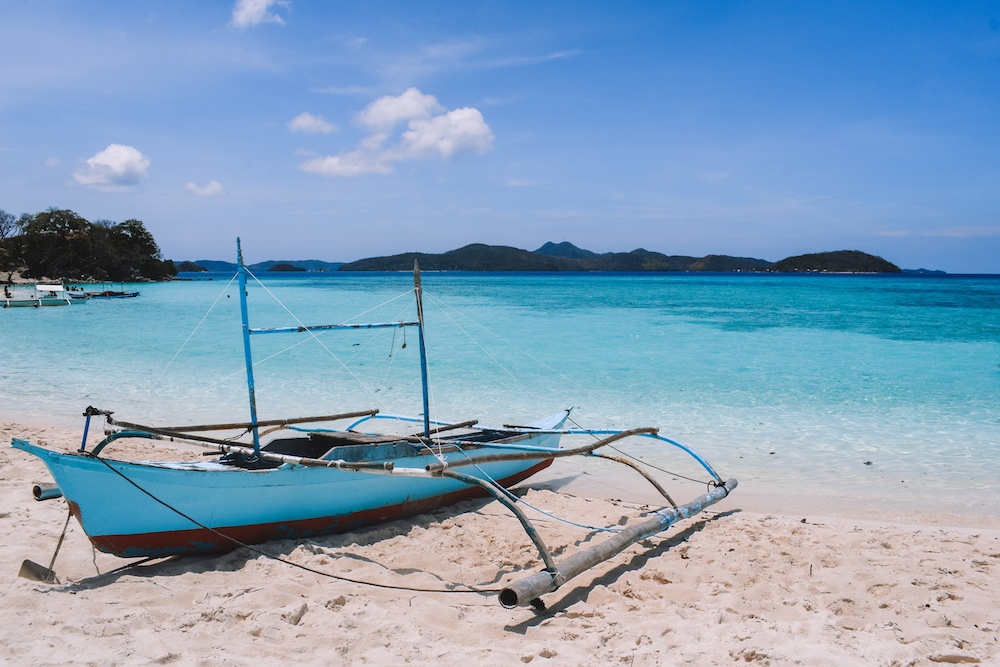 The crystal clear water of Malcapuya Island, Palawan
Banana Island
Close to Malcapuya Island sits the magical Banana Island. Its name captures the laid-back feel and simplistic natural beauty of its white-sand shores.
There are a few trees here for you to lounge under, or you can swim and snorkel in the calm ocean waters. We did our lunch stop here and enjoyed some lovely barbecued fish on the beach.
It's a great destination that makes this one of the best Coron, Palawan tours.
Swimming in the crystal clear water of Malcapuya Island
Bulog Dos Sandbar
The last stop on this relaxed tour of Coron is the Bulog Dos Sandbar. Its powder-smooth white sand will be the first thing you notice.
It's a place of serene beauty, and although it is rather small, it's larger-than-life character shines through in the tranquil setting.
Bask in the stunning scenery and gaze out at the ocean as you enjoy the ending to this mesmerizing, 3-part island hopping tour.
Be sure to pack your camera! You'll want to take plenty of pics for your Instagram feed.
Click here to book your Coron Island Escape Tour on GetYourGuide , Klook , or check out prices & availability in the calendar below!
The Bulog Dos sandbar (at high tide) that you visit during Coron Tour C Island Escape
Tour C doesn't do as many stops as Coron Ultimate Tour, since the islands are located further away. However that isn't necessarily a bad thing, it just makes for a different kind of island hopping day.
The Ultimate Coron Tour is an action packed itinerary, whilst Tour C is a leisurely beach chilling day. Both have their beauty and appeal to different kinds of travellers.
Cruising during our Coron Island Escape Tour (Tour C)
Other popular tours in Coron
Coron islands and lakes tour (tour a).
Explore a multitude of the islands and see some of the most popular coastal attractions on the Coron, Palawan tour A .
Cost per person: 1025 PHP
– CYC Beach
– Coral Garden
– Atwayan Beach (picnic lunch)
– Hidden Lagoon
– Quin Reef
– Kayangan Lake
Check out prices for your Coron Island Tour A on Klook , GetYourGuide , or the calendar below!
Kayangan Lake without the crowds
Coron Calauit Safari and Beach Tour
If you want to enjoy the biodiversity of Coron, Philippines then this is the best tour for you. Enjoy stops at two of the most amazing places to see wildlife and enjoy the vegetation of the island.
Cost: 3000 PHP
– Calauit Wildlife Sanctuary
– North Cay or Pamilacan Island
Click here to book a Calauit Safari and Beach Tour
Coron Reefs and Wrecks Island Hopping (Tour D)
If you're a history-lover who's looking for a way to satisfy your wanderlust, then Coron Tour D is a great option for you.
Cost: 1600 PHP
– Bulog Dos Island
– Pass Island (picnic lunch)
– Lusong Coral Garden
– Lusong GunBoat Shipwreck
Check out prices & availability for your Coron Tour D on GetYourGuide , Klook or the calendar below!
Snorkelling during our Coron island hopping tours
Coron Town Half-day Tour
Although this tour doesn't include island-hopping, it is a wonderful way to enjoy the inland treasures of Coron Town – which in itself is an island!
Cost: 1500 PHP
Itinerary :
– Mt Tapyas View Deck
– Maquinit Hot Spring
– Public Market
– Town Plaza
– Lualhati Park
– Souvenir shops
– St Augustine Church
– Cashew Harvest
Check out prices & availability for your Coron Town Half-Day Tour on GetYourGuide , Klook , or through the calendar below!
Where to stay in Coron
During our time in Coron we stayed at Hop Hostel and I couldn't recommend it more.
Hop Hostel is a modern hostel with clean and spacious rooms, and lots of communal areas, amongst which a restaurant, a mini cinema room and a rooftop bar with sunset views.
It's a short walk away from the main streets of Coron Town. I loved my time there and it's the perfect place to base yourself during your island hopping days in Coron.
Click here to see the latest prices and availability at Hop Hostel!
The sunset view from the rooftop bar of Hop Hostel in Coron
Final thoughts on island hopping in Coron
Coron is a picturesque place that will leave you with so many memories and give you a chance to truly immerse yourself in the island lifestyle.
This paradise is full of so much wonder, with stunning shorelines, astounding landscapes and beautiful aquatic creatures. There is no better way to experience all that Coron has to offer than by going on an island hopping tour.
While in the Philippines I also went island hopping in El Nido , while does tours were more fun because of the crowds, the Coron island hopping tours were more beautiful from a natural point of view.
With this guide, you can see exactly what you will be doing and how many tours there are to partake in.
I hope I've given you a good indication of what to expect from each Coron island hopping tour, and that I've helped you decide which one is best suited for you!
You can now pack for the Philippines and get ready to have the journey of a lifetime in one of the world's most gorgeous, tropical treasures!
Looking for more Philippines travel tips? Check out my guides:
Do your own sardine & turtles snorkelling tour in Cebu
The ultimate Cebu Island 5-day itinerary
Should you go canyoneering in Kawasan Falls, Cebu?
Everything you need to know about hiking Osmena Peak
Kayaking in El Nido, Philippines – the ultimate guide
Enjoyed reading my Coron island hopping guide? Pin it!
Boat Tours in Coron – A Guide to Island Hopping in Coron
February 21, 2021
One Comment
Encompassed by a number of picture-perfect islands, Island Hopping in Coron is the number 1 thing to do. However, with so many boat tours in Coron to choose from, how do you pick the right one for you? That's where we come in. This is our ultimate guide to Island Hopping in Coron.
When it comes to Island Hopping in Coron, you'll find that most of the boat tours take place around Coron Island. That's the mysterious, jawdropping, 'King Kong' looking island that is impossible to miss from Coron Town.
Coron Island is the easiest island to reach by boat tour in Coron. It also boasts a series of turquoise lagoons, enchanting lakes and pristine beaches, so you can see the appeal. However, with Island Hopping in Coron becoming increasingly popular over the years, this spot can get extremely crowded during peak times.
The good news is , we have done a lot of Island Hopping in Coron and there is far more to discover past Coron Island. In this article, we will share the details of our 5 favourite tour experiences, that allows you to discover one of the most beautiful places in the Philippines . We'll also share our top tips for escaping the crowds at popular locations.
Whether you are feeling adventurous, looking to explore the unexplored, or even get involved in a booze cruise, we have got you covered. So let's get to it.
Heading to Coron? Check out these articles to help plan your trip:
The Best Restaurants in Coron, Philippines
21 Unmissable Tourist Spots in Coron
A Guide To Black Island in Coron (Malajon Island)
How to find the Abandoned Sea Plane in Coron
A Guide to Island Hopping Boat Tours in Coron, Palawan
*Before You Travel to Coron, have you got your travel insurance sorted? Cover yourself for the unexpected. Read why you really need travel insurance , or get a quick quote from world nomads .
*Have you got your travel Visa sorted? Check if you need one here and retrieve a quote. It's simple, fast and reliable.
*Don't leave home without any backpacker essentials with our free printable packing list.
1. The Ultimate Island Hopping Boat Tour in Coron
On this adventurous tour, you will visit the most popular spots on Coron island. You will swim in blue lagoons, snorkel among a shipwreck, and hike to an epic viewpoint. Every tour organiser will offer a version of the ultimate tour, and although the locations and order may vary slightly, this is what a typical itinerary looks like.
8.30am – Pick Up from Hotel
9.30am – Boat Departs
Siete Pecados
Kayangan lake.
Twin Lagoon
Smith Beach – Lunch
Skeleton Wreck
5.00pm – Arrive back at port
Kayangan Lake is one of the most famous locations on the Ultimate Island Hopping Boat Tours, and not without good reason. Here you can dive into a crystal clear freshwater lake, encompassed by beautiful limestone formations both above and below the water. Honestly, it's one of the most beautiful locations in South East Asia and very well looked after by locals and tourists alike. Let's hope it stays that way.
Siete Pecados is one of the most popular snorkelling spots in Coron. Its name translates to "Seven Sins," and legend has it that seven sisters once drowned here, forming the seven islets you see today. When we snorkelled here 2 years ago, the area was teaming with tropical marine life and healthy coral reef. Although, I've heard some negative reviews recently that a lot of the coral is damaged from boats and tourists. Nevertheless, be wary of jellyfish and sea snakes in these parts – Charlotte was stung here. But would we do it again? Absolutely!
Twin Lagoon Coron
Next up on the Ultimate Tour is Twin Lagoon – another breathtaking swimming spots made up of 2 dazzling lagoons. A narrow tunnel connects the two lagoons, and it feels quite adventurous passing through. There are also fewer people in the second lagoon, so if you're confident in the water I definitely recommend you check it out.
Skeleton Wreck is one of the coolest spots to explore on an island hopping tour in Coron. Here you'll find a 25m long Japanese ship that was hit by an airstrike during WWII. The highest point of the ship sits at just 5 metres below the surface, so you can easily see it by snorkelling. Or the freedivers among you can dive down to get a closer look. The entire wreck is encrusted in coral, so you'll get an eyeful of some beautiful fish at the same time.
Your final stop on the Ultimate Boat Tour Coron will generally be on CYC Beach, or another of the pristine beaches surrounding Coron Island. Either way, it's the perfect end to a day of adventurous island hopping, where you can relax and reflect on the day.
Is the Ultimate Island Hopping Tour for me?
The Ultimate Island Hopping in Coron tour is a great choice for anybody who may have limited time in Coron and wants to tick off all of the popular spots. It is also suited for adventurous travellers who enjoy being active.
The tour isn't for you if you are looking for a relaxing experience away from the crowds. It is a full-on day of moving from place to place, and each stop tends to be very busy.
Furthermore, if you are an Instagrammer and what to bag some shots for the 'gram, this tour is definitely not for you either. To avoid the crowds you can organise a private boat tour which I cover further on down the article.
How much does the Ultimate Tour cost?
The price varies depending on the tour company; however, you shouldn't have to pay any more than 1500PHP/pax. This should include a buffet lunch & use of snorkelling equipment, so be sure to check this in advance.
*Tip – We recommend hiring a private boat to beat the crowds! Read our section on private Island Hopping Boat Tours in Coron below.
2. Island Escapade Island Hopping Boat Tour Coron
A far more laidback experience in comparison to the ultimate, the Island Escapade island Hopping Tour includes a visit to 3 of the most beautiful islands within the Coron archipelago. We absolutely loved this tour as we had never seen such immaculate beaches in our lives at this point. It was also far less busy than the Ultimate Tour, with fewer boats at each of the stops.
Admittedly, we spent quite a long time on the boat moving from island to island on this tour; however, we enjoyed kicking back and taking in the astonishing views. Besides, it's not a bad life cruising around on a boat, is it?
Although most tour companies will offer their own version of the tour, here is an example of what the itinerary will look like.
8.00am – Collection from hotel
9.00am – Depart from port
10.30am – Arrive at Bulog Island/Sandbar
12.30pm – Arrive at Coco or Banana Island – Lunch
2.30pm – Arrive at Malcapuya Island
5.30pm – Arrive back at port
Bulog Island Sandbar
The first stop on our Island Escapade Tour was the mesmerising Bulog Island sandbar. A sandbar was another first for us, and boy, we weren't disappointed. Thankfully, we were the first to arrive before any of the other boats. We strolled hand in hand along the dazzling white sand bar snaking through turquoise waters like we were the only people in the world. It's one of those places that makes you wonder how nature could possibly be so beautiful. There's also a viewpoint on the actual island which is worth a climb too.
Banana or Coco Island for Lunch
After spending some time on Bulog Island, you'll take the short journey to Banana Island or Coco Island for lunch. I don't think it matters which one. Both are equally beautiful. But we can personally vouch for Banana Island which was possibly one of the most stunning lunch views we've ever had. Our guides prepared a delicious feast for us including seafood, veggies, fruit and other treats.
Malcapuya Island
After lunch, we made our way to Malcapuya Island, which we both agreed is one of the highlights from all our time Island hopping in Coron. Picture a palm-fringed white sand beach, nestling dazzling clear waters, and you'll get an idea of how idyllic this beach. Combine that with the fact it's almost secluded, and you have right there, the epitome of Paradise.
Is the Island Escapade Tour for me?
If you want a taste of 'real' island hopping in Coron, it doesn't get much better than this! The islands on this tour are exactly what you envision when you think of the Philippines … Paradise. Therefore, if you're a sun worshipper seeking a chilled out day on the beach (or 3), this tour is for you.
This tour isn't for you if you are looking for something a little more adventurous. Other than relaxing on the beaches and the boat, you won't find much else to do on the islands.
How much does the Island Escapade tour cost?
Price varies depending on the company; however, if you shop around, you shouldn't have to pay anymore than 1800PHP/pax. This should include a buffet lunch & use of snorkelling equipment so be sure to check this in advance.
Tip – We recommend hiring a private boat to beat the crowds! Read our private boat tour section below.
3. Black Island Boat Tour in Coron
The most spectacular in all of Coron and our favourite island by far cannot currently be reached by an organised tour. Black Island is so incredibly pristine and untouched that we were in two minds whether to tell anybody about it. BUT we love you guys, and we know you will respect the island, so here we are.
Have you ever heard the saying that the toughest of roads lead to the most beautiful destinations? Well, Black Island is proof that it's true. From the tremendous black cliffs that dominate the landscape to the world-class snorkelling among flourishing marine life, everything about the island is truly extraordinary; however, you should be prepared to go out of your way in order to get there.
To learn more about this incredible island, and the details of how to get there, be sure to check out our article: A Guide to Black Island in The Philippines
4. Hop Hostel Groove Crewz Boat Tour in Coron
To enjoy your slice of paradise with some good tunes, cold beers, and new friends, join Hop Hostel on their infamous ' Groove Crewz '. The resident ' sea-hopper ' will whisk you away to a beautiful secluded spot, while the DJ pumps feel-good tunes through the groundbreaking sound system.
With the sun shining, the drinks flowing, and paradise awaiting, you are guaranteed a fantastic time. For details on how to make a booking, you can message the team on Instagram @groovecrewz . Tell them we sent you and they'll definitely hook you up!
5. Private Island Hopping Boat Tours in Coron
Island Hopping Boat Tours in Coron has become increasingly popular in the past couple of years; therefore the organised tours can be very busy.
We personally preferred to hire a private boat, especially for the busier islands. This allowed us to leave earlier in the morning to miss the crowds, and we could pick and choose the locations we wanted to visit.
If you can find a group of 4-6 people, we found it to be very cost-effective. You only need to ask around at your hotel or hostel and you can quickly make up the numbers.
How to Book a Private Island Hopping Boat Tour in Coron
To book a private boat tour in Coron couldn't be any easier. If you walk toward the boat port in Coron Town, you will be inundated with offers from local boat owners. However, we personally recommend using the official office listed as ' CALAMIAN TOURIST BOAT ASSOCIATION ' on google maps.
How Much is a Private Island Hopping Boat Tour in Coron?
The price of the boat will depend on the locations you want to go to and how many people are in your group; however, we have attached an image of the rates card below so you can get a rough idea.
You will also need to consider entrance fees for most locations on top of the price of the boat, which is included in the price when you book an organised tour. Further down I list the entrance fees for the most popular locations so you can get an idea of how much your tour will cost in total.
You should also bear in mind that lunch and snorkelling equipment is not included with private boat tours unless you pre-organise with the captain. There are, however, plenty of places by the pier where you can pick up everything you need.
Entrance Fees for Private Island Hopping in Coron
Remember you'll need to pay each entrance fee on the day of your tour, so be sure to have the cash on your otherwise you won't be able to enter.
How to Book an Island Hopping Boat Tour in Coron
To book an island-hopping boat tour in Coron, you can organise through the dozens of tour operators in Coron Town. Alternatively, you can sometimes organise through your hotel or hostel. It does, however, pay to shop around in order to get the best price.
What do I Need to Bring?
1. reusable water bottle.
It is no secret that single-use plastic is causing irreversible damage to our ecosystems, it is therefore imperative that as travellers, we try to minimise our consumption as much as possible.
We always carry a reusable water bottle and you will find that most hotels or hostels have a refill station. Not only is it better for the planet but you'll save cash too!
We Recommend: Stainless steel Insulated Water Bottles
2. Versatile Walking Shoes
When going on any backpacking adventure, we always carry some versatile walking shoes with us. We personally love the 2 in 1 shoes by Aleader as not only can we wear them hiking, but they act as water shoes too!
We Recommend: Aleader 2 in 1 Hik ing Shoes .
3. Go Pro Adventure Kit
If you want an action camera that is durable and safe to take in the water, then look no further than the Go Pro. Small, lightweight, and easy to handle, you really ought to carry one of these with you on any backpacking adventure. Check out our full photography travel kit.
4. Quick Dry Microfiber Towel
We Recommend: Microfiber Travel Towel
5. Waterproof Bag
To keep your phone, camera, and any other electricals safe and dry.
We Recommend: Waterproof Dry Bag-10L/20L/30L
Responsible Island Hopping in Coron
It should go without saying; however, when enjoying your boat tour in Coron, it's important to be mindful of the environment . It is no secret that some of our planets fragile ecosystems are at risk of extinction.
There are many small steps you can take to becoming a responsible traveller. In the meantime, here are some tips for your boat tour.
Be careful with any rubbish that it doesn't fly overboard. Keep it secure until you can dispose of it properly.
Do not leave anything on the islands, or take anything away – unless you've purchased it from a local supplier.
Wear Reef Safe Sunscreen.
Try to avoid touching coral, marine life or anything underwater… unless it's plastic, help keep our oceans clean.
Where to Stay in Coron
Hostel – Hop Hostel – Hop Hostel isn't only the best hostel in Coron, it is the best hostel we've stayed in throughout our entire travels. The dorm beds are more comfortable then our bed was at home and the facilities are top-notch! Another highlight is the rooftop bar boasting the best sunset view in town.
Budget Private – Ecocio Eco Hostel – If you don't mind simple accommodation, Ecocio Eco Hostel offers super cheap private rooms in the heart of Coron Town. This eco-resort boasts a garden, private hammocks, and a bbq area.
Luxury – Sophia's Garden Resort – For a touch of luxury in Coron, Sophia's Garden is our top choice. Our friends treated us to a couple of nights here for my birthday and we loved the onsite swimming pool and restaurant!
For more places to stay in Coron, you can check the latest prices HERE .
If you plan to continue your travels in the Philippines, you'll want to check out this 3 week Philippines itinerary .
More on Philippines
Planning a trip to the Philippines? Check out some of our other articles to help plan your trip:
ULTIMATE TRAVEL GUIDE TO EL NIDO
ULTIMATE TRAVEL GUIDE TO BORACAY
8 ADVENTUROUS THINGS TO DO IN LEGAZPI, PHILIPPINES
ETHICALLY SWIM WITH WHALE SHARKS IN DONSOL
A SIMPLE GUIDE TO THE PHILIPPINES
Did you enjoy our guide to island hopping boat tours in Coron in Coron, Palawan?
Let us know . That concludes our guide to island hopping boat tours in Coron , Palawan . We hope you enjoy your time in this magical city. If you have any questions or feel we have missed anything, please reach out to us in the comment section below, through our contact us page. Don't forget to follow us on Instagram here , where we share further travel advice & inspiration.
Stay adventurous and Happy travels.
Charlotte & Natalie x
Disclosure: Some of the links in this post are affiliate links. That means that if you purchase through these links, we will earn a small commission, at no extra cost to you. And we can continue bringing you free travel tips and advice. If you found the content helpful and are kind enough to use our affiliates – you are awesome, and we thank you!
MORE ON ASIA
GAY IN: ASIA – A GUIDE TO LGBT TRAVEL IN ASIA
2 WEEKS IN MALAYSIA – ITINERARY AND TRAVEL GUIDE
TOP 15 INSTAGRAM SPOTS OF VIETNAM – ULTIMATE GUIDE
Best 10 Day Bali Itinerary – How to Spend 10 Days in Bali
Backpacking Flores Indonesia – The Best Flores Itinerary
PIN IT FOR LATER
Sharing is caring ♥
Related Posts
One Response
Pingback: Philippines Bucket List: 12 INSANE Activities You Won't Want To Miss
Leave a Reply Cancel reply
Your email address will not be published. Required fields are marked *
We're Charlotte & Natalie, a British lesbian couple with a passion for travel and adventure.
Here you will find everything from lgbtq+ travel & lifestyle advice, to comprehensive guides and itineraries designed to make your travel planning easier., we want to inspire you to live the life of your dreams..
💌 Get discounts & updates in our monthly newsletter
Find Hotels Via Booking.com
Book Tours & Activities Via GetYourGuide
Get Travel Insurance Via WorldNomads
Get discounts & updates in our monthly newsletter
Destinations
LGBTQ+ Lifestyle
Start A Blog
Teach English
Digital Nomad
Privacy Policy
Guest Posts
Work With Us
© 2022 Our Taste For Life Blog – All Rights Reserved. Website Designed by us via Fresh Creatives
Coron Boat Tours: The Ultimate Island Hopping Guide!
Coron is one of the most beautiful islands in Southeast Asia. This guide gives you all the information you need for island hopping in Coron!Coron Boat Tours: The Ultimate Island Hopping Guide!
Trying to find the best Coron Boat Tours? Here is everything you need to know and which tourist spots to visit while island hopping in Coron!
Coron is a bustling tourist town in the Palawan Municipality of the Philippines and an ideal place to begin any tropical getaway. We loved island hopping in Coron, dashing between the top tourist spots in Coron and around Busuanga Island.
The island hopping in Coron is legendary.
Kayangan Lake, Twin Lagoon, and Malcapuya Island are just a few of the unforgettable places to visit in the area, and it's really easy to book affordable Coron island tours to see them all!
These memories hold a special place in our hearts and we can't wait to return and see some of the lagoons and islands of Coron that we didn't have time for.
In this article, you can find everything you need for a holiday in Coron.
We will show you the best tourist spots in Coron, where to eat, where to stay, and other important travel tips for island hopping in Coron!
In A Hurry?
—> This is our favorite island-hopping tour in Coron! <—
Island Hopping in Coron: What to Expect
Island hopping is easily the best thing to do in Coron and primary reason for visiting!
Just a short boat ride away from Coron Town Proper are tons of lagoons and beaches that are straight out of a movie. Before we get into which island-hopping itineraries you have to choose from, let's tackle a few logistics.
Where to Book an Island Hopping Tour in Coron
There are three agencies we use to book tours online. The best practice is to check all three, but anything recommended in this article is the best value we have found across all platforms.
The booking tools we usually use are; Get Your Guide , Viator , and Klook
how much is an Island Hopping Tour in Coron?
Public Tours range from $35-$50 per person and they almost always include a BBQ lunch.
Private tours are a little more expensive at $75-$100 PER BOAT. So depending on how many people are in your group, this could be more or less expensive per person.
Our recommendation is to spend the extra $10-20 for a private tour. If you are a couple or a group, the extra flexibility is absolutely worth it. You have a personal guide, a chance to create your own itinerary, and can stay as long as you would like at each destination!
Public boat Tours vs. Private Boat tours
Private tours and public boat tours are each available in Coron. They both have their pros and cons, as well as a variety of island-hopping itineraries.
Public Boat Tours in Coron
Public Boat Tours in Coron (sometimes called "shared tours") are very similar in price and often overlap in destinations. There are a set number of stops on each tour, and guests have roughly 45 minutes to explore each tourist spot in Coron.
Free pick up and drop off at your hotel in Coron Town Proper.
Buffet Lunch on the beach.
Snorkeling gear included.
Share the boat with 10-20 other travelers.
Only 30-45 minutes at each location.
The destinations are crowded when you arrive (other boats follow a similar route).
A public shared tour is certainly the best option for those traveling solo through the Philippines or looking to travel on a really tight budget.
Private Boat Tours in Coron
While a public tour is great, there is no question that private boat tours in Coron are significantly better.
You can start as early and get to popular destinations before the crowds.
No time limit at destinations. You choose your pace.
Personal guide with insider tips for the best island hopping experience.
Usually, you need to rent your own snorkeling gear.
Usually, lunch is not included .
The biggest selling point for us was that it's actually very inexpensive if you are traveling as a couple or in a group. Our private island hopping tour in Coron cost just $10 more than two tickets on a public (shared) tour!
We also appreciated the flexibility of the private tour. We arrived at Kayangan Lake by 8 am with less than 10 people there. By the time the shared tours arrived (9-10 am), the lake had hundreds of tourists snorkeling and taking photos.
Island Hopping in Coron: the best itineraries
Travelers choose from a few different popular island-hopping itineraries in Coron. Some focus on lagoons. Others prioritize snorkeling or sun-kissed beaches.
These are the most popular tours in Coron.
Coron Super Ultimate Day Tour – Best of Coron
The Coron Super Ultimate Day Tour breezes through the top destinations in Coron. It is the best itinerary for those who don't have a lot of time in Coron. Stops vary slightly, but the majority of tour groups take you to
Kayangan Lake & Barracuda Lake
Twin Lagoon
Skeleton Wreck
Siete Pescado ( OR Coral)
Lunch @ Banol Beach ( OR CYC Beach)
Beach 91 ( OR Malawawey Beach)
This tour is easily the best value for your money, but it's also the most popular (which mean expect crowds!) A lot of stops also means you have less time to explore each destination, but if you are on a time crunch, this is the best way to see the most famous places in Coron.
Looking for the best day tour of Coron?
—> CLICK HERE for the Coron SUPER Ultimate Day Tour! <—
P.S. Make sure to book the tour with " super " in the title. The Coron Super Ultimate Day Tour is a different itinerary with less destinations for the same price.
Coron Tour A – Top tourist Spots
This option has a nice blend of snorkeling and beaches. All of the stops on the itinerary for Coron Tour A are close to town and popular places to visit on Coron. You will get to visit;
Coral Garden
Lunch @ Atawayan Beach
Secret Lagoon
Siete Pescados
Kayangan Lake
This is very similar to the Coron Super Ultimate Tour. But since there are less stops, the prices is slightly cheaper for tourists coming to Coron on a budget.
Coron Tour B – coral Reefs & Snorkeling
Lovers of snorkeling and coral reefs will find their match with Coron Tour B. This tour visits four different snorkeling destinations in a single boat tour.
Barracuda Lake
Lunch @ Banol Beach
Reef Garden
If you book a shared tour, this itinerary will include a stop at Banol Beach for lunch. Usually lunch is a seafood BBQ with rice, fruit, and other small snacks.
Coron Escapades Day Tour (tour C) – Remote Beaches
The Coron Escapade Tour focuses less on snorkeling in lagoons and prioritizes seeing the best beaches around Coron. If you take this tour, you will get to spend time on three beautiful beaches.
Malcapuya Island (Lunch)
Banana Island
Bulog Dos Island
These beaches are very remote, which is why the tour is only able to visit three of them. While Kayangan Lake and Twin Lagoon are just 20-30 minutes from the port, it take about 2 hours to reach Malcapuya Island.
Coron Tour D- Reefs & Wrecks
This tour visits Lusong Island to snorkel through coral reefs and explores the Lusong Gunboat Shipwreck. Ultime Siete Pescados, this entire shipwreck is less than 10 meters depth, so you can see everything without being an experiences free diver.
A brief stop for lunch at Pass Island is included in the shared tour.
Check prices & availability – Coron Tour D (Shared Tour)
Check prices & availability – Coron Tour D (Private Tour)
How to hire a private boat in Coron
Creating A Personal Island Hopping Experience
Contrary to El Nido, private tours are equally available and affordable for couples or groups traveling to coron Coron. Almost any of the above tours can be booked either as a shared public tour ($20-40 per person) or a private tour ($80-120/boat).
You can book a private tour of all the above itineraries, or create your own itinerary. If you love one of the itineraries above, but just want a more personal and flexible twist on them, you can book these private tours online.
Booking online is very easy, but if you want more flexibility, you can wait and book in person at the Calamian Tourist Boat Association ! It's smart to get a boat situated the day before in order to leave at dawn!
The price for a private boat is 2700 PHP ($55) +100-200 ($4) per person per stop. So if you visit 4-5 different places, here is what to expect!
2 people – 2700 + 1000 PHP = 3700 PHP ($75)
3 people – 2700 + 1500 PHP = 4200 PHP ($85)
4 people – 2700 + 2000 PHP = 4700 PHP ($95)
Additionally, you should tip your guide about 250-500 pesos afterward.
3D2N Island Hopping from Coron to El Nido
There are some multi-day island-hopping tours available from Coron that we dream of doing someday!
These longer tours are able to vist some of the most untouched beaches and remote places in all of Palawan! Usually, you will find them all-inclusive, with meals cooked fresh on the boat and glamping sites set up to spend the night on the beach in comfort.
One of the most popular companies to book with is Big Man Boat Tour . They offer tours from Coron to Coron, Coron to El Nido, and El Nido to Coron.
If you have the extra funds, this is the absolute best way to see the Philippines!
Big Dream Boatman Tour is the best experience you can do in the Philippines
–> CLICK HERE to see available dates for the excursion <–
How to Island-Hop Responsibly
Here are four ways to decrease your footprint on the earth and take care of the protected areas you visit while island hopping in Coron.
Buy a Reusable Water Bottle – The GRAYL Geopress Water Filter is the best filtering water bottle on the market. With each reusable filter, you can filter 65 gallons of water from anywhere in the world!
Don't Touch the Coral – Sometimes in Coron, the coral is only a few feet deep, so it's difficult not to bump into it. Just do your best to avoid touching the corol and definitely don't stand or walk on the coral beds.
Use Reef-Safe Sunscreen – If you go island hopping in Coron, you will see the damage that's already been done to some of the coral gardens. While snorkeling, be sure to use a reef-safe/reef-friendly sunscreen. All-Good Sport Sunscreen is what we prefer.
Support Local Companies – A lot of local tour groups, restaurants, guesthouses, and other businesses in Coron have really struggled during the pandemic. Be kind, tip well, and use locally-owned companies as much as possible while traveling in Coron.
What to Bring to the islands
The best way to pack your belongings for any island hopping in the Philippines is with a dry sack. A Dry sack is a waterproof, floating bag that keeps all your belongings safe while on the boat. Typically they come in a variety of sizes (from 5L-30L).
You can buy one when you arrive, but we recommend purchasing one before you go to save some stress.
This is everything we put in our dry sack for a day of island-hopping in Coron.
Go Pro Hero 8 black
DJI Mini 2 Drone – When we visited the Philippines, we didn't have a drone yet, but looking back we regret not investing in one sooner. Some of our favorite photos these days are taken with our drone!
Goggles + Snorkel (also possible to rent)
Waterproof phone sleeve
Quick-dry Towel
External Battery Pack
Charger Cables for all out technology
Reef Shoes (NOT provided with Tour)
Reef Safe Sunscreen
Small First Aid Kit
A Little Cash – there are small vendors on some of the beaches (specifically Pasandigan Cove and Paradise Beach).
Where to stay in Coron
Make sure you stay somewhere in the heart of Coron Town Proper. This will put you within walking distance of everything. Taking a tuk-tuk everywhere can be a hassle at times. Spend $5 extra a night, and you'll save $5 a day on tuk-tuks!
These are some of the top-rated places to stay in Coron in 2022 (one for each budget)!
The Ridge Coron: Budget-Friendly Guesthouse
Check Prices and Availability HERE!
Vela Terraces Hotel : Mid Range Guesthouse
Corto Del Mar Hotel : Luxury Hotel
Other Common Questions about Coron
Is busuanga the same as coron.
Busuanga and Coron Island are separate islands. Coron Island is uninhabited, so all visitors find accommodation on the island of Busuanga, then travel by boat across the Coron Passage to Coron Island during the day. The town in Busuanga is called "Coron Town Proper" (confusing, right?).
If you fly to Coron, the airport is technically on Busuanga. The airport is tiny but inexpensive to fly into from other popular cities in the Philippines. Once you arrive, Coron Town Proper is a short 30-minute drive along the coast.
Is Coron Palawan Expensive?
The island of Busuanga (where you stay to visit Coron) is more expensive than other areas of Asia, yet still affordable and has a lot of budget options.
Overall, you can expect to pay an average of $40-70/day per person. This includes a hotel, boat tour, 2-3 meals, and transportation around Coron.
How to Get Around Coron
There are hardly any cars in Coron. Instead, everyone gets around with motorbikes, tuk-tuks, fast boats, and vans running to/from the airport
Getting from the Airport to Coron Town Proper
It takes roughly 40 minutes to get from Francisco B. Reyes Airport to Coron Town Proper. The best way to travel is by hitching a ride on a shared van.
It is possible that your hotel will provide free pickup/drop-off at the airport. We found this more common in Coron than in other places we've been in Asia.
But, if your hotel doesn't offer to pick you up, you can arrange a van transfer online or simply join one of the vans departing the airport on arrival. The airport is super small, so it is not difficult to navigate a ride to town when you arrive
P.S. The vans wait until they are full to leave, so you'll have to be patient.
Hailing a Tuk-Tuk (Tricycle) in Coron
Hailing a tuk-tuk/tricycle in Coron. Just stick your arm out while an empty one is passing. A tuk-tuk is about 50 pesos ($1) to get from the outskirts of Coron proper to the main port and about 100 pesos ($2) to the dock where ferries depart for El Nido
Renting a Scooter in Coron
The only time it makes sense to rent a scooter in Coron is if you are NOT island hopping for a day or two. The boat tours generally go all day, so there is no need for more than a tuk-tuk transfer to your hotel. Plus, most restaurants are walking distance from the port.
We wanted to spend one day exploring Busuanga, so we found a place right in Coron town called Boyet Motorbike Rental . The prices here range from 300-500 PHP ($6-10), depending on how many hours you would like to rent the scooter.
Getting from coron to El Nido
There are a few ferry services that leave from Coron at different times of the morning & afternoon. Going earlier is always better so that you still have some daylight left in El Nido.
This article details everything you need to know about the fast ferry to El Nido, but if you are in a hurry, you can book a fast ferry HERE!
Generally, the ferry will take 3.5 hours and cost 1800 pesos ($36)
How Long Should I Stay in Coron?
Ideally, you should set aside 2-3 days in your Philippines itinerary for Coron. There isn't much to do and see around the town itself, so you will be taking boat tours every day.
Two private boat tours are perfect to see all the major areas of Coron, then you should make your way to either the beaches of El Nido or Southern Cebu for the rest of your trip.
What's The Best Month to Visit Coron?
The best month to visit Coron is definitely March. The island has warm weather and warm seas all year round, but the summers are always rainy. To avoid the rain, book your trip to Coron between November-April (the best months being Jan-March).
Is Coron Better than El Nido?
Coron and El Nido are two island-hopping hotspots in the Philippines, and they are so close to one another that it is worth visiting both while traveling to the Philippines.
El Nido is definitely more established and has more options for tourists outside of island hopping. You can find exciting restaurants/bars, beaches along the coast, shopping, and even a few waterfalls. You can even kayak to 14 different beaches from El Nido
Coron, on the other hand, is better for a short excursion. There isn't much going on in town, so we would find it boring to spend a week or two here.
As long-term travelers, we enjoyed that El Nido has more variety than Coron, but if you have time for both, we recommend spending 5-6 days in El Nido and 2-3 days in Coron.
Where to Go Next?
As we just mentioned, you should either take a boat to El Nido or hop on a flight to Cebu for more adventures in the Philippines.
In El Nido, don't forget to rent a kayak for the day. This is easily our most memorable experience from our visit.
We really loved Cambais Falls in Cebu, Swimming with Sardines , and spending a couple of days in Oslob .
That's everything you need to know! Coron is one of the most beautiful places we have ever visited and we hope that this information will help you enjoy the islands a bit more! If you have any other questions, don't hesitate to shoot us a DM or email. We'd love to hear about your travels and help out with the planning process!
– Caleb & Sarah
Share It On Pinterest!
Caleb & Sarah Pasiuk (PAZOOK) are the founders and creators of The Pazook Travel Journal. They worked as English Teachers in South Korea for 2.5 years, have traveled to over 20 countries, and are experts in traveling to tropical destinations like Bali, Sri Lanka, The Philippines, Malaysia, South Korea, Greece, and Puerto Rico!
Subscribe To Our Journal
Stay in touch and get consistent updates on our travel guides and journal entries, some of the links here are affiliate links. this means that, at zero cost to you, we will earn an affiliate commission if you click through the link and finalize a purchase., by using these links, you are supporting the pazook travel journal and allowing us to continue providing free content to you on our site., click here to read our privacy policy and our affiliate disclosure agreement ..
The Ultimate Guide to Coron Island Hopping Tours
Coron, the beautiful paradise in Palawan , offers a lot of water activities. One of these is the Coron Island Hopping experience where you'll see all the beautiful tourist spots like Kayangan Lake and Malcapuya Island. Thankfully, you can now easily find a lot of Coron tour packages online or even while you're already in Coron. You can find these in the hotel reception, fliers, small shops, ports, airports, etc. You can even make a DIY Coron island hopping if you prefer. To help you get started, here's what you need to know in this Ultimate Guide to Coron Island Hopping tours.
Table of Contents
Related Read: 13 Best Tourist Spots to Visit in Coron Palawan
How much is island hopping in Coron?
Island hopping in Coron depends on the package you are going to book. But mostly, tours start at 2000 pesos ($41) per person. There are also other boat rental companies that offer cheaper rates but be sure to check on them if the entrance fees and tour guide rates are already inclusive. Group tours or joiner tours, on the other hand, are cheaper than private tours. If you book a group tour, you can find some Coron tour prices for as low as 900 pesos ($20).
Click here to book the Coron Ultimate Island Day Tour , one of the best Coron Island Hopping tours.
How many days do you need in Coron?
With all the beautiful sceneries you can visit in Coron, one or two days might not be enough if you want to experience the majority, if not all, of these Coron island tours. Staying for 3 to 4 days will be enough to enjoy Coron but if you have more time and money to spare, 5 to 7 days will suffice to include a short tour to Coron's neighboring paradise, El Nido. Check this guide on how to get from El Nido to Coron and vice versa.
Book here if you want to schedule an airport transfer .
What can I bring to Coron island hopping?
You'll spend the majority of the time in your boat or basking under the sun or swimming when joining any Coron island tours. It is also important to know what to bring to these kinds of activities so here is our list of things you can bring to a Coron island hopping.
Dry bag – A dry bag is very necessary for every Coron island hopping. It secures your important stuff like electronics and gadgets from getting wet, especially when visiting places like Kayangan Lake where there is no proper area to leave your valuables. Most of the time, you can only leave your things on the wooden ramp or near the shoreline.
Waterproof camera – Be sure to bring a waterproof camera so you can relive all the fun adventures during the tour. You can also use it to record all the beautiful marine life in Coron which you'll surely encounter in any of these Coron island hopping tours.
Sunblock – Don't forget to take good care of your skin while having fun in the sun. A good sunblock with high SPF and reef-friendly components is highly recommended as it not only protects you from the harmful UV rays but you are also protecting the ocean from harmful chemicals.
Snorkeling mask and fins – Although there are Coron tour packages that offer mask and fin rentals, you still might find it very convenient and hygienic to bring your own snorkeling mask. You surely don't want to miss all the underwater scenery in Coron.
Drinking water – bring lots of water to prevent dehydration. You'll be doing a lot of water activities. Water is life.
Medkit – Wherever you go, always bring a first aid kit in case of an accident.
Related Read: 10 Best Coron Luxury Resort and Accommodation
What do you wear to island-hopping?
Aqua shoes – you might find this very handy since you'll be visiting various attractions from the beach to caves, and even hiking to get to the lakes and lagoons. Swapping your flip-flops to aqua shoes will make your day convenient. Plus, you reduce the chances of losing your favorite flip-flops during the tour.
Swimwear/ Rashguard – wear any swimwear you are comfortable with.
Life jacket – Be sure to secure a lifejacket while still in the boat. Remember that it is the boat/tour operator's responsibility to have a lifejacket on board that is enough for all their passengers.
A big smile – Don't forget to have fun all throughout the tour. Be respectful to other tourists and most especially to Mother Nature. Remember that the best Coron Island Hopping tours also start within you.
How do you get to Coron Island?
Being one of the most popular Philippine tourist destinations, there are now multiple ways to go to Coron. You can get to Coron by flight or by ferry.
Getting to Coron by flight
You can fly to Coron from Manila via Cebu Pacific Air, one of the Philippines' top airline companies. Flights arrive at Busuanga airport and after which you have to take a jeepney to Coron town proper. It is the fastest yet most expensive option to get to Coron. You can also find flights from El Nido, Cebu, and Clark going to Coron.
Need a ride? Book tickets to Coron now .
Getting to Coron by ferry
You can also book a ferry from El Nido to Coron. Fast ferries only take 3.5 to 4.5 hours while slower ferries take 6 to 8 hours to arrive. Want to know best ways to get from El Nido to Coron? Click here.
What are the top destinations in Coron island hopping tours?
Kayangan Lake
Kayangan Lake is indeed the most popular destination that you'll find in almost every Coron tour package. It features a crystal clear lake and a view deck overlooking it. The view deck has the best spot to take pictures of the lake. To get to the lake, you need to hike a steep trail that consists of approximately 300 steps. Swimming is only allowed if you have a life jacket.
Twin Lagoon
The Twin Lagoon is a pair of beautiful lagoons divided by a limestone cliff. It consists of fresh underground water and seawater which makes the appearance of the water blurry. The first of the two lagoons serve as the docking area of the boats while the second lagoon is the main tourist attraction. To travel between these two lagoons, you can either take the wooden stairs or dive under.
Skeleton Shipwreck
WWII indeed left interesting remains in Coron Bay. Open Water divers and underwater photographers enjoy going to the Skeleton Shipwreck in Coron where they can find 7 different dive spots to explore. The good thing about these diving spots is that they can also be explored by using only a snorkel mask. If you like to dive and explore life underwater, having Skeleton Shipwreck in your itinerary could be one of your best Coron island hopping tours.
Barracuda Lake
Another interesting destination in Coron island tours is Barracuda Lake. Many have said that it was named after a large barracuda residing in the lake. However, you can no longer see a lot of marine life nowadays, not even a barracuda, in the lake. If you're lucky, you might be able to spot one or two. Another interesting thing about this destination is the drastic temperature change as you dive deeper. This is because the fresh water on the top layer meets the seawater at the bottom layer. So from cold water, you will experience warm water if you dive at least 4 meters down.
Black Island
Many said that Black Island is one of the most underrated destinations in Coron. If you'll notice, only a few Coron Island Hopping packages include Black Island in their itinerary. If you wish to visit this beautiful island, you can arrange a customized tour from other tour operators. However, in this type of Coron Tours prices vary. Black island consists of a beautiful white sand beach with black limestone cliffs as a backdrop. You can also explore caves on the island as well as visit the shipwreck located just close to the shore.
Malcapuya Island
One of the most expensive Coron tour prices includes Malcapuya Island in their itinerary. This small island which is easily a crowd favorite is located just close to Banana Island and Bulog Dos. What makes it one of the best destinations for island hopping is its crystal clear water, powdery white sand, and little private beaches.
Check out what other activities you can do in Palawan here.
When is the best time to do an island-hopping tour in Coron?
The best time to do an island hopping tour in Coron is during the dry season. There are two dry seasons in the Philippines. One is the cold dry season which starts in December until February while the other is the hot dry season which starts in March until May.
Are Coron island-hopping tours kid-friendly?
Yes, Coron island-hopping tours are kid-friendly. Every island-hopping boat is required to have life jackets for adults and kids. Adult supervision is also highly advised when traveling with kids.
Did we miss something? Let us know if you have some more information about these trips.
Read all our travel planning articles about Palawan  here.
Traveling around the world one baby step at a time. On a normal week, I juggle the life of a Software Engineer and a small business owner. I also write stories about my experiences while traveling– the adventures and the misadventures.
You Might Also Like
The Best Ways to Get to Siquijor : How to Guide
Best Accommodation and Hotels to Stay in Sagada
Mayon Volcano ATV Adventure in Legazpi, Albay
Leave a reply cancel reply.
Save my name, email, and website in this browser for the next time I comment.
Start Planning
TRAVEL GUIDES
Destinations
Hawaii Islands
Philippines
Coron Ultimate Tour I What To Expect
The Coron Ultimate Tour in the Philippines is probably one of the most beautiful highlights you can see on Coron. Even if Coron (or the main island Busuanga) itself is not worth seeing, the lagoons and bays off the coast are. The islands that we saw on our Super Ultimate Tour off Coron are among the most beautiful natural highlights that we saw on our round trip through the Philippines.
We are Sabrina and Andreas, two adventurous travelers who never miss an opportunity to discover the world. Whether by plane to distant countries or with our campervan Bruno, we just love to travel. We hope to give you helpful tips for your next trip on our blog.
Sabrina & Andreas Globetrotters, Travelers, Adventurers
Island Hopping Coron | Super Ultimate Tour
Since we only wanted to stay a few days on Coron, we chose the Coron Super Ultimate Tour, as it combines the most beautiful and popular destinations of the island world off Coron in one day trip. What experiences we had on our boat tour and whether we can recommend the Super Ultimate boat tour, you can read in our experience report.
Super Ultimate Tour in Coron | Check Prices*
Highlights of the Coron Super Ultimate Tour
Kayangan lake.
Kayangan Lake is probably the most famous lake in Coron and definitely one of the most beautiful spots in the region. If you have booked a private tour then you will be lucky to get to this lake before the other group tours. You will first drive into a small bay, which looks beautiful in itself.
There is a large boat dock that shows how many boats can dock here. From the pier you go up a more or less steep staircase. There you will find the famous viewpoint from which the photos are taken that are known from this place.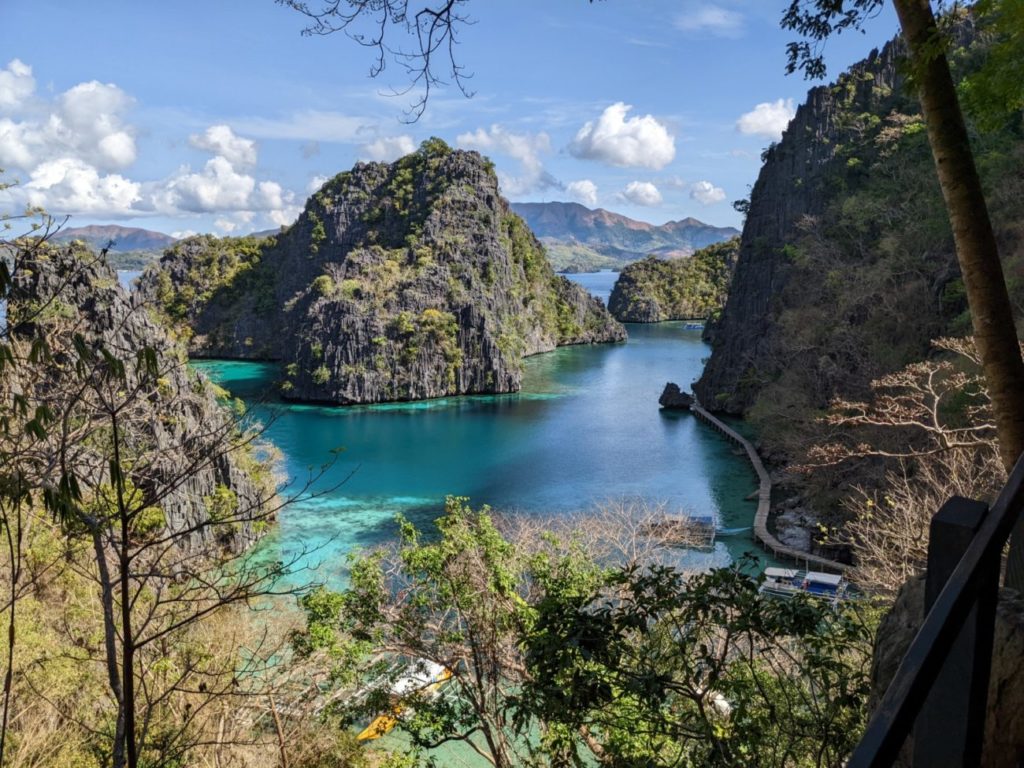 Funnily enough, the famous photos of Kayangan Lake are not from the lake itself, but from the bay where you arrive by boat. The actual lake is on the other side, but there is not such a nice viewpoint. From the viewpoint you go down the stairs to the actual Kayangan Lake. There is a large footbridge that gives you a view of the really crystal clear greenish shimmering water. By the way, the water here is freshwater and the lake has really very impressive underwater rock formations.
You can see them while snorkeling or free diving. By the way, for safety reasons you have to wear a life jacket when swimming here. This makes swimming easier, but submerging a bit more difficult. If you ask your guide, it should be no problem to take off the life jacket for a short time, for example, to take beautiful underwater pictures.
Since we were lucky enough to be the first ones at Kayangan Lake that day, we could enjoy the lake alone for almost half an hour before other tourists arrived. Then we went on to the next highlight, the neighboring Barracuda Lake.
By the way, you can read more about Kayangang Lake here: Kayangan Lake I Tips for the most beautiful highlight in Coron
Barracuda Lake
The Barracuda Lake is located right next to Kayangan Lake and the special feature of this lake are, as the name suggests, the barracudas, which you can see here with luck. Barracudas are about 1-1.5 meters long predatory fish, which can be dangerous for you. Normally the barracudas only make mock attacks. If you do not come too close to the fish then you should have no problems.
You are surely wondering if you will get the chance to see the impressive barracudas at all? Often such places are named after such animals, although hardly anyone has ever seen them. With us it was at least different. We were lucky to see several of these great fish swimming past us. So you could also be lucky if you visit Barracuda Lake.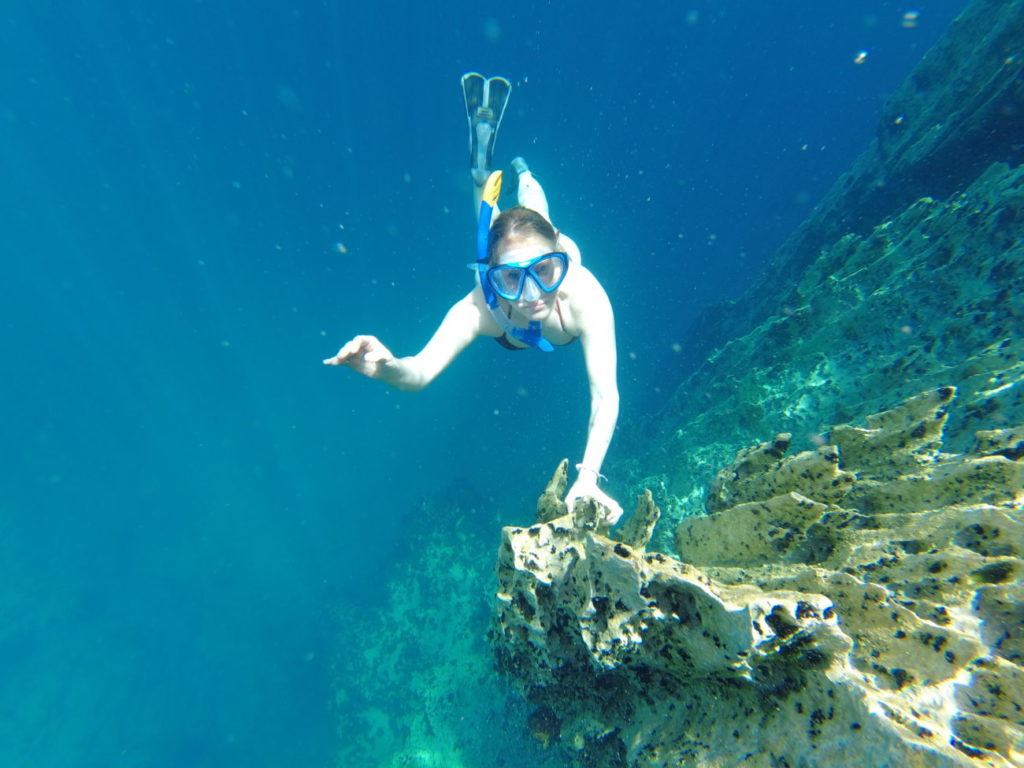 Barracuda Lake is relatively similar to Kayangan Lake next door. Here, too, the boat landing is on one side, you walk down a staircase between the sharp limestone rocks to the other side where there is a large jetty and the almost transparent water of the lake. By the way, the Barracuda Lake is up to 40 meters deep and has a pleasant water temperature of 28 degrees all year round.
The main activities at Barracuda Lake are swimming and snorkeling, just like at Kayangan Lake , and of course looking for barracudas. In our separate travel report you can learn more about Barracuda Lake. The next stop on the Super Ultimate in Coron is right next door.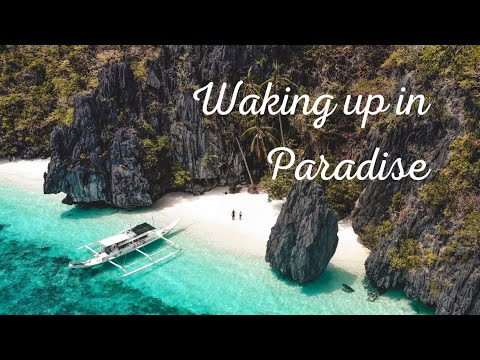 Twin Lagoons
The Twin Lagoons are again a very special highlight of the island world of Coron. As the name suggests, this highlight consists of 2 lagoons, which are connected by a thin rock wall. At low tide you can swim through a hole in the rock wall or at high tide you can climb a ladder over the rock wall.
A special feature of this Coron highlight is that there is no jetty where the boats can dock. This means that the boats anchor in the small bay in front of the Twin Lagoon and you have to swim from there to the rock wall.
So after swimming to the rock wall you could swim under the rock on the way there. This is especially easy at low tide, but actually also at high tide. You will have much less space and you will have to take care of your head. The other side of the Twin Lagoon is much bigger and you have a lot of space to swim or snorkel. Snorkeling is not so popular here, because there is not really much to see under water.
On the other side of the Twin Lagoon you can not do more than swimming, because there is no jetty or anything where you could walk on it. Also, this side of the lagoon does not look as spectacular as the other side where the boats are anchored. Therefore we would recommend you not to stay too long, but to swim back to the rock face and this time take the ladder.
With the boat side in the background you can take really nice pictures. But also the rock face with the ladder itself is very picturesque and is a great photo motif. So you should plan a lot of time here to make many beautiful photos.
The small rock in front of the cliff is also good for taking photos or jumping into the water from there. If you had enough fun then swim back to the boat, because it's time for lunch.
If you want to know more about Twin Lagoon read our travel report: Twin Lagoon Coron I The most important tips for your visit
Lunch will be served at this beach. The beach itself is beautiful and perfect for swimming. The lunch, however, puts the crown on the whole thing again. We had a large buffet with seafood, crab, chicken, vegetarian options and of course lots of fruits.
A special highlight were the so-called Sea Grapes. These really look like a mini version of green grapes. They just taste a little salty. The whole thing is dipped in a tincture of vinegar, lemon and sugar. Really super tasty!
After lunch we even had some time to explore the area with a kayak. Next door is Sunset Cove, another small cove that can be explored by kayak.
Twin Peaks Coral Garden
Here is another beautiful snorkeling spot where you can explore the amazing underwater world of Coron. Don't forget your snorkel mask, because there is a lot to discover here.
The end of the Super Ultimate Tour in Coron is the CYC Beach. So after all the strenuous activities you can relax a little bit. The sand is super fine and at the edge of the beach there are also some mangroves. You can go swimming here or just relax on the beach.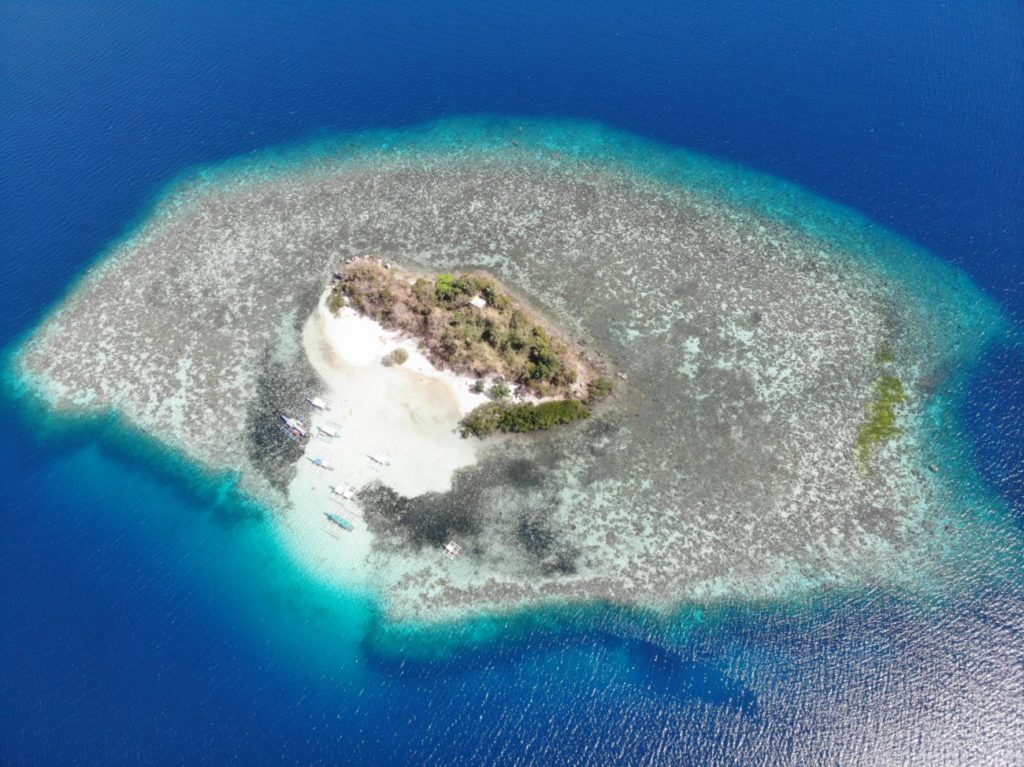 Procedure of an Island Hopping Tour on Coron
The procedure of an island hopping boat tour on Coron is actually always the same, no matter which tour or which provider you choose. You will be picked up in the morning between 8 and 9 o'clock either in front of your hotel or – if it is too far away – you will meet at the office of the tour operator or directly at the harbor. You should clarify this in advance.
Explore all these beautiful Places by Boat | Check Prices*
When all participants are on board and the greeting has been said, you will start exploring the first highlights of your tour. If you have booked a private tour then you have of course still influence on the course and the order, with a group tour you have this of course not.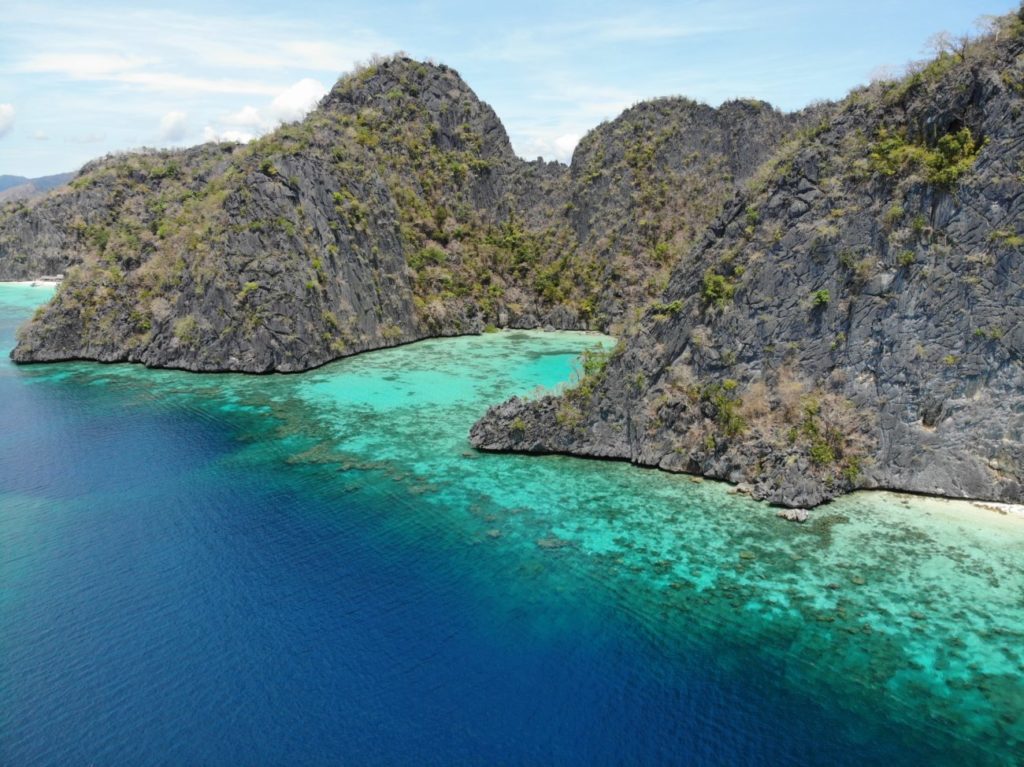 After the first 2-3 stops on your Coron boat tour you will have a lunch break and a rich buffet. In the afternoon the remaining stops will be made, which can consist of island visits, snorkeling or swimming. Around 5pm you will arrive back at the port in Coron Town and can then stroll around town or take a tricycle directly to your hotel.
Hotel Recommendation on Coron
La Natura Resort 
La Natura Resort in Coron consists of a beautiful garden-like complex located a bit away from the hustle and bustle of Coron Town. You are in the middle of nature and far away from other tourists or the noise of the city. You wouldn't expect it, but the owners have built a wonderful resort here that you can't even imagine from the outside. 
There is a large pool, a lovingly landscaped garden and the spacious cabins are equipped with large bed and ceiling fan.
large pool with whirlpool
lovingly landscaped garden
away from the noisy hustle and bustle of the city
WLAN & breakfast included
La Natura Resort | Check Availability*
Tips for Coron Island Hopping
Group tour or private tour.
We opted for a private tour because we liked to be alone on the road and so we can still influence the individual stops. So we can decide to stay longer at one stop and maybe skip another stop, just as we want. Also, we do not have to take into account others. A private tour is not much more expensive than a group tour. You pay only about twice as much as you pay for 2 people in a group tour. We think it is worth it and would recommend a private tour if it fits into your budget.
Which Tour to choose in Coron?
There are several tours in Coron and if you have enough time and money it can make sense to do several tours on consecutive days. This way you won't miss any of the highlights of the beautiful island world in front of Coron. However, due to time constraints, we only chose the SUper Ultimate Boat Tour in Coron, as it really covers the most beautiful and popular sights in Coron.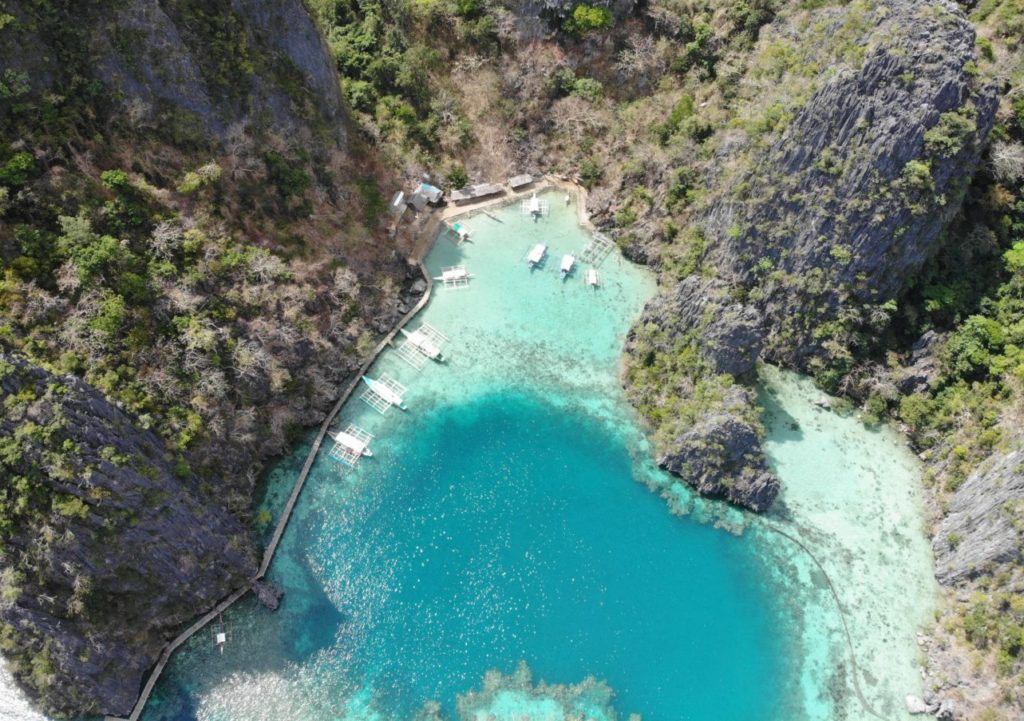 If you are interested in more tours, we have some inspiration for you here:
Reefs & Wrecks Tour
Here the focus is on shipwrecks (of which there are a lot in Coron) and reefs. Perfect for the marine adventurers among you. The following places will be visited on this tour:
East Tangat Gunboat
Pass Island
Lusong Coral Garden
Lusong Gunboat
You can book the special Reefs & Wrecks tour here at El Nido Paradise* .
Island Escapade Tour
This Coron boat tour emphasizes pristine beaches and beautiful islands. You will visit the following places on this great boat tour:
Bulog Island
Banana Island
Malcapuya Island
You can book the Island Escapade Tour here at El Nido Paradise* .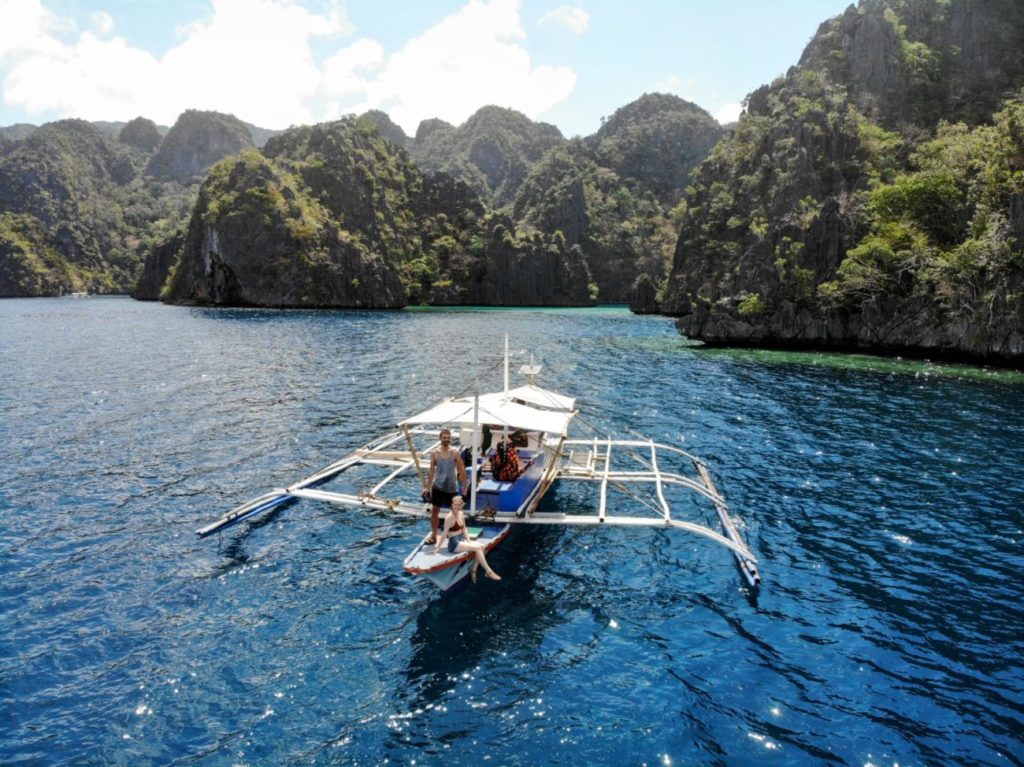 Where should I book a Boat Tour in Coron?
Under the circumstances of Covid we had to book a tour to be allowed to enter Coron at all. We can highly recommend the Provider El Nido Paradise* . With this tour we also experienced the highlight of our Philippines round trip, the 3 day boat tour from Coron to El Nido.
Read more about it here: 3 Day Boat Trip from Coron to El Nido I An unforgettable Trip
This provider also offers all kinds of excursions on Coron and among others the Super Ultimate Tour on which you also visit the numerous highlights described here.
Unforgettable Multi Day Trip in Palawan | Check Prices*
What can you do in Coron besides Island Hopping?
On the main island itself there is not much to do, most of it is really in the sea on the islands in front of Coron. But if you want to do some things without a boat, here are some suggestions for sightseeing on Coron:
Climbing Mount Tapyas
This is a popular activity on the otherwise rather poor in sightseeing main island of Coron. Especially at sunset many people walk up the 721 steps. It takes about 45 minutes and you don't even have to be very athletic. At the top, a viewing platform with 360 degree view is waiting for you. There is no entrance fee and it is open all day.
Hot Springs of Makinit ("Maquinit Hot Springs")
At the south coast of Busuanga the Maquinit Hot Springs are waiting for you. It takes about 30 minutes to get there by tricycle and the round trip will cost you 400 Pesos. Your driver will wait for you while you are in the hot springs. The entrance fee is 200 Pesos and the hot springs are open from 8am to 8pm. By the way, the water has a temperature of almost 40 degrees.
This was also the reason why we decided not to visit (unlike our trip to Costa Rica ), because we were already hot enough, so we felt more like cooling down than going to a hot spring. However, if you like to relax in hot springs, this may be the one for you.
Calauit Safari Tour
It sounds strange, but you can really do a safari on Coron. In the north of the island there is a zoo you can visit. There are actually giraffes, zebras and other animals from the African savannah. We found this a bit strange, and since we have already seen elephants and co. in Tanzania , we decided against a visit to this zoo. But if you want to see African animals in the Philippines, you can book a tour there here* .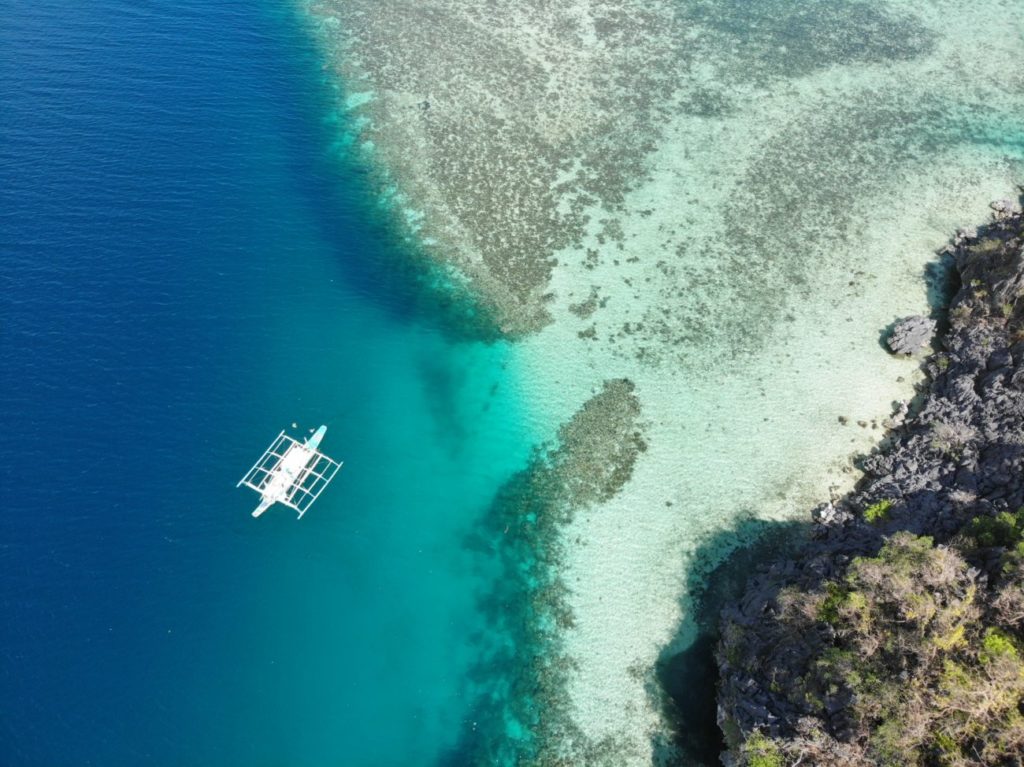 In 3 Days by Boat from Coron to El Nido
This was really the highlight of our whole Philippines round trip . In 3 days you will travel by boat from dream island to dream beach and hardly miss a highlight. 2 nights you stay on lonely beaches in beautiful bays. And you will experience things that you would never see on a day trip. Learn more about such a multi-day boat tour in our travel report:
3 Days Boat Trip from Coron to El Nido I An unforgettable Trip
Leave a Reply Cancel reply
Your email address will not be published. Required fields are marked *
Save my name, email, and website in this browser for the next time I comment.
Destination guides
Download free Russia travel guides
St Petersburg
Golden Ring
Lake Baikal
Murmansk (Kola Peninsula)
Moscow & St Petersburg
Russia River Cruises
Expedition Cruises
Trans-Siberian Tours
Northern Lights Tours
Siberia Tours
Winter Tours
Students Trips
Luxury Tours
Plan My Tour
Start planning my tour
Your Russia, your dates, your mates
Destination Guides
Russia Travel Tips
Russian Visa
Travel Insurance
Why 56th Parallel
Traveller Reviews
Moscow Vibes – Three Day City Escape
Duration 3 days
Price from USD $730 ? Currency Conversion Converted from USD based on the latest exchange rate. Final amount and payment will be in USD. Final conversion rate is determined by your bank.
Trip Style Sightseeing
Time of year All Year
Home / Moscow Tours / Moscow Vibes – Three Day City Escape
This short Moscow tour will give you a true taste of the history, culture and incomparable urban vibe that define one of the world's largest metropolises. In just three days, this Moscow itinerary takes in all the most iconic sights of this attraction-packed destination. After two and half days getting acquainted with the city, we've set time aside for you to explore Moscow your way and discover your own favourite hang-outs in a city overflowing with hidden treasures
3-Day Moscow Tour Highlights:
Panoramic Tour of Moscow: See Moscow beyond the postcard images on a private excursion by car through the city streets including a drive along the banks of the Moskva River. Visit the famous Bolshoi Theatre, pass by Gorky Park and the Novodevichy Convent, and admire the city from on high at the Sparrow Hill observation platform.
Moscow Historical City Centre Guided Walking Tour : Immerse yourself in the atmosphere of one of the world's biggest metropolises and discover local haunts on foot, including the Red Square, the Kremlin and the multi-coloured domes of St Basil's Cathedral.
Armory Chamber tour: Explore the endless treasures of this unique museum, displaying the wealth accumulated by Russian rulers from the 12th century until the October Revolution of 1917. Walking through the exhibition halls is a journey through the centuries.
Moscow Metro Tour : Go deep underground on a subway tour of the famous Moscow metro. The world's deepest metro system is renowned for its palatial, art-adorned stations, complete with marble columns and chandeliers.
On your first day, you'll be treated to a panoramic, drive-by tour of Moscow to get a feel for the immense scale of one of the world's most rapidly developing urban centres. The city's history unfolds in real-time as you pass lavish imperial mansions, solemn Soviet structures and luxurious modern shopping centres.
Day two kicks off exploring Moscow's historic centre on foot, followed by a tour of the Kremlin, the seat of Russian power and political intrigue for centuries. Stand in the Red Square, surrounded by the stunning architecture as you hear stories of the people and events behind many of Moscow's most iconic landmarks.
On your final day, we'll head beneath the city for a tour of the Moscow Metro and its famously ornate underground stations. Art lovers should hit up one of Moscow's many world-class galleries such as the Tretyakov State Gallery, the Pushkin Museum or Garage, Moscow's cutting-edge contemporary art museum. History fans can follow a Soviet trail through the city including Stalin's Bunker, while those seeking a more indulgent experience can browse trendy neighbourhoods like Kitay Gorod or shop for everything from fashion to kitsch souvenirs at the enchanting Izmaylovo Flea Market. Foodies can head to one of the countless speciality stores sampling vodka, caviar and chocolate.
If you only have a few days to spend in Moscow, this tour will ensure you make the most of your time in the city. Let the experts navigate you through this complex and occasionally overwhelming capital, giving you plenty of time to soak up the city's most unmissable attractions.
Accomodation
Not Included
Sightseeing
Action rating ?
Type of tour
3 days / 2 nights
Private - Any Date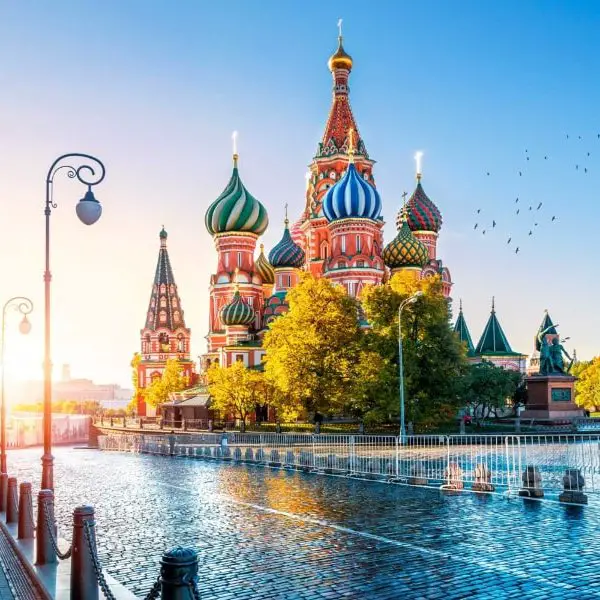 Day 1 Panoramic city tour
Welcome to the glorious capital of Russia, Moscow! You'll be met by your driver at the airport and taken to your centrally located hotel.
After check-in and rest, meet your private guide at the hotel lobby for a comprehensive tour of Moscow by car. Visit the starkly contrasting Theatre Square to see the stunning Bolshoi Theatre, pass Tverskaya Street, the city's main boulevard and home to the landmark Yeleseyevskiy Grocery Store.
You'll enjoy a panoramic drive along the Moskva River, where a huge, controversial state of Peter the Great was erected. Pass by the legendary Gorky Park and the White House before a stop at the architecturally stunning Novodevichy Convent, and the observation platform at Sparrow Hills, for a bird's eye view over this staggering megalopolis.
Day 2 Red Square and Kremlin
After breakfast at the hotel, your guide will take you on a walking tour of the historical city centre. Stroll through the Red Square, the hub of cultural life in Moscow, with its elaborate 'stone flower' fountain and fantasy-like St Basil's Cathedral – a postcard-perfect symbol of the nation. Admire the grandiose façade of GUM, the city's most luxurious shopping centre, and visit Alexander's Garden, with its eternal flame and the chance to watch a changing of the guards.
Break for lunch before continuing on a tour of the Kremlin and Armoury Chamber, famous of its collection of tsarist fashion, with regalia such as jewel-encrusted crowns, orbs and sceptres as well as arms and armour, exotic gifts from the leaders of faraway lands, and an illustrious case of Imperial Faberge eggs.
As an option* spend an evening on a sumptuous dinner cruise, taking in the stunning sights and city lights of this mesmerising metropolis by night.
Day 3 Metro and Arbat Street
Start a day with a tour of Metro, stopping on the way to marvel at some of the most elaborately decorated stations of the world-famous Moscow subway system. Take a stroll along Old Arbat street - the most famous street in Moscow. Through the centuries Arbat used to be one of the most bohemian places in Moscow. Today Arbat is a promenade full of small cozy cafes and street life.
The afternoon is free for you to either enjoy the rest of the day on your own or choose among optional excursions to explore more of Moscow. Visit the Tretyakov Gallery or Pushkin State Museum to admire Russian art. Join locals for a stroll at the Gorky or VDNH park.
Visit beautiful Kolomeskoye Estate or Izmailovo Kremlin, or spend a day exploring the beautiful city of the Golden Ring (Russian province) - Sergiev Posad. In the evening you will be transferred to the airport for your departure to your next destination.

Print this page
Save a printed version of this tour, so you can make a decision later

Send to my inbox
Email yourself or a friend the link for this tour

Ask a question
Have a question about this tour? Our experts will be happy to help
Group airport/train-station arrival and departure transfers
All transportation according to the itinerary with a private driver
4* hotel accommodation in the historical city center (twin/double)
Local licensed English-speaking guide
All activities, indicated in the itinerary, except optional
Entry fees according to the itinerary (skip-the-lines policy)
Russian visa support document
Travel insurance
Russian visa and visa fees. Russian visa can be arranged by 56th Parallel for an additional cost (for Australian citizens only). Apply for concierge visa service here .
Optional excursions/activities
*Private tour. Price is per person, based on min 2 people
Similar tours
Highlights of moscow & st petersburg.
Immerse yourself in the art, history and culture of Russia and explore the contrasting styles of Moscow and St Petersburg in just one week. Experience the iconic landmarks of ...
Golden Ring at a Glance
Take a short detour from Moscow to discover the age-old allure of Russia. Travelling from the capital to the countryside, where golden spires and the onion-shaped domes of ...
Treasures of St Petersburg
This in-depth tour is a fun and fascinating discovery of the legacy of Imperialist Russia, just in one week. A showcase for the wealth and tastes of the Emperors of Russia from ...
Classic Moscow – Art, History and Culture
Breathe in the history of Moscow, explore its Imperial and soviet past, dynamic contemporary culture and lifestyle. On this 5-day tour of Moscow, you'll visit the must-see sights ...
Why travel to Russia with 56th Parallel?

Destination Specialists
Our team offers over 18 years of experience travelling and planning travel in Russia. Delivering outstanding travel experiences in Russia's capitals and in some of the most stunning & remote locations takes experience, special access and the right connections. We make sure that all the fine details are handled perfectly so you can enjoy your Russia travel experience.

Group & Private Tours
The choice to join a small group on a guaranteed departure or chose to travel on your own dates with your own mates. Each destination we travel to in Russia offers an option between private tours and small group tours. Please note: on our adventure tours in remote destinations, we mostly run group tours to keep the cost down.

Bonded & Licensed
56th Parallel is a fully licensed, insured and accredited travel provider.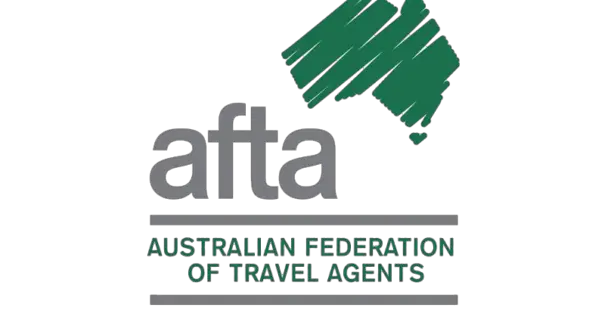 From USD $730
Day 1: Panoramic city tour
Day 2: red square and kremlin, day 3: metro and arbat street, not included, start planning your tour.
A destination specialist will follow up on you enquiry shortly. Prefer to chat? Call us on +61 412 587 785 we will be delighted to be of service.
Email this tour to:
Have a question or need specific information.
Send us a note below or call us
Country * Afghanistan Albania Algeria American Samoa Andorra Angola Anguilla Antarctica Antigua and Barbuda Argentina Armenia Aruba Australia Austria Azerbaijan Bahamas Bahrain Bangladesh Barbados Belarus Belgium Belize Benin Bermuda Bhutan Bolivia Bosnia and Herzegowina Botswana Bouvet Island Brazil British Indian Ocean Territory Brunei Darussalam Bulgaria Burkina Faso Burundi Cambodia Cameroon Canada Cape Verde Cayman Islands Central African Republic Chad Chile China Christmas Island Cocos (Keeling) Islands Colombia Comoros Congo Congo, the Democratic Republic of the Cook Islands Costa Rica Cote d'Ivoire Croatia (Hrvatska) Cuba Cyprus Czech Republic Denmark Djibouti Dominica Dominican Republic East Timor Ecuador Egypt El Salvador Equatorial Guinea Eritrea Estonia Ethiopia Falkland Islands (Malvinas) Faroe Islands Fiji Finland France France Metropolitan French Guiana French Polynesia French Southern Territories Gabon Gambia Georgia Germany Ghana Gibraltar Greece Greenland Grenada Guadeloupe Guam Guatemala Guinea Guinea-Bissau Guyana Haiti Heard and Mc Donald Islands Holy See (Vatican City State) Honduras Hong Kong Hungary Iceland India Indonesia Iran (Islamic Republic of) Iraq Ireland Israel Italy Jamaica Japan Jordan Kazakhstan Kenya Kiribati Korea, Democratic People's Republic of Korea, Republic of Kuwait Kyrgyzstan Lao, People's Democratic Republic Latvia Lebanon Lesotho Liberia Libyan Arab Jamahiriya Liechtenstein Lithuania Luxembourg Macau Macedonia, The Former Yugoslav Republic of Madagascar Malawi Malaysia Maldives Mali Malta Marshall Islands Martinique Mauritania Mauritius Mayotte Mexico Micronesia, Federated States of Moldova, Republic of Monaco Mongolia Montserrat Morocco Mozambique Myanmar Namibia Nauru Nepal Netherlands Netherlands Antilles New Caledonia New Zealand Nicaragua Niger Nigeria Niue Norfolk Island Northern Mariana Islands Norway Oman Pakistan Palau Panama Papua New Guinea Paraguay Peru Philippines Pitcairn Poland Portugal Puerto Rico Qatar Reunion Romania Russian Federation Rwanda Saint Kitts and Nevis Saint Lucia Saint Vincent and the Grenadines Samoa San Marino Sao Tome and Principe Saudi Arabia Senegal Seychelles Sierra Leone Singapore Slovakia (Slovak Republic) Slovenia Solomon Islands Somalia South Africa South Georgia and the South Sandwich Islands Spain Sri Lanka St. Helena St. Pierre and Miquelon Sudan Suriname Svalbard and Jan Mayen Islands Swaziland Sweden Switzerland Syrian Arab Republic Taiwan, Province of China Tajikistan Tanzania, United Republic of Thailand Togo Tokelau Tonga Trinidad and Tobago Tunisia Turkey Turkmenistan Turks and Caicos Islands Tuvalu Uganda Ukraine United Arab Emirates United Kingdom United States United States Minor Outlying Islands Uruguay Uzbekistan Vanuatu Venezuela Vietnam Virgin Islands (British) Virgin Islands (U.S.) Wallis and Futuna Islands Western Sahara Yemen Yugoslavia Zambia Zimbabwe
If you have any urgent questions or enquiries, please give us a call +61 412 587 785