THE NUMBER 1
jET SKI SAFARI TENERIFE
Email Address
Phone Number
Privacy Overview
Strictly Necessary Cookies
This website uses cookies so that we can provide you with the best user experience possible. Cookie information is stored in your browser and performs functions such as recognising you when you return to our website and helping our team to understand which sections of the website you find most interesting and useful.
Strictly Necessary Cookie should be enabled at all times so that we can save your preferences for cookie settings.
If you disable this cookie, we will not be able to save your preferences. This means that every time you visit this website you will need to enable or disable cookies again.
Call us: +34 629 46 99 00
CHOOSE A JET SKI 
1 hour – south coast sea life.
2 HOURS –  EL PUERTITO AND PLAYA HIPPIE
VIP POSH CHALLENGE
Grab this opportunity to literally fly over the water on a powerful water scooter. Experience the true sensation of freedom that comes from navigating the controls of a jet ski, while you Discover the magnificent coast of Tenerife.
Discover the most authentic part of the south coast of tenerife from a unique perspective: hidden bays, forgotten beaches, and spectacular rock formations from the sea. viewing beautiful caves with crystal blue water, local beaches, feeling the thrill of speed and the motion of the waves a complete fun pack.
PHOTO GALLERY
The most authentic part of the south coast of tenerife.
WhatsApp us
Jetski racing Tenerife
adrenaline Safari
Live an unforgettable experience
Only the TOP for your Holidays!
Bring with you an indelible memory, we offer you a complete photo shoot.  , official yamaha rental, need more info.
Dock 10 Puerto Colon,  Las Americas, Tenerife
DURATION 1 HOUR
Book the time slot you prefer and set off on an adventure
STOP IN THE BAY
Opportunity to dive and swim in the most beautiful spots in Tenerife
MULTILINGUAL SUPPORT
Our staff speaks perfectly Italian, English, Spanish, French, Russian
DIGITAL TICKET
After the Booking you will receive a digital copy of your booking
FREE CANCELLATION
We offer free cancellation within 24/12 hours
FLEXIBLE PAYMENT
You can choose to pay a deposit of 50% or the full amount
PAYMENT SECURE
Thanks to the Stripe and Paypal payment system, your personal data is 100% secure
ONLINE DISCOUNT
By booking online you have a discount of 15-20% Book Now and Save!
2023 SEASON RATES
Jetski safari base, v single  1 person   v double 2 people v safari 1 hour v 24 hours cancellation x photo (extra) x wetsuite (extra) x pilot insurance, single €140,00  online discount 15% €120,00, double €160,00 online discount 15% €140,00, jetski safari premium, v   single 1 person v   double 2 people v   safari 1 hour v  12 hours cancellation v   photo included  v wetsuite included   v   pilot insurance, single €200,00  online discount 20% €160,00, double €230,00 online discount 20% €180,00, safari privato vip, v max 4 jetski v   single/double v   safari 1 hour v  12  hours cancellation v   photo included v wetsuite included  v   pilot insurance, safari vip €800,00 online discount 20% €640,00, our customers.
The Best Jetskis in Tenerife
Are you looking for an unprecedented aquatic adventure? Yamaha personal watercraft are known for their low emissions, elegant design and sporty performance.
Our jet skis are the perfect choice for riding the ocean waves
Enjoy the speed and get excited on the water!
Our of fic ial Yamaha rental offers a range of the latest , safe and reliable models .
You will live an unforgetable experience able to satisfy both the needs of the beginner and those of the more experienced !
Do I need a license to drive a jet ski?
No, with Jet ski Racing, you won't have to worry about having a boat licence.
Who can ride a Jet ski?
 All you need to do is be 16 years old if driving alone and 18 years old if accompanied by a passenger. Furthermore, you can bring your children with you, with a minimum age of 6 years.
Is there a weight limit?
The jet skis have a load limit of approximately 160 kg overall rider + passenger. Before booking a double motorbike, we invite you to take this information into consideration.
Enjoy the waves, with the best jet ski rental service!
How hard is it to drive a Jetski?
Sailing on a jet ski is a really simple and fun experience, you just need to follow a few tricks that we will explain to you at the beginning of the activity.
How many jet skis does the group consist of?
The groups are made up of a maximum of 4 motorcycles and will carry out the activity accompanied by an expert guide who will be able to provide assistance in case of emergency.
Will the guide provide an explanation?
Of course, each guide will explain in several languages, the correct navigation techniques and the correct use of the jet ski.
By following a few simple navigation rules, everyone can enjoy a safe and memorable journey.
Are jet skis safe?
Safety is a top priority when it comes to jet skiing.
Each jet ski is equipped with a safety key to stop the engine in the event of a fall, the boat with the guides will be available all the time in case of an emergency and will check that all participants comply with the safety rules explained .
What is the maximum speed?
I can't swim can i do the excursion.
Certainly!  to ensure everyone's safety, each customer will be provided with a life jacket which must be worn throughout the activity.
Is there a place where I can leave my backpack?
Free video surveillance storage is provided,  a safe place to store all personal belongings, which helps prevent any accidents or loss or damage while on the safari.
Where will we go on the excursion?
Our expert guides will  choose the best direction for you and your group, so you can enjoy the waves to the fullest.
The routes we do every day will take you to visit  Los Cristianos, la Caleta, el Palmar, Playa el Duque. 
What will we see during the safari?
Yes, once you reach your destination, there will be a short break where you can enjoy the view while relaxing, or dive into the crystalline waters of the ocean.
I would like to have a memory of this experience, do you take pictures?
We carry out a photo shoot of about 100 photos per motorcycle for all customers, once the activity is finished, we will show you your shots on the PC.
How will I receive my photos? 
What is the price of the photo package.
All your photos for the price of only: €15 for one photo  €20 for single bikes €30    for double bikes *If you choose the premium ticket, the photos are included in the price!
Don't miss the opportunity to have an indelible memory of your adventure on the water! 
How to rent a wetsuit?
For those who are sensitive to the cold, we have a wetsuit rental service at your disposal. After each rental we sanitize each wetsuit, respecting the covid-19 regulations.
The price of the service is €10 per wetsuit.
Is the parking nearby?
There is the possibility of several paid parking along the entire port, offering convenience to those who need to park their car.
Are there toilets?
Are there activities to have a drink or something to eat, contact info.
MON-SUN 9.00 alle 21.00 Telephone Reservations 9-22 Online Reservations 24/24h
HOW TO REACH US
Gate 10 Puerto Colon, Costa Adeje Tenerife.
Phone: +(34) 617 56 26 54 Email: [email protected]
Work with us
Legal notice, terms and conditions, privacy and policy.
FOLLOW US ON SOCIAL MEDIA
©2023 jet ski racing all rights reserved.
Jet Skiing Tenerife from 89 €. License is not required | Book on-line or call us  +34 604 102 196‬ ( WhatsApp )
Jet Ski Tenerife
160 € 129 € SALE!
Season 2023
Jet Ski Tenerife from only 89 €
Hire a jet ski in Tenerife and take a guided tour from Las Galletas at a favorable price. We offer you fascinating jetski safari in Tenerife South at the best price from 89 € per 1 hour and  from 129 € per 2 hours .
1-hour safari
For one or two persons on a jet bike
130 €   From 89 €   free transfer
We offer the best price for jetski rentals in Tenerife if you book at least 2 jet skis. Round trip transfer is already included in the price.
2-hour safari
160 €    From 129 €   free transfer
Special offer: 2 hours tour from 129 € for one or 139 € for two people on a jet bike. Pick-up and rental of snorkelling equipment are already included.
Special offer: 2 hours tour from 129 € for one or 139 € for two people on a jet skiing bike. Round trip transfer is already included in the price.
The route may be changed according to the season and weather conditions in the south of Tenerife.
Reservation
How is it going to be.
Fill the form in this page and press the button "BOOK NOW". We will receive your application and contact you to confirm the exact time of the tour and the place where we shall take you from (South of Tenerife area: Playa de las Americas, Costa Adeje, Los Cristianos etc).
At the agreed time, our minibus will pick you up from an appointed place. Upon arriving at the port Las Galletas, you will be able to pay your jet ski tour, change clothes and leave your stuff in a special storage place for your excursion time.
We will provide you with a relevant life jacket and explain the safety briefing. Now, you are ready to go jet skiing.
By breaking ocean waves surrounded by rainbow in the cloud of splashes, you will embark on a voyage of discovery of Tenerife from a new perspective. You will enjoy seeing the National Park Teide, coastline cliffs, inaccessible caves, cozy bays, and beautiful marine world.
In the middle of our jet skiing safari in Tenerife, we will make a stop to have rest and explore the underwater world while snorkeling (2-hour tours only). If two of you share a single jet skiing bike, you can switch places after this stop.
After restoring and snorkeling with masks, we will embark on the return voyage.
After arriving at the port, you can look at pictures of your trip and purchase them.
When you are ready for a trip after having changed clothes, our minibus takes you back to your hotel or apartments. Of course, you can stay in Las Galletas to have rest after the excursion and visit one of local fish restaurants.
The driving license IS NOT required
The minimum age for independent driving a jet ski in Tenerife is 18. Persons above the age of 16 can ride in the company of adults.
Free transfer
We provide free round-trip transfers in the south of Tenerife, from Callao Salvaje to Golf del Sur (including Playa Paraiso, La Caleta, Adeje, Las Americas, Los Cristianos). Transfers from other locations are by prior arrangement, additional fees may apply.
Combine your jetski safari in Tenerife with discovery of the wonderful underwater world of the Atlantic Ocean. Within the 2-hour excursion, we provide you with new snorkeling masks which make your diving and breathing more comfortable (without a tube in your mouth). These masks provide a wide view and are equipped with an antidim system.
Photographies
During a tour, we will take pictures. After the tour, you can purchase pictures, which will remind you of vivid emotions of your vacation and sunny Tenerife. We use a professional camera what ensures quality photos and unforgettable memories.
Comfortable and powerful Jet Bikes Yamaha and Sea-Doo
During a ocean jet ski safari, you can enjoy the power, comfort and safety of the best Yamaha and Sea-Doo water scooters. Smooth lines and high quality of materials make these water bikes beautiful and very fast and, what is the most important, comfortable for you. Our jet bikes are equipped with engines with the power of 110-130 h.p. IMPORTANT: The total weight of the jet ski passengers must not exceed 160 kg.
Also, we provide
A safe place for storing your effects (clothes, phones, values etc.)
Fresh water
Sun protection accessories
Wetsuits in case of the cool weather)
Exclusive services
VIP Jet Ski Tenerife (no limits)
249 € per one person and 299 € for two persons sharing a single jet bike
VIP-safari on jet skis can be either individual or for a group. This is a great gift to any holiday!
The duration of this jetski tour is not limited, and a route is selected according to your requirements. For the whole tour, you will be accompanied by a guide, which will support you in any situation. At any moment, you can make a stop for snorkeling in transparent water of the Atlantic Ocean and discover for yourself the underwater world.
If you take your trip afternoon, the sunset will be your a memorable experience: while swinging on waves, you can enjoy incredible colors of the evening sky.
After returning to the coast, you will be granted with vivid pictures of your journey and a delicious lunch or dinner in one of the best restaurants in Las Galletas.
Message Please leave this field empty. Please leave this field empty.
Private Sailing Yacht Rental
350 € per 4 hours, up to 8 guests
Do you want to make this day special? Celebrate your birthday, propose to your beloved lady or make a surprise for your wife? Or maybe just have a nice rest? Spend a unforgettable day aboard a sailing boat breaking the Atlantic waves!
During the tour, you will enjoy the ocean freshness and breathtaking views on the Tenerife coastline; you will have a look at the volcano Teide from a new perspective, and also you will see various marine inhabitants.
The rout includes a stop for swimming and snorkeling (diving with masks). The cost comprises the snack, beverages and transfer to the port and back.
Answering your questions
Do you provide transfer from playa de las americas for jet skiing.
Of course! When booking a jet ski safari you can ask for free transfers from Costa Adeje, Playa de Las Americas, Los Cristianos and other places in the south of Tenerife.
Can you arrange transfers from the northern part of Tenerife, Los Gigantes or other locations remote from your port?
Please contact us +34 604 102 196 or through WhatsApp ( press to start the chat ) and we will do our best to help you.
Do you grant any discount for large groups?
Yes, if you reserves more than 4 jet bikes. Please, contact us to be given a personal offer.
Where can I safely leave my stuff while being on tour?
We have special lockers for clothes and values of our clients.
How can I cancel or change my order?
If your circumstances have changed and you cannot take part in the safari or you want to change the time and date, please, preliminarily notify our manager +34 604 102 196 or through WhatsApp .
We want to reserve one jet bike for two of us. Can we switch places during the tour and share the driver's role?
Of course. In the middle of the route, we make a stop to have rest and snorkeling. After this, you can switch places.
How do I control the jet ski?
It is very easy to control the jet ski, you have the accelerator handle to speed up. To slow down, just release it.
Is it possible to see dolphins while jet skiing?
Sometimes the dolphins themselves approach the boats or groups of jet skis. But, according to the rules governing jet-ski safaris in Tenerife, we must not purposely approach them, chase or in any other way disturb the animals.
Customer reviews
Brilliant time.
⭑⭑⭑⭑⭑ Staying in Playa de Las Americas, we had a brilliant time with jet skies. The service was excellent and Lazlo was a great guide. Jumping off the jet bike and swimming in the deep blue ocean was one of the highlights for me. Real adrenalin, fun-packed hour supervised by the helpful and friendly Lazlo. I would recommend it.
Robert Feather
Should do when in Tenerife!
⭑⭑⭑⭑⭑ Great new and easy to use Jet Skis, very nice and professional service and great location. Yesterday we had a fantastic day on the water and off the coast of Tenerife South!
Eve McGregor
Amazing jetski session with Adolfo
⭑⭑⭑⭑⭑ We had a 1-hour jet ski safari with my girlfriend. That was just amazing: 50 km/h on an empty flat sea, with the infinite ocean on one side and the impressive mountains on the other. Adolfo was creating waves for us so that we could have fun riding them. I would definitely go back and recommend people to go there! We were warmly welcomed and felt just at home.
Jesper Simmelsgaard
Great vacations in Costa Adeje!
⭑⭑⭑⭑⭑ It was an amazing experience. We got a lot of fun and explored the coast. Loved it!! We would do it again!
Stephen Allison
Great jet ski guided tour!
⭑⭑⭑⭑ I had a fantastic jetski Tenerife guided tour today with my son. Adolfo has been a great guide throughout the trip! Thank you, guys!
Andrew Marklund
Wonderful experience
⭑⭑⭑⭑⭑ We are a family with 2 adults and 2 children. We did the jetski safari with a guide for 2 hours. The guide Lazlo was very friendly and professional. He knows the best places to jet skiing and snorkeling. Coming again when I am in Tenerife again.
Kyle Richardson
Really nice jet ski
⭑⭑⭑⭑⭑ Just do the 2h excursion, was super nice, the jet bikes are new from 2019. Recommend for family or couple.
Jetski in Tenerife
⭑⭑⭑⭑⭑ I can recommend this cool action. Very nice people and a cool location for Jet Skiing. Lazlo is a great guide.
Jamie Ohana
Amazing experience!
⭑⭑⭑⭑⭑ We had an amazing experience on the buggie and jet ski, thanks to Alex, Elena and Irek. It was the best day of our holiday. High recommended!!
Maxence van der Kleijn
It never gets better!
⭑⭑⭑⭑⭑ Great jet skis, great guide, snorkeling, great weather… couldn't have been better! We also got a free shuttle to the jet skis from Los Cristianos.
Victoria Fitzpatrick
About Tenerife Jet Ski Safari
Jet ski safari in Tenerife is great entertainment and sport for the whole family, especially since a driver's license is not required. You will get acquainted with the sea inhabitants of the Atlantic coast of Tenerife and, of course, get unforgettable emotions and memories for a lifetime.
Jet skiing Tenerife is one of the most popular activities, therefore, during high season, try to book a jetski Tenerife in advance to be able to choose the most convenient time.
We offer Tenerife jet ski safari for 1 hour for beginners and 2 hours for those who are 100% confident in their abilities. At your disposal are modern models of Seadoo and Yamaha jet bikes which certainly meet the highest requirements for comfort and safety.
Also all jetski tours include a shuttle service from your hotel in southern Tenerife (Costa Adeje, Playa de Las Americas, Los Cristianos) to the starting point of the jet ski safari in Las Galletas (Tenerife South) and back.
In addition, our jet ski tours include a snorkeling stop. You can swim with a mask and see different types of fish, stingrays and sea turtles. Of course, in the winter season, when the water temperature is about 19 degrees, for all participants of the safari, we offer jet ski wetsuits, so that you will be comfortable in any weather.
During a jet-skiing safari, our employee will take a picture of you at the jet ski in the spray of the waves of the Atlantic ocean. So you will be able to view and purchase these photos after the trip.
We appreciate that our customers are always satisfied with the sea trip, re-order for the next year and especially recommend jet ski Tenerife to friends.
A little more: we also offer other activities in Tenerife: kayaking , yacht tours and fishing . You might also be interested in visiting a cannabis club in Barcelona . Whatever you choose, enjoy your trip to sunny Spain!
Jet Skiing Tenerife Team
Jet Ski Safari and Tours in Tenerife
The best aquatic experience of the island.
Try one of our jet ski safari of Tenerife and discover the most magical sites of the islannd driving a jet ski. You will visit places where are only accessible by sea and we will be accompanied by impressive marine animals during your trip. Do you dare?
Spaghetti Beach Safari
Enjoy the sea in a calm way. Ideal for beginners
Online discount!
65€/jet ski 75€ · 40 minutes
Palm Mar Beach Safari
Experience a tour with beautiful views and at the same time exciting
79€/jet ski 95€ · 60 minutes
El Puertito Safari
Full excursion with snorkeling, photos and animals. What else can be added?
Los Gigantes Safari
The ultimate jet ski adventure. The longest tour is here.
199€/jet ski 245€ · 180 minutes
Yellow Mountain Extreme Safari
Discover the most extreme tour. Only for the most daring!
199€/jet ski · 150 minutes
More than just jet ski safaris
Our safaris include all kinds of additives that make it a total aquatic experience. Is not only drive a jet ski, is enjoy Tenerife with a total experience . You will do Snorkeling, you will take pictures, you will visit unique places and landscapes and you will be surrounded by the spectacular marine wildlife that inhabits the island.
Enjoy Tenerife with another level!
Do i need license to enjoy a jet ski safari in tenerife.
The majority thinks that a license is needed for drive jet ski. You don't need it! We will teach you everything! You can do any of our Tenerife jet ski safaris without having experience . In case you have experience, you will enjoy our latest generation jet skis as never before!
Free second passanger in our jet ski tours
We are the only place where the companion does not have to pay an extra cost . You can go 1 or 2 people for the same price because the price is for each jet ski. You can also switch the driver during the activity!
Share your experience with your couple or friend!
Explore Safari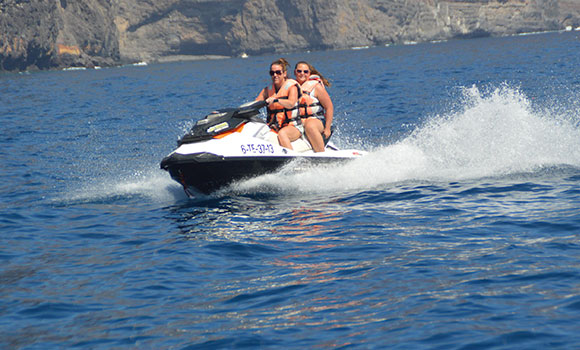 Explore safari Tenerife
We offer you an adventure and adrenaline session, on the coast of the island of Tenerife. Get on board our jet skis and enjoy the experience!
After listening to the instructions of the instructor, equip ourselves with neoprene and the vest, we will start to work and start a tour of the south of the island.
Departure from the port of Los Cristianos, passing through the most attractive area of Tenerife, we will visit a cave, a very picturesque volcanic formation, located in the Pal-Mar area, where all the most exclusive hotels of the municipalities of Arona are concentrated. Adeje.
We will enjoy the famous beaches of Las Vistas, El Camisón, Playa de las Américas, Troya, Fañabe, Costa Adeje. Playa del Duque, La Caleta, Spaguetti Beach and returning to the harbor to continue enjoying the waves and nature.
The Explore Jet Ski Safari Tenerife Highlights
Las Galletas
Los Cristianos
La Caleta Beach
Stand Up Paddle
Freestyle session
Seadoo 900 GTI jetski
Free bus pickup from your hotel
Is it possible to watch whales or dolphins while on a jet ski in Tenerife?
While it is possible to spot whales and dolphins during a jet ski trip in Tenerife, it is not recommended or advisable to do so. Jet skis can be loud and disruptive, and they can cause stress and disturbance to marine animals. In addition, jet skis can also pose a danger to both the rider and the animals, as they may not be able to avoid collisions or sudden changes in direction.
It is better to watch whales and dolphins in their natural habitat through responsible and sustainable means, such as through a guided boat tour or a whale-watching excursion . These tours are conducted by experienced and trained guides who are knowledgeable about marine life and can provide a safe and enjoyable experience while minimizing disturbance to the animals.
Book Your Tenerife Jetski Discover Safari
Just select whether you would like to ride your jetski solo or double up, choose a date and time and let us know which hotel to pick you up from.
You will receive confirmation by email. When we pick you up from your hotel, we'll simply ask you to confirm your name which should be the same name as when you make your booking.
Booking form

Jet Ski Safari Tenerife
«Jet Ski Club» the company has been operating in the water activities excursions market in Tenerife since 2013. Today we have the most modern kind of jet skis «Yamaha» which were completely renewed in the summer 2018.
Our team is formed by professional scuba instructors, each licensed as a rescue specialist and Jet Ski guide.
The company has also bought new security equipment and diving suits. Its new fleet allows us to carry out free transfers from any place on the southern coast of the island. Our tours have an individual "flavour" and VIP-Tour to impresses with luxury and freedom!
We speak English, German, Spanish, French, Polish and Russian.
Welcome to adventures that will be unforgettable and will remain with you as the best moments of your holiday in the Canary Islands!
Book your Tenerife Jet Ski
NO PREPAYMENT NEEDED - pay on the spot!
Total: 0 €
Our Advantages

Professional Guide
Each of our instructors is certified and fully skilled to accompany jet ski trips.

Life jackets. Preservation of personal items. Insurance included.

Your guide will take fantastic pictures of your memorable Jet Ski trip in Tenerife.
To guarantee yourself the best time for a walk — book Jet Ski tours in advance!

Most vivid impressions in Tenerife!

Jet Ski Safari Tenerife
634 171 291.

We will receive your application and contact you to confirm the exact time of the tour and the place where we shall take you from.

2.Free transfer
The tour includes free transport both ways in the South of Tenerife.

3.Start the Adventure
During the tour, you will enjoy the ocean freshness and breathtaking views on the Tenerife coastline; you will have a look at the volcano Teide from a new perspective, and also you will see various marine inhabitants.
* No previous experience needed!
* The minimum age for driving a jet ski is 16. Children above the age of 8 can ride in the company of adults.
* We offer snorkelling equipment for both 1 and 2 hour excursions.
Why pay more? Make an order with us!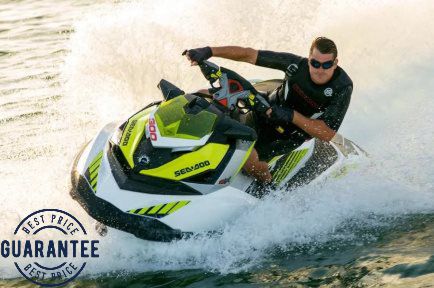 30 MINUTES TOUR
For one or two persons on a jet ski . From 100 € , 80 € Adventure Map»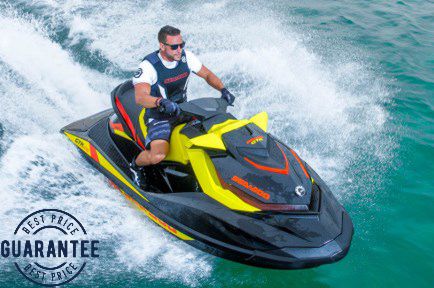 1-hour tour
For one or two persons on a jet ski . From 120 € , 90 € Adventure Map»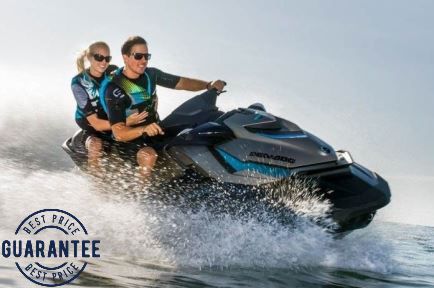 2-hours tour
For one or two persons on a jet ski . From 145 € , 120 € Adventure Map»
Book your Tenerife Jet Ski
NO PREPAYMENT NEEDED - pay on the spot!
Total: 0 €
Our Advantages

Professional Guide
Each of our instructors is certified and fully skilled to accompany jet ski trips.

Life jackets. Preservation of personal items. Insurance included.
Your guide will take fantastic pictures of your memorable Jet Ski trip in Tenerife.
To guarantee yourself the best time for a walk — book Jet Ski tours in advance!